Undoubtedly, trading options has many benefits compared to trading stocks.  Leverage is the most obvious one, as you get 100 to 1 leverage using options versus stocks.  Flexibility is another key benefit.  You can create trades and strategies that custom fit your risk/return profile.
While most investors understand the leverage advantage of options, not as many appreciate (or even realize) the benefits of flexibility using options.  In fact, trading stocks is so inflexible, many investors may not realize there are other ways to invest that don't just involve picking a direction.
Actually, even picking a direction isn't so easy with stocks.  Shorting stocks requires a margin account and there can be supply restrictions with a heavily shorted name.  Options have no such problems. Anyone can a buy a put at any time on stock if they believe it has the potential to go down (or want to protect against it).
In terms of flexibility, by using spreads (a combination of various options contracts), it's fairly easy to create a risk profile which suits the needs of an individual investor.  Are you focused on low risk? Are steady returns important to you? Would you rather take a higher risk and receive higher returns?  It's all possible using options.
Let's take a recent trade I came across as an example of an interesting way of using options to create a specialized risk/return profile.  The trade occurred in options on Boyd Gaming (NYSE: BYD).   Boyd is a big player in the regional casino market.  They don't have any Las Vegas Strip properties (their last one went away after the Stardust closed down).  However, they've found a niche focusing on smaller, regional casinos.
The thing is, regional casinos stand to gain just as much as the big players from the legalization of sports betting (as it occurs in various states).  In fact, BYD has mostly gone straight up since the Supreme Court reversed the federal ban on sports gambling.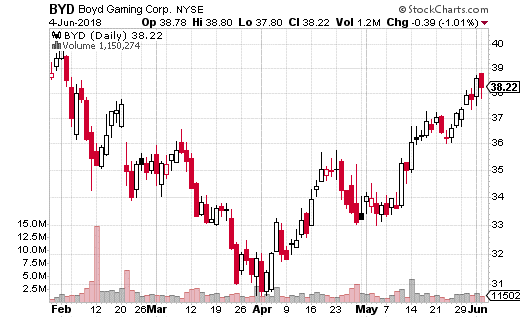 At least one trader (with a lot of capital) believes BYD could still be headed higher.  Although, the trader only believes the stock has about 10% upside potential through July expiration.  To be specific, the position is maximized if the stock goes up 8% from $38 at the time of the trade to $41 on July 20th.   If that happens, it will generate 900% returns!
How is that possible?  The strategy used is called a ratio vertical spread.  In this case, it's a 1 by 2 call spread, where 6,000 calls were purchased for $1.00 at the 39 strike while 12,000 calls were sold against them for $0.40 at the 41 strike.  Since there are twice as many short calls, the trade only costs $0.20 in premium.
Max gain is the distance between the strikes ($2) minus the premium cost ($0.20) or $1.80.  Turning $0.20 into $1.80 is a return of 900%.  However, there is risk to this trade on the upside.  6,000 of the short calls aren't countered by the long position.  That means the trader could potential lose $600,000 for every $1 the stock goes above $41.
While the trader clearly doesn't believe the stock is going that high in the near term, I wouldn't recommend this trade for inexperienced traders.  It's easy enough just to do the July 39-41 call spread straight up (1 by 1) for $0.60. It lowers your potential return to 300% but gets rid of the unlimited risk component.  Hey, I'll take 300% gains on very limited risk any day of the week!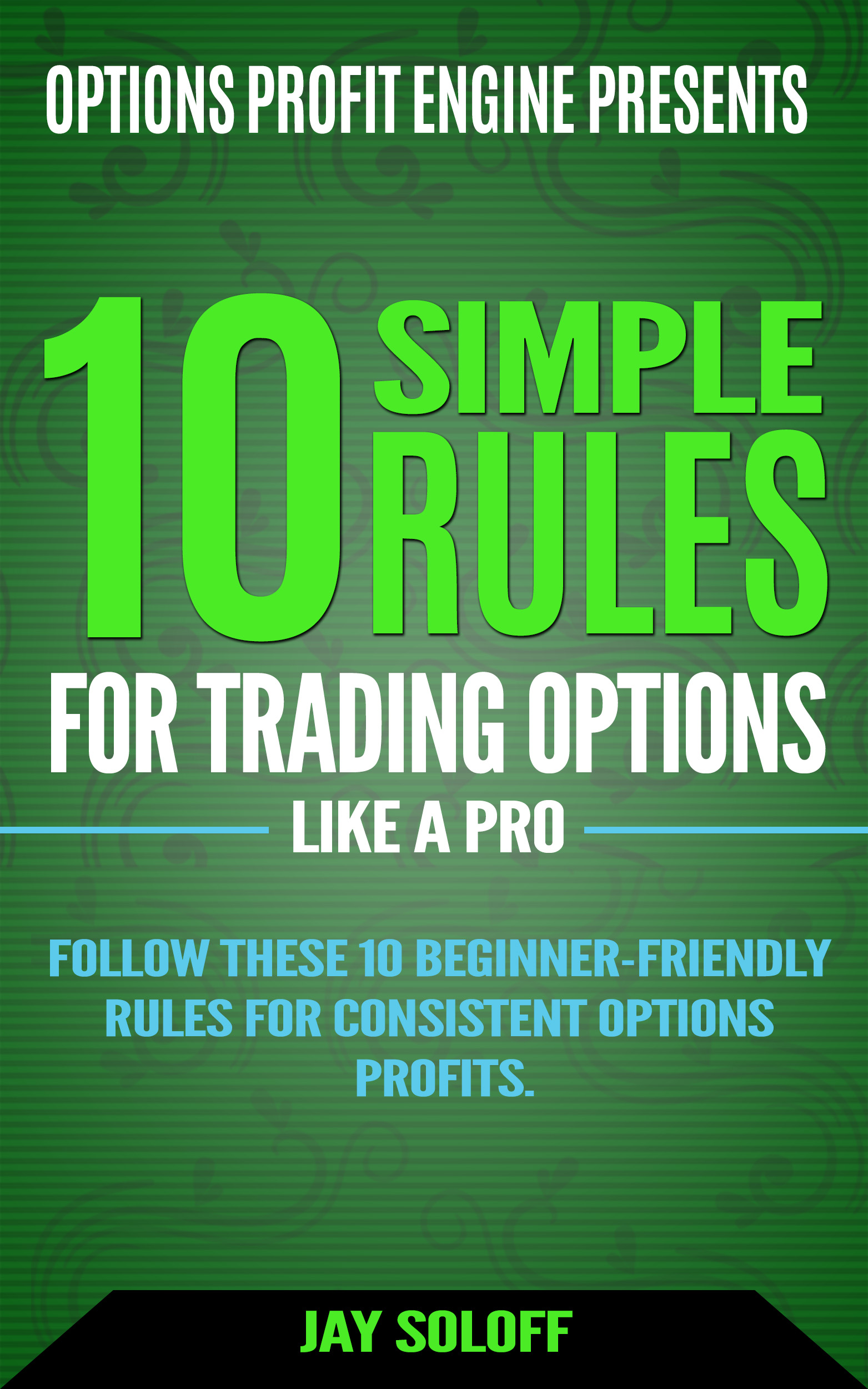 [FREE DOWNLOAD] 10 Simple Rules for Trading Options Like a Pro
Follow these 10 simple rules from 20-year professional options trading veteran, Jay Soloff and start earning a reliable extra income from options.
NO prior experience needed to master these 10 simple options trading rules. 
Enter your email below and receive access to this FREE guide...