"We're putting the trade war on hold. We've agreed to put the tariffs on hold while we try to execute the framework."
So said U.S. Treasury Secretary Steven Mnuchin last Sunday.
The statement marked quite a turnaround from the angry rhetoric between the United States and its counterparts in China and Europe a couple of months ago. (Note how Mnuchin even used the word "war," too).
It also knocked the price of gold to $1,281 per ounce on Monday – its lowest level since December 2017.
No great surprise there.
An easing of trade tensions loosens investors' anxiety over industries and companies being adversely affected. It also lessens the desire for safe-haven investments like gold.
Mnuchin's comments were also good news for the already-strong dollar – which historically moves in the opposite direction to gold. The U.S. Dollar Index opened this week by notching its highest level since mid-December. A higher dollar makes gold more expensive to buy for overseas investors and often affects gold demand as a result.
And with the Federal Reserve expected to raise interest rates again next month (the second potential hike this year), it's another strike against non-interest-yielding assets like gold.
Quoted on Reuters, Mitsubishi analyst Jonathan Butler believes, "It's possible we might see a further correction in the very short term. That will depend on the news flow, and whether the dollar can hold onto its gains."
With economic forces working against gold, the Commodity Futures Trading Commission reports that investors have reduced their gold futures holdings. Indeed, SP Angel says bullish gold investments are at their lowest level in two years.
And one of the most well-known names seems particularly susceptible…
A Mine Full of Problems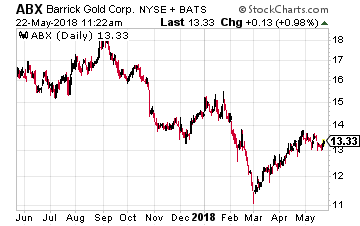 Founded in 1983 and based in Toronto, Barrick Gold Corp. (NYSE: ABX) is the world's largest gold-mining firm, with exploration operations across the world.
Last year, it produced 5.32 million ounces of gold, edging Newmont Mining (NYSE: NEM) for the top spot. Barrick also has stakes in three copper mines, which churned out 413 million pounds of the metal in 2017.
Investing in a mining company has the same M.O.: Parlay price gains in the underlying metal into share price gains.
But it's been a rough stretch for Barrick investors. In July 2016, shares peaked in the mid-$23 range. Today, the price is around $13. That's a 44% plunge. Meantime, gold has slipped just 4.8% over that time.
All Show… No Dough: In 2017, Barrick notched $8.4 billion in revenue. A whopping 91% of that came from gold operations. And almost 45% of that comes from one mine – Barrick Nevada. While the $624 per ounce production cost is decent (below its $750 average in 2017), I'm wary when a company has so many eggs in one basket. And in Barrick's case, it's warranted.
Over the past 30 years, Barrick has spent a fortune acquiring various gold-mining operations and gold companies. And sure… it's helped the company become the world's biggest gold miner. But what about results?
You'd think such a heavy gold weighting would prove lucrative when gold is rising. But Motley Fool notes that despite a 250% rise in gold's price since Barrick bought Lac Minerals in 1994 to became the third-largest miner, its share price has sunk by 40%.
Two Black Holes: In 2004, Barrick planned to develop the Pascua-Lama gold mine on the Argentina-Chile border. Unfortunately, it's proved anything but a goldmine. The allure was the site's large untapped gold reserves and low production costs and Barrick estimated an outlay of $1 billion. However, work didn't begin until 2009, by which time the projection had risen to around $3 billion. Fast-forward to 2012 and the number had ballooned to $8.5 billion. After spending $5 billion, Barrick suspended work in 2013. Chile has also ordered Barrick to shut down operations there, too.
As the Pascua-Lama project was gobbling money, Barrick's 2011 acquisition of Equinox Minerals for $7.7 billion was supposed to fortify its gold position. But Equinox has focused on less lucrative copper instead. Perhaps it didn't get the memo.
The two projects whacked $15 billion worth of debt onto the books by 2013. Barrick has since chopped it to $6.4 billion – 19% lower than the end of 2016 – and plans to cut it to $5 billion this year. But it's come at a cost…
No More No. 1: Barrick's shift towards trimming the fat by selling assets has hit production. Revenue declined for the fourth straight year in 2017. And it was the second straight year of lower cash flow.
While EPS did jump by 120% – to $1.23 – compared with 2016, Barrick's 2018 forecast calls for gold production of 4.5 million to 5.0 million ounces, versus the 5.32 million in 2017. That's down from an earlier forecast of 4.8 million ounces to 5.3 million ounces. Meantime, Newmont will churn out 4.9 million to 5.4 million ounces.
From 2019 to 2022, Barrick's gold production is estimated at 4.2 million to 4.6 million ounces. But it hopes leaner operations can still generate free cash flow, even if gold falls to $1,000 per ounce. As always, the key remains balancing production costs with price…
Pricier Production: Last year, Barrick's year-over-year production costs edged 3% higher to $750 per ounce. But between 2019 and 2022, it projects $750-$875 per ounce.
And it's only going to get tougher. According to the World Gold Council, we've mined around 190,000 metric tons of gold since it was first discovered. That's around three-quarters of the world's reachable reserves.
Of the 54,000 metric tons of accessible gold left, and global annual production of around 3,100 metric tons, we've only got 18 years of recoverable reserves left.
Here's the rub: With production costs already rising for what is accessible, it's going to cost even more to extract gold in the years ahead, as it becomes more difficult to explore and mine it. Barrick itself has seen production costs jump from $300 per ounce in 2004 to that $750 figure today. If there's a significant shortfall between production costs and gold prices, Barrick (and others) are going to have issues.
Ultimately, Barrick's fortunes rest on the usual factors: Production costs, gold prices, the dollar, interest rates, plus market setbacks.
But it's got issues. Its decline and underperformance is prolonged and significant. And its revival needs to properly kick in before investors can feel confident about buying.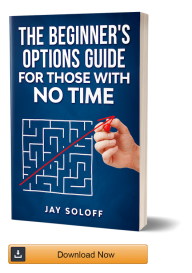 If not, here's your chance to save it to your computer while it's still free. That way you will never have to pay for it again in the future.
This guide will get you placing winning trades without you needing to spend hundreds of hours studying.
In fact, you can place your first trade today after reading my "Beginner's Guide" to trading options.