The currently running stock market correction has been especially hard on stocks in the energy sector. The falling price of crude oil has led the drop, reducing expectations for future profit levels in the energy sector and driving stock prices down.
However, the large and inclusive decline of almost all energy related stocks, including one group with revenues that are not closely linked to the price of crude, has presented some tremendous buying opportunities to get stocks paying high yields. One of them is energy midstream infrastructure companies. These companies do not earn revenue based on the price of crude oil, and therefore are protected from the pains of $80 a barrel oil. These three stocks have been hit just as hard as the rest, and are now trading at attractive multiples and all have yields higher than 6%.
Energy midstream infrastructure companies generate fee based revenues from their pipelines, storage facilities, loading and unloading facilities and other services that allow crude and natural gas to get from the wellhead to your gas tank or the electric power generating plant. Many of these energy infrastructure companies are organized as master limited partnerships (MLPs) which pay high, tax-advantaged yields to investors.
The midstream MLPs own the infrastructure assets the energy production industry uses to move and store crude oil, natural gas, natural gas liquids (NGLs), and refined energy products. The revenues for these companies are typically fee based with locked-in, take-or-pay contracts. Many midstream MLPs have histories of steadily increasing distributions, providing both attractive yields and income growth. The hit to the stock market energy sector has pushed down the prices of the midstream MLPs as well, driving the yields up to levels not seen since before the financial crisis. Remember, most of these companies are paying quarterly distributions at levels significantly higher than the rates paid a few years ago.
As I recently updated my MLP databases, I was frankly amazed at the yields some of the high-quality midstream partnerships are now carrying. If you buy in at these prices, you can lock in the current yields with expectations of future distribution growth. If the prices fall a little farther, because the market doesn't understand these companies, rest easy as you collect those fat distribution checks (dividends in the non-MLP world). Also, most of the MLPs will begin announcing their third quarter distribution rates over the next few weeks and you can expect most to be increased over the second quarter levels.
Here are three MLPs selling at very attractive combinations of yield, distribution growth and visibility of the future revenue stream: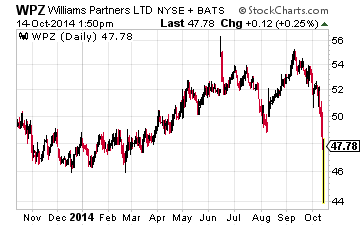 Williams Partners LP (NYSE: WPZ) is one of the largest MLPs, with a current market cap of $21 billion. WPZ operates one of the nation's largest networks of federally regulated interstate natural gas pipelines. Williams also provides closer to the well, natural gas and NGL gathering, processing and transport services. Revenues have no exposure to crude oil pricing. The per unit distribution has increased for 18 consecutive quarters, growing by 6.25% over the last year. WPZ currently yields 7.7% compared to a historical average in the high 6% range.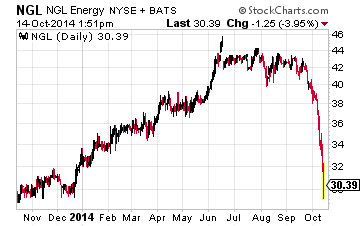 NGL Energy Partners LP (NYSE: NGL) operates in four segments: retail propane, natural gas liquids logistics, crude oil Logistics, and water services. The NGL distribution has increased every quarter since the company went public in May 2011, growing the last couple of years at a mid-teens percentage growth rate. This MPL usually yields between 5.5% and 6%. It currently yields 7.5%.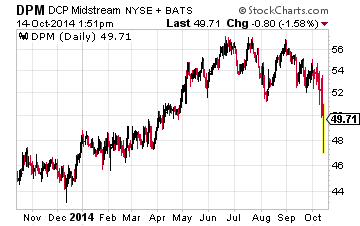 The DCP Midstream Partners, LP (NYSE: DPM) unit price has not suffered as severe a decline compared to many of its midstream peers. Still, the yield has climbed to 6% from the more typical 5.5% for this quality MLP. The company operates in three segments: natural gas services, NGL logistics, and wholesale propane logistics. The DPM distribution rate has been increased every quarter for four straight years, with an average growth rate over 6% per year.
Stock market sellers in this type of market lock in their losses, while buyers lock in above average yields. Which camp do you prefer to be in?
You can get started in the buyers camp today with more in-depth research on five of my top MLP recommendations in 5 MLPs to Generate High Yield Income. In this brand new report I've laid out the details on five of the very best MLPs for investors looking for serious long-term income from stable dividend payers: one of them is even sporting a nice 9.5% yield. Not shabby compared to the 1% you get from the bank. 5 MLPs to Generate High Yield Income is just the latest special report from The Dividend Hunter. For more, CLICK HERE.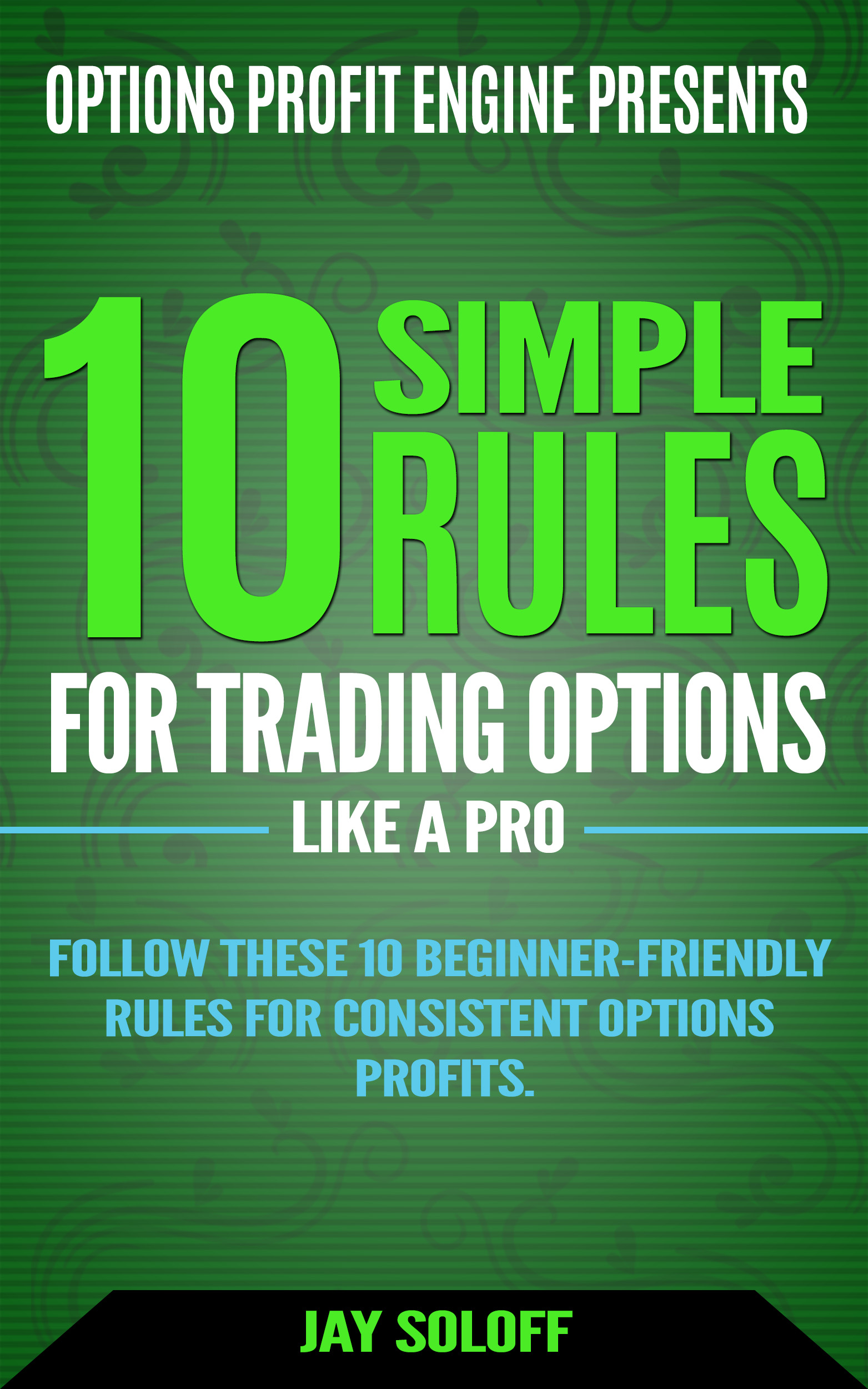 [FREE DOWNLOAD] 10 Simple Rules for Trading Options Like a Pro
Follow these 10 simple rules from 20-year professional options trading veteran, Jay Soloff and start earning a reliable extra income from options.
NO prior experience needed to master these 10 simple options trading rules. 
Enter your email below and receive access to this FREE guide...