Just in time for fall to start turning to what's predicted to be another brutal winter these two MLPs are trading at attractive entry prices with the broader market price pressures. Both have the backing of much larger energy firms with a vested, and monetary, interest in their success. This is a good time for income investors to consider adding a few shares to their portfolios.
The traditional view of master limited partnerships (MLP) is that these partnership units pay attractive yields and that the companies can be counted to grow those distributions over a multi-year investment period. In minds of most investors, MLPs are only viewed as high yield income investments. However, there are a small number of MLPs that are better classified as growth stories rather than income investments. These partnership units generate growth in a specific and predictable way.
However, the stock market is neither predictable nor reasonable. Over the last week of September and first couple of days of October, the stock market correcting downward, pulling down share prices of the good, along with the overpriced, average and not so good. An indiscriminate market sell off like this provides the opportunity to get into stocks that may have previously moved up too fast and put the prices at a level where jumping could be viewed as less than prudent. As a result of the market drop, a pair of the best growth-focused MLPs have dropped to the point that it could be a good time to buy units and ride the next move higher.
What Makes a Growth MLP
I define growth MLPs as those partnerships that are and will continue to increase distributions by 15% or greater per year. These companies increase the distribution every quarter, so you have 4% to 5% or more growth each quarter, which would be an attractive annual growth rate for an income focused investor.
The price growth potential comes from the math of the distribution growth. For the yield of the MLP to stay at a certain rate, the unit price must increase at the same rate of the distribution growth. So an MLP growing its payout by 20% per year will theoretically have a total return of a 20% price increase plus the distribution yield.
The second part of the growth MLP story is the source of the cash flow and distribution growth. The most attractive MLPs are spun-offs by larger sponsor companies that already own a large portfolio of the types of midstream assets typically owned by an MLP. These assets can be energy pipelines, storage facilities and loading/off-loading facilities. After the MLP is created with an IPO, the sponsor can regularly transfer assets to the MLP (called a drop down) at a price that ensures the MLP will be able to increase distributions at a target rate. The sponsor owns the general partner of the MLP and what are referred to as incentive distribution rights. This ownership and control set-up provides the sponsor with a very high return on the assets it capitalizes by dropping them to the MLP. Individual investors own limited partner units and just go along for the ride. You'll notice that the two growth MLPs highlighted here have well-known energy sector sponsors.
Phillips 66 Partners LP (NYSE: PSXP) was spun off by energy refining giant Phillips 66 (NYSE: PSX) with a July 2013 IPO. The unit price was flat for several months, but now PSXP is up 92% since the IPO. However, at a current $66, PSXP is down 17% from its July 2014 peak value. The next quarterly distribution will be announced around October 23rd. For the second quarter, the per unit payment was increased by 10% compared to the first quarter distribution. An increase of 7% to 8% is expected for the next distribution, which should set the unit price back on its upward trajectory.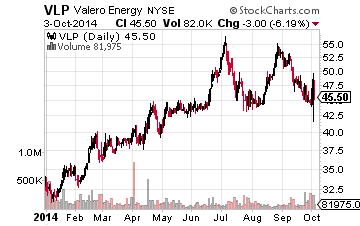 Valero Energy Partners LP (NYSE: VLP) was launched by refiner Valero Energy Corp. (NYSE: VLO) with a December 2013 IPO. The VLP partnerships structure is almost identical to PSXP. VLP is up 73% since its IPO, but down 15% from its July peak. VLP has only paid distributions for two full quarters, with a 5% increase from Q1 to Q2 this year. The partnership received the first drop down from Valero Energy on July 1, so the distribution growth is set to start accelerating, dragging along the unit price.
These two growth MLPs are poised to produce 25% to 30% total returns between now and the end of 2015. And if you're looking or steady, growing dividends from MLPs yielding upwards of 9.5% you should read my new report from The Dividend Hunter on 5 MLPs to Generate High Yield Income. CLICK HERE.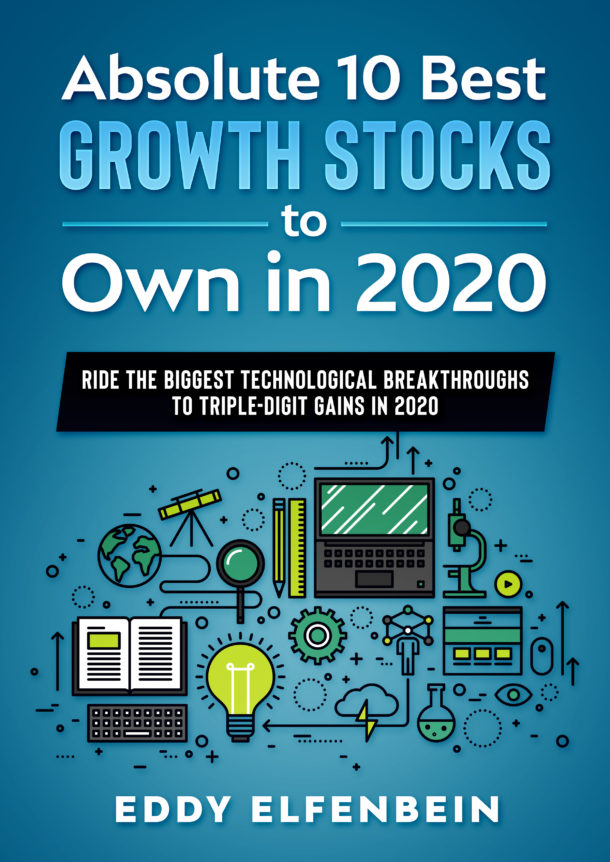 [NEW REPORT] Absolute 10 Best Growth Stocks to Own in 2020
Get the best 10 stocks to ride the 2020 tech explosion. 
One could be the most valuable stock of the next decade. 
Normally, I charge $20 for this report…
But, today...you can claim a copy absolutely free.
One stock alone has a chance at 167% profits in the next 12 months (or sooner). 
Enter your email below to claim a free copy while they last.