After December 31st, 1.6 billion new people will gain the ability to invest in gold which will open up massive new demand for the yellow metal equal to another China. Many experts believe this could send the price of gold up to $3,000, almost triple where it stands now.
Sharia Gold Update
Since the last time I spoke to readers about gold a few weeks ago, gold has continued its downward slide and is now trading around $1,130 an ounce.
The reason for the slide continues to be U.S. traders focusing on a strong dollar and rising interest rates.
These momentum traders seem to have little sense of the history of gold and rising interest rates.
A quick look back in history shows that interest rates were rising in the late 1970s. Yet, that didn't stop gold from rising to a then record $850 an ounce. Also, the Fed raised rates from 1% in 2003 to 5.25% in 2006. Yet, gold prices kept climbing.
In other words, a rise in rates from current ultra-low levels will not make gold prices go down.
The selling is also U.S.-focused in the paper gold (futures and ETFs) market. Premiums for actual physical gold in places like China and India are at multi-year highs.
Also, India is considering lowering the import tax on gold to 6% from 10%. It raised the tax in 2013 to curb imports.
Sharia Gold
Speaking of overseas markets brings me back to the once-in-a-lifetime occurrence that I told readers about the last time I spoke about gold. This event is the opening of the gold market to the world's 1.6 billion Muslims and current 100 million Islamic investors in 2017.
This is all thanks to the adoption of a Sharia gold standard by the Accounting and Auditing Organization for Islamic Financial Institutions (AAOIFI).
The new standards emphasize the necessity of physical gold backing any transactions in ETFs, gold savings, plans, etc. As I explained previously, that comes from the tenets of Sharia law forbidding the trading of gold – a ribawi item – for speculation.
SEE ALSO: The Dividend Stock that Pays an 18% Yield Like Clockwork 
The focus on the need for physical gold in Islamic gold financial products is very significant for the precious metal.
Mark Mobius
Its significance has not been lost on emerging markets guru and executive chairman of Templeton Emerging Markets Group, Mark Mobius.
He called the new Sharia gold standard "innovative and revolutionary", which may be an understatement.
Mobius cited the importance of the fact that the new standard is all about ownership of the underlying asset – physical gold. He also noted that payment or exchange of cash must happen at the exchange of ownership.
This opening of the gold market to Muslims is a major reason Mobius is bullish on gold heading into 2017. He thinks the gold price can move up 15% next year.
I believe the potential is there for even more in 2017. . .
Islamic Assets
Even though we in the United States are not very familiar with it, Islamic finance is a $2 trillion market that is forecast to grow about 16% annually. By 2020, that pot of Islamic assets is forecast to be worth somewhere between $5 trillion and $6.5 trillion.
It is not an unreasonable assumption to think that a mere 1% of these assets could be moved into gold.
Not only does gold have a long history in the Islamic world, but other Islamic assets including stocks, real estate, and Islamic (sukuk) bonds – have underperformed when compared to gold. In 10 years, the precious metal has nearly doubled in U.S. dollar terms and is up even more when translated to currencies used in Islamic countries.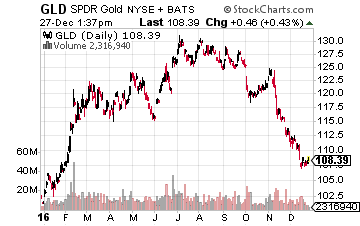 If that 1% allocation happens, it will mean an additional 500-1000 metric tons of demand for physical gold. I cannot emphasize enough what that will mean in a market where the current physical surplus is only about 172 metric tons.
Gold liquidated by U.S. short-term momentum traders in the SPDR Gold Trust (NYSE: GLD) and other gold ETFs will be vacuumed up by the Islamic world. Past gold liquidations in GLD have flown, as if on wings, to Asia and its gold-hungry buyers.
The Dynamic Is Changed Forever
And don't expect, as Wall Street does, that there is plenty of gold out there just lying on the ground waiting for the miners to pick it up and bring it to market.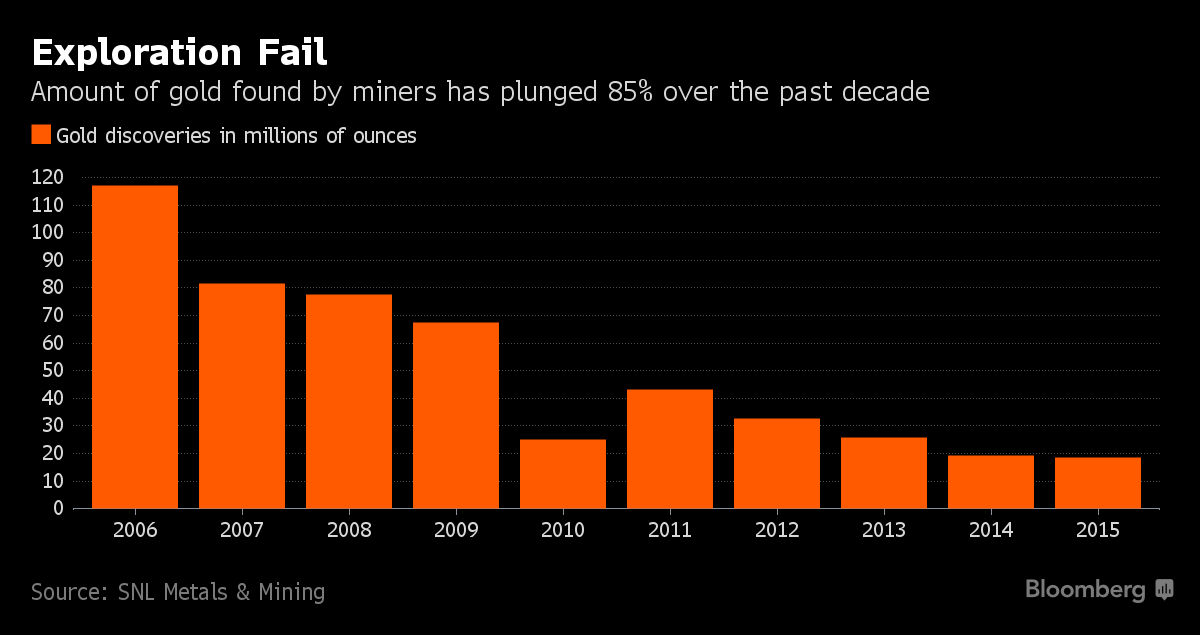 As Mark Bristow, CEO of Randgold Resources (Nasdaq: GOLD), said recently: "For the first time in history, gold supply into the future is under enormous pressure."
Miners are being forced to mine fewer and lower quality gold mines. Analysts at BMO Capital are even forecasting a peak in gold supply in 2019.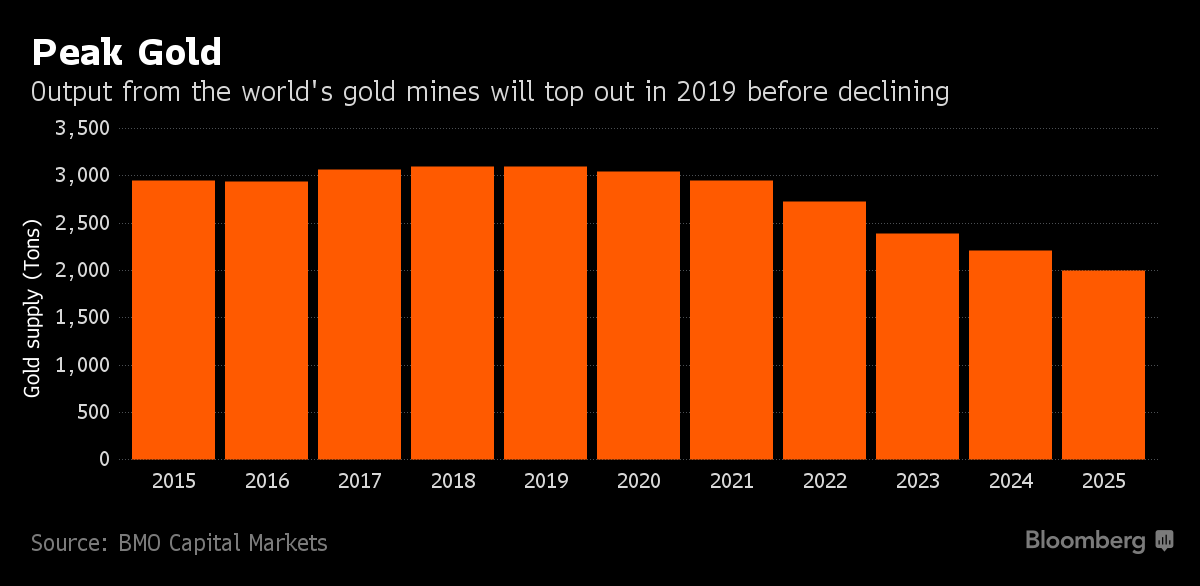 Add in the fact that very few appreciate that this launch of a Sharia gold standard signals a once in a lifetime change in the demand for gold globally.
I'll leave it to readers' imagination to figure out what a wave of new buying of physical gold will mean to a market where supplies are questionable and likely dwindling.
2017 will be remembered as the year the gold market dynamics changed forever, rewarding both the producers and the holders of the precious metal.  
Conservative Gold Investment
Limited supply and large additional demand from the Islamic world looks like a set-up for a major move higher in the gold price.
There are numerous ways for investors to take advantage of this.
You could buy gold bullion or gold coins. Or one of a number of gold-backed ETFs.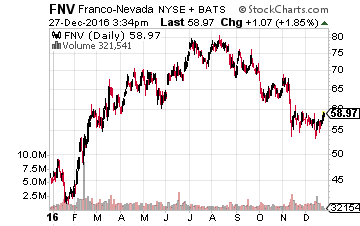 One of my favorite ways is through the world's premier gold royalty and streaming company that I spoke about before to readers, Franco-Nevada (NYSE: FNV).
I love its conservative business model of only providing funding for projects it has done its due diligence on in exchange for royalties on future gold production.
Despite its conservative nature, Franco-Nevada's stock outperformed both gold and the S&P/TSX global gold mining index since 2008. And it is a dividend champion, having raised its annual payout eight years in a row!
3 Golden Dividend Stocks to Pick Up Before January 1st
As we discussed above, over a billion new potential entrants will come on to the gold market starting on New Year's. Even if a fraction start buying gold immediately, though many more are expected to, the spot price of gold could go through the roof… driving up the share prices of gold stocks… particularly dividend paying gold stocks. There aren't many of them, but the few there are can add a nice boost to your portfolio. But only if you get in before gold takes off. Click here for my full briefing for the details on how to get set up.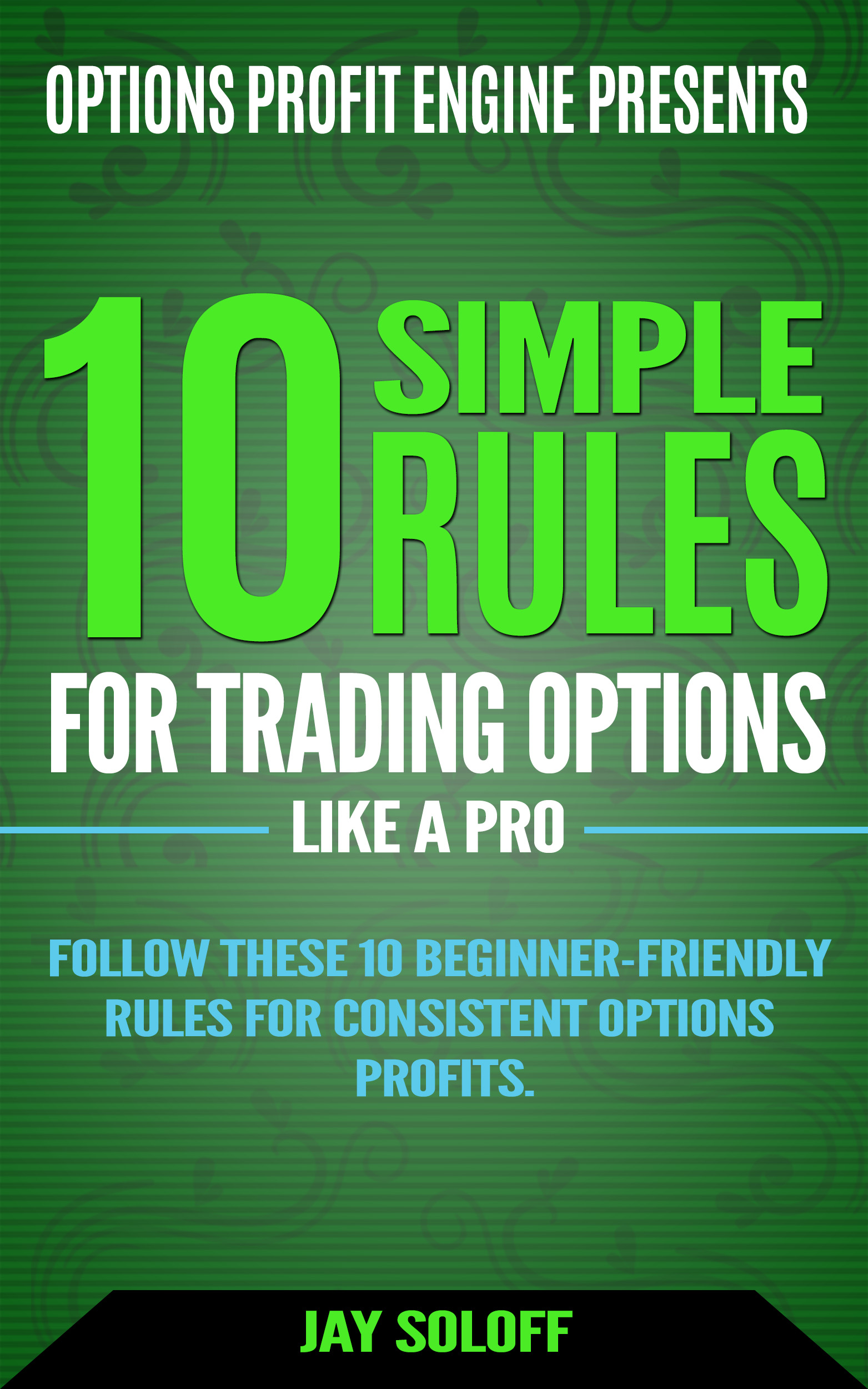 [FREE DOWNLOAD] 10 Simple Rules for Trading Options Like a Pro
Follow these 10 simple rules from 20-year professional options trading veteran, Jay Soloff and start earning a reliable extra income from options.
NO prior experience needed to master these 10 simple options trading rules. 
Enter your email below and receive access to this FREE guide...