Find out what Investors Alley's lead equities analyst Bret Jensen predicts for the market as we close out an unexpected and volatile year. Will the market tread water, bounce higher, or fall lower, see what Bret has to say. 
"Good judgment comes from experience and a lot of that comes from bad judgment." – Will Rogers
As I pen this article on Monday, the election results are still unknown. However, I believe that the FBI's announcement Sunday tilted the scales just enough to ensure Hillary Clinton will cross the finish line as the 45th president of the United States. I expect the markets to initially applaud this outcome. If there is one thing the market abhors, it is uncertainty.
I find it most ironic that at a time when the desire for change in the country is so great, the United States is most likely to have roughly the same political configuration as it has had for many years. The Republicans will retain the House and quite possibly the Senate. The Democrats will continue to occupy the White House. Only a few of the names will change. This is likely to make both sides unhappy. Who says God does not have a sense of humor?
I like the chances of a decent yearend rally as this contentious and nasty political season comes to an overdue end. This is especially true for sectors like biotech and pharma that have sold off this year in expectation of a political realignment. However, I would be very wary of the first part of 2017 for equities. The New Year could start with the same extreme volatility that 2016 opened with.
I base this on a few observations and some conjecture. First, economic activity has been woefully slow in the first half of every year over the past half-decade. Some of that has been weather related, especially a few years ago as the country suffered through two dismal winters in a row. Some was due to businesses being exceedingly cautious to start off the year given years of below-trend GDP growth and the state of the world economy. This year was no exception as GDP grew close to one percent in the first half of the year and should clock in at approximately two and a half percent by the end of the back half of 2016.
Business caution has been warranted in recent years and will be even more so this year given that a new Congress and President will sit in January. One of the few items on the agenda will be to fill a long-standing Supreme Court vacancy. This will not get the new relationship off to a good start and could well trigger the so-called "nuclear" option of bypassing a filibuster to fill the position. This will poison the well and destroy whatever little goodwill exists on both sides and make for a very long four years, or at least until the 2018 mid-terms.
In addition, the election will hardly bring an end to various congressional investigations into the potential new president's email server, or that of the Clinton Foundation. This will do nothing but add to the political acrimony between the parties, which is already at heightened levels. The geopolitical landscape will probably not allow a smooth transition, and I expect the new president to be confronted with global challenges shortly after taking office.
This could take a variety of forms including the Russians testing the resolve of the new leader in Syria, the Ukraine, or elsewhere. Brexit still looms for England, and Europe is still struggling to escape from the aftermath of the financial crisis and a host of other challenges are not going away.
As for the stock market, equities still remain mired in a "profit recession" that has existed for over a year now, and earnings growth remain sparse within a market that is selling at above average historical valuations. Given that 90% of the stock market's gains over the past four years have been the result of the shrinking risk premium between stocks and bonds and not earnings growth, this does not bode well for capital appreciation, at least until earnings growth within the S&P returns.
Given this pessimistic outlook for at least the first quarter of 2017, I plan to use any yearend rally to close 2016 to get my cash allocation back up to 25% to 30% within my own portfolio. My heaviest allocation outside cash remains in biotech and pharma, which are deeply oversold and should do well once investors figure out the "status quo" is still entrenched after the election.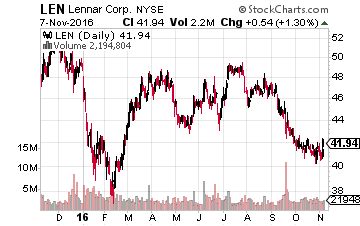 In addition, there is still value in the home builders. Housing starts are at their best levels in nearly a decade but remain way below their last peak in 2015 and substantially below their long-run average of the past forty years. Many names are seeing both revenue and earnings growth in the mid-teens, but are selling at eight to 11 times forward earnings. This is a huge discount to the overall market multiple. Builders like Lennar (NYSE: LEN), Toll Brothers (NYSE: TOL), LGI Homes (NASDAQ: LGIH) and Taylor Morrison (NASDAQ: TMHC) are all delivering solid results and are more than reasonable values in an "overbought" market.
Personally, I am just glad the election is over as being from the battleground state of Florida, I have seen a lifetime of political ads over the last month. However, even with the relief that a contentious election season has drawn to an end, I remain very cautious heading into the New Year.
Something that amazes me about the market right now is that never has there been a time in history where an investing strategy has gained so much popularity right at the time when it could be most dangerous to an investors' portfolio. What I'm talking about is a strategy that has caught on like wildfire for the majority of Americans who hire professional money managers and invest their money by themselves.
This is also a strategy that would overlook investing directly into these small growth stocks that offer huge return potential because of their exposure to some of the economy's fastest growing sectors. The strategy I'm talking about is called 'Passive Investing' which means putting money into a market-weighted portfolio or fund that tracks the returns of a specific sector. but what if stock market returns are nothing like what they used to be over the next 10 years?
But what if stock market returns over the next 10 years are nothing like what they used to be?
In fact, that's exactly what many investing experts are saying, and it could put 'Passive Investors' way behind on their retirement savings.
What you and every other investor in the market need to be doing right now is only purchase the stocks with the utmost best growth prospects in the market for the next 10 years. It sounds like a breeze, but even with my decades-long investing career it still takes me weeks or longer to find the right stock that fits all of my criteria for a good investment.
That's why I started my Growth Stock Advisor newsletter, to provide a window to the public that looks directly into my personal portfolio of the market's best growth opportunities both large and small. It's a way for me to share my experience as a lifelong investor and former hedge fund manager to a select group of people serious about transforming their wealth and making the right moves with their money.
Just this last week, I released a new report that I've titled '5 Buyout Candidates to Double Your Money Overnight' that details my highest-conviction growth plays in a hot sector of the market. You can have this report plus my 20 stock portfolio of  the top growth plays in sectors across the market and in companies both large and small if you give my Growth Stock Advisor a 60-day risk-free test drive. Just use the link below to find out more.
Click here to see my '5 Buyout Candidates to Double Your Money Overnight'
Positions: Long LEN, LGIH, TMHC, TOL