With the Fed announcement behind us, it's time to start thinking about how to trade the expected slow increase in interest rates. The next small rate increase is expected in December, and then there could be two or three more incremental increases in 2019.
Of course, we can't predict definitively what will happen. A change in the global or domestic economic picture could halt rate increases – or even reverse them in an extreme case. Plus, even slight variations in interest rate expectations could have a major impact on the US dollar. As such, trading the dollar can be a very reasonable way to take a position on interest rates.
So how do you trade the dollar? Once again, ETFs (and their options) offer us an easy and straightforward way to trade assets that used to be considered arcane and mostly untouchable for the average trader.
Invesco DB US Dollar Index Bullish Fund (NYSE: UUP) is a popular way to trade the dollar against a basket of currencies. As the dollar appreciates against six major world currencies (such as the Euro and Yen), UUP goes up, and vice versa.
You may not think there would be a lot of opportunity to trade options in UUP if you look at a chart of the ETF. Clearly, it doesn't move all that much ($3.50 range in a three-year period). That's in part due to the nature of currencies (large moves don't typically happen over a short-period of time). It's also because when a currency is matched against six other currencies, moves within the individual currency pairs will cancel each other out.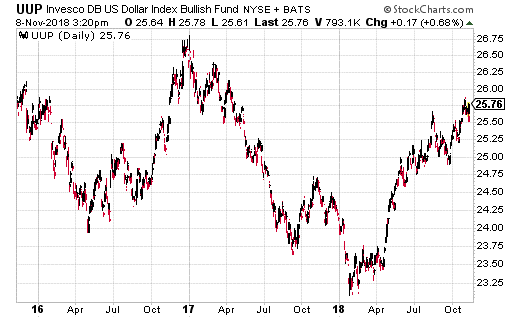 Nevertheless, it didn't stop a strategist from making a considerable purchase of puts on the ETF.
With UUP at $25.50, a large buyer purchased a whopping 218,000 January 25 puts for $0.16. Now, a mere sixteen cents doesn't seem like a lot to pay, but when you do it 218,000 times, it equates to almost $3.5 million in premium spent. That premium is the also the max loss potential for this trade. In other words, this trade is no joke.
While UUP doesn't move a whole lot, the dollar index ETF only needs to drop to $24.84 for the trade to break even. Once again the massive amount of options purchased means this trade could make substantial gains on a drop in the dollar.
For example, if UUP returns to last January lows of around $23.25, the trade would generate $1.59 in profit. Multiply that by 218,000 in options contracts and you get an eye-popping $34.7 million in gains.
Of course, with interest rates moving expected to move higher, it's more likely that is trade is a hedge against an unlikely scenario. It could be some kind of fund (pension fund, exchange traded fund, mutual fund, hedge fund, etc.) betting on higher interest rates and using this trade as a hedge. It also could be speculative, although when straight puts are purchased like this, it's generally a hedge.
Regardless, if you have a position that makes money on higher expected interest rates (short bonds, long financials, etc.) this could be a very cheap hedge for you to put on. That is of course assuming you don't buy 218,000 puts at once.
$500 into $678,906?
If you had followed Jay Soloff's 2018 trades, with a little luck, you could've turned $500 into as much as $678,906.
That sounds unbelievable. But you gotta see how it's possible.
If you can scrounge together $500 in cash, it could've been worth a small fortune today.
Check out how it could've happened for you,
click here
.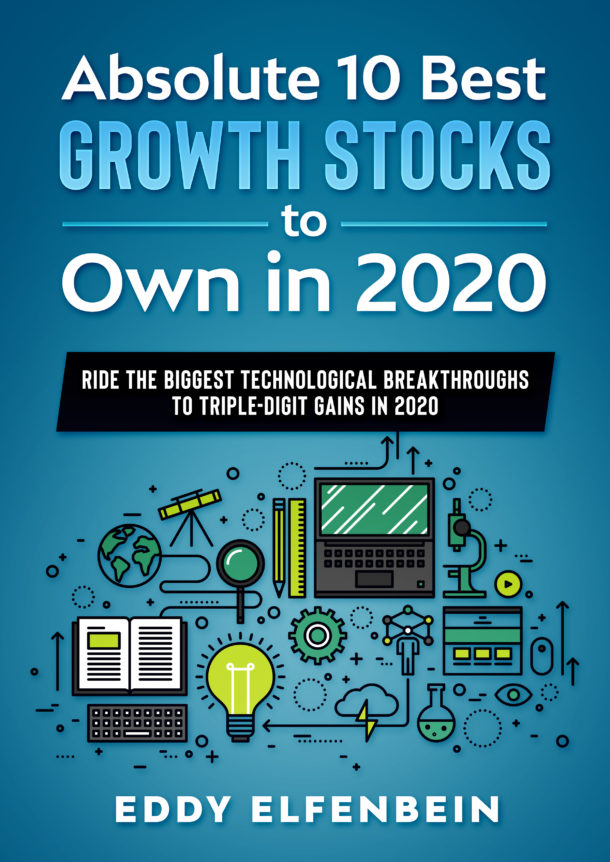 [NEW REPORT] Absolute 10 Best Growth Stocks to Own in 2020
Get the best 10 stocks to ride the 2020 tech explosion. 
One could be the most valuable stock of the next decade. 
Normally, I charge $20 for this report…
But, today...you can claim a copy absolutely free.
One stock alone has a chance at 167% profits in the next 12 months (or sooner). 
Enter your email below to claim a free copy while they last.