The last couple of weeks have shown how a handful of negative news items can lead to very unpleasant stock market results. Especially galling were those market days that, after a down day, started the morning with a nice positive pop in stock prices and then through the day the market gradually moved from a very positive open to another rather large down day by the time the markets closed. This S&P 500 one-month chart using daily candlesticks shows the down days in red, and you can see how there was little relief from the losing pain over the last two weeks.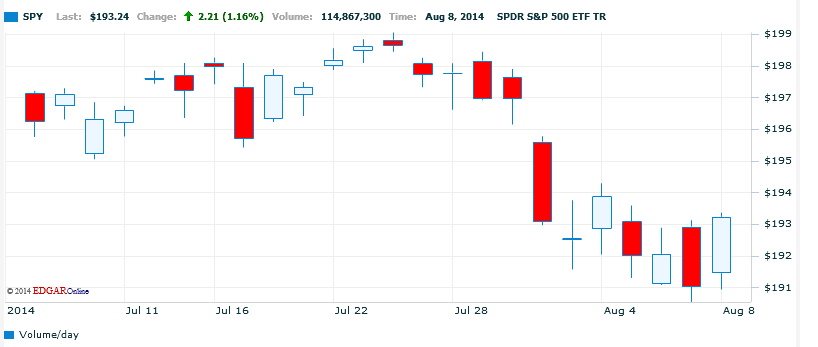 However, with my focus on dividend growth investing, the short term drops in the market are cause for no concern. This last week has been the heart of earnings season for the companies I keep up with, and stock after stock have been announcing dividend or distribution increases along with their second quarter earnings reports. The master limited partnership (MLP) space is loaded with companies that increase distributions every quarter and I have yet to read an earnings report from a partnership that has had to break its pattern of historic distribution growth.
The stock market investments that I search out to recommend on The Dividend Hunter and 30 Day Dividends newsletters are those with the best combinations (as compared to their peers) of current yield and projected future dividend growth. With these investments, temporary share price drops are viewed as either an opportunity to average down in price and up in yield or just stick with a "What me Worry?" attitude, since the dividends I will receive over the next month will be higher than the payments last quarter and in another three months, the payments will again increase.
Among the several hundred dividend growth stocks and MLPs I research and follow, there is a wide range of yield, growth rates, and measurable safety of the future distribution payments. Here are two MLPs with attractive growth profiles that rank near the top on the safety scale.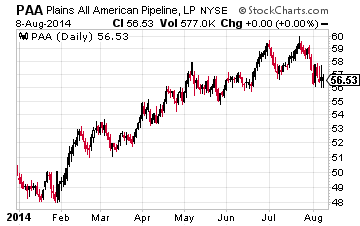 Plains All American Pipeline LP (NYSE: PAA) is the third largest midstream MLP and has a market cap of $21 billion. The company owns and operates crude oil and natural gas liquids gathering, processing, transport, pipeline and storage assets. What sets PAA apart is the company's long history of superior distribution growth. The PAA payout has been increased by an average of 8.4% per year for the last 10 years, and that rate has increased to 9.5% annually for the last three years. Management currently is targeting 10% annual distribution growth, or 2.4% every quarter.
The PAA management team publishes annual revenue and growth guidance, and each quarter updates investors on how well it is doing in respect to the forecasts. The conservative approach to forecasting has resulted in year after year of results above guidance. When PAA does produce distributable cash flow above guidance, it does not use the extra cash to boost the distribution. Instead it plows that extra money back into its growth projects, reducing the cost of maintaining the growth goals. PAA currently yields 4.5% with projected 10% distribution growth. For comparison, the average growth estimates of the seven $10 billion plus midstream MLPs is 5.8% per year.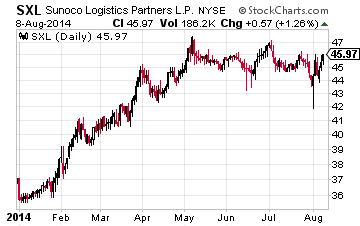 Sunoco Logistics Partners LP (NYSE: SXL) is one of the great midstream MLP growth stories. The company provides transport, terminalling and storage for crude oil, refined products, and natural gas liquids. With its well managed focus on growth, Sunoco Logistics has been able to increase its quarterly distribution by at least 5% every quarter for 9 consecutive quarters. That works out to over 20% per year distribution growth. With a current $9.5 billion market cap, the company plans to invest $2 billion in 2014 to maintain that record of growth. SXL actually maintains a conservative stance when declaring distributions.
For the first half of 2014, the generated distributable cash flow was 1.65 times the amount of cash needed to pay the declared distributions to investors. SXL currently yields 3.2%. With a growth focused MLP, the distribution growth rate should pull the unit price up at a similar rate, producing a 20% to 25% average annual total return.
In The Dividend Hunter newsletter, I search out and recommend MLPs and other dividend paying stocks that are poised to become the next Plains All American Pipeline. With this approach subscribers find the 10% growth companies with 6% yields. One of the 30 Day Dividends strategies is to watch Sunoco Logistics and other high growth income stocks to find those entry and exit points that will generate 40% to 50% or greater annualized returns.