There are certain things that everyone needs, no matter what's going on in the world or how the economy is faring.
Think food, water, electricity, etc.
There are also certain less critical vices that remain popular, regardless of what's happening in the world.
Think booze and tobacco, for example.
When it comes to building a portfolio that can withstand economic, social, or political shocks, you'll always find analysts suggesting defensive companies that sell these products.
But that doesn't necessarily mean they're all good investments.
Here's one you should avoid, or consider playing the downside via put options…
Acid Reflux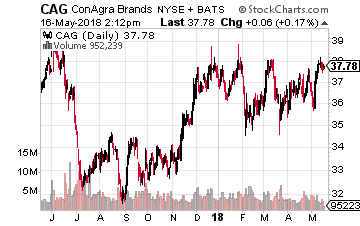 Founded in 1919 and based in Chicago, Conagra Brands Inc. (NYSE: CAG) makes a host of products that probably sit in your fridge and cupboards right now.
For example, it owns the Marie Callender, Hunt's, Healthy Choice, Banquet, Orville Redenbacher, and Slim Jim brands.
While the company boasts undoubted diversity in this regard, Conagra faces a few notable issues…
Competition: Right off the bat, there's inherent fierce competition in the food industry, with a dizzying (and sometimes outright overwhelming) array of products to choose from at the store.
As Morningstar analyst Erin Lash puts it, "Competitive pressures abound, and we don't believe [Conagra's] mix has mustered much clout, impairing its negotiating leverage with retailers."
Price Pressure: It's easy to see why Lash would come to that conclusion. As food manufacturers battle for shelf space, they're desperate to get their products noticed by budget-conscious consumers. That means bombarding television, radio, and print media with a slew of adverts and promotions that draw distinctions between their brands and those of their rivals. Needless to say, that costs money. And with such a competitive market, such costs are a constant.
On top of that, there's food and commodity price inflation (and even though such costs are usually passed on to consumers, it means little if there are fewer actual sales because of higher prices), typically tight food inventories, and greater logistics costs.
Margins: In addition to price pressure and the fight just to sell products, many of Conagra's brands feature lower-priced offerings in any event.
Lower prices = lower margins.
Indeed, Conagra's 11.3% net profit margin is well below the 27.7% industry average.
Healthy Headwinds
As I mentioned, defensive consumer staples companies have long been popular members of investors' portfolios.
Just as the foodstuffs they offer are convenient, they're generally safer, profitable stocks, too.
But that convenience often comes at a price for consumers: Their health.
Many of the products that companies like Conagra offer tend to be ready-made, processed foods that are high in fat, sugar, or salt.
Convenient, yes. But healthy? Not so much.
However, we've recently seen a shift, as more consumers focus on healthier eating.
That's impacted Conagra, whose revenue has dropped by 9.6% over the past year. Indeed, between 2013 and 2017, sales collapsed by almost 50%. And while its annual average sales growth rate over the past five years is an unappetizing -10%, the company's peers are chugging along at 22.4%. Conagra has been left behind here.
While the industry has tried to fight back by offering some healthier options or acquiring firms that produce healthy foods to give them the appearance of being more health-conscious, this isn't much to move the needle.
These companies' bread-and-butter business (if you'll excuse the pun) is on processed, convenient food – and they'll continue to churn them out like always.
For a start, they're usually cheaper to mass produce than healthier (and often more perishable) alternatives – which is certainly appealing, given the industry competition, pricing, and margins issues I noted above.
And aside from the lower nutritional value, the fatty, sugary, salty content directly taps into people's cravings… and thus makes them buy more. Or so the theory goes.
While consumers obviously aren't going to stop buying processed foods en masse, the greater shift towards healthier eating has nevertheless dented these companies' sales.
Fat-Free Gains
That recently led to a bearish 2018 forecast from Credit Suisse, which expects packaged food manufacturers to only notch low single-digit growth this year and underperform the broader market.
More specifically, it issued downgrades on The Kraft Heinz Company (Nasdaq: KHC) and The J.M. Smucker Company (NYSE: SJM), while lowering its price targets on Conagra, General Mills Inc. (NYSE: GIS), Kellogg Co. (NYSE: K), The Hershey Co. (NYSE: HSY), and Mondelez International Inc. (Nasdaq: MDLZ).
Such low expectations seem valid for Conagra, whose shares have basically gone nowhere this year, or even over the past 12 months, in fact.
With the issues the company (and industry) faces, there are few catalysts for significant change – and therefore little upside for investors, either.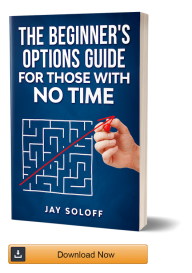 If not, here's your chance to save it to your computer while it's still free. That way you will never have to pay for it again in the future.
This guide will get you placing winning trades without you needing to spend hundreds of hours studying.
In fact, you can place your first trade today after reading my "Beginner's Guide" to trading options.