The majority of stock market participants focus on short-term news and events. That can easily be proven by looking at the 52-week high and low stock prices of any company with a stable business. Most of the time you can see large differences in the two numbers, even when not much has changed in that short amount of time. These swings create great opportunities for the savvy investor to take advantage of deeply discounted prices because the market's short-term mistake.
This is such a case. With the leading ETF of this sector down 30% since its peak, brave and savvy investors can step in and scoop up quality stocks at rock-bottom prices and profit from the eventual recovery. I see many reasons why this sector will recover in the long-term and am taking advantage of these solid entry points. I believe that this current bear market will be seen in the future as a great buying opportunity missed by many. Don't let yourself fall into that category.
The energy stocks sector is in a full-fledged bear market. The Energy Select Sector SPDR ETF (NYSE:XLE), which tracks the energy sector of the S&P 500, is down over 30% since it peaked in June 2014. With the current drop in the price of crude oil back into the mid-$40's, energy stock prices are falling well below the levels they reached early in 2015, the last time crude dropped below $50. The complete sector sell-off provides brave and savvy investors the opportunity to pick up quality energy stocks at bear market prices and profit from the eventual recovery.
Global crude demand is about 90 million barrels per day, with that number growing by one to two million each year. The cause of the current drop in crude is a global production excess of 1.5 to 2.5 million barrels per day. Crude oil production naturally declines by 5% to 8% per year. It takes very little production spending slow down to flip excess production to a shortage.
I think this one quote from the Wall Street Journal drives home the point: "Oil companies need to replace between 5% and 8% of crude output each year just to offset shrinking production from old wells, analysts estimate. But only six major oil projects worldwide received a go-ahead last year, compared with an average of more than 20 a year from 2002 to 2013, according to Deutsche Bank."
Which Energy Stocks to Buy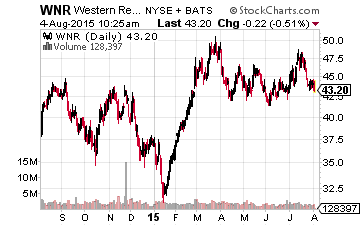 To start, the easy energy stocks to own are those that see increasing profits due to lower energy commodity prices. This group is primarily the pure play refining companies. Fuel prices have not dropped as fast as crude oil, providing steadily wider profit margins for the refiners. Phillips 66 (NYSE:PSX) was the first of this group to announce second quarter earnings with a 22% increase in refining margin compared to the first quarter. As a dividend focused writer, I recommend Western Refining, Inc. (NYSE:WNR), which has a strong history of sharing higher profits with investors as growing and special dividends. HollyFrontier Corp (NYSE:HFC) has a history of paying special dividends when quarterly results are good.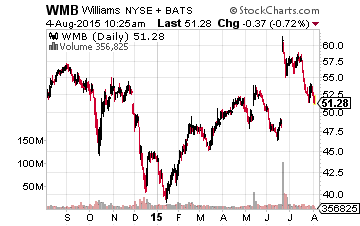 Energy infrastructure stocks are falling along with the rest of the sector. Many of these companies provide transport, processing and storage services that are necessary in any energy price environment. I have been recommending Williams Companies (NYSE:WMB) as a top infrastructure play.
Williams's businesses are all in the natural gas side of the energy business types. The stock yields 4.5% and dividends should grow by 10% per year. WMB is also a strong buyout candidate, with a $64 offer on the table and I expect someone to make a bid of at least $70. Final point, if the new clean energy rules just announced by the Obama administration go into effect, natural gas will be the most natural beneficiary of those rules.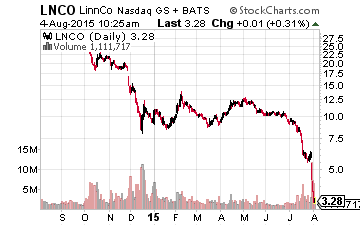 Finally, you may want to take a gamble on an energy production company that could provide home run gains in your portfolio if/when energy commodity prices recover. Linn Energy LLC (Nasdaq:LINE), just suspended its high-yield distributions and the unit price is under $3.50, compared to $12 earlier in 2015. Linn is trading at just two times its free cash flow based on a hedge book with price protection through 2016. I like the LinnCo LLC (Nasdaq:LNCO) units if Linn Energy. LNCO reports using Form 1099 instead of the Schedule K-1 from LINE.
There are great opportunities in the tax-advantage master limited partnership –MLP– sector. MLPs develop, own and operate a large portion of the U.S. energy infrastructure. My just launched Tax-Smart Income Hunter helps investors navigate the complicated MLP universe, with my top picks for tax advantage income and total returns.
High yield / high dividend growth investments that regularly boost their dividends are an integral part of the income strategy with my newsletter, The Dividend Hunter. And there are currently several in my Monthly Paycheck Dividend Calendar, an income system used by thousands of dividend investors enjoying a steady stream of cash.
The Monthly Dividend Paycheck Calendar is set up to make sure you're a minimum of 5 and in some months 8, 9, even 12 paychecks per month from stable, reliable stocks with high yields.
And it ensures that your dividend stock income stream will be more stable and predictable as you're getting payments every month, not just once a quarter like some investors do.
The Calendar tells you when you need to own the stock, when to expect your next payout, and how much you could make from stable, low risk stocks paying upwards of 8%, 9%, even 11% in the case of one of them. I've done all the research and hard work; you just have to pick the stocks and how much you want to get paid.
The next critical date is Thursday, August 27th (it's closer than you think!), so you'll want to take before that date to make sure you don't miss out. This time we're gearing up for an extra $1,539.50 in payouts by September, but only if you're on the list before the 27th. Click here to find out more about this unique, easy way of collecting monthly dividends.
Position: Long LNCO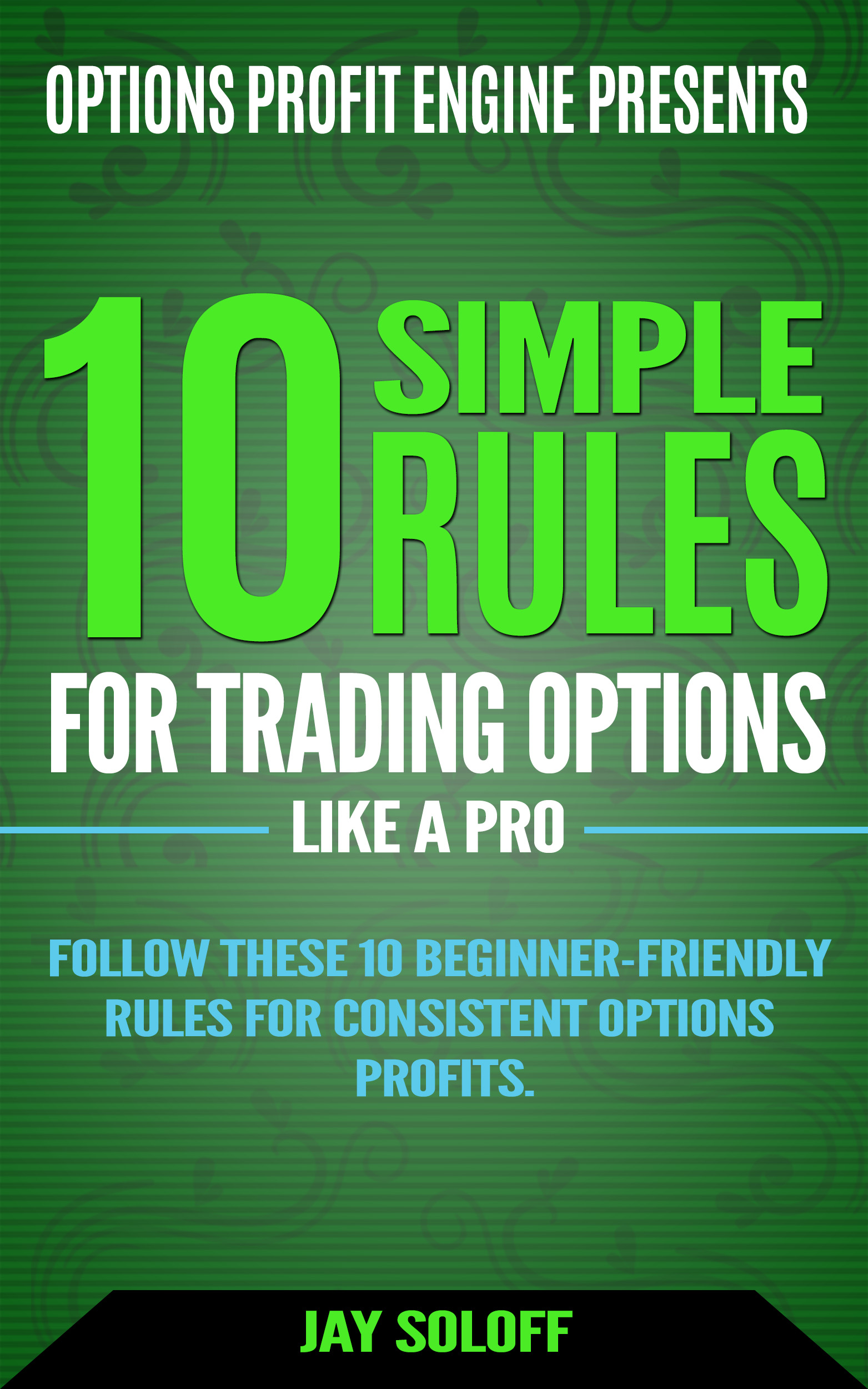 [FREE DOWNLOAD] 10 Simple Rules for Trading Options Like a Pro
Follow these 10 simple rules from 20-year professional options trading veteran, Jay Soloff and start earning a reliable extra income from options.
NO prior experience needed to master these 10 simple options trading rules. 
Enter your email below and receive access to this FREE guide...