Not long ago, I wrote about an emerging markets trade which suggests emerging market debt could be in trouble.  But what about emerging market stocks?  What is the option market telling us about that asset class?  Problems with debt can definitely spill over into stocks… but it doesn't have to.
For instance, an issue with Greek debt – something known globally as very high risk – doesn't automatically imply stocks from India are going to sell off.  On the other hand, a debt default at the sovereign level could cause a domino effect which spills into global equity markets.
Of course, options trading strategies can be used for a variety of reasons.  A strategy which is a speculative position for one trader may be a portfolio hedge for another.  We may come across an interesting trade and only be seeing a fraction of a larger strategy.  There aren't many certainties in the financial markets, but we can often make educated guesses.
Here's the thing…
One strategy that is very cut and dry is covered call writing.  If a trade comes across my block screener labeled as a buy write, we know the trader is buying shares of a stock and writing calls against it.  We also know that it's a moderately bullish to neutral strategy.  That part is pretty much set in stone.
As such, coming across this massive covered call trade in iShares MSCI Emerging Markets ETF (NYSE: EEM) gives us a compelling looks at what may be in store for emerging markets this summer.  By the way, EEM is an extremely popular ETF – one of the most heavily traded in the world.  It averages almost 70 million shares a day and nearly 450,000 options.
Regardless, when you see a 56,000 block of covered calls hit the tape, it's a meaningful trade whether it's a heavily traded ETF or not.  Remember, 56,000 short calls means there were 5.6 million shares purchased at the same time.
In this case, with EEM trading at a share price of $44.56, the trader sold the September 46.50 calls for $0.42, or $2.4 million collected in premium.  The long shares are protected down to $44.14 (breakeven) and max gain is at $46.50 or above at September expiration.
It may be nothing, but looking at the chart you can see EEM has recently broken above the 50-day moving average.  That could provide support for the time being.  Meanwhile, the 200-day moving average is right at $46.50, which should act as strong resistance.  Basically, from a technical standpoint, the covered call trade makes a lot of sense.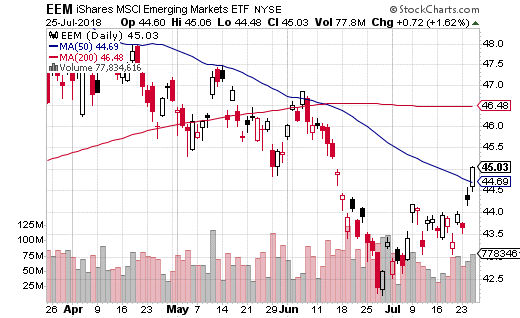 With the call selling for $0.42, the trader is looking at a 1% yield over the course of two months.  By itself, that's not a huge amount (although in dollar terms, $2.4 million is not exactly chump change).  On the other hand, if the stock moves to $46.50 or above, the trade earns and extra 4% in stock appreciation.  All told, the trade would generate almost 5.5% at max gain, which is a solid return for just two months.
We're also talking about an index.  It isn't likely to collapse or skyrocket higher, so the covered call trade appears to be a good fit for this situation.  Doing this trade could be a safe way for you to make at least 1% over the next two months and possibly over 5% if EEM heads to the 200-day moving average.  That's a very reasonable return for the little amount of risk involved.
$500 into $678,906?
If you had followed Jay Soloff's 2018 trades, with a little luck, you could've turned $500 into as much as $678,906.
That sounds unbelievable. But you gotta see how it's possible.
If you can scrounge together $500 in cash, it could've been worth a small fortune today.
Check out how it could've happened for you,
click here
.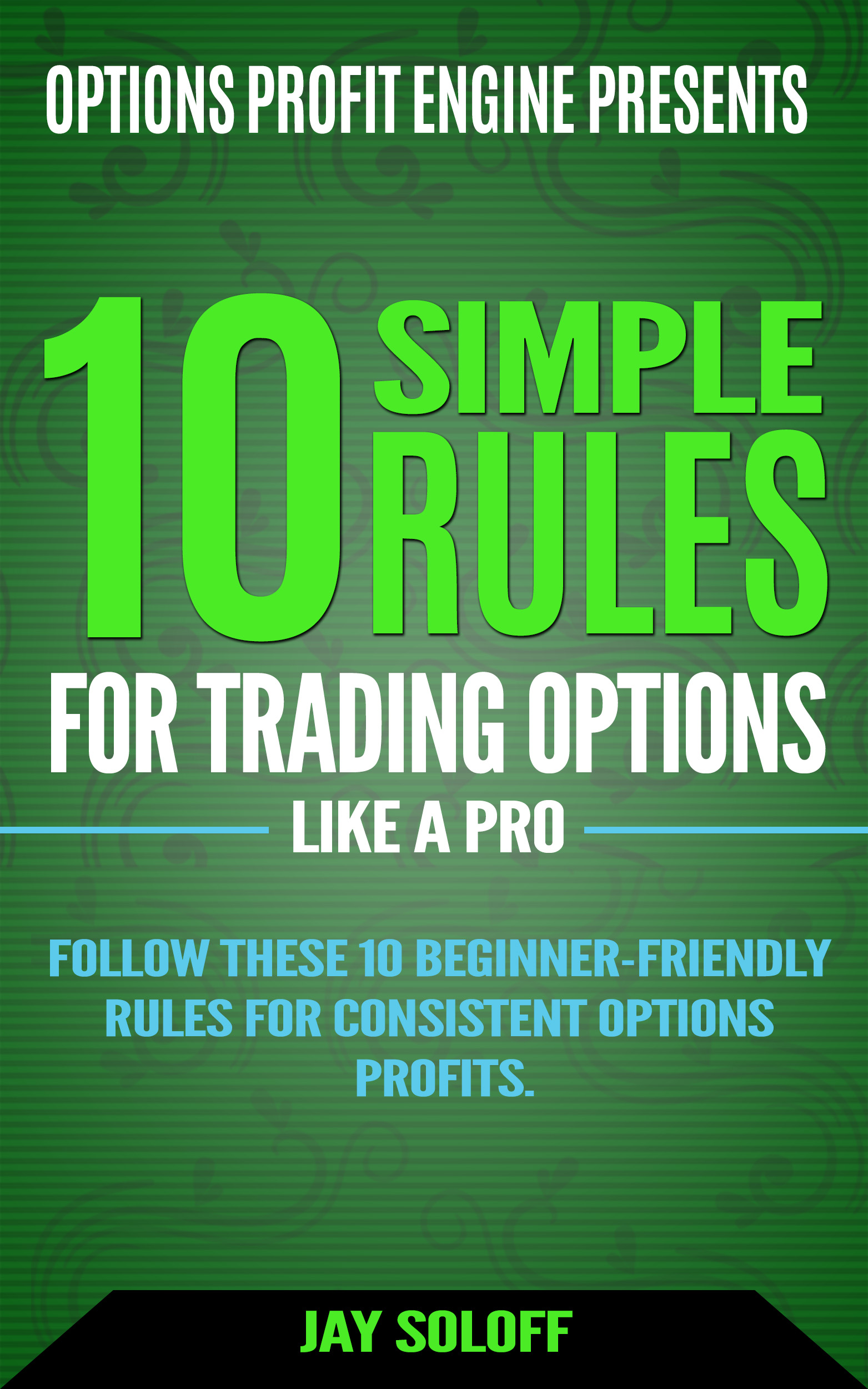 [FREE DOWNLOAD] 10 Simple Rules for Trading Options Like a Pro
Follow these 10 simple rules from 20-year professional options trading veteran, Jay Soloff and start earning a reliable extra income from options.
NO prior experience needed to master these 10 simple options trading rules. 
Enter your email below and receive access to this FREE guide...