By following this easy-to-understand options trade you can get a quick 5% return in about month. We're combining the 10% discount in price along with the general fear from other investors to lock in a quick hit.
For over a generation the promise of solar power has been the technology of tomorrow: the launching point to a clean new world with near limitless, inexpensive energy.
The reality is that while tremendous advancements have been made since 1974 when the first building to be heated and powered by solar (and wind) exclusively was developed, the technology has moved forward in fits and starts. Nowhere is this better reflected than the share prices of solar-related stocks.
One recent example is SunPower (Nasdaq: SPWR), a San Jose, California based firm that positions itself as a global leader in the development of solar panel and solar energy solutions. The company has existed since 1985.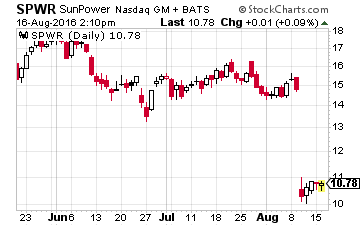 SunPower was SLAMMED down 30% on one session just a week ago following disappointing future earnings guidance.
SPWR had tracked between $30 and $20 for nine months before the May breakdown below support.  That range breakdown targeted a measured move to $10, which was exactly the low last week.
Note that SunPower has not been below $10 since early 2013.
That $10 pivot is evident on the chart as a key level to lean on.
Rather jumping all in and looking for the share price to return to those higher levels at some point this week I'm recommend a conservative options play on the stock moving just a little and getting paid on it or not hitting our price target and we still get paid.
Here's how it works out.
IT IS ALL ABOUT THE MATH
The option volatility at the 60% level makes the option expensive in relative value compared to the market itself.  Option selling strategies take advantage of the increased premiums.
The potential return on risk of 5% in a month is attractive with a $9.50 breakeven at the option expiration.
Buying at a10% discount price if assigned is a way to position for a long term recovery in a single digit stock… Or to get paid not to buy it at these extreme low levels.
Put the one month high probability percentage return in perspective.  The yield on the US Treasury 10 Year Note is now at 1.5%.  A 5% one month payout or buy the stock at a 10% discount to current prices is a WIN, WIN proposition.
The high implied volatility makes option selling strategies attractive as pure probability trades that utilize time decay acceleration.  The September options have about a month until expiration.
One tactic to buy at a lower price, or get paid not to, is used by money managers to buy stocks they WANT for long term portfolio positioning.  You can use the fear of other investors for your benefit by selling a CASH SECURED PUT to enter the stock at a major discount.
The fear and uncertainty can be used to get in another 10% lower for those who are at worst are comfortable holding on to an inexpensive stock to wait for a potential recovery.
Portfolio Strategy
The straightforward Price Order to buy a stock at a lower level is common if it can be determined where it is comfortable to get in below current prices.  Put in the trade at "X" and wait for the dip to enter.
Professional money managers have certain points at which they would buy a desirable stock but an option strategy lets them get in at discount or get paid not to.
Selling a CASH SECURED put has the same mathematical risk profile as a covered call and would assign the stock long at the option strike price.  The true entry basis is actually even lower with the subtraction of the premium.
With the Put sale there is an OBLIGATION to buy at the strike price if it is assigned.
However, if the stock is not below the strike at expiration the premium received is all profit.  Get in the stock at a discount or get paid not to…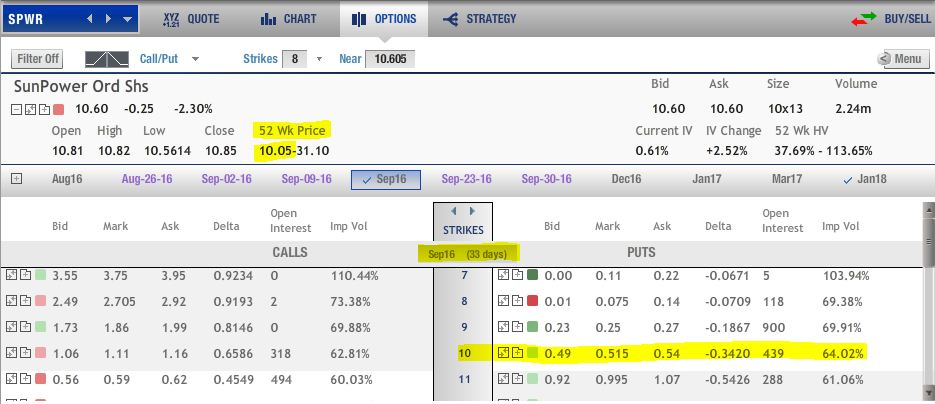 Trade Setup:  Sell the SPWR September $10.00 Puts to open at $0.50 or better.  The cash secured Put sale would assign long shares at $4.25 if it is put to you costing $950 per option sold.
The combination of time decay and 70% probability of SPWR finishing above the $9.50 break even make the option sale attractive with a month until expiration.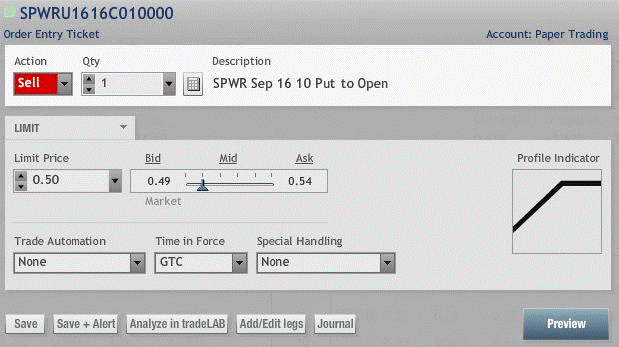 If SPWR stock does move lower, buy the shares for 10% cheaper than the current share price.  In the event that shares are assigned at $9.50 basis, an October covered call can be sold against the stock to lower the cost basis again when you own it.
Otherwise, you get paid not to… and get a 5% return on risk in less than a month.
IT IS ALL ABOUT THE MATH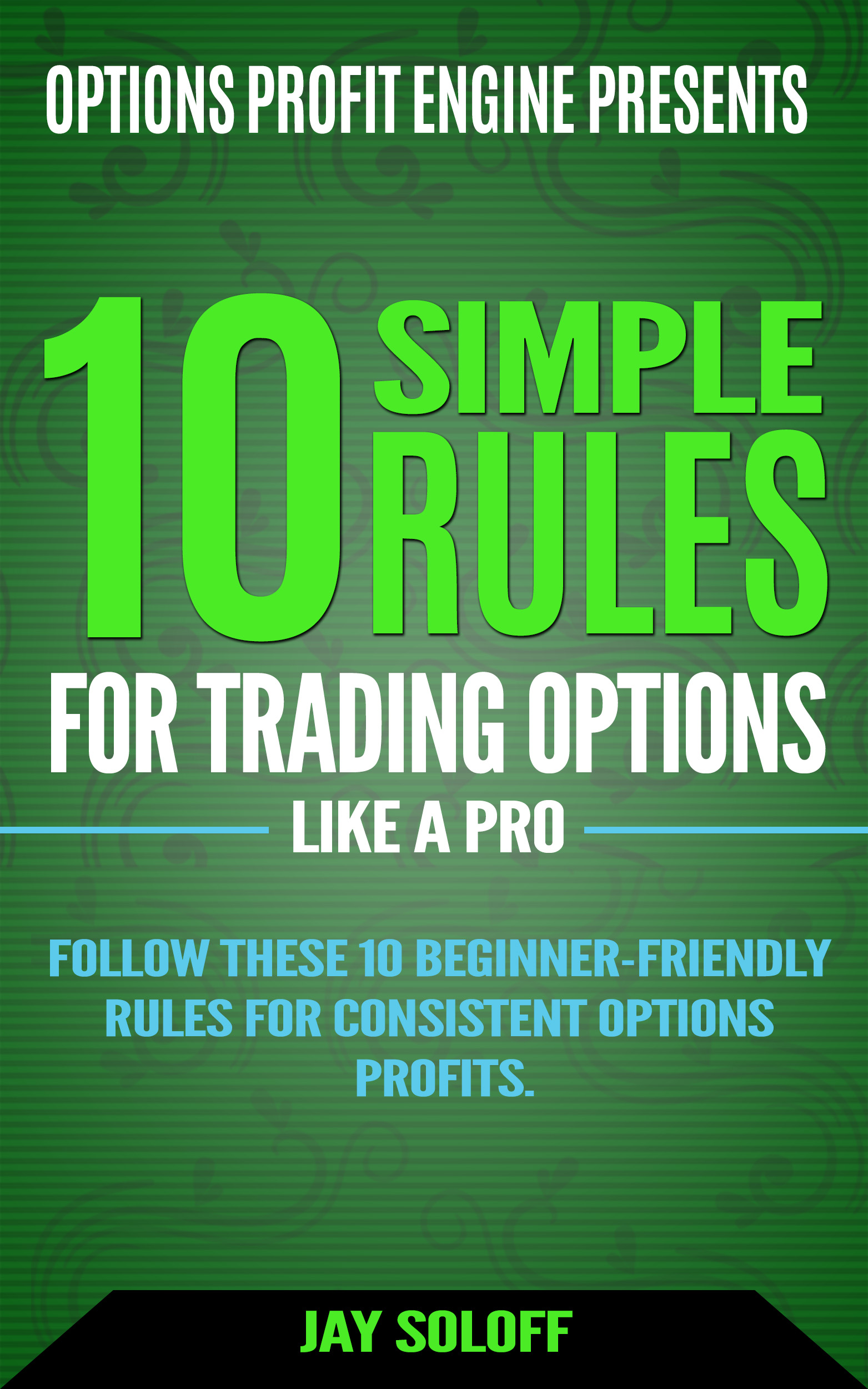 [FREE DOWNLOAD] 10 Simple Rules for Trading Options Like a Pro
Follow these 10 simple rules from 20-year professional options trading veteran, Jay Soloff and start earning a reliable extra income from options.
NO prior experience needed to master these 10 simple options trading rules. 
Enter your email below and receive access to this FREE guide...