And it's not a risky small cap stock either. You can earn up to 100% returns on this stalwart blue chip bank by using specific options contracts detailed in this article that have even less downside risk than owning shares of this stock. 
BANK BREAKOUT – DOW Downer CITIGROUP ready for rebound…
The post financial crisis recovery has not been robust for banks. While long off life support, the path to prosperity has lagged behind other stock sectors that have surged since the 2009 lows.
XLF, the Financial Sector Exchange Traded Fund, stands barely above the halfway midpoint of the 2007 $38 peak to $6 lows.

The XLF ETF includes companies in financial services, insurance, commercial banks, capital markets, REITs, consumer finance, thrifts and mortgages.
Everybody has been beaten up by these low, low interest rates… that have to rise eventually. A WHEN not IF question…
One of the BIG BANKS that was once on the brink, CITIGROUP (NYSE: C), has underperformed in 2016 as stocks posted new highs in the major market indexes. C is down nearly double-digits percentage-wise compared to the DOW's positive 5% over that same time period.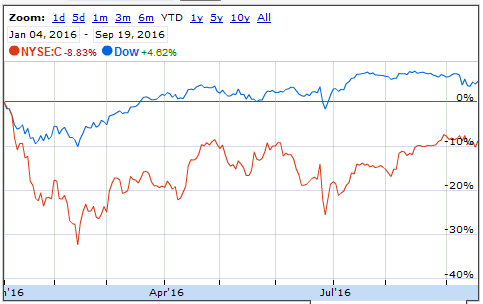 C has slid from $56 at the end of 2015 to $36 February lows. The $46 midpoint of that move has now just been overcome on the upside… setting up potentially for more recovery gains.
A psychology shift OR the long overdue rising rate environment can make investors realize banks are buys. The low price to earnings ratio in C below 10 is also an attractive attribute.
The move above the $46 midpoint of the channel track targets $50 symbolically then the $56 measured move price objective.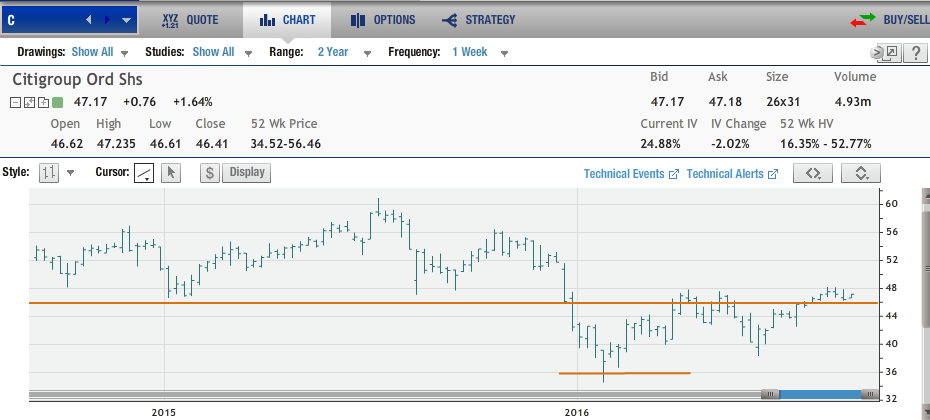 Let me show you how to have a lot of time to be right by positioning for a 100% return using a limited risk option. This proposed play also has lower investment cost and dollar risk than buying the stock shares outright.
SIMPLE STOCK SUBSTITUTION STRATEGY
A stock substitution strategy using options ties up less capital and has absolutely limited risk to the premium paid. Using options instead of buying the shares also has greater staying power for long-term trend development.
The March options contracts give us six months for a Bullish development in Citigroup stock.
An In-The-Money option gives you the right to long the shares from a lower strike price and costs much less than the stock itself.
The Options Way: Unlimited Upside Potential with Limited Risk.
A C long call option can provide the staying power in a potential bullish trend extension. More importantly, the maximum risk is the premium paid.
One major advantage of using long options instead of buying or selling shares is putting up much less money to control 100 shares — that's the power of leverage.
SEE ALSO: Sell These 5 Stocks on the Verge of Bankruptcy
With C trading at $47.25, for example, an In-The-Money $40.00 strike option currently has $7.25 in real or intrinsic value. The remainder of any premium is the time value of the option.
Trade Setup: I recommend the C March $40.00 Call at $8.50 or less. Only a close in the stock below $43.00 on a weekly basis or the loss of half of the option premium would trigger a position exit.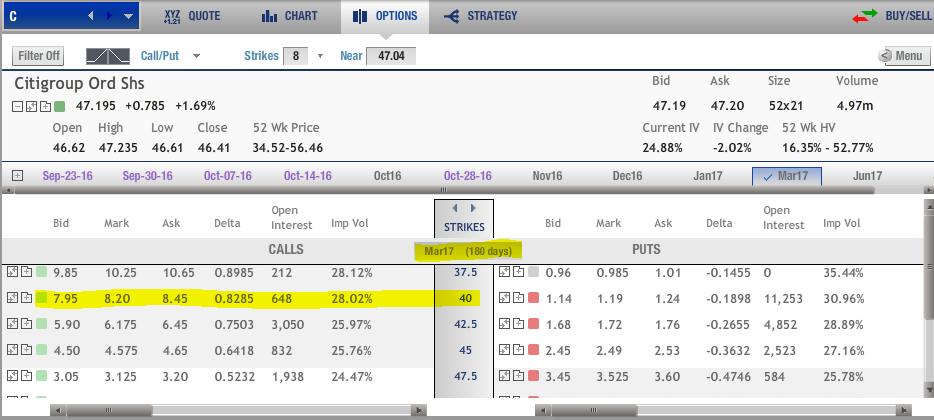 An option play also has staying power with the ability to ride through ups and downs that would force most stock traders out of the position. The March option has six months for bullish development.
The option also behaves much like the underlying stock with much less money tied up in the investment. The Delta on the $40.00 strike call is 80% meaning it moves nearly one for one with the Citigroup stock price.
This long option is like being long for the stock from $40.00 with completely limited risk. C has not been down at the $40.00 price since March with the exception of the end of June two-day market dip from the Brexit vote.
The maximum loss is limited to the $850 or less paid per option contract, with a stop loss exit at half of that premium paid to limit dollar risk.
The upside potential, on the other hand, is unlimited.
The C option trade break even is $48.50 or less at expiration ($40.00 strike plus $8.50 or less option premium).
A move to the $50 mark sets up for an attack on $56 annual highs. The measured move target at $56 ($10 range on top of the upside breakout) would value the position at $16 doubling the option investment.
Options trades like the one above and the kind I specialize in are a great way to boost the returns in your brokerage account when you don't want to tie up a lot of cash and want to minimize downside risk.
Another way to pull in consistent cash is by putting your money in places where you know you'll get a decent return, like the specialty bank paying 7% that my colleague Tim Plaehn recently shared. He just released a new video about this great income opportunity. Just click the link below to find out how to start earning 7% on your money.
Click here to start earning 7% a year.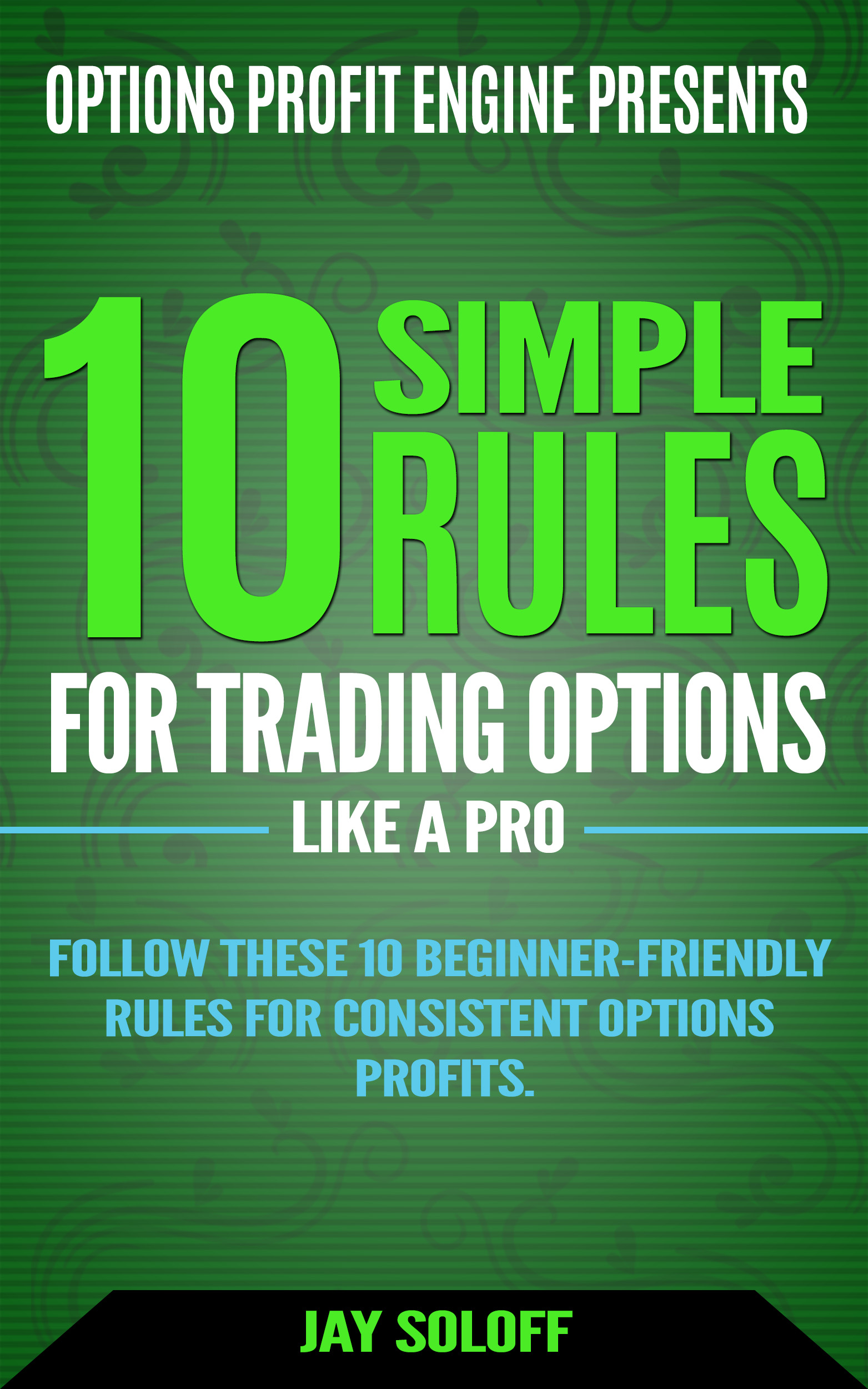 [FREE DOWNLOAD] 10 Simple Rules for Trading Options Like a Pro
Follow these 10 simple rules from 20-year professional options trading veteran, Jay Soloff and start earning a reliable extra income from options.
NO prior experience needed to master these 10 simple options trading rules. 
Enter your email below and receive access to this FREE guide...