In the entire stock universe, there is a small sub-sector that has been consistently handing out double digit returns to investors regardless of market conditions. Tim Plaehn reveals how he finds these companies and then shares one of his favorites to add to your portfolio now.
I want to spend some time here discussing a different way to analyze stock investments and an investment strategy that does not involve trying to find stocks that will go up more in value than the market averages. While I find it very difficult to find stocks that will consistently generate above average capital gains, I find it an easier task to build a portfolio of stocks that will provide me with a cash flow pay raise every quarter.
The strategy I use is to focus my search on finding higher yield stocks with histories and future potential for regular and growing dividend payments. Most stock market analysts, advisors, and investors themselves focus on new products, revenues, earnings per share, and share prices and what effects the latest economic news will have on the individual company metrics. The result is a blizzard of information that is often contradictory and share prices that end up moving up and down together, no matter how good the prospects of an individual company might be. Recently the "experts" were proven right when the market corrections they had been predicting since 2013 finally happened. Yet most investors had been buying shares on the ride up from the last correction in 2011 and many, many sold out when prices of a large number of stocks dropped by more than 20% in the third quarter of this year. These investors let their worries about share prices push them to sell low, after buying high.
A dividend focused approach to stock market investing takes out the part where investors have to try to figure out whether share prices are going to go up or down, and which stocks will do better or be able to buck the trend if the market is falling in general. With a dividend-centric investing strategy, you work to find stocks with attractive yields and growing dividends. These stocks will produce a growing cash flow stream and also, in the longer term, generate high share prices. Let's look at a couple of examples: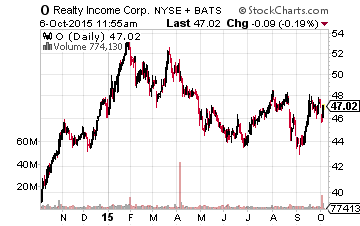 Realty Income Corp (NYSE:O) is the poster stock for this cash flow focused investing strategy. This conservatively managed REIT has increased its dividend rate 81 times in the last 20 years, with zero dividend reductions. There have been 72 consecutive quarterly increases, or six straight years of quarter over quarter dividend growth. During the last decade, the yield on O has ranged from about 4.5% to around 7.5%. The dividend growth rate has averaged 5% per year. The regular dividend payments with steady growth in those dividends has produced an average total return of over 15% per year from Realty Income. And as a bonus, the company pays monthly dividends.
While Realty Income is an awfully good investment choice, I like to use O as my benchmark and look to find income stocks that can produce a better return than the stock's current 5% yield combined with 5% annual dividend growth. Using this approach, you can find those stocks where the market has severely mispriced companies that focus on making high and steady cash payouts to investors.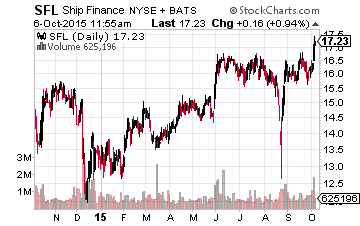 Ship Finance International Limited (NYSE:SFL) is a high-yield company that the market mis-categorizes and does not understand. Since the company started out as an owner of oil tankers, and currently owns several off-shore drilling rigs, the SFL share price swings with market perceptions of energy prices. Over the last 18 months, the share price has ranged from less than $13 to almost $20. That's a 50% swing based on the low value. In contrast the perception, Ship Finance is a very steady cash flow generator that buys shipping assets from all categories and puts them on long-term leases with high quality client companies. Over that same 18 month stretch, the dividend has been increased four times with total dividend growth of 10%. At the current $16.80 share price, SFL currently yields 10.5%. Investors who know and understand Ship Finance loaded up when the price dropped into the $14 range earlier in 2015. New investors still get a great yield and should be ready to buy more shares, if the market again pushes the share value significantly lower.
To employ the dividend focused investment strategy, you need to dig out those companies and stocks with above average yields and histories of steady dividend increases. Study the business operations of each company to understand how the cash flow is earned to pay those growing dividends, and make your own evaluation whether the business will continue to support a growing dividend stream. This is a crucial step because many high yield companies do not provide the visibility for future cash flows that will let you sleep at night.
Then, build a diversified portfolio of dividend paying stocks. You will want to own companies from different sectors including finance and equity REITs, business development companies (BDCs), infrastructure service energy companies and specialty finance companies. These are the sectors that allow a company to generate steady and growing cash flows to support the dividend stream you want to earn.
The goal is to buy these stocks for the long term, and you will own many of them for years. However, you must be ready to drop those companies that fail to live up to your cash flow forecasts and add new candidates that offer better combinations of yield and dividend growth potential. If you are investing for the growth of an investment account, use the dividend earnings to buy new holdings or to pick up more shares of companies that have fallen out of favor with the market.
With this type of stock market portfolio, you should see your dividend earnings grow every single quarter no matter the market conditions. That's a great feeling.
This is the strategy that I use myself to produce superior results, no matter if the market moves up or down in the shorter term. The combination of a high yield and consistent dividend growth in stocks is what has given me the most consistent gains out of any strategy that I have tried.
And, there are currently over twenty of these stocks to choose from in my Monthly Paycheck Dividend Calendar, an income system used by thousands of dividend investors enjoying a steady stream of cash.
The Monthly Dividend Paycheck Calendar is set up to make sure you receive a minimum of 5  paychecks per month and in some months 8, 9, even 12 paychecks per month from stable, reliable stocks with high yields. If you join my calendar by Monday, October 19th you will have the opportunity to claim an extra $4,850.50 in dividend payouts by Thanksgiving.
The Calendar tells you when you need to own the stock, when to expect your next payout, and how much you can make from stable, low-risk stocks paying upwards of 12%, 13%, even 15% in the case of one of them. I've done all the research and hard work; you just have to pick the stocks and how much you want to get paid.
The next critical date is Monday, October 19th (it's closer than you think!), so you'll want to take before that date to make sure you don't miss out. This time we're gearing up for an extra $4,850.50 in payouts by Thanksgiving, but only if you're on the list before the 19th. Click here to find out more about this unique, easy way of collecting monthly dividends.
Positions: Long SFL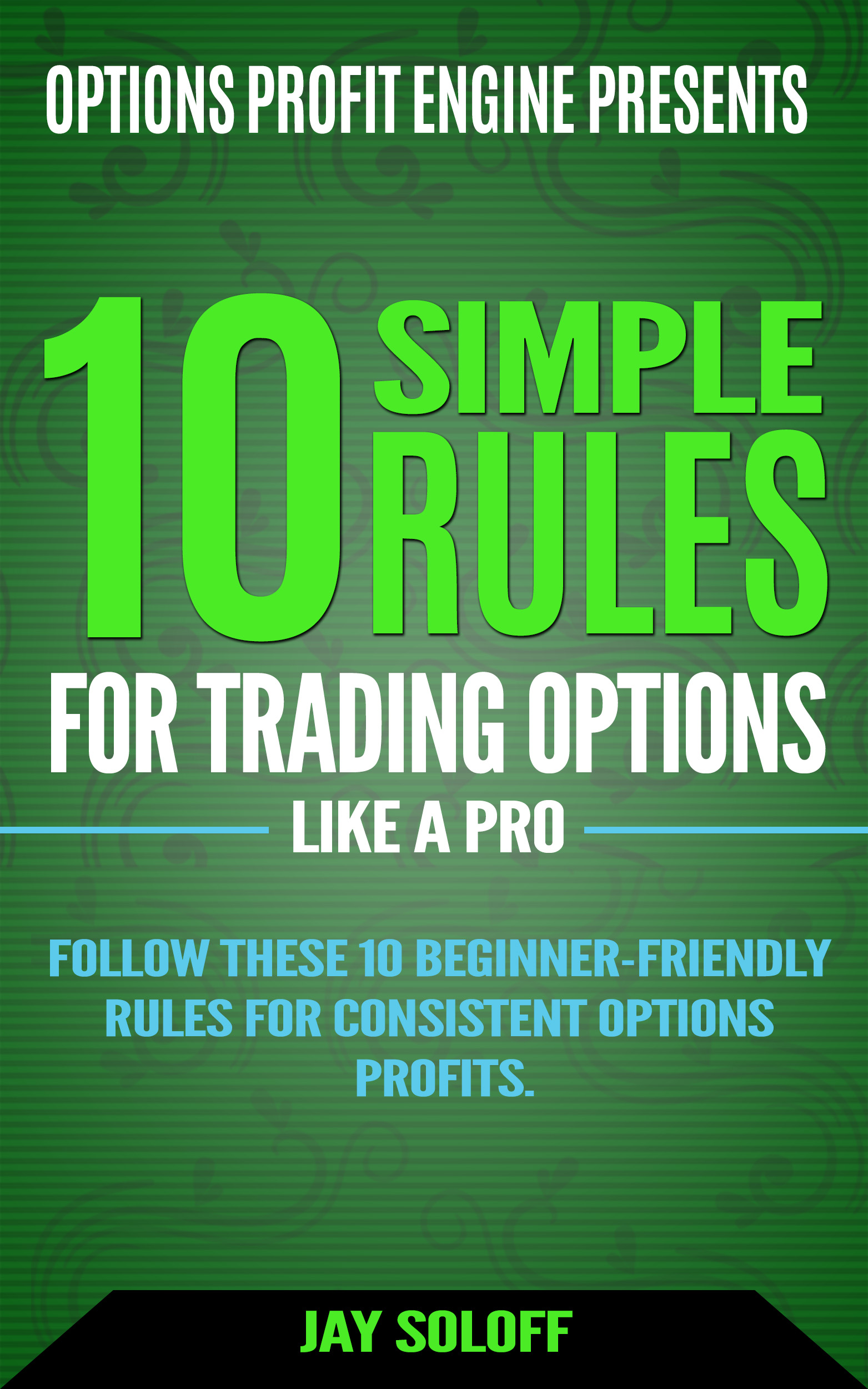 [FREE DOWNLOAD] 10 Simple Rules for Trading Options Like a Pro
Follow these 10 simple rules from 20-year professional options trading veteran, Jay Soloff and start earning a reliable extra income from options.
NO prior experience needed to master these 10 simple options trading rules. 
Enter your email below and receive access to this FREE guide...