Quantitative Easing is ending and that means interest rates are going up. Investors should beware of a certain group of stocks that will plummet when this happens. These companies are directly affected by rising interest rates, and everyone invested in these stocks should sell now. 
On October 29th, the U.S. Federal Reserve announced it would cease its bond buying program in October, marking the end of the program known as Quantitative Easing, also known as QE. Under the program the Fed had been buying in the open market up to $75 billion a month in U.S. Treasury and agency backed mortgage backed bonds – MBS. The amount of buying had tapered during 2014, with $15 billion of bonds purchased in October. Over 2013 and 2014 the Fed had purchased $1.66 trillion of bonds, split between Treasuries and MBS.
The purpose of QE was to inject cash into the economy to stimulate economic growth. Another purpose or side-effect, depending on your viewpoint, was to prop up the price of these bond classes and keep longer term interest rates low. With the end of QE, we can expect that the interest rates on Treasuries and MBS will start to increase. An improving economy will be another factor to push rates higher. Remember from Bond Investing 101 that higher interest rates mean falling bond prices. So as rates increase, the share prices of investments like Treasury bond funds and MBS focused mutual funds will drop. It does not take much of an increase in rates to put a serious dent into bond prices. For example, If the 10-year Treasury yield increases from the current 2.4% up to 3.5%, the value of the 10-year will drop by just over 5%. If the rate goes up to 4%, the Treasury will decline by 7.5%.
The group of stocks mentioned in the title are the finance REITs that invest primarily in agency guaranteed MBS. These companies use leverage of 6 to 8 times their equity base to turn the 3% yield from government guaranteed MBS bonds into 10% plus dividend yields. A quick illustration shows how dangerous rising rates can be for these REITs.
With a mortgage REIT that is leveraged 7 times, company equity paid for 12.5% of the MBS portfolio and the other 87.5% was purchased with borrowed money. If bond prices fall by 5%, the company loses 5 divided by 12.5 or 40% of its equity. It gets even uglier for the mortgage REIT because as bond prices fall, the lenders on the other 87.5% call in their loans, forcing the REIT to sell securities at a loss, locking in the decline in equity and book value.
The mortgage REIT management teams work to hedge against rising interest rates, but there is no perfect hedge against the complicated pricing of MBS in a changing rate environment. Just two years ago, in late 2012 going into 2013, mortgage rates rose by about one percent, and the mortgage REITs saw share price drops of 30% to 40%. Interest rates have been stable for the last 15 months and investors have again become too comfortable with the risks involved and believe those 10% and 12% yields are safe with steady share prices. The next rise in bond and mortgage interest rates will reduce both share prices and dividend payment rates. Here are the three largest, most popular mortgage REITs from the group that you should sell or avoid:
Annaly Capital Management (NYSE: NLY), current yield 10.5%.
American Capital Agency Corp. (Nasdaq: AGNC), current yield 11.62%.
Two Harbors Investment Corp. (NYSE: TWO), current yield 10.3%.
The above list does not include all agency mortgage REITs, but are some of the most high profile ones. The others that have the same business model should also be avoided.
Two Safer Alternatives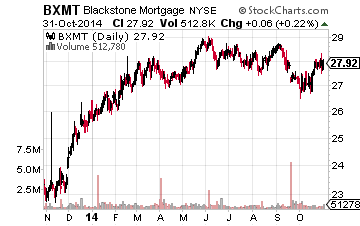 If you want to invest in finance REITs, the commercial mortgage REITs have business models that will survive and thrive in a higher interest rate environment. These REITs originate their own loans, use limited amounts of leverage and put all of their new loans on adjustable interest rates. These companies often get lumped in with the much more dangerous to your portfolio residential mortgage REITs. If you want to invest for high yields in the mortgage space, stick with the commercial mortgage REITs. There are really just two that provide high quality business operations and management teams. They are Blackstone Mortgage Trust Inc (NYSE: BXMT) with a current yield of 7.2% and Starwood Property Trust Inc. (NYSE: STWD) yielding 8.5%.
Another alternative is to skip mortgage REITs altogether. There are plenty of other high yield opportunities that don't put your money at risk like mortgage REITs. Many of these can be found in my Monthly Dividend Paycheck Calendar.
The Monthly Dividend Paycheck Calendar is set up to make sure you're getting 2, 3, even 5 dividend paychecks per month from stable, reliable stocks with high yields.
The Calendar tells you when you need to own the stock, when to expect your next payout, and how much you could make from stable, low risk stocks paying upwards of 8%, 10%, even 11%. I've done all the research and hard work, you just have to pick the stocks and dates you want to get paid.
Our first critical date this month comes on Thursday, November 6th, so you'll want to take action today. Find out more about this unique, easy way of collecting monthly dividends.