May 26, 1932.
That was the day Proctor & Gamble (NYSE: PG) shares got added to the Dow Jones Industrial Average.
And while one-third of the current members have only traded on the index for the past 14 years, P&G is a mainstay. In fact, it's traded there for the past 42 straight years.
One of P&G's most attractive qualities is its dividend. The company pays $2.87 per share annually – a 3.6% yield.
But as I've cautioned in previous columns, don't yield to yield. Yeah… those quarterly payouts are nice, but without much capital appreciation, you're essentially treading water. Or worse if shares decline.
And that's the case for P&G.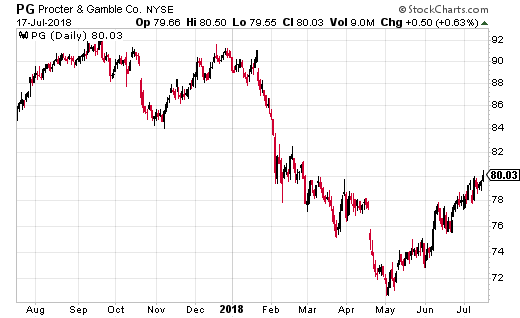 A Ton of Products… But Lower Projections
Over the past 12 months, shares are down 8%.
If you'd just invested this calendar year, the return is even worse – down 13.6%.
By contrast, the Dow is up 16% over the past year and 1.6% in 2018.
And it might get worse from here.
Last week, Jefferies analyst Kevin Grundy downgraded P&G shares from "buy" to "hold," citing lower-than-expected earnings projections for 2019. Specifically, a hefty revision from $4.52 per share to $4.25. That's significantly lower than Wall Street's $4.43 estimate.
How could this be? After all, rummage around your house and you'll likely find a ton of everyday P&G products: Tide, Ariel, Gain, Old Spice, Olay, Crest, Oral-B, Pantene, Head & Shoulders, Charmin', Bounty, Pampers, Dawn, Cascade, Swiffer, and Febreze. The list goes on. And the company sells these products pretty much everywhere – as it has done since being founded in 1837.
Commodities Crunch
Simply put, rising commodities costs from the tariff war will bite the bottom line.
Indeed, Jefferies says "commodities are a significant headwind" and cites a basket of key materials that have jumped by 15% in price over the past year. It means P&G "is expected to report its first year of negative pricing in well over a decade as the pricing environment has clearly become more difficult."
In addition, sluggish developed market conditions, emerging market volatility, and a stronger dollar are combining to skewer earnings growth.
The tough climate is already having an affect. Revenue in the last quarter edged just 1% higher, following a 2% rise in the prior quarter, as P&G CEO David Taylor noted "the ecosystems in which we operate are being disrupted and transformed."
As for that ugly word – tariffs – P&G is just one of many companies set to suffer from higher import/export costs.
Specifically, it's the "war" with Canada at issue.
The Tariff Conundrum
On July 1, Canada applied a retaliatory 10% levy on products sold in Canada – a total of C$166 billion ($12.6 billion) worth of tariffs on packaged goods, steel, and aluminum. For P&G, that means a host of U.S.-made products subject to import duty in Canada.
(Coincidentally, July 1 was also the first day of P&G's new fiscal year – tough start!)
This came after P&G failed with an application to Canada's Department of Finance for exemptions on certain brands like Bounty and Febreze.
While Canada only accounted for 3% of P&G's $65 billion in sales last year – or $2 billion – it poses a tricky dilemma: Pass the costs on to consumers and risk losing sales in an ultra-competitive retail market, or absorb the costs and risk losing profits.
P&G spokesman Damon Jones told Reuters that tariffs "create a barrier" to free trade, but that it would aim to be competitive in Canada, based on "factors such as costs, brand value, and local marketplace dynamics."
On the bright side, P&G says producing 90% of goods locally in bigger markets like Europe (25% of sales) and China (8% of sales) shelters it from tariff impacts there.
Breakup Imminent?
Some have suggested P&G would be worth more if it was split up.
Activist investor Nelson Peltz, who runs Trian Fund Management, and Bernstein analyst Ali Dibadj are two of them.
Last month, Peltz told The Deal's 2018 Corporate Governance Conference that it's possible to break up P&G. He's certainly in a position to influence that, as Trian holds a seat on the P&G board.
He told the conference that his reorganization plan to break P&G into three separate units is under "very serious consideration" from a more open board, which recognizes that shareholders want better. However, he also noted that "I'm hoping it doesn't have to be broken up."
For his part, Dibadj told The Street, "This is something we've been arguing for five years… a breakup is the best operational solution, offering an opportunity to jolt culture, reset bureaucracies, rethink processes, accelerate decision-making, align accountabilities, and reduce costs."
He contends this scenario could jolt shares 30% to 40% higher.
However, not only would management actually have to decide to do that – a surprise in itself, given that "they're very resistant" – the breakup process would then take 18 months, he says.
In the meantime, P&G continues to plod along, with sluggish sales, earnings set to fall, and shares under-performing the market. And while margins are currently decent, rising commodity prices rising and trade tariffs kicking in means they might be eroding soon, too.
In 6 Months or Less You Can Build a Portfolio Paying You $36,000 a Year
Recently a rather new subscriber wrote in to tell me how well my system works for him. His name is Brad and he's an educator in the Mid-West. He wrote:
"I just wanted to thank you for the excellent advisory service that you provide. In 3 months I have collected $8,284 in dividends from my investments.

In less than 6 months, I have put together a portfolio that will generate $36,000 per year for the rest of my life.

Your system really does work and once I had demonstrated that to myself, I purchased your service for life!

It is nice to actually come across something that really does work and perhaps more importantly, doesn't make outrageous promises that can't be kept! Thanks again!
Click here to discover how you can get your retirement income plan on track just like Brad did
.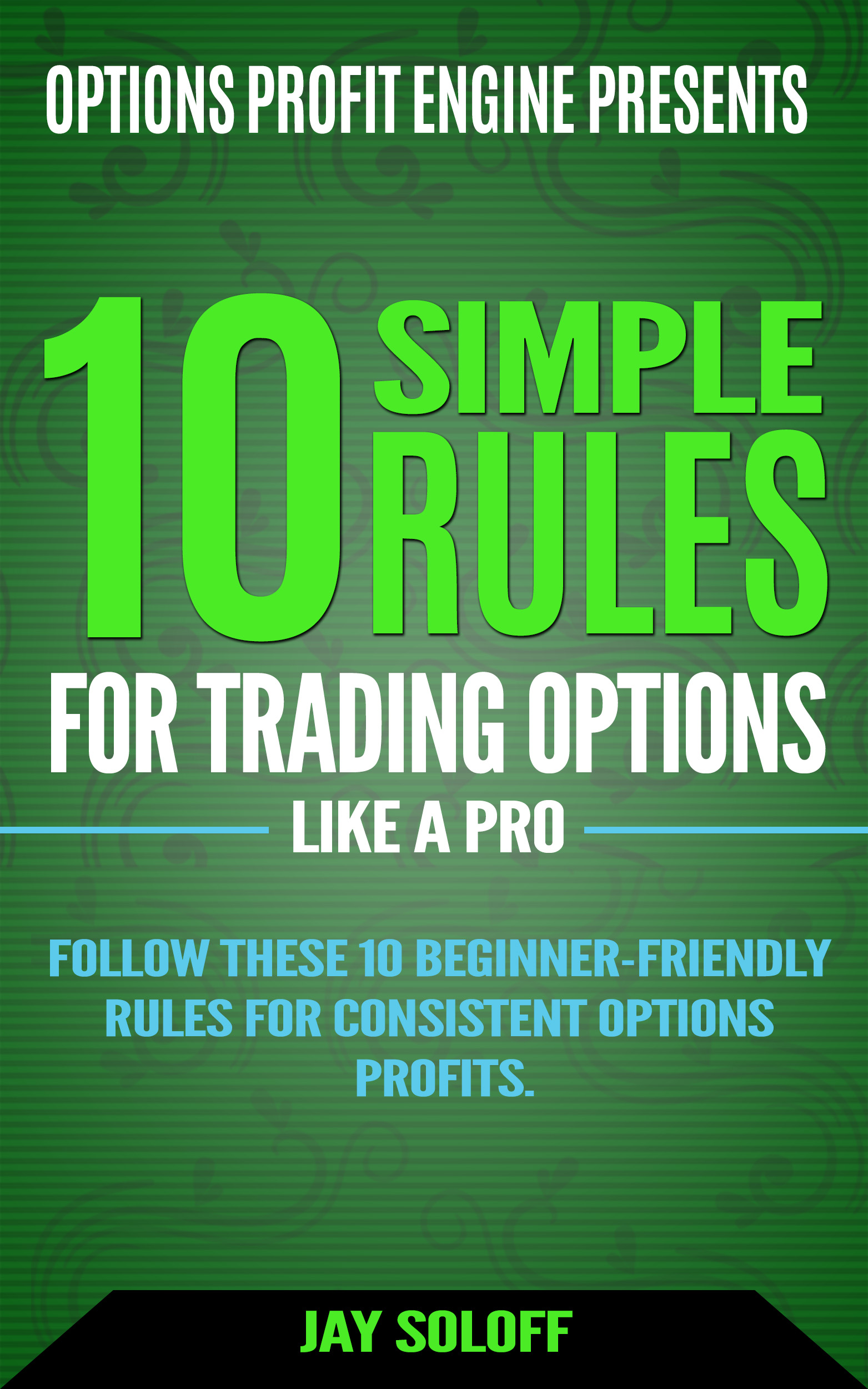 [FREE DOWNLOAD] 10 Simple Rules for Trading Options Like a Pro
Follow these 10 simple rules from 20-year professional options trading veteran, Jay Soloff and start earning a reliable extra income from options.
NO prior experience needed to master these 10 simple options trading rules. 
Enter your email below and receive access to this FREE guide...