With midterms being last week, you're already behind on one of the most consistent buy signals of all-time. During the third year of presidential terms since 1945 the S&P 500 has seen on average 16.1% growth! With numbers like that, now is the best time to invest.
For the stock market, the third year of a presidential term has historically been the best year of the entire presidential term.
And the evidence is compelling. The S&P 500 has risen an average of 16.1% during the third year of presidential terms and has been positive for the year 88% of the time.
Since the Dow Jones Industrial Average was created in 1896, it has gained an average of 15% in the third year of a presidential term — ending positive 82% of the time. And since 1939, the Dow Jones Industrial Average hasn't been negative during that third year.
What's more is that the six months after the midterm elections are the best time for the stock market during the four year presidential election During the three months following midterm election day, the S&P 500 has been up 17 out of 18 times since 1942. It's been up all 18 times in six months after midterm elections. On average the market is up an annualized 25% during these six months.
The stats are quite mind boggling and no matter which way you slice it, the upside is compelling for the next year or so.
With that, what's the stock play for the next year?
Buy the cheap, well-run, companies that can keep trucking higher even as stocks trade near all-time highs. These include the likes of Delta Air Lines, Inc. (NYSE: DAL), Micron Technology, Inc. (NASDAQ: MU) and Corning Incorporated (NYSE: GLW).
Delta Air Lines has been the pioneer in the airline industry when it comes to rewarding shareholders after launching a dividend and buyback program last year. Its dividend yield is 0.8% and it announced a $2 billion buyback program earlier this year — to be completed by 2016 and good enough to reduce shares outstanding by nearly 6%. Then there's the lower oil prices that should help drive earnings growth in the interim.
Micron Technology has had a tremendous two-year run, up nearly 500%, but it's still enticingly cheap. Shares trade at just 8 times forward earnings. Micron's outlook for the future is strong as the demand for memory remains positive thanks to a stabilization in the PC market and continued growth in smartphones and tablets.
Corning is a display glass maker and famous for its Gorilla Glass. Although the display business doesn't sound all that sexy, Corning continues to grow earnings at an impressive rate. It has posted eight straight quarters of earnings growth and is expected to grow earnings at close to 20% for full year 2014. It pays a 2% dividend yield and at 13x forward earnings and just 10x free cash flow it's attractively priced.
But let's dive a little deeper.
As far as midterm elections go, the Republicans gained control of the Senate, giving it control of both houses of Congress for the first time since 2006.
With Republicans in control of both houses the door is open for policy changes. That means that certain GOP friendly industries might be poised to outperform the market. Here are the top five areas that I feel will benefit from power shift in the Senate:
No. 1: Big oil 
"Drill, baby, drill" has long been a cry of the GOP. The Republicans believe that the U.S. can be completely energy independent using its own oil and gas reserves. This is good news for the beaten down oil and gas companies. However, it can seem like you're trying to catch a falling knife given the recent volatility in the oil industry.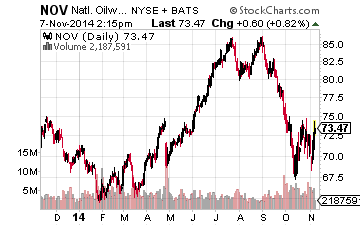 I'd be an owner of the best player in the industry, National-Oilwell Varco, Inc. (NYSE: NOV). It offers a 2.5% dividend yield and has held up a lot better than other oil-related names during the selloff of anything oil-related. Relatively low debt, strong free cash flow and being shareholder friendly are positive attributes for any great stock, but that gets even better when the stock trades at 11.5 time expected earnings for next year.
However, the real reason that National-Oilwell is the best pick in the industry is that it "sells shovels to gold miners." It's in a less volatile part of the oil industry, where it doesn't explore or drill for oil. Rather, it provides products to the companies that do the "mining."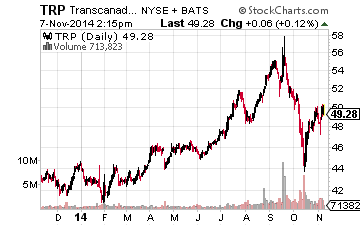 Then there's the Keystone XL pipeline that was put on hold thanks to Obama's veto. If this becomes a hot topic again, that'll be is good news the energy infrastructure company that'll be building it, TransCanada Corporation (NYSE: TRP). TransCanada also pays a 3.4% dividend yield.
No. 2: Big Banks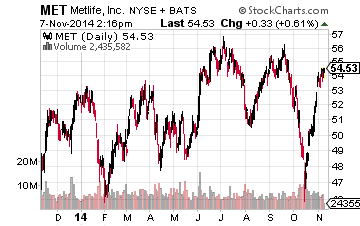 Financial regulation has been a hot topic for over six years now. The GOP prefers free markets. Assuming Republicans can ease the control over financial companies, that would be a big positive for Metlife Inc (NYSE: MET) and other big banks.
There's been talk that the Financial Stability Oversight Council may have overstepped in designating Metlife a systemically important financial institution — meaning if it failed it would have a detrimental impact to the broader economy.
Metlife plans to appeal the decision, noting that it doesn't have the same risk to the economy as a large bank. The Fed has never regulated an insurance company, so this truly is uncharted territory. Metlife is enticing from a valuation standpoint, trading at 0.9 times book value. The 2.6% dividend yield isn't too shabby either.
No. 3: Obamacare 
Obamacare will be one of President Obama's legacies, for good or bad. One thing is for sure, the GOP has been a big opposer. Even if Obamacare doesn't get repealed completely, there's still the possibility of reforms of Obamacare.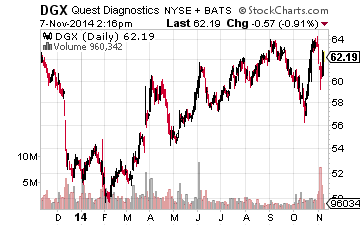 One potential play on Obamacare reform is the labs, such as Quest Diagnostics Inc (NYSE: DGX) and Laboratory Corp. of America Holdings (NYSE: LH). The labs have been negatively impacted by Obamacare as it reduces reimbursements to these companies. It also has a tax on the devices these labs use.
Although shares of both have underperformed the market since healthcare reform went into effect at the start of the year, they are still expected to grow earnings nicely over the next few years. And Quest also offers a 2.2% dividend yield.
No. 4: Security 
It's no secret that the GOP is for a strong defense. National security has been thrust in the spotlight of late with ISIS seemingly a news headline on a weekly basis. And in a nationalinterst.org survey, 90% of Americans fell that ISIS was a serious threat to national security.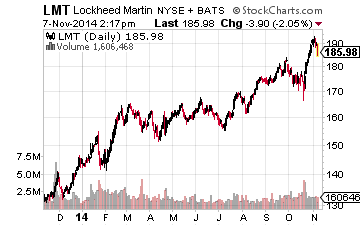 Two of the best players in the defense industry space are Lockheed Martin Corporation (NYSE: LMT) and Raytheon Company (NYSE: RTN). Lockheed offers a 3.1% dividend yield and Raytheon a 2.3% yield. Lockheed makes the very popular F-35 fighter jets and Raytheon focuses on defense and missile systems.
Personal security, a natural progression from national security, is another big belief of Republicans.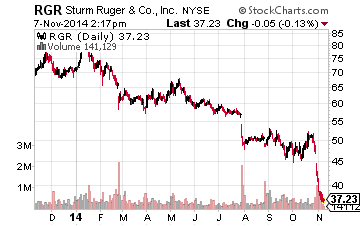 The natural choice here is guns. The two leading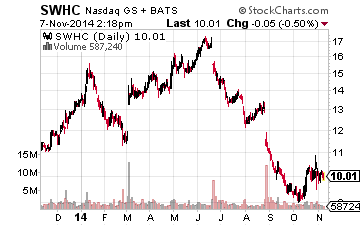 manufacturers are Sturm, Ruger & Company (NYSE: RGR) and Smith & Wesson Holding Corp (NASDAQ: SWHC). Both have been taken to the woodshed over the last three months, with Sturm down 25% and Smith & Wesson down 20% for that period.
Both now trade at less than 10 times forward earnings. Smith & Wesson doesn't pay a dividend, but Strum offer a 1.5% dividend yield.
No. 5: Minimum wage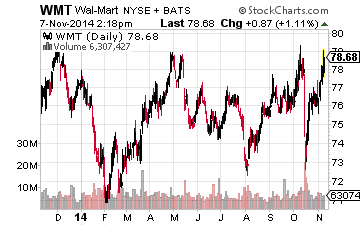 The GOP opposes a minimum wage hike, citing the feat that it would lead to vast job cuts. Wal-Mart Stores (NYSE: WMT) is the world's largest employer; naturally, if the minimum wage rises it'll put a strain on Wal-Mart's wage costs. Assuming Republicans can hold off a minimum wage hike, Wal-Mart would be a big benefactor as it not only saves wage costs, but it means that wages at other jobs will remain low — leaving Wal-Mart the top destination for lower income families.
While I personally want to own the best run companies and those that have the most exposure to the GOP sensitive industries, all indicators point to a market upswing for the next year or so. Regardless of political affiliations, one thing is for sure: We all love making money.