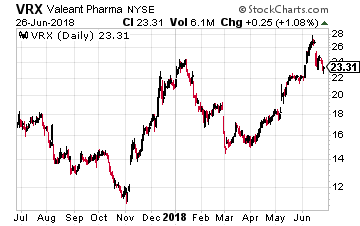 Kiss the much (and deservedly) maligned Valeant Pharmaceuticals International Inc. (Nasdaq: VRX) goodbye.
Well, kind of.
Next month, the Canadian-based healthcare firm will officially change its name to Bausch Health Companies Inc. and trade under a new ticker – BHC.
But it doesn't matter what the company calls itself. It's still not worth buying.
At first glance, you might wonder why, as it seems to be enjoying a decent turnaround.
Shares are up 35% over the past 12 months. And since hitting a 52-week low of $10.94 on November 2, 2017, the stock has soared 112%. It hit a 52-week high on June 13.
But don't get swept up with the tide…
Driven by Drugs
Much of Valeant's momentum has come from new FDA drug approvals – including Vyzulta for glaucoma, Lumify for eye redness, and psoriasis treatment Siliq, which it worked on with AstraZeneca.
It scored another notable win in May, with the approval of Plenvu – a bowel-cleansing treatment for colonoscopies, set to hit the market in the next quarter. The news jolted the share price 9% higher.
But momentum came to a screeching halt on June 18, when the FDA rejected Valeant's new lotion for topical plaque psoriasis.
On the bright side, the FDA's Complete Response Letter (CRL) for Duobrii "did not specify any deficiencies related to the clinical efficacy or safety," said Valeant CEO Joseph Papa. Rather, the FDA has "questions regarding pharmacokinetic data," which refers to how a drug moves through the body and is metabolized, including duration and intensity of effects.
However, the news bashed one of Valeant's leading pipeline contenders. Having hoped to launch Duobrii this year, it now faces an uncertain wait to get to market.
How long?
Until the FDA specifies what it wants and how long Valeant needs to provide the information before resubmitting approval application, it's unknown. Spooked investors sent shares down 12.2%.
Quoted on Bloomberg, Wells Fargo analyst David Maris says approval may be delayed by 6-9 months: "This is a major setback, as Duobrii is part of Valeant's self-titled 'Significant Seven' products that it hoped to launch to get to $1 billion in peak sales over the next four-and-a-half years. We suspect Duobrii is no longer a 2018 launch, as Valeant previously guided, and may not even be a 2019 event. We wonder if Valeant will need to update this expectation for 'Significant Seven' peak sales."
Ah, yes… Valeant's "Significant Seven."
The Not-So Magnificent Seven
Duobrii was the latest of the seven drugs in the pipeline. Valeant's goal is for them to add a combined $1 billion to the coffers by 2022. But as Maris says, the setback could knock the timeline back.
While investors have enjoyed Valeant's revival, they might be overly optimistic, given that five of the seven already on the market only brought in less than $100 million in sales last year.
And then there's Valeant's biggest issue: Its massive debt.
Sins of the Past
When he took over as CEO in 2016, Joseph Papa labeled Valeant "the turnaround opportunity of a lifetime."
Executive hyperbole aside, he's done a decent job overseeing change.
Valeant got itself into a world of trouble with scandals and practices that ruined its reputation and acquisitions that saddled it with incredible debt.
For example, the accountancy illegalities at its Philidor pharmacy network are well-known. It's also faced ethical criticism over buying companies, slashing their research, then hiking drug prices and taking advantage of lower Canadian taxes to pocket higher profits. Profits over patients was a legitimate accusation.
Reckless acquisitions also put Valeant over $30 billion in the red at one stage.
The company paid for it, as investors crushed the share price from a high over $250 three years ago to single digits last year.
While Valeant has reduced the debt burden by 20% since Q1 2016, it's still $25.4 billion. And it pays $416 million per quarter in service charges. Given that it only has $720 million in cash, the company can ill-afford setbacks like Duobrii.
In addition, recent quarterly results were mixed at best. Revenue of $1.99 billion barely beat estimates and was down 9% year-over-year. Gross profit was only $1.4 billion – and Valeant ended up losing $2.7 billion ($7.68 per share) due to Philidor litigation and antitrust issues. Nevertheless, it raised full-year sales guidance by $50 million, to between $8.15 and 8.35 billion.
That's not going to get the job done in cutting the debt very fast, particularly with Valeant also running out of assets to sell off. And even if its new drugs are successful, it will take a while to have a meaningful sales/profit impact.
So what of Valeant's name change to Bausch Health Companies Inc?
New Name… Same Old Story?
The rationale is two-fold…
First, it aligns the company more closely with its best-performing, core business – Bausch & Lomb, the eye-care firm it bought for $8.5 billion in 2013 and accounts for half the company's sales ($5 billion in 2017). CEO Papa calls it "a major step forward in our transformation… Bausch more accurately represents the full scope of the company today."
But it's also a tried-and-tested way for Valeant to distance itself from its scandal-ridden past (under previous management) and wipe the slate clean.
It's not the first time the company has done this, though. After Biovail acquired Valeant in 2010, the newly-merged firm went under Valeant, as Biovail was mired in an SEC accounting fraud charge over inflated earnings, hidden losses, and misleading investors. Valeant's CEO took over (who later oversaw the firm's subsequent scandals!), but the company maintained Biovail's troubled structure.
A name change may mark a psychological shift, but without actual change, it's largely symbolic and meaningless.
In Valeant's case, a simple name change doesn't mask existing issues.
Can it answer critics who say it doesn't make enough new drugs?
Can it continue to chip away at the debt?
The company is in a far worse position than its rivals and will be paying it off for many years. That's not good, given the heavy R&D nature of the pharma business. The Duobrii knock-back removes a catalyst, too.
In addition, the dermatology business is tough and projected to fall this year, with generic competition growing.
While progress is being made, debt is still debt – and there's a long way to go before that ugly balance sheet looks more respectable.
I'm concerned that unrealistic investors have bid up Valeant too much – and if it can't meet their "turnaround opportunity of a lifetime" hopes, shares could retreat.
How to Earn $1,000s in 'Bitcoin Dividends'
What if I said you could tap the Bitcoin gold rush...
without buying Bitcoins
.
Getting access to the BIGGEST, MOST PROFOUND, MOST EXPLOSIVE investment opportunity of the decade...
And get in at a TINY FRACTION of the risk other guys face – who could lose their shirts on a bad call or two.
Would you believe me?
Today I'm going to share a "backdoor" way for everyday investors like you to tap into the NEW Crypto Gold Rush...
And make money no matter which way Bitcoin prices go... up OR down.
So you essentially get the best of both worlds.
Instead of buying Bitcoin and crossing your fingers...
I'll show you how a secret 'backdoor ploy' has just opened up. Giving you the chance to grow MUCH richer... MUCH faster... and MUCH, MUCH safer than by simply buying Bitcoin.
The best part of all?
You can earn thousands of dollars in 'Bitcoin Dividends'... while exposing yourself to just 1/1000th the volatility.
Click here to start collecting 'Bitcoin Dividends'
.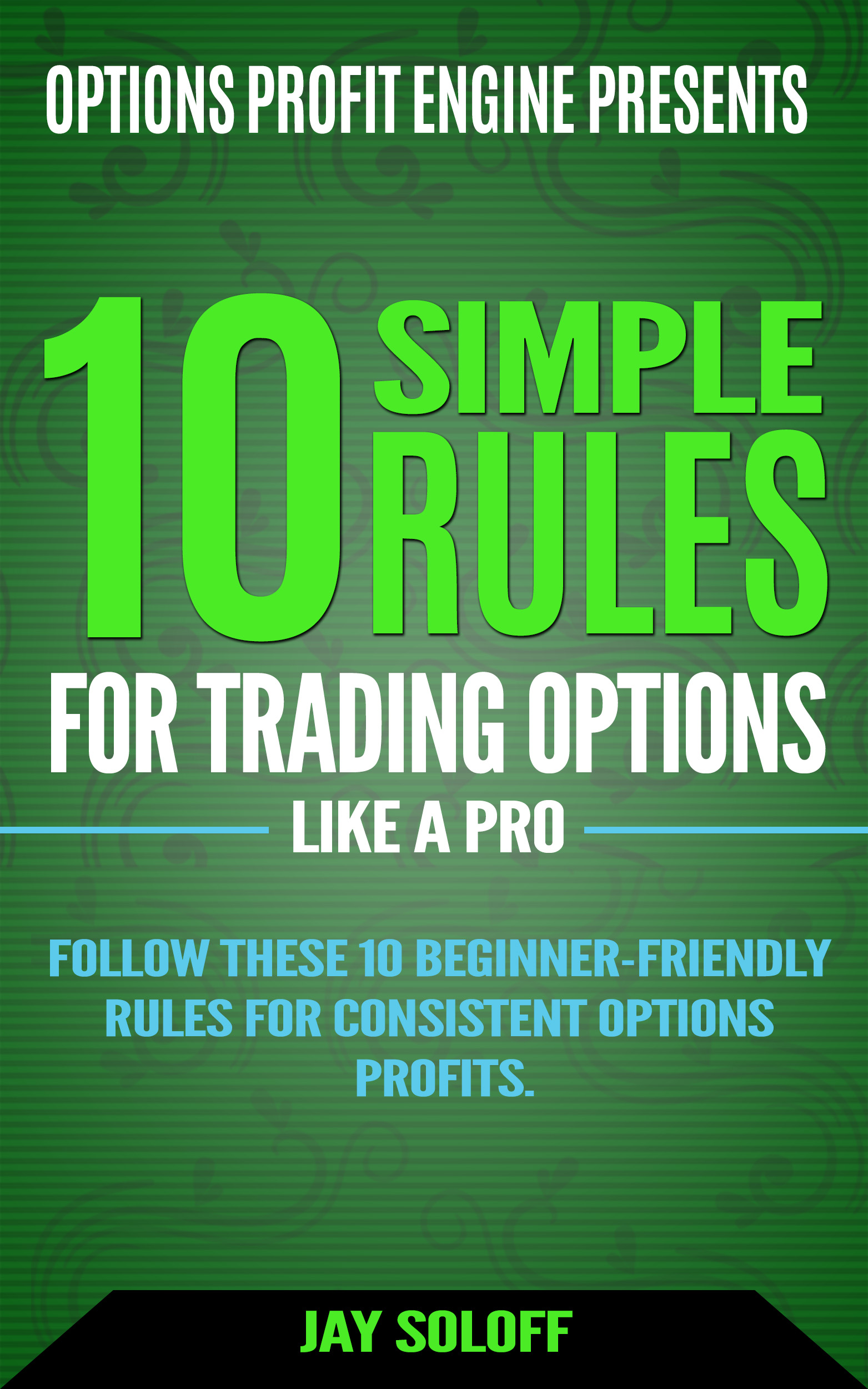 [FREE DOWNLOAD] 10 Simple Rules for Trading Options Like a Pro
Follow these 10 simple rules from 20-year professional options trading veteran, Jay Soloff and start earning a reliable extra income from options.
NO prior experience needed to master these 10 simple options trading rules. 
Enter your email below and receive access to this FREE guide...