Big bank earnings were a big disappointment. But, there's still plenty of growth and income opportunities in the industry, that is, if you know where to look. These are the top five regional banks that will outpace the industry heavyweights.
We just made it through big bank earnings, and that was bad news for many bank investors.
The top two big banks, JPMorgan (NYSE: JPM) and Wells Fargo (NYSE: WFC), saw their shares tumble after reporting earnings.
This comes as the big banks are still having trouble making money in this low-interest rate environment. With that, none of the big banks jumped out as a screaming buy after earnings.
There are steady dividend yields and growth to be found in banks, just not big banks. So, instead of buying the megabanks, which still can't seem to figure out how to make consistent money in this post financial crisis era, it might be time to pick up some regional bank exposure.
Many regional banks don't have as much exposure to low-interest rates and have sounder balance sheets. Balance sheets that should see further loan growth to drive earnings, while big banks are left dealing with rising legal costs and declining mortgage-related revenues.
With all that in mind, here are the top five regional banks:
Regional stock to own no. 1: FirstMerit Corp (NASDAQ: FMER)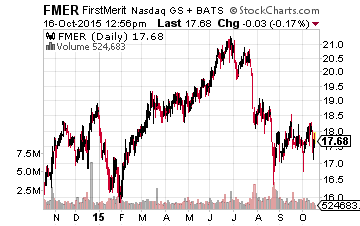 FirstMerit is perhaps the most interesting regional bank around. Shares trade right at book value, which is in line with the likes of JPMorgan, but its dividend yield is an impressive 3.8%. The yield FirstMerit is offering is more than double the yield on the Select Sector Financial SPDR (NYSEArca: XLF).
FirstMerit is flying under the radar, spending the last five years growing via acquisitions. With that, it's more than doubled its asset base. Its core markets are in the Midwest, with a focus on Chicago.
Charge-offs remain low at FirstMerit and its funding costs are impressively low, at 0.2% as of last year. The 80% loan-to-deposit ratio means that there's room to boost its high-yield loan portfolio. As rates rise, it is set up nicely for higher returns.
Regional stock to own no. 2: Regions Financial (NYSE: RF)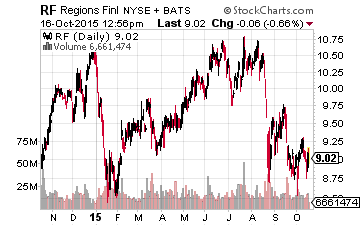 Regions Financial makes the list as one of the cheapest banks around, trading at just 75% of book value. That's near where Citi and Bank of America trade; yet, Regions' has a superior return on equity and an impressive 2.6% dividend yield.
The bank is still cheap even after cleaning up its loan book and cutting operational costs. The beauty here is that it can grow faster than many of the big banks, with a strong presence in fast-growing metro areas in the South.
And, unlike the other banks that have entered various non-core markets, Regions is sticking to the core regional banking business. It could still grow earnings with the addition of core businesses like wealth management and insurance.
Regional stock to own no. 3: Cullen/Frost Bankers (NYES: CFR)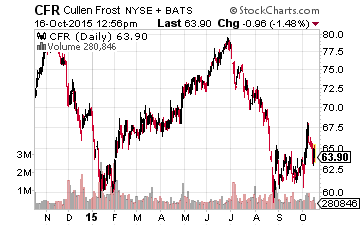 Cullen/Frost offers one of the best returns on equity in the business, coming in at 10.7%. Couple that with its 3.3% dividend yield and it's an interesting regional bank stock.
However, shares of this regional bank have been one of the worst-performing in the sector, down 7% over the last year. This comes as it is heavily exposed to Texas; a state hit hard by the fall in oil prices.
But only about 15% of its loan portfolio is directly tied to energy. The selloff could be overdone, as Cullen/Frost is more diversified across the Texas economy than many realize, with ties to the chemical, healthcare, and construction industries.
Avoiding excessive risk is a focus at Cullen/Frost. It got out of the credit card business in the 80's and exited retail mortgage lending in 2000. As a result, it has strong regulatory capital ratios, low number of non-performing loans and a large low-cost deposit base.
Cullen/Frost is a top relationship-focused bank, and with that, it's been able to persuade customers to accept no interest on their deposits — giving the bank a low-cost deposit base. Over 40% of its deposits are non-interest bearing.
Regional stock to own no. 4: KeyCorp (NYSE: KEY)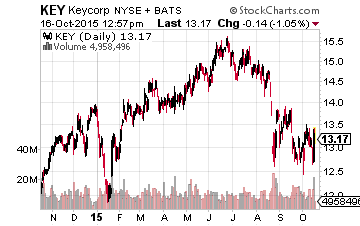 KeyCorp trades just over book value and has a near double-digit return on equity. Its dividend yield is 2.3%, which means it has some catching up to do when it comes to luring investors away from Wells Fargo and JPMorgan.
However, it has growth that might be lacking at Wells Fargo and other big banks. This includes focusing on relationship banking and fee-income businesses (versus interest income). Fee income is steadier and less susceptible to the credit environment. About 60% of its revenues are from non-interest sources, so you don't have to worry about when rates will move higher.
Cost control is another big opportunity for KeyCorp, where operational costs have gotten a bit out of control. A rightsizing of those will further boost earnings.
Regional stock to own no. 5: PNC Financial (NYSE: PNC)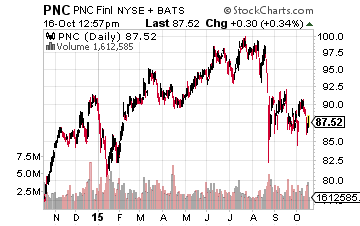 PNC is another regional stock trading at book value and churning out a near double-digit return on equity, albeit a larger regional with a $44 billion market cap. Its dividend yield comes in at 2.3%.
Being big has its advantages, PNC has been a buyer of distressed banks — getting strong assets for cheap. Notably, having doubled its size and geographical reach since the financial crisis.
It's one of the best-capitalized banks in the market, with a near 90% loan-to-deposit ratio. Its loan portfolio is only strengthening too, with its nonperforming loans falling close to 25% over the last couple years.
Like KeyCorp, PNC is able to grow income in the current market thanks to its fee-based businesses, most notably the PNC asset management franchise. Non-interest revenue accounts for over 40% of its revenues. PNC's asset management and consumer services.
In the end, you don't have to buy big to get the best. This is especially true of big banks, given growing earnings isn't as easy as it used to be. In particular, regional banks have balance sheets that support loan growth and can easily cut costs to drive earnings growth.
Bret Jensen thinks differently from most investors, and he is asking you too as well. In his new report, he reveals his top 5 safest blue chip stocks to buy now and reveals compelling research why some stalwart blue chips of the past are now ripping off investors like you in exchange for short-term performance. Is your portfolio prepared for the "Pump and Slump Scandal" of 2016?
Click here for the names of his 5 'Prosperity Growth Leaders' of the next 25 years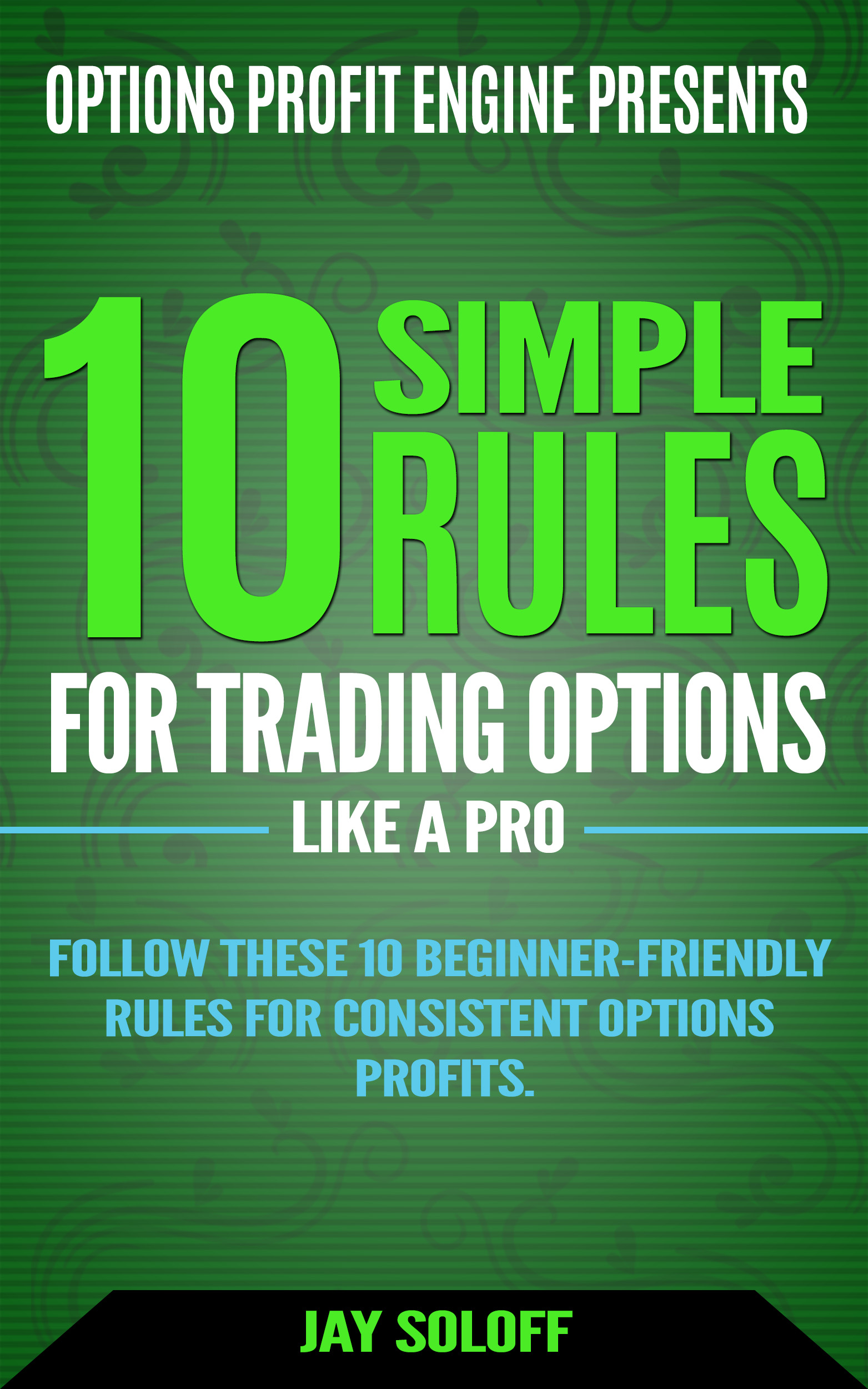 [FREE DOWNLOAD] 10 Simple Rules for Trading Options Like a Pro
Follow these 10 simple rules from 20-year professional options trading veteran, Jay Soloff and start earning a reliable extra income from options.
NO prior experience needed to master these 10 simple options trading rules. 
Enter your email below and receive access to this FREE guide...