Cybersecurity is a growth industry and now a new ETF offers investors the opportunity to participate in this market.
The recent cyber-attack against Sony Pictures was only the latest example of the vulnerability of computer systems to the acts of pirates, cyber-terrorists and other miscreants. Sony's system was hacked by a group which stole the upcoming movie Annie and leaked it to pirate viewing websites.
Cybersecurity company, FireEye (FEYE) received quite a bit of publicity after it notified the FBI that the Sony hack might have been conducted for the purpose of obtaining and exploiting market-moving intelligence. FireEye's Mandiant subsidiary was involved in the investigation of this breach. FireEye acquired Mandiant last year and Mandiant provides security incident management products and services to major financial institutions and Fortune 100 companies.
With many cybersecurity companies and their services in demand, it was only a matter of time before an exchange traded fund focused on cybersecurity would come on the scene. And now PureFunds ISE Cyber Security ETF (NYSEARCA:HACK) has made its debut with holdings of 30 companies that make up the International Securities Exchange Cyber Security Index.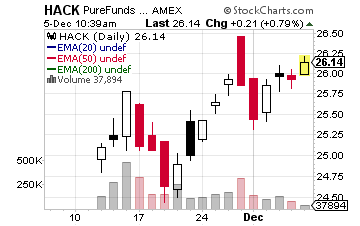 A review of the list of HACK components reveals a number of companies which are involved in more than cybersecurity.  Two examples are Cisco Systems (CSCO) and Infoblox (BLOX).
The HACK ETF was established on November 11 of this year.  The International Securities Exchange Cyber Security Index was established on December 30, 2010.  HACK made its debut on the AMEX on November 12 at an opening price of $24.95 per share.  At the closing bell on December 4, HACK was up to $25.93.  Its November 20 low of $24.50 was the lowest this ETF has reached since it has been traded on the AMEX.
Here is a list of the holdings of the PureFunds ISE Cyber Security ETF (HACK) including the ticker symbol for each stock and the percentage of the stock's weight in the ETF:
VASCO DATA SECURITY  (VDSI) 9.25%
IMPERVA INC (IMPV) 7.84%
PALO ALTO NETWORKS  (PANW) 5.70%
QUALYS INC (QLYS) 5.48%
INFOBLOX INC (BLOX)            5.48%
INTRALINKS HLDGS (IL) 5.00%
SPLUNK INC (SPLK) 4.91%
SYMANTEC CORP (SYMC) 4.75%
RADWARE LTD (RDWR) 4.74%
PROOFPOINT INC (PFPT) 4.69%
SCIENCE APPLICATNS INTL (SAIC) 4.54%
BARRACUDA NETWORKS (CUDA)  4.49%
FORTINET INC (FTNT) 4.44%
CHECK POINT SOFTWARE (CHKP) 4.36%
CISCO SYSTEMS (CSCO)   4.32%
JUNIPER NETWORKS (JNPR) 3.69%
KEYW HLDG CORP (KEYW) 3.62%
TREND MICRO (TMICY) 3.42%
FIREEYE (FEYE) 3.21%
GEMALTO (GTOMY) 0.89%
EXELIS (XLS) 0.83%
AVG TECHNOLOGIES (AVG) 0.82%
MANTECH INTL (MANT) 0.75%
ZIX CORP (ZIXI) 0.70%
WIDEPOINT CORP (WYY) 0.61%
GUIDANCE SOFTWARE (GUID) 0.48%
Investors can choose from this list of companies to construct their own cybersecurity portfolios or you can use HACK to do the work for you.  As always, an ETF like this offers immediate diversification and reduces the risk associated with single stock holdings which can include bankruptcy, declining sales or being hacked themselves.  HACK seems to be off to a good start with decent daily volume and favorable notices in the financial press.
In our modern age with all of us so dependent upon our computers and smart phones, it seems obvious that hacking and cybersecurity will continue to be problems that corporations and individuals will have to acknowledge and that it will be an ongoing task to protect ourselves and our businesses from cybercrime. As hacking becomes more sophisticated and widespread, the PureFunds ISE Cyber Security ETF looks like a good way to participate in a growth industry that should see rising demand in our ever more wired times.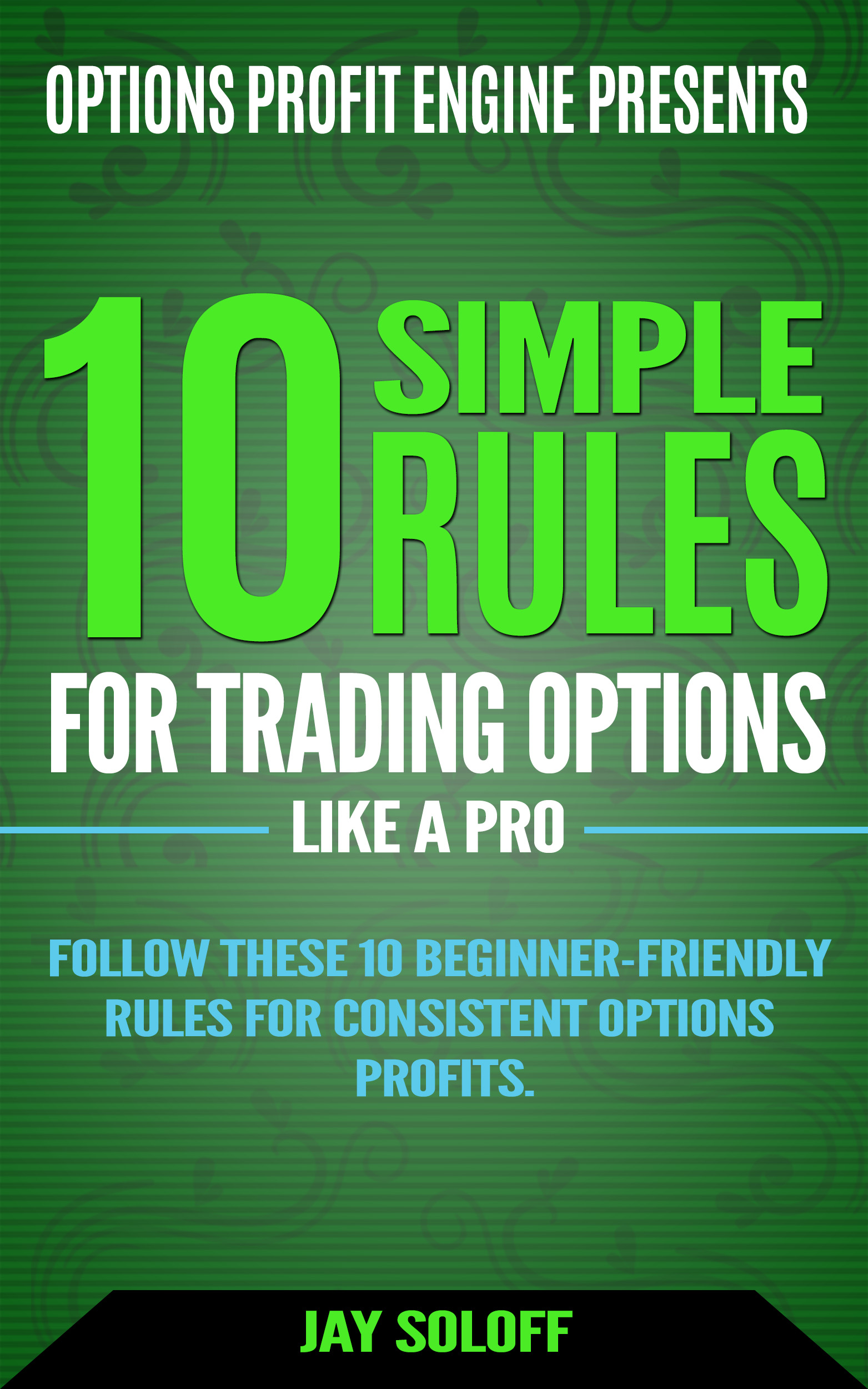 [FREE DOWNLOAD] 10 Simple Rules for Trading Options Like a Pro
Follow these 10 simple rules from 20-year professional options trading veteran, Jay Soloff and start earning a reliable extra income from options.
NO prior experience needed to master these 10 simple options trading rules. 
Enter your email below and receive access to this FREE guide...