Finally we have some fireworks in the financial markets, which is typically a good thing for options traders. With as slow as it's been lately, it's nice to actually see some real action in stocks. The VIX (the most common measure of market volatility) even jumped from 11 to 14.50 in one day (last Friday).
So what has got investors and traders so jumpy? Most important is the Michael Flynn admission of guilt (to charges he lied to the FBI). The reason it's such a big deal is Flynn is expected to admit he was told to meet with the Russians by the President himself while he was still a candidate. That could open up a huge can of worms, politically speaking.
The other major news item is the tax bill, which at the time of this writing, looks like it has enough votes to pass. Most analysts believe the bill will be good news to corporations, so any issues with it passing could definitely ramp up volatility (or tank stocks – at least temporarily).
Okay, so market volatility is finally moving around after sitting stagnant for much of the last month (or year, depending on perspective). How can we trade it now that there's some action?
The thing about volatility, and especially volatility ETPs (exchange traded products) is they tend to be mean reverting. The way ETPs are constructed, the mean reversion tends to happen quickly. Without getting into too much jargon, volatility ETPs are based on futures and the mechanism for rolling those futures tends to have a downward impact on prices.
For example, it's much easier to make money buying puts on the iPath S&P 500 VIX Short-Term Futures ETN (NYSE: VXX) than calls. VXX goes down a lot more often than it goes up, as you can see in the chart.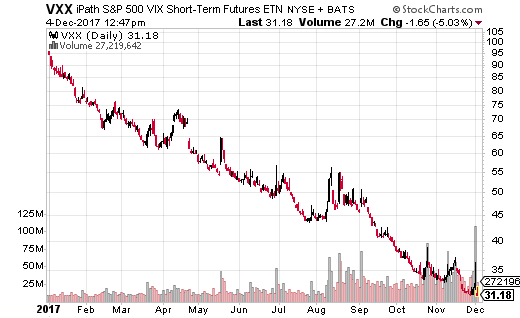 So why would anyone go long (stock or calls) on VXX then? And how does it average 50 million shares a day if it's generally one-sided action? The answer is that it's not one-sided action. A lot of investors use VXX to hedge their portfolios, so there's good reason for activity on both sides of this ETN.
The thing is, as a speculator, it's definitely easier making money on the downside of VXX. So, when we have a spike in VXX like we saw last Friday, it doesn't surprise me to see a trade like the one I'm about to describe.
A size trader sold nearly 11,000 VXX 50 calls expiring on December 22nd. At the time of the trade, VXX was sitting at $34. The trader collected $0.49 in premium per option, or a total of $539,000 in options premiums, which he or she gets to keep in entirety if VXX doesn't climb above $50 by expiration.
That's a decent chunk of change to collect on a highly improbably situation. Yes, VXX can jump very quickly if volatility goes up. However, there's not a lot of reason to believe volatility is going to blow up again now that the news is out there. Moreover, as I said before, VXX likes to go down more than up.
Still, I don't recommend selling calls for most traders. It's much safer to buy puts on VXX. With option buying, you can only lose what you spend. For instance, the December 22nd VXX 33 puts are only about $2 (with the current price just below $33). It only needs to drop to $31 by expiration to start making money. That's plenty of time (3 weeks) for volatility to mean revert to normal levels.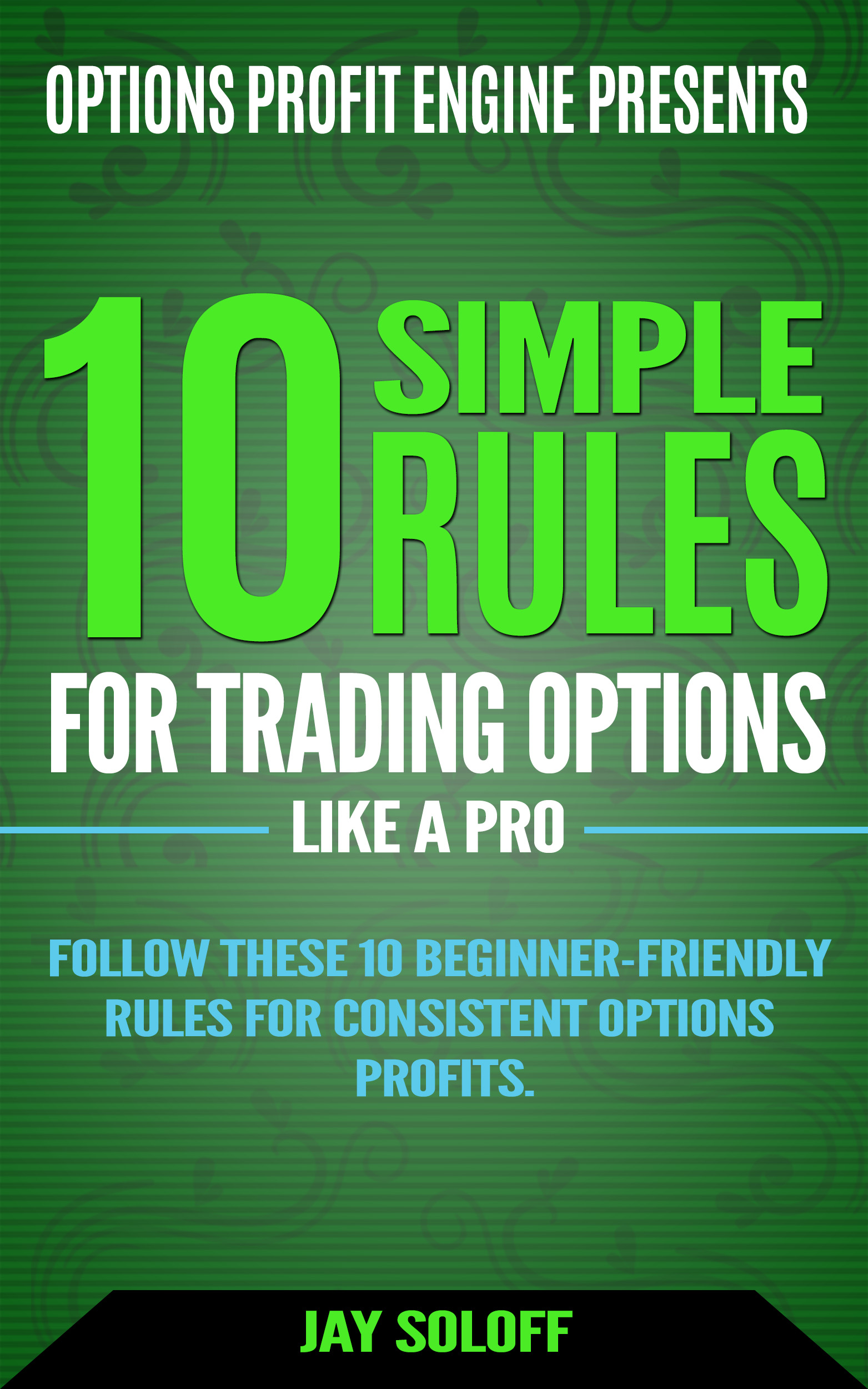 [FREE DOWNLOAD] 10 Simple Rules for Trading Options Like a Pro
Follow these 10 simple rules from 20-year professional options trading veteran, Jay Soloff and start earning a reliable extra income from options.
NO prior experience needed to master these 10 simple options trading rules. 
Enter your email below and receive access to this FREE guide...