Last week, I noted how U.S. stocks had just enjoyed their best start to a year since 2003.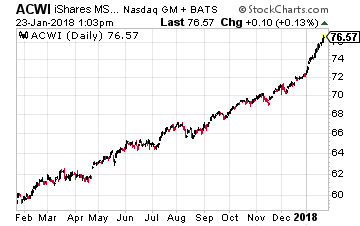 But the party isn't just an American one. Over the first three weeks of the year, global stocks – as represented by the iShares MSCI All-Country World Index (Nasdaq: ACWI) – rose by 5.3%. It was the best return over that period since 1988.
Breaking it down further, the performance is even better for emerging markets. Following a 37% surge for the iShares MSCI Emerging Markets ETF (NYSE: EEM) in 2017, it kicked off 2018 with a further 7% three-week gain.
You can expect stocks to rise further tomorrow (Friday), too.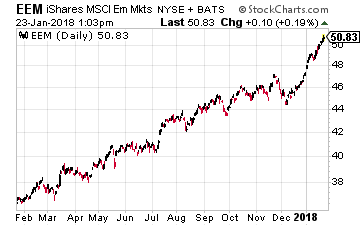 That's because the government will release its initial fourth-quarter GDP figure – with analysts expecting the number to roll in above 3% for the third straight quarter. If so, it would represent the best stretch of growth since 2005.
Party time, right?
Well, in moderation…
Caution Ahead?
I echo the sentiment of Pimco analyst Joachim Fels, who tells Bloomberg that "this is now a time for caution" for investors.
He cites the lack of fear in the market, in addition to the fact that investors have cut their cash positions and are buying riskier assets.
"That means most investors are now pretty fully invested and they'll want to get out if the markets start to correct – exacerbating the downdraft."
He's got a point – and it's something warned about at the end of November.
But "caution" isn't the same thing as backing out entirely.
And with the consensus among Wall Street banks for the global economy to grow by 4% this year – the best pace since 2011 – "rarely has the [commodities] outlook for a New Year been as encouraging as it is today," says Holger Schmeiding, chief economist at Berenberg Bank.
I want to follow up on my article from last week by giving you a couple of other ways to play it.
A Smarter Way to Play the Oil Game
Oil is the lifeblood of most economies – and certainly for the world's largest economies.
And with the United States, China, Japan, India, and Russia accounting for over one-third of global oil demand – and all of them set to grow robustly this year – it bodes well for continued oil consumption.
As Amrita Sen, chief oil analyst at Energy Aspects Ltd, tells Bloomberg, "The oil market is tightening very quickly… we see very strong demand and it's really broad-based."
In addition, lower OPEC production paves the way for higher prices. So how do you capitalize?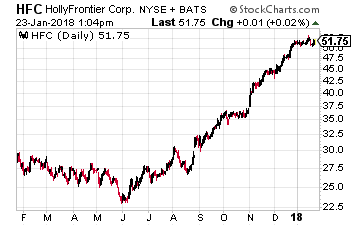 HollyFrontier Corp. (NYSE: HFC): When it comes to investing in oil, you basically have a few main choices: Oil exploration and production companies, refining, pipelines and distribution, and oil services.
HollyFrontier falls into the refining category. Founded in 1947, the Dallas-based firm refines gasoline, diesel, jet fuel, and other oil products. The company owns five refineries in the western United States and processes over 450,000 barrels of crude oil per day.
Unlike exploration and production companies – whose operations are very expensive and revenue is based directly on oil prices, and therefore subject to the greatest volatility – operational costs aren't as high for refiners. Plus, they have more flexibility in how they turn a profit – the difference between the buy price of unrefined crude and the sale price of the refined finished product.
Because refiners' costs are more fixed, they're compelled to operate facilities at high capacity to crank out more product and maximize profits.
Formerly known as Holly Energy Corp, it merged with Frontier Oil in July 2011. Nevertheless, at a value of $9 billion, it's still much smaller than the major refinery players.
That hasn't hampered its growth, though. The share price is up 73% over the past year – and its PEG ratio of just 0.3 shows it's still significantly undervalued.
In the last quarter, revenue and net income shot higher by 30% and 265%, respectively. As a result, EPS rocketed 264% higher.
The gains came on the back of a potent combo – lower crude prices, coupled with lower supplies of refined products, which pushed prices higher. In addition, HollyFrontier belted its facilities along at 99.5% capacity, which doubled its operating margin per barrel.
The company also pays a $1.32 per share annual dividend (2.6%), with a payout ratio right around the comfortable 70% mark.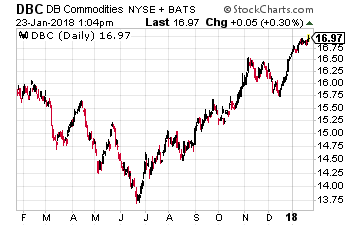 PowerShares DB Commodity Tracking ETF (NYSE: DBC): For a broader and more diversified way to play the global economic growth trend, this ETF offers a basket of 14 commodities futures.
Since hitting a 52-week low in June 2017, the fund – with $2.2 billion in net assets – is up 23%, as it capitalizes on continued demand for energy and raw materials used in manufacturing.
With tomorrow's U.S. GDP figure expected to underline ongoing economic strength, in addition to solid growth internationally, DBC is a solid bet. And its measly 0.9% expense ratio is a small price to pay for exposure to the trend.
The blue chip stock you'll be reading about tomorrow (invest now)
Invest in Apple before the iPhone… Microsoft before Windows… Exxon before Mobil… All would've transformed your portfolio.
Now, let me show you the next 'blue chip of tomorrow' about to skyrocket thanks to a coming opportunity. They'll be needed to solve the "#1 biggest threat to our planet" according to the World Economic Forum.
The stock's already climbed 100.84% and still running.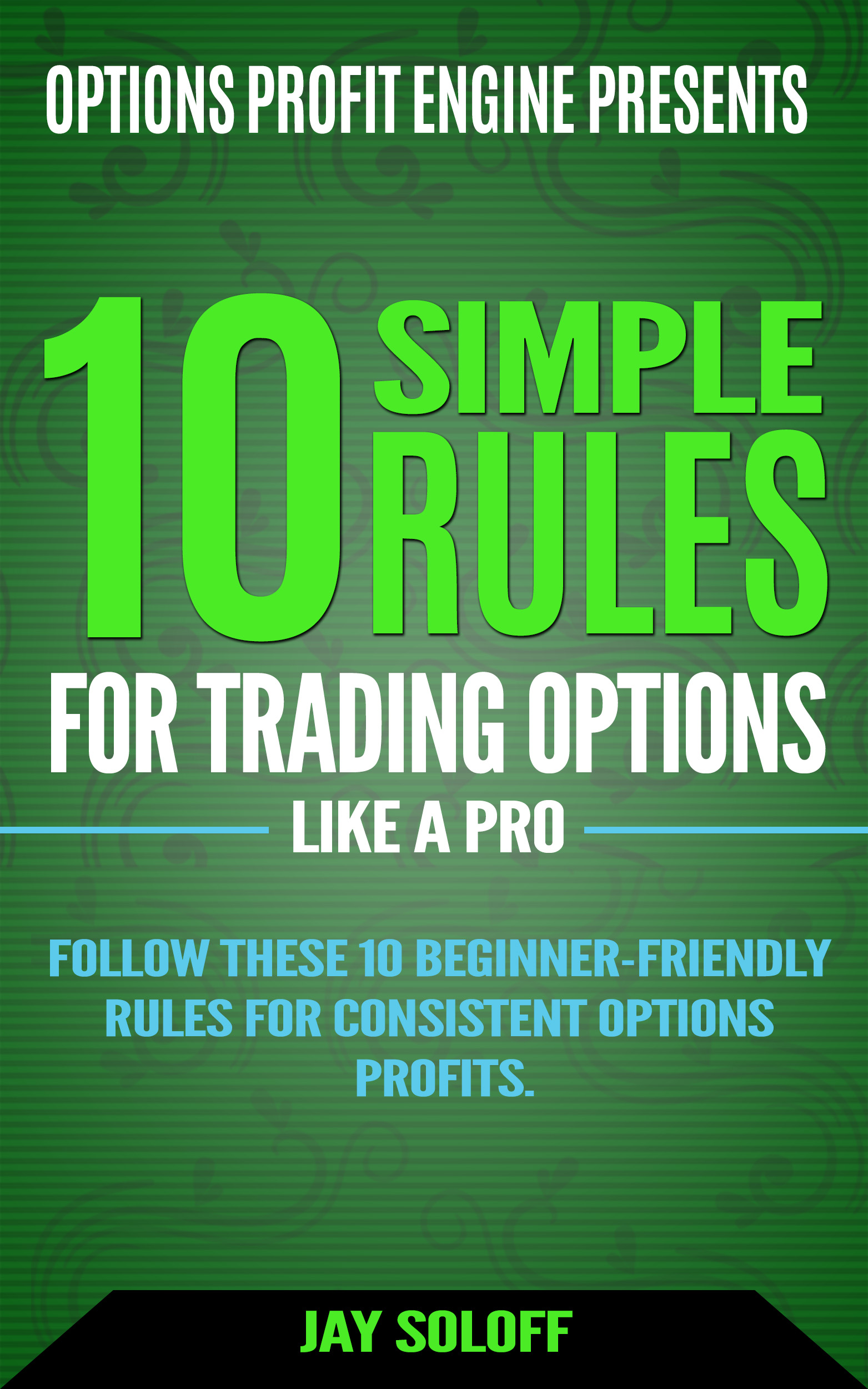 [FREE DOWNLOAD] 10 Simple Rules for Trading Options Like a Pro
Follow these 10 simple rules from 20-year professional options trading veteran, Jay Soloff and start earning a reliable extra income from options.
NO prior experience needed to master these 10 simple options trading rules. 
Enter your email below and receive access to this FREE guide...