You can earn a 5% return in a month or purchase this stock on the verge of a long-term recovery for 10% less than market price today by using this simple options trade the Alan Knuckman shares today.
HIGH PROBABILITY 5% potential return in less than a month
BUY BEATEN AND BASHED Valeant Pharmaceuticals for another 10% Lower, at 2008 levels, or Get Paid Not To…
Volatility is OPPORTUNITY… to sell Cash Secured Puts
This SUPER strategy takes advantage of "market fear" to buy stocks at a big discount or make money in a month on time decay.
Selling cash secured puts has the same risk profile as a covered call play. Think of it as a lower limit order on a stock you want to own but if it never gets there you get to keep the option premium taken in. This is a win-win situation.
Fears on a one year fall from $100 to under $15 has Valeant Pharmaceuticals options inflated. Not only has this stock suffered, the sector has been hammered on worries of government interest in drug pricing.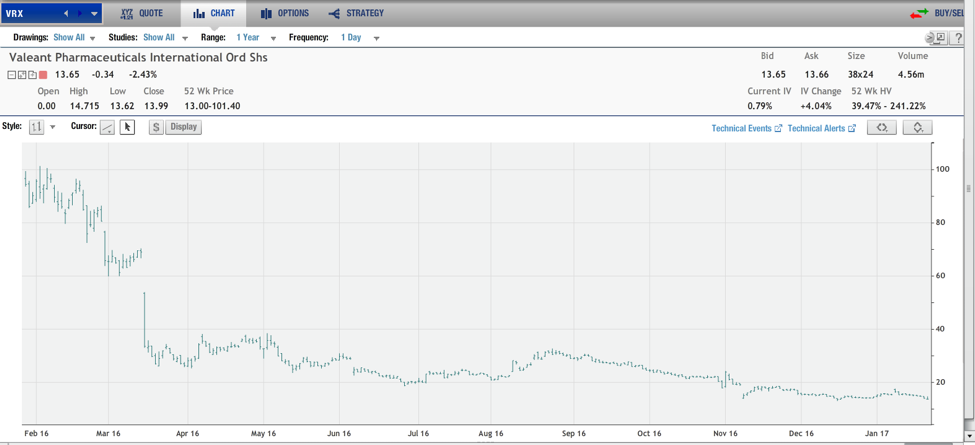 The option volatility at the 80% level makes the option expensive in relative value compared to the market itself. Option selling strategies take advantage of the increased premiums.
Its interesting to note that VRX did not make new highs in volatility when the stock printed the December $13 low. Bullish divergence is sometimes a sign of a bottom as sellers are less aggressive.
The potential return on risk of 5% is attractive with a $12.35 breakeven at the option expiration. The annual low of VRX is $13.00.
Buying at a 10% discount price if assigned is a way to position for a long term recovery in close to a single digit stock. Or you can get paid not to buy it at these extreme low levels.
SEE ALSO: Cashing In on Trump's $1 Trillion Infrastructure Spending Spree
The high implied volatility makes option selling strategies attractive as pure probability trades that utilize time decay acceleration. The May options have three weeks until expiration.
One tactic to buy at a lower price, or get paid not to, is used by money managers to buy stocks they WANT for long term portfolio positioning. Use others' fears to your benefit by selling a CASH SECURED PUT to enter the stock at a major discount.
Option tactics can be employed to make money in Up, Down and Sideways action to take advantage of other variables or time and volatility.
The fear and uncertainty can be used to get in another 10% lower for those who are comfortable holding on to an inexpensive stock to wait for a potential recovery.
Portfolio Strategy
The straightforward Price Order to buy a stock at a lower level is common if it can be determined where it is comfortable to get in below current prices. Put in the trade at "X" and wait for the dip to enter.
Professional money managers have certain points at which they would buy a desirable stock, but an option strategy lets them get in at discount or get paid not to.
Selling a CASH SECURED put, has the same mathematical risk profile as a covered call, which would assign the stock long at the option strike price. The true entry basis is actually even lower with the subtraction of the premium.
With the Put sale there is an OBLIGATION to buy at the strike price if it is assigned.
However, if the stock is not below the strike at expiration, the premium received is all profit. Get in the stock at a discount or get paid not to…
 There are two rules that Cash Secured Puts traders need to follow to be successful.
Rule One: ONLY SELL PUTS ON STOCK YOU WANT TO OWN.
Have the funds in the account to buy the stock at a discount if a selloff continues.
The intention is to be assigned the stock. Each option represents 100 shares as a long-term investment. Paying in full ensures that no additional money is needed to hold for potentially months or even years until price recovery.
Rule Two: Sell either of the front two option expiration months to take advantage of time decay.
Collect premium every month on put sales at a cost reduced basis. Every month that you keep the premium is money subtracted from the entry price.

Trade Setup: Sell the VRX February $13.00 Puts to open at $0.65 or better. The cash secured Put sale would assign long shares at $12.35 if it is put to you costing $1235 per option sold.
ONLY sell this put if you want to own the shares at a discount to the current price.
The combination of time decay and the high probability of GPRO finishing above the $12.35 break even make the option sale attractive.
In fact, that $12.35 breakeven level is 5% below the annual low, a price not seen since 2008.
If assigned shares, a March covered call can be sold against the stock to lower the cost basis again when you own it.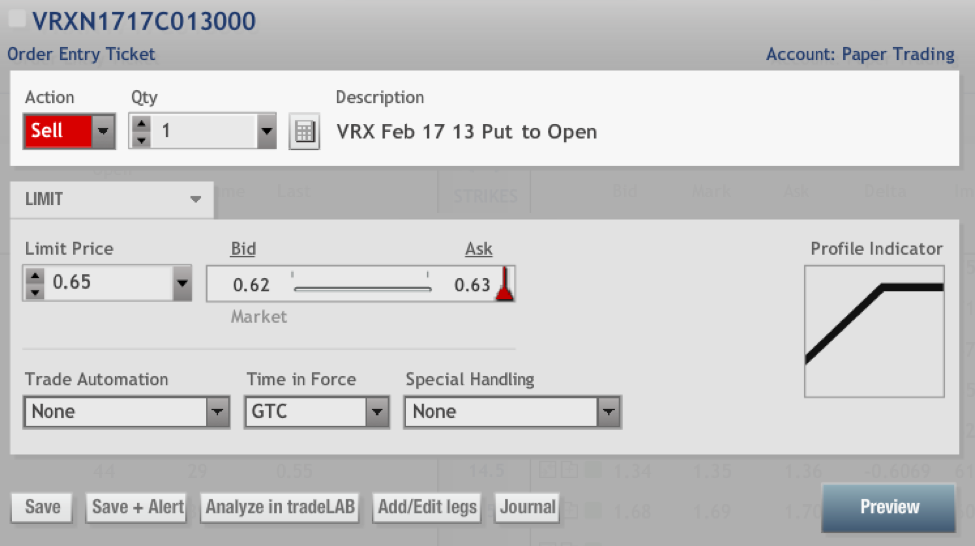 If Valeant stock does move lower, buy the shares for 10% cheaper than the current share price.
Otherwise, you get paid not to and get a 5% return on risk in a month with near 70% probability.
This strategy profits if VRX stock rises or falls as long it remains above the $12.35 break even on the February 17th expiration date.
With Democrats taking the first steps by introducing the $1 trillion bill on Tuesday the 31st and Trump reiterating his support again in his inauguration speech, massive infrastructure spending looks to be right around the corner. That's why Bret Jensen has put together a special report detailing one stock that currently trades for under $10 and would be one of the biggest beneficiaries of such a monumental, multi-year project.
With support from both sides of the aisle and a real public need, it's a safe bet that this will get this done, providing a windfall opportunity to growth investors who purchase shares in this stock today. Click here to learn how you can score 285% gains – or more – as America rebuilds their failing infrastructure.
Click here for the full briefing.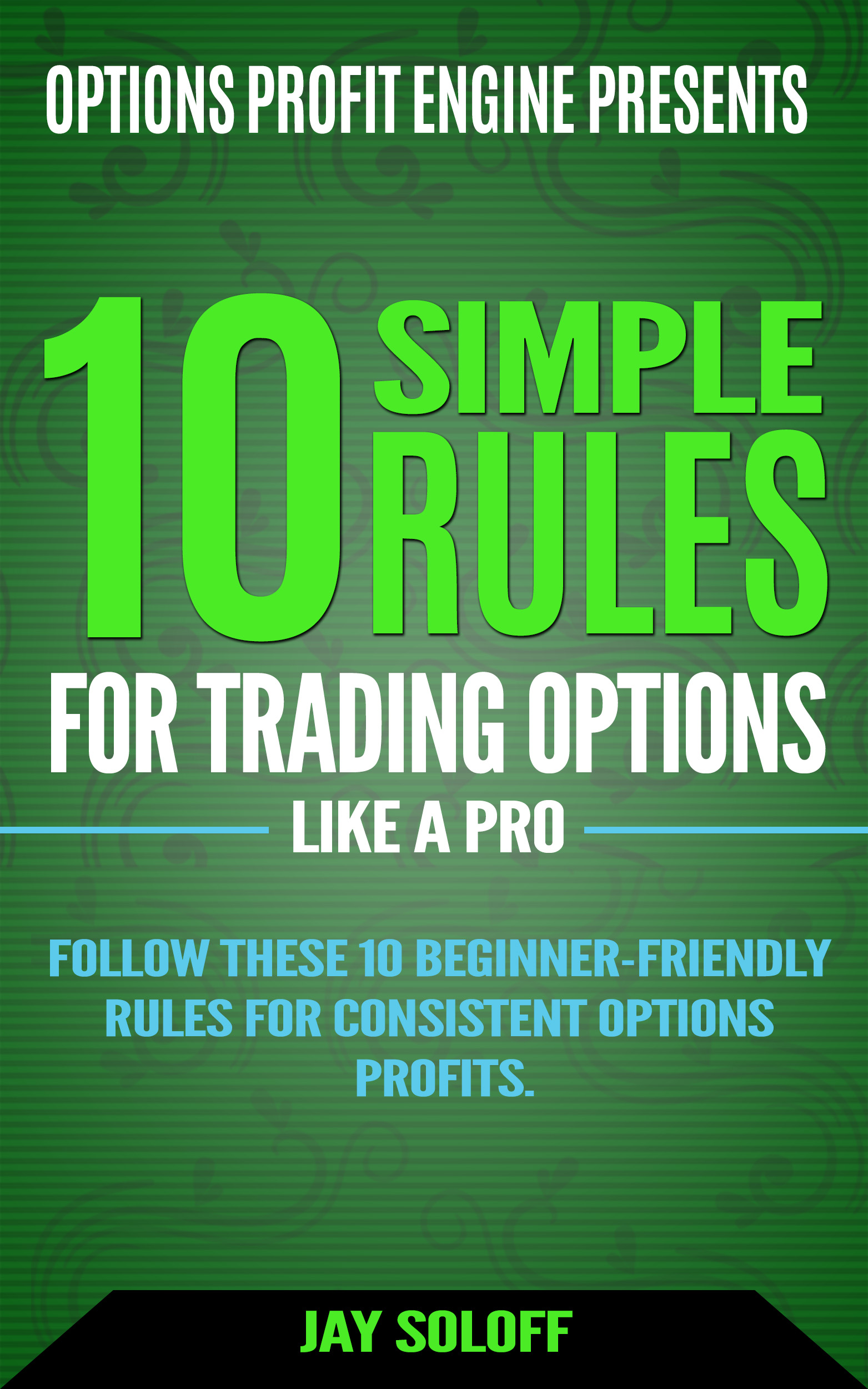 [FREE DOWNLOAD] 10 Simple Rules for Trading Options Like a Pro
Follow these 10 simple rules from 20-year professional options trading veteran, Jay Soloff and start earning a reliable extra income from options.
NO prior experience needed to master these 10 simple options trading rules. 
Enter your email below and receive access to this FREE guide...