I'm a great believer in looking at areas that few on Wall Street do for growth opportunities. I like to find a major positive change happening in the global macroeconomic environment that will benefit a sector or industry and then uncover a company that should benefit from this change in the long term.
I've recently discovered such a change and want to bring it to your attention… the growing worldwide airplane pilot shortage.
All of the world's largest countries, both in the developed and developing world, cannot find enough pilots to fly their planes. This will affect you as a consumer because if airlines cannot find enough pilots, they will reduce service or even drop many routes entirely. But it could affect you more as an investor because of the profit opportunity it offers.
The Boeing and the ICAO Studies
Last summer, Boeing (NYSE: BA) released a study that estimated the world's airlines will need about 637,000 new pilots over the next two decades to meet demand. That works out to be 87 new pilots entering the commercial ranks every day for the next 20 years!
About 40% of that number will be needed just to replace the pilots globally who will be retiring over the next 20 years. This is a similar problem that I described in the May issue of Growth Stock Advisor with regard to U.S. healthcare staffing as the baby boom generation retires.
The remaining 60% will be needed to cover all the additional flying that airlines are expected to do over the next 20 years, especially in the ultra-fast-growing Asian air markets. That's one of those positive macroeconomic trends I mentioned earlier – rising incomes in places like China and India are leading to an unprecedented tourist boom emanating from Asia. More on that later.
But even here in the slower growing U.S. market, more pilots will be desperately needed. Boeing said the U.S. market will need about 117,000 new pilots over the next two decades. That's roughly 5,800 pilots a year or, over three years, it's the equivalent of the current number of pilots that American Airlines has.
Think about that for a second: imagine if a major airline, like American Airlines, had to replace every pilot every year for the next 20 years. That's where we are right now and where one of my newest finds fills that niche.
A similar study was conducted by the International Civil Aviation Organization. Its study found that the global airline industry will need 980,000 pilots in 2030, more than double the level of 2010. That will require the training of 50,000 pilots annually.
Just Put More People into Pilot Training, Right?
Bottom line – a lot more pilots will be needed globally. But why aren't more people pursuing an aviation career?
In simple terms, it isn't easy to become a pilot.
Even ignoring the physical requirements, it's darn expensive to become a pilot. Here in the U.S., it costs about $125,000 (on top of whatever you spend for a four-year college degree which is usually required) to get the necessary ground and flight training you need. And thanks to a Congressional mandate, you need to have at least 1,500 flight hours before any passenger airline will hire you.
A Leading Trainer for Professional Pilots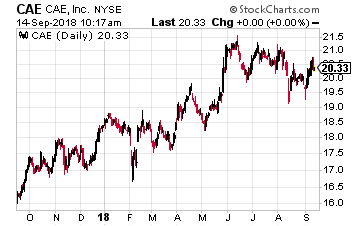 CAE (NYSE: CAE) has been in business since 1947 and offers you a "pure play" training company driven by the long-term growth in civil aviation around the world. That is in contrast to some of its competitors such as L3 Technologies (NYSE: LLL), which are involved in other businesses. The company also is riding the wave of simulation-based training in areas with critical tasks including defense and security as well as healthcare.
It continues to define global training standards with its innovative virtual-to-live training solutions to make flying safer, maintain defense force readiness and enhance patient safety.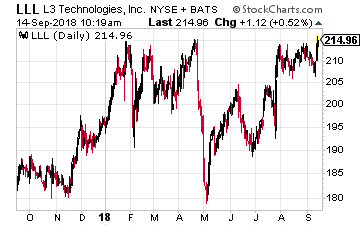 CAE has the broadest global presence in the industry, with over 160 sites and training locations in over 35 countries that includes the world's largest civil aviation network with over 50 training locations, more than 250 full flight simulators, over 2000 instructors and more than 160 aircraft. Each year, CAE trains more than 120,000 civil and defense crew members and thousands of healthcare professionals worldwide.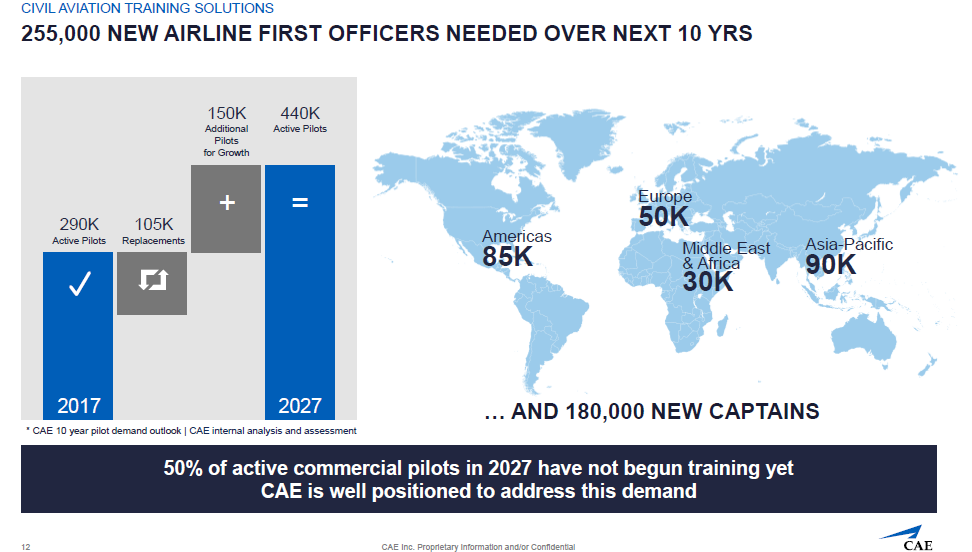 Source: company investor presentation.
One reason I like CAE is that the company is the leader in these markets, but still with lots of room for growth thanks to the significant, untapped market opportunities that exist in its three core businesses.
While CAE is a market leader in civil aviation training, it addresses less than a third of what the company estimates to be a $3.5 billion training market. Company management is well aware of the incredible growth opportunities here. It says that 50% of the commercial pilots that will be active in 2027 have not begun training yet. CAE predicts there will be a need for 180,000 new captains and 250,000 new first officers over the next decade.
In defense and security, CAE has a 7% share of the approximately $15 billion training systems integrator (TSI) market. In addition to contracts with all the U.S. military branches, CAE also trains people for the U.K. and Swedish militaries as well as NATO.
In healthcare, it is an innovation leader in the simulation-based healthcare education and training market. The company sees significant opportunities for long-term growth as the healthcare market increasingly adopts simulation as a means of training. CAE Healthcare was the first company to bring a commercial Microsoft HoloLens mixed-reality application to the medical simulation market.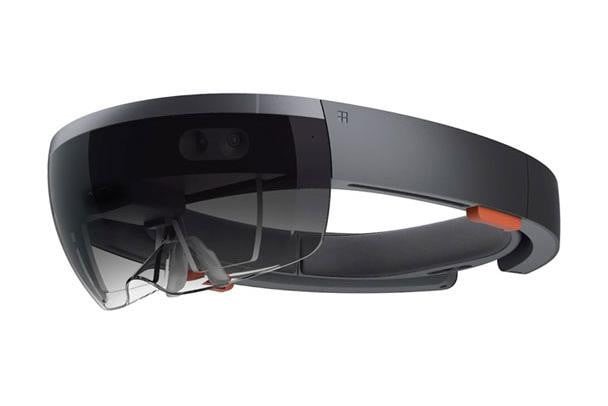 By using the HoloLens, the CAE Vimedix AR ultrasound simulator integrates real-time interactive holograms of the human anatomy. If you think back to last month's issue and the critical need for more healthcare personnel, you realize how much this type of training is needed.
Another reason I like CAE is that much of its revenues are recurring due to long-term agreements with many airlines as well as military services. In 2017, 60% of its revenues were recurring, up from 43% in 2008 and just 15% in 2001.
In addition, of its $2.7 billion in 2017 revenue, 58% came from civil aviation training solutions and 38% from defense and security training programs. The remainder came from its small, but rapidly growing, healthcare business.
CAE's revenue base has what I like too – a broad geographic mix with 36% of 2017 revenue coming from the U.S., 28% from Europe and the remaining 36% from the rest of the world. It is the latter area that is growing the quickest thanks to the aforementioned rapid growth in Asian airline travel.
The macrotrends I have been telling you about are already coming together to boost CAE. The evidence can be seen in its latest fourth quarter and full fiscal year results, which sent the stock up 5% immediately afterwards. Let me fill you in on some the details…
Annual fiscal 2018 revenue was C$2.8 billion, up 5% from the prior year. Annual net income attributable to equity holders from continuing operations was C$347.0 million (C$1.29 per share). This includes an income tax recovery related to the U.S. tax reform, and net gains on strategic transactions relating to CAE's Asian joint ventures: Asian Aviation Center of Excellence and Zhuhai Flight Training Center.
Marc Parent, the company's president and CEO, summed up the company's performance:
"CAE's training strategy is proving successful as evidenced by our strong performance in the fourth quarter and fiscal year 2018 and our delivery on our growth outlook across all segments. I am especially pleased with our increased momentum to be the recognized global training partner of choice, as underscored by a record $3.9 billion annual order intake and $7.8 billion backlog. We grew earnings per share by 8% this year and increased return on capital to 12.3% on higher training demand and the deployment of accretive growth capital. In Civil, we grew segment operating income by 12% and booked a record $2.3 billion in orders, and in Defense, we grew segment operating income by 6% and booked a record $1.4 billion in orders. In Healthcare, we resumed growth with the launch of innovative products and a broader market reach. Our core markets benefit from strong fundamentals and secular tailwinds, and as we look to the year ahead, we expect CAE to exceed the underlying rate of growth in these markets."
I especially like his last statement saying that CAE would exceed the underlying rate of growth in markets that are experiencing accelerating rates of growth themselves. But keep in mind CAE is a company with solid fundamentals behind it and not some company that adds blockchain to its name, sending the stock soaring.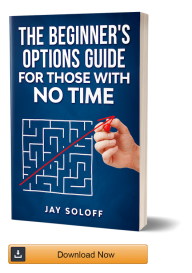 If not, here's your chance to save it to your computer while it's still free. That way you will never have to pay for it again in the future.
This guide will get you placing winning trades without you needing to spend hundreds of hours studying.
In fact, you can place your first trade today after reading my "Beginner's Guide" to trading options.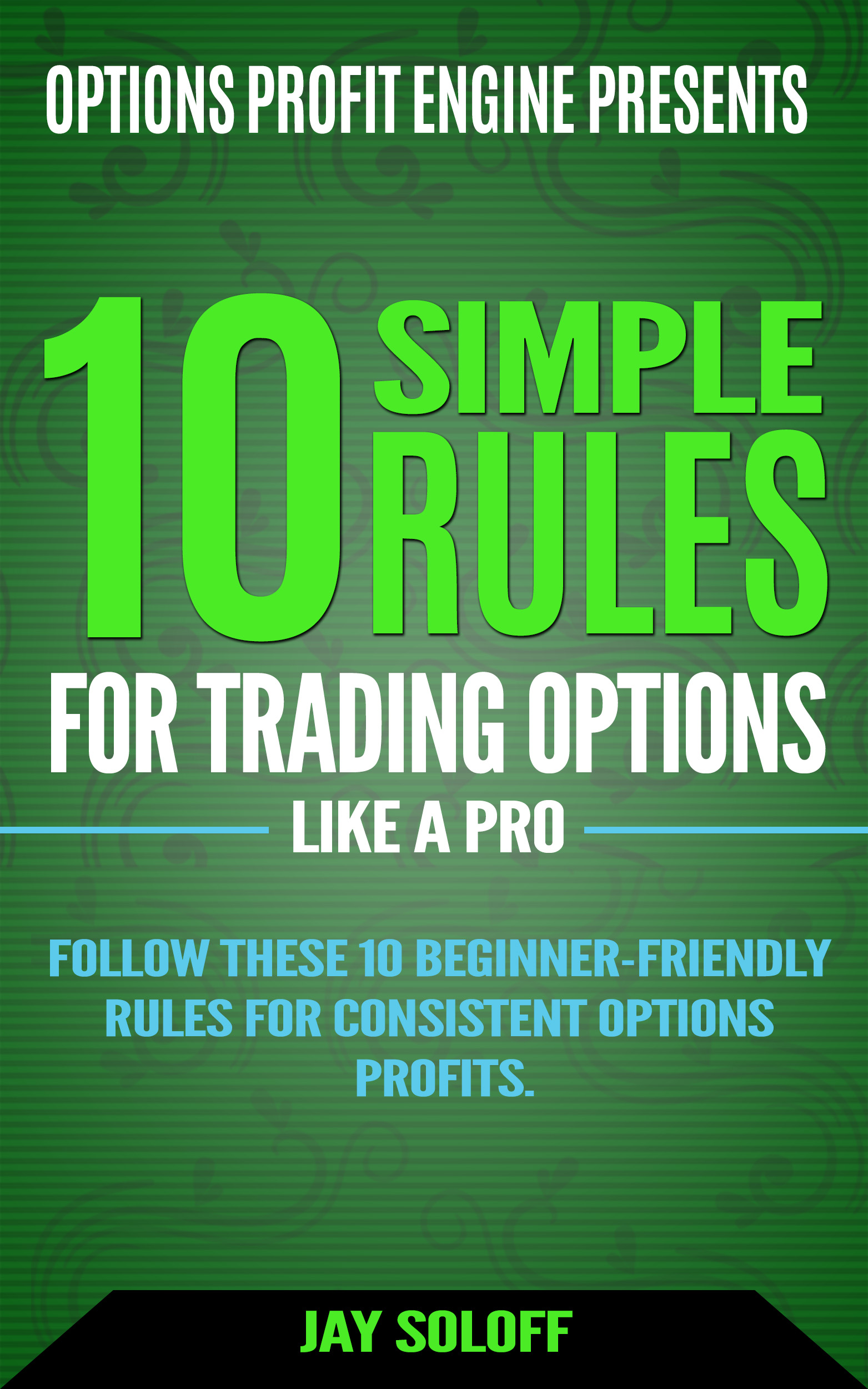 [FREE DOWNLOAD] 10 Simple Rules for Trading Options Like a Pro
Follow these 10 simple rules from 20-year professional options trading veteran, Jay Soloff and start earning a reliable extra income from options.
NO prior experience needed to master these 10 simple options trading rules. 
Enter your email below and receive access to this FREE guide...