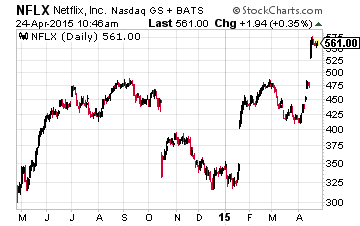 It is hard to fathom how much has changed from the ways we consume both information, media, and advertising over the past decade. 10 years ago who would have thought that an upstart like Netflix (NASDAQ: NFLX) could be on their way to 100 million global subscribers by 2020, along the way winning Emmys for its originally developed content while sporting a market capitalization larger than CBS Corporation (NYSE: CBS)? Or that more and more people would spend a larger amount of time conversing with their friends and family via text messages and social media than in person or via the phone?
As consumers have spent more and more time in the online and increasingly mobile world, the very nature of advertising is changing before our eyes. The act of looking something up via the yellow pages has become quite quaint as Google has become a verb. This trend towards an online and mobile universe will continue to accelerate in the years ahead. Believe it or not, more than four billion people worldwide still lack reliable access to the internet.
These consumer trends are vastly impacting the way advertisers reach their intended audiences and divvy up their advertising budgets. As can be seen below, paid search and display advertising continues to grow at impressive annual rates.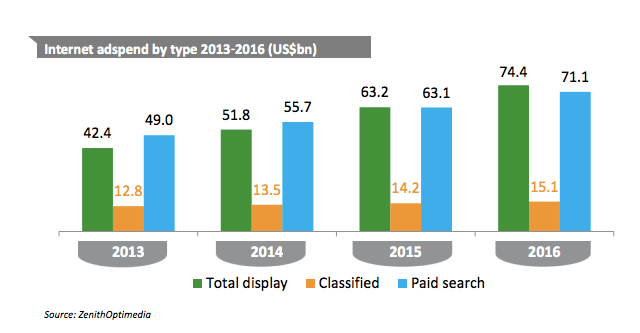 Global advertising spending is on track to grow 5.5% this year to $537 billion, with Internet advertising accounting for just over $120 billion of that which represents more than 20% of overall global ad spending, a percentage that will do nothing but increase in the years ahead.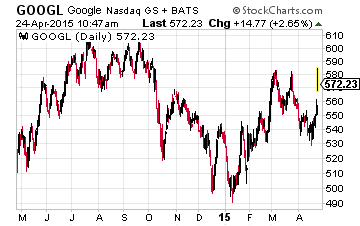 While companies led by Google (NASDAQ: GOOGL) have dominated the Internet ad space with search ads over the past decade, paid search is no longer the biggest surfer on the Internet advertising spending wave. The rise in ad tech and social media is changing that tide. ZenithOptimedia predicts that by the end of 2015, Internet display will overtake paid search at $74.4 billion versus $71.1 billion.
Internet advertising should continue to grow at three times the rate of overall global advertising spend over the next couple of years with annual growth predicted to come in at the mid-teens annually over that time frame. Display ads should increase a bit faster at 20% annually with social media spend leading the Internet advertising spending category with nearly 30% annual gains predicted. The United States will continue to be the leading destination for internet advertising spending accounting for just over 40% of spending in the category. However, China will already easily be the number two market for Internet advertising spending in 2015 and will continue to see explosive growth in the years ahead. These types of ads are growing quickly in most emerging markets and Brazil is expected to be the fourth largest market for this sort of advertising four years from now. By 2018, the United States should account for just over 30% of global internet advertising spend.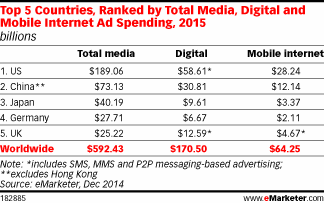 Mobile continues to be a fast-growing proportion of business and is moving up quickly in the overall advertising revenue mix. In 2013, $13.4 billion was spent on mobile ads, which was 13% of all Internet advertising spend and 2.7% of all global ad spend. However, by 2016 that will rise to $45 billion, or 28% of Internet advertising spending and 7.6% of total ad investments. In a few years, mobile will have leapfrogged radio, magazine, and outdoor placements to fourth place in overall global advertising spend.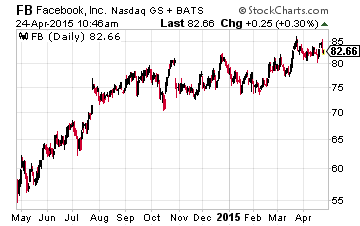 Facebook (NYSE: FB) is a big driver for both mobile and display ad revenues. Since its post-IPO debacle in mid-2012, primarily caused by a lack of visible mobile growth the social media giant has gotten religion around the mobile space. The company has seen a remarkable growth path of mobile ad revenues since its IPO. In its quarterly report submitted last week, mobile accounted for over 70% of its overall ad revenue. Overall revenue growth did slow to just under 50% for the quarter. However, without various currency issues year-over-year sales growth would have come in at 55%, which is pretty much in line the previous quarter and pretty amazing for a firm the size of Facebook. The company now has almost 1.5 billion monthly active users, with just under one billion daily active users worldwide.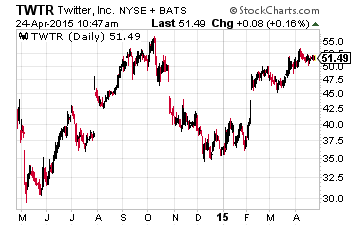 Twitter (NASDAQ: TWTR) is another interesting play in this space with its over 125 million users. The company has added video capabilities recently and is testing Facebook-like autoplay video ads in its iOS apps. The company also just added to its messaging offerings and recently acquired a small live streaming company to build capability in that space. The company is also a frequent rumored buyout target by a larger tech player that is looking to get into fast growing industry.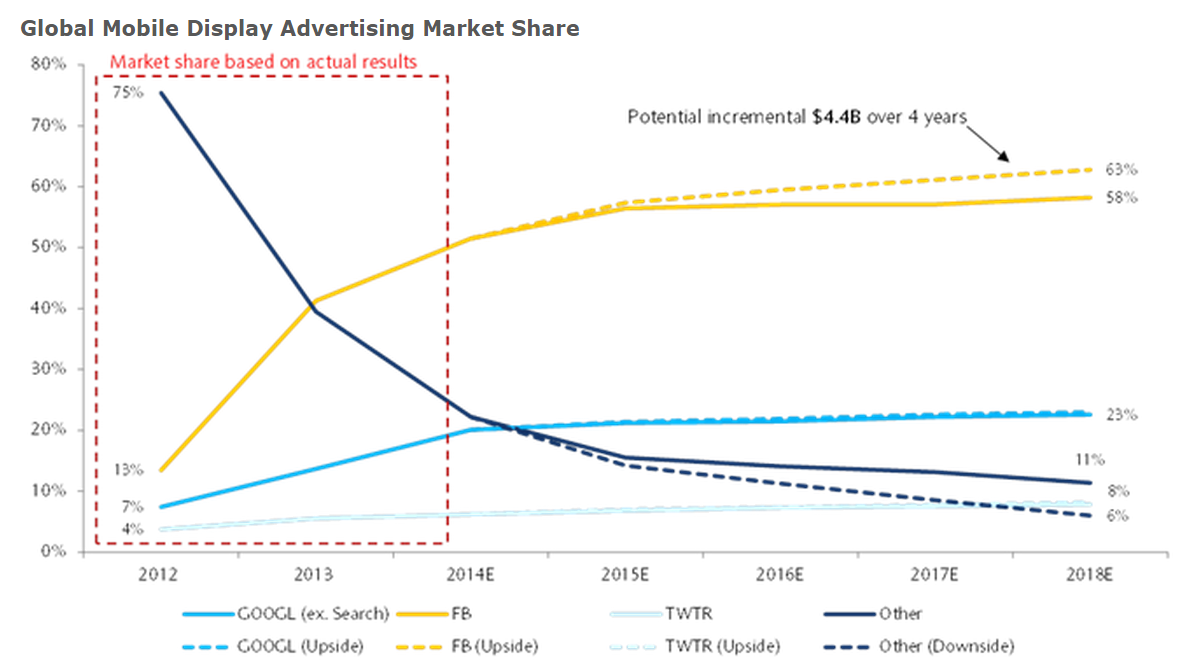 Being technology companies, fundamental valuation techniques are not good predictors of future price. Momentum, market sentiment and industry top line growth potential are the best measures. Facebook gets 73% of their revenue from mobile while Twitter receives 88%.  This macro consumer trend is shaping the mobile advertising topline revenue opportunities and both of these companies are steals at these prices. Investors who want to participate in the paradigm shift going on in this space should consider this trend to be fertile ground in 2015.
Urgent: 316% Gains from Back-Door Access to a $3.35 Billion Market Opportunity.  Bret Jensen's latest pick has been given an FDA green light to skip the standard FDA approval process… NOW it's set to grow as much as 2,715.13%! It's already climbed 316% in a matter of months and is expected to triple or quadruple from here.  Click here to check out your next potential triple digit winner.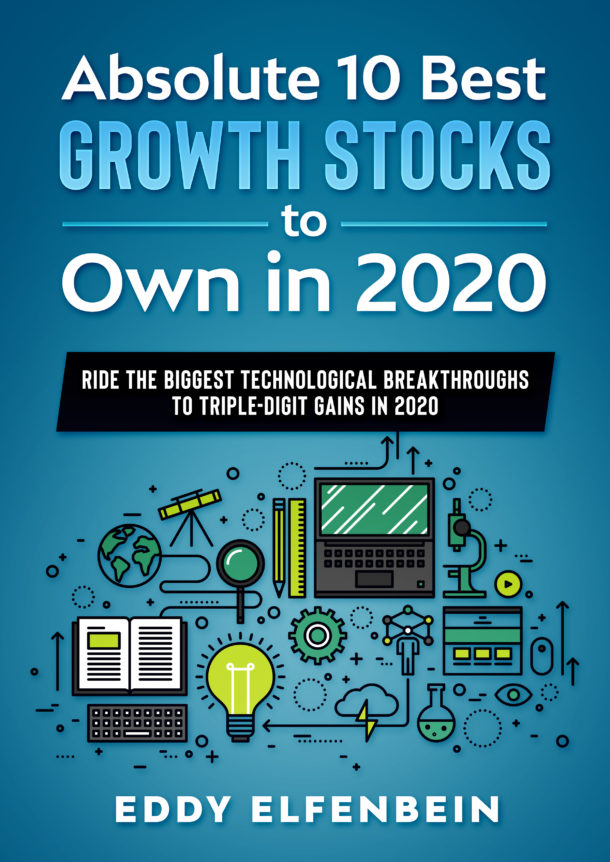 [NEW REPORT] Absolute 10 Best Growth Stocks to Own in 2020
Get the best 10 stocks to ride the 2020 tech explosion. 
One could be the most valuable stock of the next decade. 
Normally, I charge $20 for this report…
But, today...you can claim a copy absolutely free.
One stock alone has a chance at 167% profits in the next 12 months (or sooner). 
Enter your email below to claim a free copy while they last.