My dividend driven investment strategies are very focused on finding, owning and sometimes trading dividend paying stocks that regularly –or irregularly– increase their dividend rate. You can put some extra pop into your brokerage account value by purchasing shares of growing dividend stocks before they come out with their next dividend increase announcement.
The real estate investment trust (REIT) sector includes many companies that pay growing dividends and their shares have attractive yields. Most REITs announce a new, higher dividend rate once a year and then pay the new rate for the next four quarters.
I maintain a database of REIT equities that includes the timing of when the companies typically announce dividend increases as a data point for each REIT. A good time to buy or add shares of a REIT that you expect to announce a higher dividend payment for the next quarterly payout is typically a month to six weeks before the next dividend announcement of a new higher payout.  When the market sees the higher rate, the share price often moves higher, and the result can be a nice short-term gain to the upside. You can use this information to either buy shares to hold for the longer term at a lower price or as an intermediate term trade with the goal of making a profit on the typical high-single digit to low double-digit share price gain that often comes with a higher dividend announcement. In many cases the share price will continue to appreciate until just before the next ex-dividend date.
There are REITs that make their annual dividend increase announcements in every month of the year. The majority cluster in the last quarter or the first couple of months of the new year. As we move into October, there will be more opportunities to make this type of investment. Also, since in recent years September has been very volatile, you may be able to time your purchases to pick up shares when the overall market is in a down period. Here are five REITs that should announce dividend increases in October.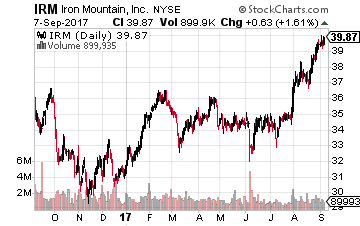 Iron Mountain Inc. (NYSE: IRM) is a niche REIT that provides information and asset storage, records management, data centers, data management and secure shredding services. The company has facilities and provides services in Asia, Europe, Africa and South America as well as in North America.
The company converted to REIT status in 2014 and has increased the dividend each year since. Last year the payout was boosted by 6.1%. FFO (Funds From Operations in REIT lingo) per share is growing at a low teens rate this year, so a nice dividend increase is in the cards. I am looking for an 8% to 10% increase. Iron Mountain announces its new dividend rate at the end of October with a mid-December record date and end of the year payment. IRM yields 5.6%.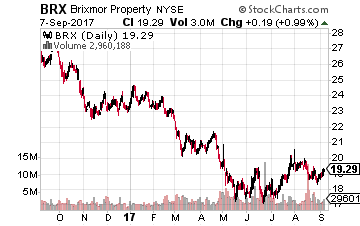 Brixmor Property Group (NYSE: BRX) is an owner and operator of high-quality, open-air shopping centers. The Company's more than 500 retail centers located primarily in the eastern one-third of the continental U.S. Brixmor went public in late 2013 and has increased its dividend each year, with an average high single digit increase. Last year the dividend rate was boosted by 6.1%.
The current dividend rate is less than 50% of the trailing twelve month's FFO per share. I expect another 6% to 7% increase to be announced in late October. The new dividend rate is for the following year, with the first record and payment date of the higher rate occurring in January. BRX currently yields 5.4%.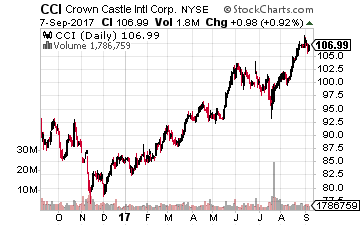 Crown Castle International Corp (NYSE: CCI) owns cell phone towers, which are leased by the various wireless services providers. The company is the nation's largest provider of shared wireless infrastructure.
Crown Castle converted to REIT status in September 2013 and at that point started to pay dividends. For the last two years, the REIT has announced a new higher dividend around the 20th of October with the record and payment dates in the last half of December. Last year the dividend was increased by 8%.
In July, the company closed the $7.1 billion acquisition of Lightower. With the purchase management announced it will increase the CCI dividend by $0.15 to $0.20 per year, or 4% to 5%. CCI yields 3.6%.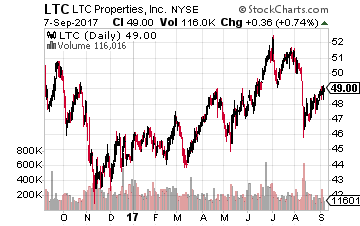 LTC Properties Inc (NYSE: LTC) invests in senior housing and long-term care properties through acquisitions, development, mortgage loans and other investments. The monthly dividend has been increased by one cent each of the last two years. LTC has a longer-term history of about 5% per year dividend growth. Last year, the monthly dividend rate was bumped up by 5.5%.
Over the first half of 2017 AFFO per share is up slightly compared to the same period in 2016. However, net income has grown enough so that LTC will need to boost the dividend to stay within the REIT payout rules. Sustainable 5% or better annual dividend growth appears to be back in the cards for this REIT. A new higher monthly rate will be announced on October 1 with the first payment at the new rate occurring at the end of October. LTC yields 4.6%.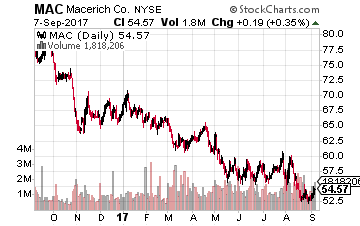 Macerich Co (NYSE:MAC) focuses on the acquisition, leasing, management, development and redevelopment of regional malls throughout the United States. Currently the company owns 57 Class A malls located across the U.S. Macerich has paid a growing dividend for over 20 years. Last year the quarterly payout increased by 4.6%.
Management guidance is for 2017 funds available for distribution per share to be flat compared to last year. However, the current dividend rate is just 71% of projected FFO, so I expect a moderate 3% to 4% dividend increase to keep the growth streak alive. A new dividend rate is usually announced in late October with a mid-November record date and early December payment date. MAC yields 5.2%.
Including dividend stocks with a history – even management commitment – of regularly raising dividends as part of your portfolio is a core strategy for creating a reliable income stream. This is even more important for retirees living off dividend income as it's one of the few ways to get a raise and keep up with rising costs each year. Stocks that raise their dividends are an integral part of my Monthly Dividend Paycheck Calendar system used by thousands of dividend investors.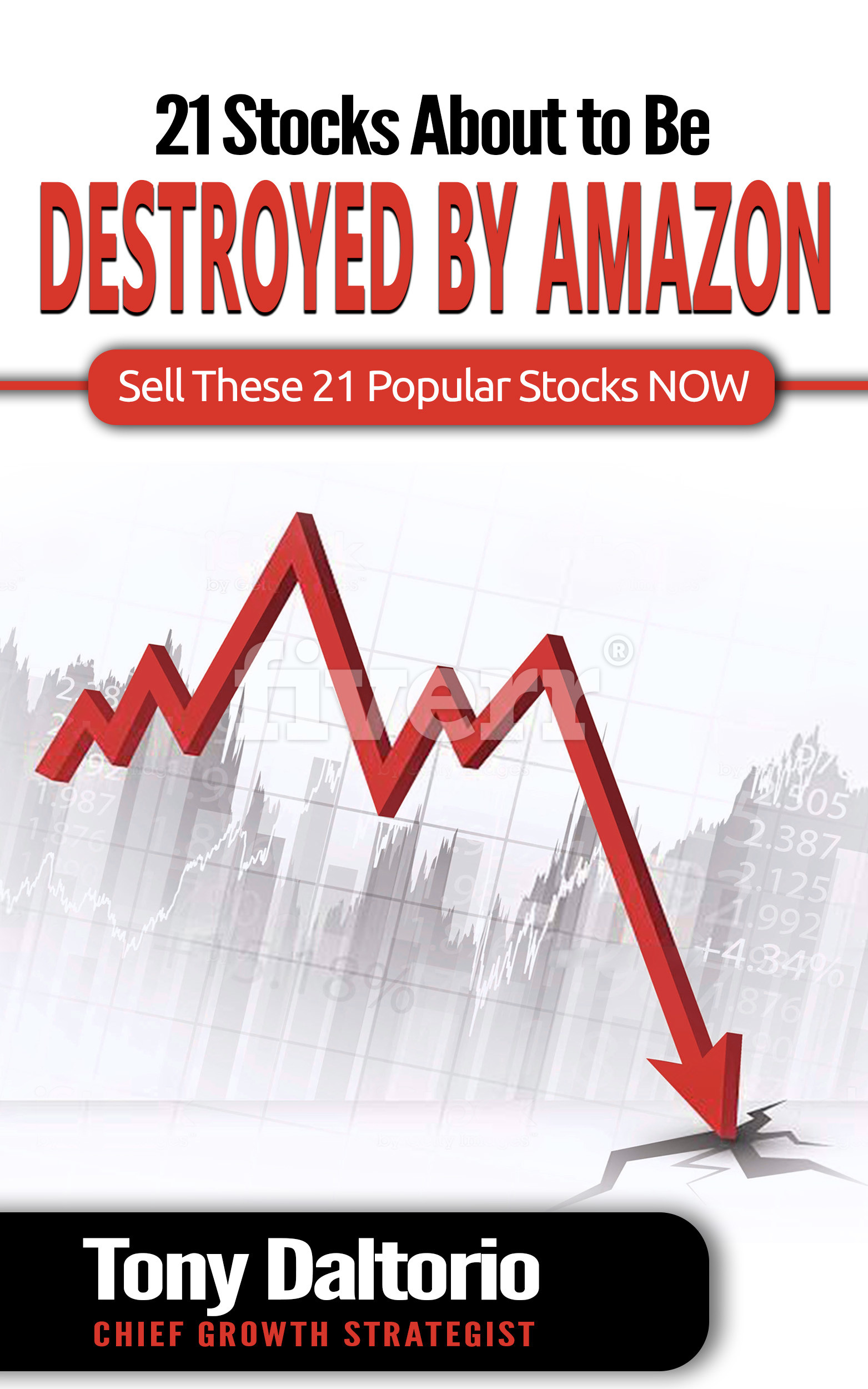 [NEW REPORT] 21 Stocks About to Be Destroyed By Amazon
Grab your exclusive copy of this new research report that shares Growth Stock Advisor editor Tony Daltorio's "21 Stocks About to Be Destroyed By Amazon". 
You won't believe some of the genius business moves Amazon is making to take over countless other businesses in healthcare, banking, payment processing, electronics, groceries, and more. 
Sell these 21 popular stocks now before Amazon puts them out of business.