This earnings season, we're being patriotic. American companies that earn most of their revenue at home have a huge advantage over multinationals, and will thrive in the new market environment of a strong dollar and relatively strong American economy. Over the course of the year, these five companies will easily outperform the broad market.
Heading into earnings at the start of 2015, we knew many companies would have currency issues because of the rising strength of the U.S dollar. But we waited and used those earnings over-reactions as an opportunity to buy strong companies for relatively cheap.
Our theme for this round of earnings isn't about taking advantage of the market's inefficiencies. It's about being proactive, rather than reactive.
This comes as the dollar's bull run is still in full swing. It'll continue to have a negative impact on the earnings of U.S. companies that generate significant sales overseas.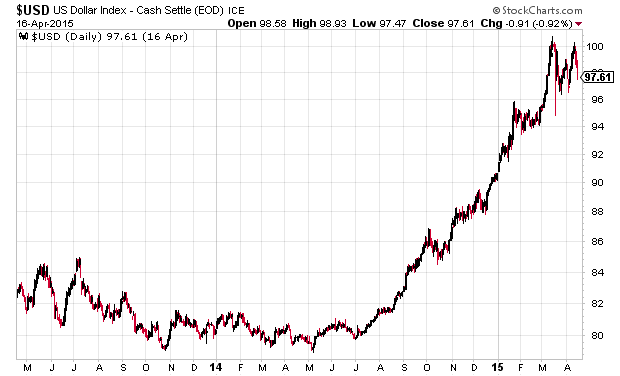 A number of companies are already paving the way for a choppy earnings season. Last week, the likes of Owens & Minor (NYSE: OMI), Sherwin-Williams (NYSE: SHW) and W.W. Grainger (NYSE: GWW) all blamed earnings pressure on currency headwinds.
American Express (NYSE: AXP) also lowered its full year guidance thanks in part to currency concerns and Johnson & Johnson (NYSE: JNJ) saw the negative currency impact leading to a year-over-year decline in both revenue and earnings.
And there will be more companies seeing growth expectations tapered due to currency, Coca-Cola (NYSE; KO) and International Business Machines (NYSE: IBM) are two to watch this week.
But it's not just about the currency headwinds, we also have the fact that the U.S. is still the best economy in the world acting as a catalyst.
The U.S. 10-year Treasury yield of 1.8% is still well above the likes of Japan and every European country except Greece. And ultimately, when the Fed does hike short-term interest rates the U.S. dollar will move even higher as more money floods into the U.S.
Broadly, the Chinese economy appears to be slowing, Japan hasn't done anything for nearly a decade, Russia is still heavily tied to oil prices and Europe can't seem to get their act together.
The playbook for a strong U.S. dollar and weak international markets gets a little tricky as this point, however. Meaning, indexing is tough to do right now.
Nearly half of the companies in the S&P 500 have international operations, which means the ever-strengthening dollar will adversely impact nearly all the U.S. based multinationals.
Then there are lower oil prices, which should continue to squeeze profits of energy companies. The energy sector still makes up almost 10% of the S&P 500.
So it pays to be a little studious.
Back in November we noted that the dollar bull cycle would run for another couple years. Thus, as king dollar reigned supreme, we felt investors' best bet was to go with all things domestic, including retailers, airlines, home builders and banks. Ross Stores (NASDAQ: ROST) has been the standout since then, with the stock up 25%.
Then, in December we called gold dead money and touted the truest of the true in terms of domestic stocks, regional banks, and regional airlines. The biggest winner from that list has been JetBlue (NASDAQ: JBLU), up 28% since then.
Today, we're pulling out all the stops, focusing on companies that generate 85% or more of their revenue from within the U.S.
These include companies that are industry leaders in industries like healthcare and discount retail. We weeded out certain companies, including Reynolds American (NYSE: RAI), L Brands (NYSE: LB) and Nordstrom (NYSE: JWN). In part, because we didn't want to rely on rising consumer spending, especially when lower energy costs has yet to transition into materially higher retail spending.
Without further ado, here's the top five companies for the earnings season:
Earnings Season Stock No. 1: CVS Health Corp (NYSE: CVS)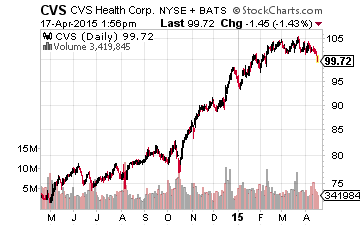 Operating as a hybrid pharmacy benefits manager (PBM) and pharmacy retailer gives CVS a differentiated model that you won't find elsewhere in the market. It's one of the largest U.S. PBMs, giving it impressive advantages in terms of negotiating pricing. Its move to stop selling tobacco products hasn't had that negative of an impact on sales as expected. And if anything, has helped win over customers with its healthy branding.
CVS' ability to build a vertically integrated PBM and retailer really shines when you stack it up against the likes of Walgreens Boots Alliance (NYSE: WBA) and Rite-Aid (NYSE: RAD). PBM is an asset-light, high margin, business. With that, CVS is achieving an operating margin that's 15% higher than Walgreens' and nearly double Rite Aid's.
Pharmaceutical spending has a number of tailwinds as well, partly driven by innovation in biotech, as well as a rapidly aging population and the increase in the number of insureds. This should drive pharmacy retail sales as well as PBM growth.
Earnings Season Stock No. 2: Home Depot (NYSE: HD)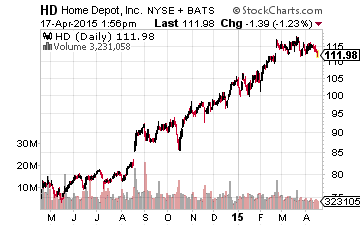 Home Depot is not only a major player in the home improvement space, it's also a major player in terms of shareholder returns, despite having a seemingly low 2.1% dividend yield. Over the last five years, it's managed to return over 20% of its market cap to shareholders via dividends and buybacks. With that, the returns on Home Depot shares are nearly triple what the S&P 500 has managed over the last half decade. But there's no reason to believe this type of outperformance won't continue.
The improvement in the housing market, being driven by loosening credit and strengthening job market, will carry Home Depot for another year or so. There's also the "fear of missing out" in the housing market that could lead to a spike in homebuilding, where we could see a rush to lock in historically low interest rates before the Fed hikes rates.
But beyond the housing angle, Home Depot is also focusing on slowing down store expansion in an effort to hone in on (read: better service) its prime customer, professionals, and commercial buyers. These guys tend to have a higher average price per transaction, where they repeatedly buy higher ticket items like doors and lumber.
Earnings Season Stock No. 3: Kroger Co (NYSE: KR)
K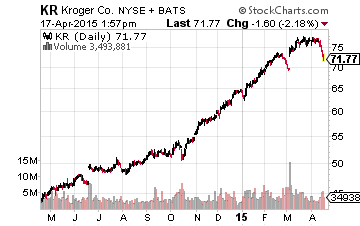 roger is the nation's largest grocery chain. In an industry where switching costs are nil, it pays to be the biggest. Having over 2,500 stores not only gives it inherent diversification across the U.S., but also affords it impressive negotiating power.
Another overlooked angle to Kroger is that over half its stores sell gasoline, which is a key traffic generator with gas prices remaining at relatively low levels. There's also some opportunity for margin expansion as Kroger continues to push private brands. These are store brands that carry higher margins. Kroger actually manufactures about 40% of these private label products, which can further juice margins, helping Kroger to capture more of the profits.
Earnings Season Stock No. 4: Dollar General (NYSE: DG)
Again, it pays to be the industry leader, where Dollar General has the largest network of discount stores in the U.S. Even as the economy has strengthened, Dollar General has continued to attract customers, with sales up 55% over the last five years.
This is counterintuitive to what Economics 101 might teach, where, with more discretionary income and higher employment, customers tend to trade up to higher-end stores. However, Dollar General gained a loyal following as a result of the financial crisis back in 2008-2009 and has managed to keep customers coming back.
There's also the fact that even with 11,000 stores, there's still plenty of runway for new store growth. Thanks to the company's small store format which can be built in rural areas, the likes of Walmart (NYSE: WMT) and other bigger players cannot set up shop. Giving Dollar General a wide moat to defend against competition.
Earnings Season Stock No. 5: Tyson Foods (NYSE: TSN)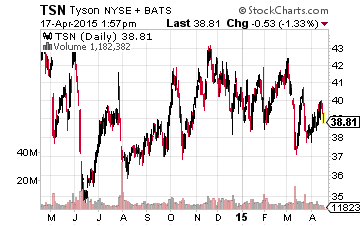 Tyson might be the most misunderstood of our five stocks for earnings season. Historically, there's been a lot of volatility when it comes to the meat industry, as it is a commodity-based industry.
However, with the purchase of Hillshire last year the company should become a steadier player in the industry. The integration of Hillshire is still a work in progress, which should continue to translate into cost advantages. There's also cross selling opportunities, as well as some intangibles that are harder to quantify.
Specifically, Tyson is a leader when it comes to the manufacturing and packaging of meats, something that Hillshire could use work on. Meanwhile, Hillshire is much stronger in the marketing department, something Tyson's frozen products could use some help with.
Growth wise, look for Tyson to continue to diffuse its products, including introducing Hillshire to faster growing international markets where protein consumption is on the rise.
In the end, the dollar's reign is still in full swing and the eventual Fed hike will ensure king dollar has a few more years on the throne. At the same time, any upcoming interest rate increase (the first in nearly a decade) would be a vote of confidence for the U.S. economy. With all that, there is a win-win situation for investors this earnings season. Be patriotic: Invest in U.S. focused companies with industry leading positions.
Pure domestic plays can be hard to find in the large cap space. If you're looking for more exposure to the relative strength of the domestic economy and minimum exposure to overseas and currency risks, you'd be wise to check out stocks in the small cap space.
Bret Jensen thinks differently from most investors, and he is asking you too as well. In his new report, he reveals his top 3 safest blue chip stocks to buy now and reveals his proprietary, step-by-step research for building a recession-proof… crash proof… fool proof system to make every dollar invested work harder for you. See what all the hype is about for America's first "set it and forget it" investment plan.
Click here for the names of his 3 Buy and Hold Forever Stocks for 2016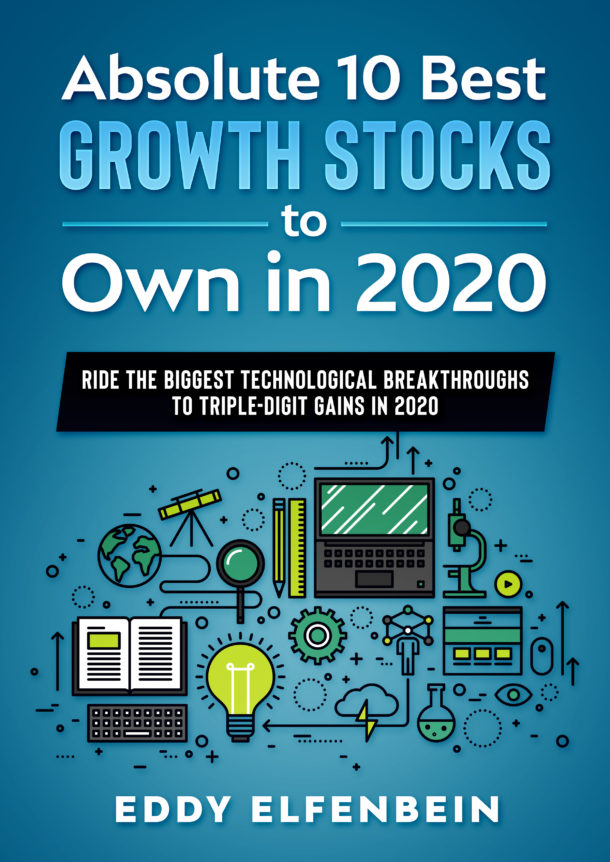 [NEW REPORT] Absolute 10 Best Growth Stocks to Own in 2020
Get the best 10 stocks to ride the 2020 tech explosion. 
One could be the most valuable stock of the next decade. 
Normally, I charge $20 for this report…
But, today...you can claim a copy absolutely free.
One stock alone has a chance at 167% profits in the next 12 months (or sooner). 
Enter your email below to claim a free copy while they last.