These four recent REIT IPOs are growing their cash flows and look ready to pay out their first dividend increase. And, since the market isn't expecting an increase this early, a small bump to their dividend could result in a nice pop in their share price.
The best income investments are stocks that currently pay a high yield and will also grow that dividend rate over time. With new companies that come to market, it is tough to time when the first dividend increase will occur. Usually, that first bump up in the payout comes within the first year after the IPO.
That first dividend increase can be a nice surprise for investors. The market often does not have any expectation of a dividend boost, so the announcement of a new, higher dividend rate can give a positive pop to the share price. I add new REITs to my database to keep track of their results and make projections about future dividends. Here are three (and one merger) that have come to market in the last year that may be announcing dividend hikes soon, as in the early months of 2016.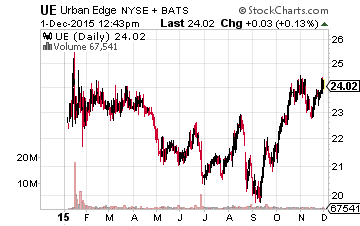 Urban Edge Properties (NYSE: UE) came to market with an early January 2015 IPO. The company owns retail shopping center properties in high barrier to entry markets. Over the first three-quarters of 2015, UE reported $0.90 per share or $0.30 per share per each of the three-quarters of recurring funds from operations (FFO). The initial dividend rate has been $0.20 per share per quarter. Same-store net operating income was up 4.1% in the third quarter compared to a year earlier. If Urban Edge Properties announces a dividend increase, I would expect something like a 5% bump. UE currently yields 3.3%, indicating the market thinks this is a high growth rate company.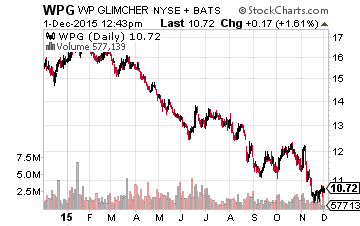 In January 2015, Washington Prime Group Completed the acquisition of Glimcher Realty Trust, with the merged company named WP Glimcher Inc. (NYSE: WPG). The company owns and develops enclosed regional malls, open-air centers and fashion outlets throughout the United States. The quarterly dividend rate has been set at $0.25 per share since the merger. For the 2015 third quarter, adjusted FFO was $0.46 per share. A dividend increase would be a way for the company to show investors that the merger was a success. The next dividend announcement should come in February 2016. WPG now yields 9.4%.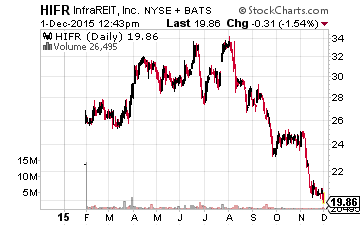 InfraREIT Inc (NYSE: HIFR) came to market with an early February IPO. This is a new and different kind of REIT. The company owns electric power transmission and distribution power lines, primarily located in Texas. The business strategy is focused on acquiring long-lived power transmission assets with the goal of providing steady dividend growth to investors. The initial dividend rate is $0.225 per share per quarter, paid for the last two quarters. Third quarter revenues were up 6% compared to a year earlier, and Cash available for distribution was $0.28 per share. Management has provided guidance of 10% to 15% annual dividend growth. HIFR currently yields 4.4%.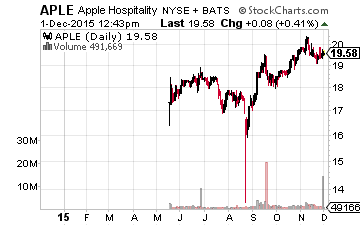 Apple Hospitality REIT Inc (NYSE: APLE) came public with a May 2015 IPO. The company owns one of the largest portfolios of upscale, select-service hotels in the United States, consisting of 79 Hilton and Marriott branded hotels located in 32 states. APLE is a monthly pay REIT, paying investors $0.10 per share every month since the IPO. Third quarter FFO of $0.46 per share was up 12.2% compared to a year earlier. The company is aggressively adding hotels to its portfolio. I would not be surprised by news of a dividend increase announcement early in 2016. APLE currently yields 6.1%.
Dividend rate increases are not carved in stone, but you can get ahead of the market if you buy new dividend paying stocks before they establish a pattern of dividend growth.
Finding companies that regularly increase their dividends is the strategy that I use myself to produce superior results, no matter if the market moves up or down in the shorter term. The combination of a high yield and consistent dividend growth in stocks is what has given me the most consistent gains out of any strategy that I have tried.
And, there are currently over twenty of these stocks to choose from in my Monthly Paycheck Dividend Calendar, an income system used by thousands of dividend investors enjoying a steady stream of cash.
The Monthly Dividend Paycheck Calendar is set up to make sure you receive a minimum of 5 paychecks per month and in some months 8, 9, even 12 paychecks per month from stable, reliable stocks with high yields. If you join my calendar by Tuesday, December 8th you will have the opportunity to claim an extra $4,677.50 in dividend payouts by January.
The Calendar tells you when you need to own the stock, when to expect your next payout, and how much you can make from stable, low-risk stocks paying upwards of 12%, 13%, even 15% in the case of one of them. I've done all the research and hard work; you just have to pick the stocks and how much you want to get paid.
The next critical date is Tuesday, December 8th (it's closer than you think!), so you'll want to take before that date to make sure you don't miss out. This time, we're gearing up for an extra $4,677.50 in payouts by January, but only if you're on the list before the 8th. Click here to find out more about this unique, easy way of collecting monthly dividends.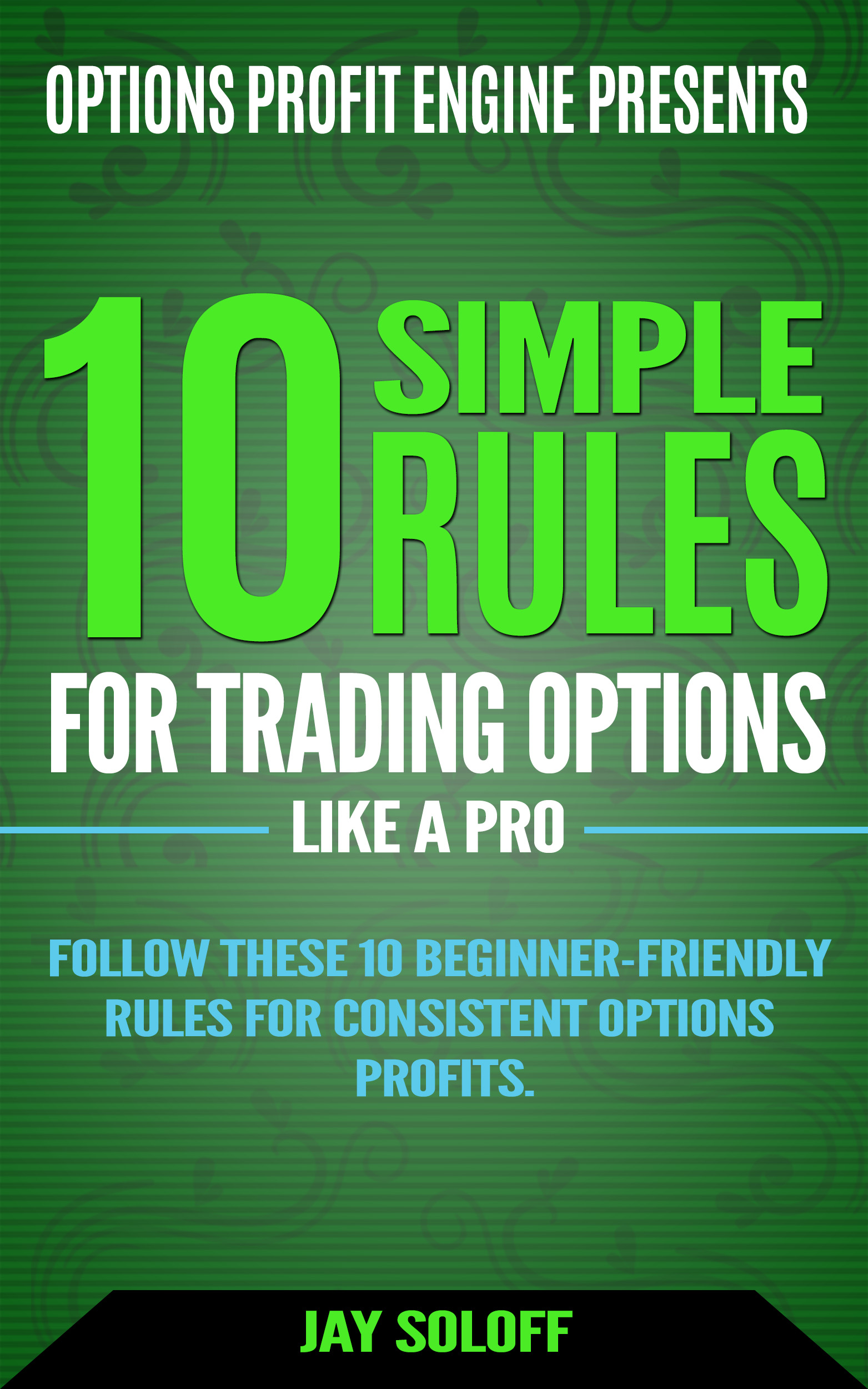 [FREE DOWNLOAD] 10 Simple Rules for Trading Options Like a Pro
Follow these 10 simple rules from 20-year professional options trading veteran, Jay Soloff and start earning a reliable extra income from options.
NO prior experience needed to master these 10 simple options trading rules. 
Enter your email below and receive access to this FREE guide...