Sometimes you can just hear the tick, tick, tick… of the bomb that the eventual return of higher interest rates will drop on the financial markets. When I made two presentations at the Las Vegas MoneyShow in May, the number one question I received was "What will happen to REITs, MLPs and other income stocks when interest rates start to move up?"
The Fed has stated that it plans to continue the zero interest rate policy (ZIRP) through at least the end of 2014. Recent statements indicated that the unemployment and inflation numbers will determine when the Fed will start to lift short term rates off the zero percent floor. Although the financial world has been living with the ZIRP for almost six years, it seems that at some point the economic data points will force a move to higher rates.
My concern is that six years of an unchanging policy has left parts of the financial community unaware and clueless to the possible effects of higher rates; and with many investors becoming a bit complacent. The good news is that the interest rate "bomb" will be selective in its targets. Our special report on dividend stocks poised for bankruptcy points out and gives examples of the types of income stocks that could be severely hurt with rising rates.
Most likely unfazed and unaffected by higher rates will be the REITs, MLPs and other income stocks that have set up their operations to be not dependent on short term interest rates, have stuck with moderate use of debt, and employ business practices to produce growing dividend streams. With these stocks, market and share price corrections will be opportunities to buy into those growing dividend streams.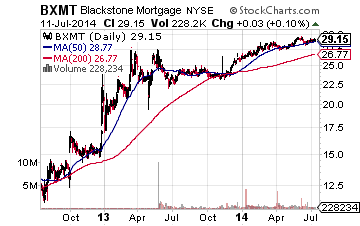 The stocks outlined here today are ones with business models that will actually generate higher income levels if interest rates move up. These financial REITs should all be able to increase dividends at a faster rate when the Fed starts to raise short term target interest rates.
Blackstone Mortgage Trust Inc. (NYSE: BXMT) and Starwood Property Trust, Inc. (NYSE: STWD) both originate commercial real estate mortgages and other real estate backed loans. Both focus on larger, $100 million to $500 million financing packages, where there is not competition from smaller lenders. Both have sponsor companies that manage multi-billion dollar portfolios of commercial property and have global real estate connections.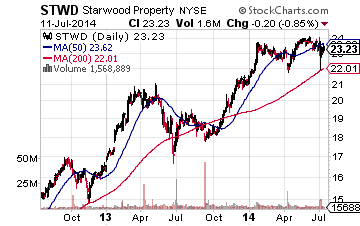 Of final and most importance, both currently only originate adjustable rate loans, with borrowing rates tied to LIBOR. Financing costs for the two companies is either fixed rate or also tied to LIBOR. As a result of these financial structures, higher rates will result in higher free cash flow for each. BXMT moved into commercial mortgage lending in mid-2013 when manager The Blackstone Group (NYSE: BX) changed the company's charter. BXMT currently yields 6.6%. STWD has been in the commercial lending business since 2009 and currently yields 8.2%.
The REITs that own leveraged portfolios of residential mortgages or mortgage backed securities (MBS) are most at risk from rising interest rates. With higher rates, MBS values act like all bonds and prices fall. Mortgage securities are also hit with maturity extension as home owners become less likely to refinance their mortgages.
In stark contrast to the traditional mortgage REITs, MBS maturity extension is good news and boosts the return on companies owning mortgage servicing rights (MSR). New Residential Investment Corp (NYSE: NRZ) and Home Loan Servicing Solutions Ltd (NASDAQ: HLSS) generate the majority of their revenues from MSR ownership. These two financial REITs already list attractive yields at 10.9% and 8.4%, respectively. Also, for monthly dividend lovers, HLSS pays every month. These unique companies will thrive in a higher interest rate environment.
Many investors get caught in the trap of searching for ever higher yields without taking into account the risks associated with big payers. My inbox is stuffed with investors asking about various dividend stocks that I can clearly see send up red flags. So, I've just recently completed a new report on three of the most dangerous dividend stocks out there. It's called 3 Dividend Stocks to Sell on the Verge of Bankruptcy. It's normally reserved only for readers of my new service, The Dividend Hunter, but for short time you can get your hands on it, too. Click here for instant access.