At one time, the only robots you and I would come in contact with was in a movie like the Star Wars. But no longer… the age of robots is upon us. They are in our homes (think Alexa), in our workplace, and all around us the form of drones, driverless cars, etc.
This has turned the entire robotics-related sector into a big business and a very rapidly growing one. According to the technology intelligence service, International Data Corporation (IDC), worldwide spending on robotics and related services in 2016 was $91.5 billion. Sales of industrial robots alone rose by 18% to a record $13.1 billion in 2016, according to the International Federation of Robotics.
IDC forecasts that overall spending on robotics will more than double to $188 billion in 2020. The forecast makes sense with robots becoming useful in more and more sectors. Also consider that China – the world's largest market for robots – is still below the average global density with 68 robots per 10,000 manufacturing workers. The average globally is 75.
The sectors that were the biggest spenders on robotics in 2016 were manufacturing, mining, consumer-related industries and healthcare. IDC says the fastest uptake in the period to 2020 will come from the consumer, healthcare and retail industries. On the industrial robot side, the fastest-growing uptake is occurring in the consumer electronics sector, chiefly in Asia.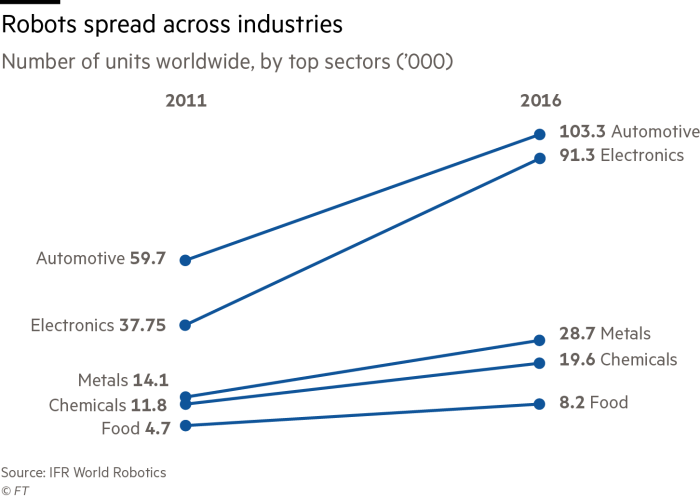 Your Cobot Co-Worker
The advance of the robots is being made possible by progress in technologies like big data, deep learning (artificial intelligence), graphics processing units and machine vision.
Related: Artificial Intelligence Goes Rogue Putting. What Happened Next Embarrassed the Chinese
The reality is that many of us in the not too distant future will be working alongside a robot, whether it's a real metallic one or a virtual one (AI bots). The term given to these type of robots is collaborative robots or cobots. I find them the most intriguing from an investment viewpoint because they are a disruptive technology.
The British market research firm, TechNavio, predicts cobots will become the fastest growing subsector of robotics. It sees the cobot market growing at a compound annual growth rate of 50.88% to 2019. Cobots, from a mere $95 million sector in 2014, will become a sector worth more than a billion dollars by the end of the decade. In other words, it is moving from a niche market to a foundational technology of the future, growing at an exponential rate.
The good news for us humans is that cobots are designed to work alongside people, not replace them. In fact, researchers at MIT found that robot-human teams were about 85% more than productive than either humans or robots alone!
The robot technology manager at the Danish Technology Institute, Søren Peter Johansen, backs up the gist of the MIT study. He says that automating the simplest 80% of a production process is significantly cheaper than a fully automated solution. The remaining 20% of the work will be done by human co-workers.
If you take a moment and think about it, that makes sense. As product components become smaller and more complex, robots can provide vital functions as they can handle the intricacies of manufacturing in ways humans cannot. But, us humans can adapt to a situation much more rapidly that a robot. And robots to date aren't very dexterous. There was a study about a year ago that showed it took a robot 20 minutes to fold a towel.
Cobot Investment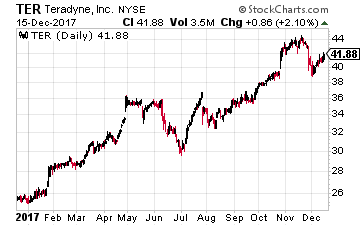 Unfortunately, there is no pure play cobots firm. But Universal Robotics is intriguing. It is a Danish robotics firm that was purchased by Teradyne (NYSE: TER) in 2015 for $285 million and is considered to be the market leader in cobots.
It was the first mover in the cobot space, launching the first cobots about 10 years ago and has now sold over 10,000 units. The company itself believes its technology is two or three years ahead of its nearest competition. But I suspect its lead has narrowed thanks to recent strides made by competitors like ABB (NYSE: ABB).
Cobots from Universal Robotics are used in industries ranging from automotive to electronics to pharmaceuticals to metals. Large companies using its cobot technology include the likes of Lear (NYSE: LEA), Johnson & Johnson (NYSE: JNJ) and BMW (OTC: BMWYY).
The company experienced a growth rate of 62% from 2015 to 2016. And through the first nine months of 2017, sales were up 77% for Universal Robotics year-on-year, with full year growth for 2017 expected to come in at a 65% rate.
The parent company, Teradyne, though is mainly a supplier of automation equipment for test (largely semiconductors) and industrial applications. That's another great business at the moment and probably why its stock is up more than 61% year-to-date.
Teradyne's robotics revenues overall are small when compared to its main business. For example, in the third quarter of 2017, Teradyne's semiconductor testing sales came in at $397 million. The company's entire industrial automation division only generated sales of $40 million.
Nevertheless, Teradyne is a good investment – a semiconductor-related company with a robotics growth kicker.
Two Robotics ETFs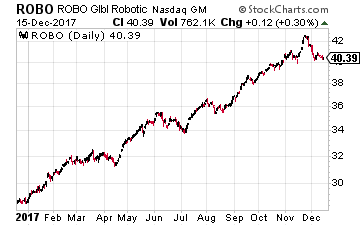 If you want more of a pure play on robotics, there are two ETFs that fit the bill. They are the Robo Global Robotics & Automation ETF (Nasdaq: ROBO) and the Global X Robotics & Artificial Intelligence ETF (Nasdaq: BOTZ).
Both are good choices with all of the leading companies in the broad robotics field globally. This is important to you since many of the leading robotics firms are in Japan and would otherwise be largely unavailable to U.S. investors.
But there are differences in their respective portfolios. One main difference between the two ETFs is that BOTZ is more concentrated. Its top position is Japan's Yaskawa Electric (OTC: YASKY), making up 8.1% of the portfolio. The top position at ROBO is also Japan's Yaskawa Electric, but it makes up only 2.25% of the portfolio.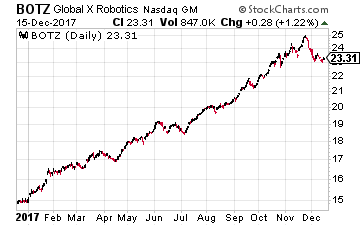 Another important difference is that BOTZ has more overseas exposure, with North America accounting for only roughly 27% of the portfolio. In contrast, ROBO has about 40% in North American companies. BOTZ has more than 45% of its portfolio in Japan while ROBO has only 30% in Japan.
I believe robotics is and will continue to be one of the best exponential growth industries you can invest in. And it's one I follow quite closely as editor of Growth Stock Advisor with an eye to putting you into the best available profit opportunities.
Build Your Wealth 3,000% FASTER
NEW Free Report reveals the biggest technological leap in history…
An event that will create more wealth over the next 7 years than in the entire history of civilization combined…
Putting over $100 trillion in instant investor profits up for grabs …
Click here to read "The Industrial Singularity" now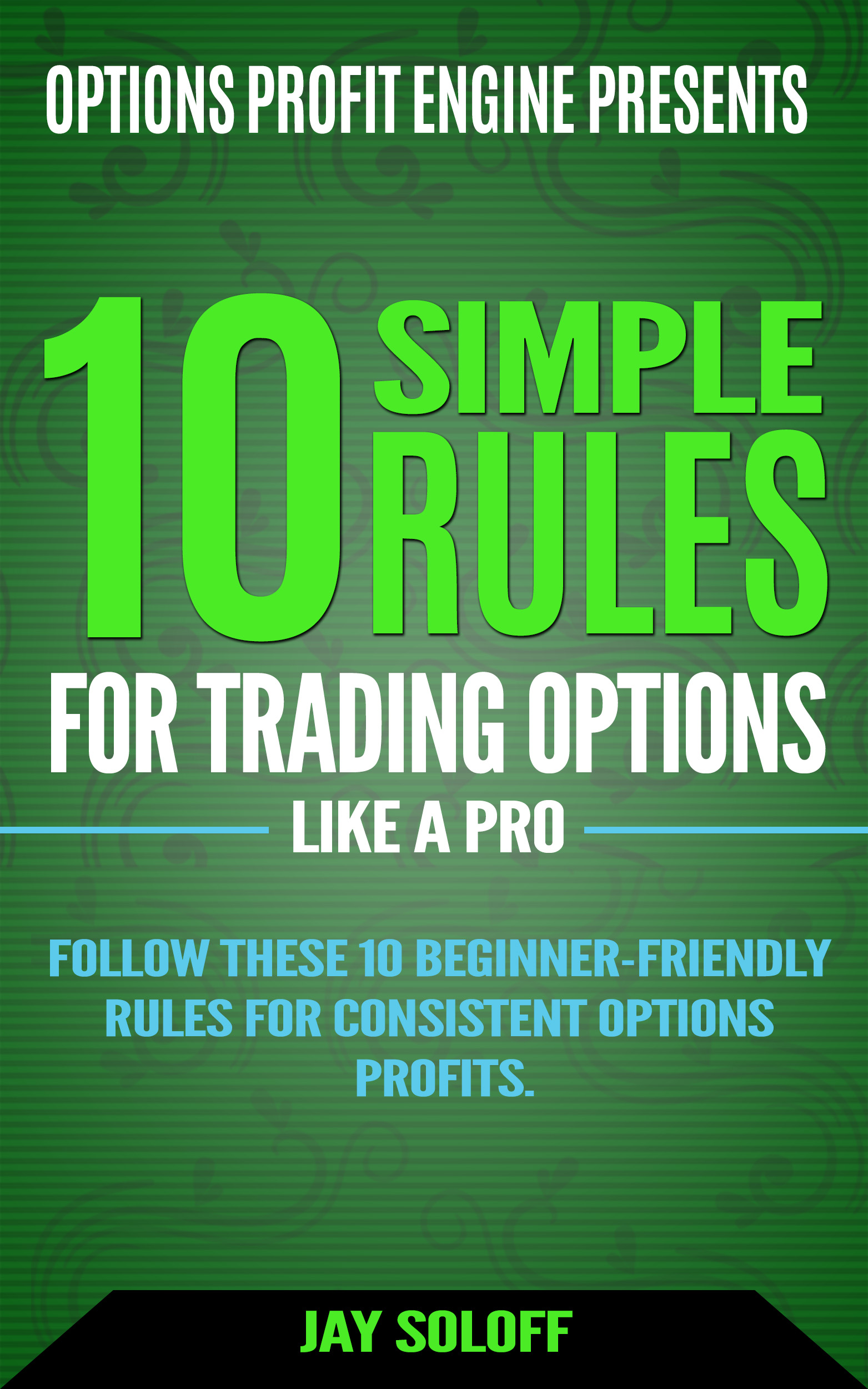 [FREE DOWNLOAD] 10 Simple Rules for Trading Options Like a Pro
Follow these 10 simple rules from 20-year professional options trading veteran, Jay Soloff and start earning a reliable extra income from options.
NO prior experience needed to master these 10 simple options trading rules. 
Enter your email below and receive access to this FREE guide...