Last week, I told you about how the tone of quarterly earnings conference calls had changed. From a focus on trumpeting the benefits to companies' bottom lines of the corporate tax cuts Congress passed at the end of 2017, the focus had shifted to the trade war and rising costs.
This is especially true with regard to technology companies, with many of them raising the possibility of having their supply chain disrupted. One particular segment of the technology sector that is under threat is the data center industry. And more particularly, the key components that keep data centers humming. Let me explain…
China Tariffs to Bite
The China tariffs will bite. But the question is whom.
Consider this data from the World Bank: In 2006 exports represented 36% of China's GDP, by 2017 they were only 19.7%. Looking at the potential impact of tariffs on China's economy, only 19% of China's 2017 exports went to the U.S. representing only around 3.6% of its total economy.
So the effects on China from tariffs may be less than many investors expect.
Related: Buy These 3 Growth Stocks Surging Because of Tariffs
However, the effect on tariffs on the U.S. technology has just begun. Two rounds of tariffs on Chinese imports totaling $50 billion have targeted some of the key components that keep data centers functioning. The tech industry is now facing a third $200 billion list of tariffs that takes dead aim at key digital infrastructure — from the routers, switches and servers that redirect and process data, to components such as motherboards and memory modules used by bigger cloud companies to assemble their own equipment, and even the miles of cabling needed to wire the gear together.
The tariffs are particularly ill-timed. That's because many of the largest internet and cloud computing companies are in the middle of a capital spending boom. And while a lot of the build-out is overseas and will not be affected by the tariffs, there were planned massive upgrades to existing facilities here in the U.S. to meet demand for extra capacity and new services that are now coming into question.
For many of the tech giants, 2018 was to be a year for massive capital spending.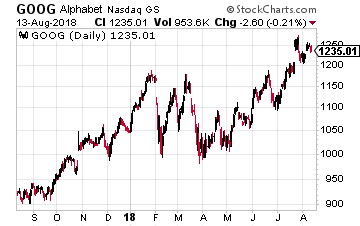 Alphabet (Nasdaq: GOOG), for example, nearly doubled its capital spending in the first half of 2018 to $10.4 billion. Besides adding capacity for YouTube videos and its fast-growing cloud computing business, CFO Ruth Porat, chief financial officer, said to the Financial Times that the company was buying more equipment to meet the demands of machine learning — a "compute intensive" task that is becoming central to many of its services.
Google's investments mirrors capital spending spurts at both Facebook (Nasdaq: FB) and Microsoft (Nasdaq: MSFT) this year, although Amazon (Nasdaq: AMZN) has pulled back somewhat after a 2017 spending boom. These cash-rich tech giants obviously can easily afford the higher costs of data center equipment caused by a 25% tariff on Chinese imports.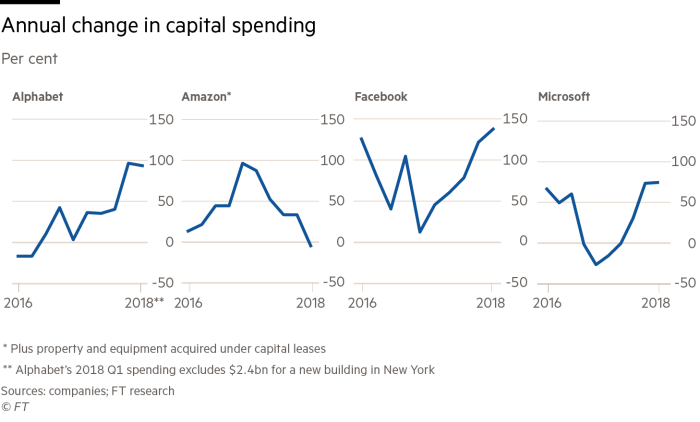 Semiconductor Industry in the Crossfire
But other well-known tech companies may be affected more harshly. For instance, Dell Technologies imports components from China and then makes servers and laptops in the U.S. And Hewlett Packard Enterprise imports a lot of servers from China although it makes most of its products either in the U.S. or Mexico.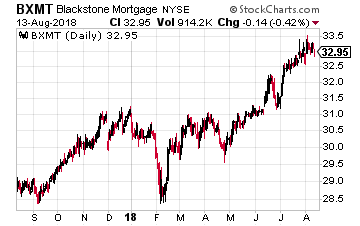 Intel (Nasdaq: INTC) is one of those companies for which the tariffs will be a strong headwind. It says 90% of the value of its chips comes in the design and manufacturing stages, which occur "outside of China and largely in the US". But like many U.S. semiconductor companies, it uses plants in China to do the final assembly and testing on its products because these are lower skill and therefore lower wage tasks. But with the tariffs, any chips brought back to the U.S. from China will face a tariff on their entire value. In effect, this is a tax on work done here in the U.S.
If the proposed next round of tariffs on China goes into effect, the semiconductor industry will be at the epicenter of the 'quake'. According to the Semiconductor Industry Association, $6.3 billion worth of chips and other products directly related to semiconductors are about to be hit.
Supply Chains Aren't Cheap to Move
I'm sure you may be wondering why the semiconductor companies just don't move their supply chain out of China back to the U.S. or to some other country?
In reality, few companies have the flexibility to switch their sourcing quickly to suppliers outside of China. While there are a number of other countries with the capability to produce what the semiconductor industry needs, the supply chains and capacity just don't exist and would have to built from scratch in many cases.
Even relatively low-value parts of the current supply chain could be prohibitively expensive to move. According to Intel's calculations, moving a low-value-added chip packaging plant out of China would cost between $650 million and $875 million.
Money spent on building a whole new supply chain may mean less money spent where it really needed, such as research and development.
The irony of the situation has not been lost on KC Swanson, head of policy at the Telecommunications Industry Association. The Trump Administration is burdening U.S. companies with higher costs at just the moment they needed to invest heavily to compete with China. She pointed out that "China is all about trying to build up its industrial internet, and its routing and switching capabilities."
Investment Implications
So what are the investment implications for you?
The next round of tariffs has yet to take effect, so you have time to adjust your portfolio. And unless a deal is reached (highly unlikely), the tariffs will hit the semiconductor industry hard.
Your best bets in tech will then be to hold the companies that have a ton of money and can absorb the higher cost of goods. That means three of the companies mentioned earlier in the article – Microsoft, Amazon and Alphabet.
Rogue US "Cartel" legally Kingpins 2,524% to American Investors
These Cartels made money hand over fist:
1. OPEC continuing to rob American's blind.
2. Standard Oil had to be broken up by the government because of its monopoly profits from oil.
3. Drug gangs spending $7,000 a day on rubber bands holding money.
4. Amazon forces entire sectors into bankruptcy and now accounting for a whopping 49% of all e-commerce.
Up until today, you could never invest in a cartel. However, I've just discovered an all American "Cartel" about to make a power move... Legally disrupting an entire industry, and making select investors a life long legacy. When it used to be illegal to rake in this sort of money... there's nothing illegal about reaping the rewards of this cartel.
It's what Mark Cuban, Bill Gates and Mark Zuckerberg have just done... doubling down to $124 Billion. Following cartels used to be the fastest way to end up in prison but following these billionaires could be your ticket to 2,524% before 2019 ends.
Just Click Here now to reveal this All American Cartel - before it's too late
.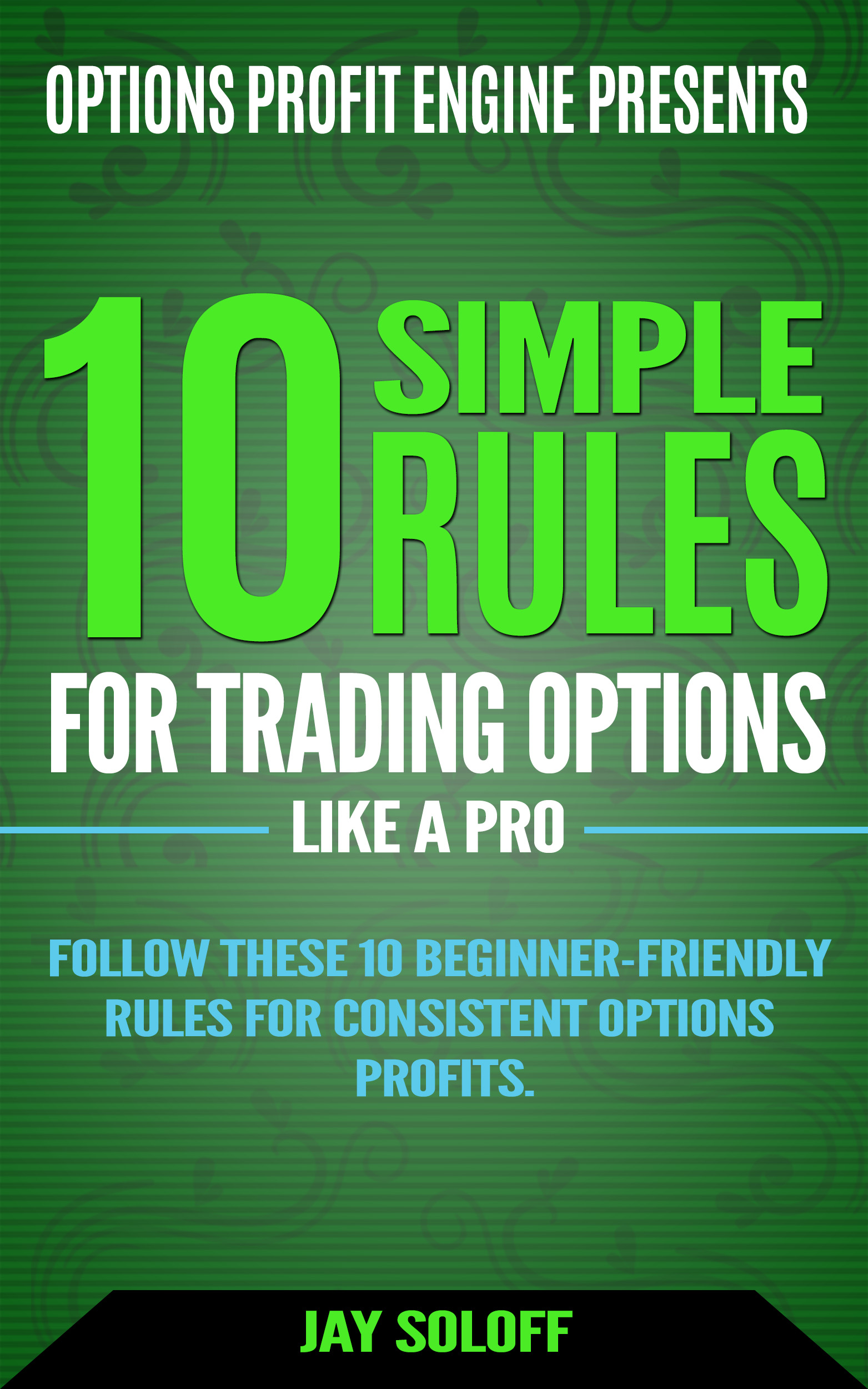 [FREE DOWNLOAD] 10 Simple Rules for Trading Options Like a Pro
Follow these 10 simple rules from 20-year professional options trading veteran, Jay Soloff and start earning a reliable extra income from options.
NO prior experience needed to master these 10 simple options trading rules. 
Enter your email below and receive access to this FREE guide...