Reading Time:
4
minutes
The market shows no signs of slowing down. The Dow is at all-time highs, but the economy looks poised to keep moving higher.
With that, one of the best parts of the market for capitalizing on this is small cap stocks.
Small caps have a proven ability to outperform large caps over the long-term. Granted they have higher volatility, they still offer the highest potential total return.
This is especially true in a post-recession environment, where small cap stocks are more levered to economic growth. For the last five years, the Russell 2000 index has grown at an annualized rate of 26%, compared to the S&P 500's 22%.
It's just too hard for a large company to grow earnings at 20% to 30%. Wall Street expects the Russell 2000 to grow earnings by 18% this year, compared to 9% for the S&P 500.
But not all small caps are created equal.
Nearly a fourth of the companies in the Russell 2000 are not profitable. Thus, companies that are financially stable and fundamentally sound should be the focus.
Investors can use the 3 stocks below to capitalize on the market rally as they all have solid balance sheets and impressive long-term growth prospects.
1) Thor Industries (NYSE: THO)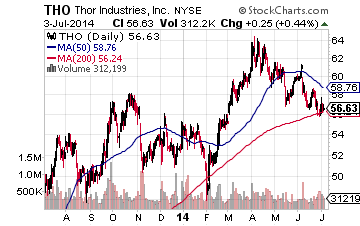 It's one of the purest plays on the RV industry, but it's also the best. Thor is the world's largest manufacturer of RVs, owning roughly 35% of the market. The company has generated a profit every year since its 1980. It has the largest market cap of the three stocks, at $3 billion, and its stock is up 195% over the last five years.
Even still, it has a number of tailwinds that can push its stock higher. The company's numbers themselves are compelling; it boasts a debt free balance sheet and pays a dividend that yields 1.6%. Thor's P/E to growth ratio is 0.9 and its return on assets (ROA) is an impressive 20%. Compare those to its top competitor, Winnebago, which has a PEG ratio of 1.2 and ROA of 12.6%.
Thor's RV backlog was up to $820 million as of last quarter, which is roughly 25% of the company's trailing twelve-month revenues. There still appears to be plenty of market share for the company to grab. Of the nearly 40 million campers in North America (per Thor management), only about 23% use RVs. As the economy rebounds and employment improves, campers should have more money to spend on RVs.
Then there's the trade-in cycle for RVs, which is relatively short (roughly 3 to 5 years) and bodes well for Thor. In a survey by the Recreational Vehicle Industry Association, some 7 in 10 current RV owners plan to buy another RV in the near future. The other key driver is the rising number of baby boomers. As this large group of individuals start to retire, there should be an increased demand for RVs.
2) Lithia Motors (NYSE: LAD)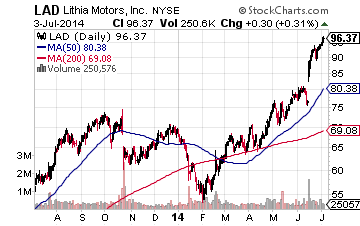 Lithia is an underrated auto dealership operator focused on the Western part of the country. Lithia sells nearly 30 brands of new vehicles and various used vehicles across 100 stores. Its focus has been on small- and mid-size regional markets where competition is light.
The company's market cap is right at $2.5 billion and it's up the most of the three stocks over the last five years — shares are up 937%. By far, that is more than the S&P 500 and the two other stocks listed.
Its PEG ratio is 0.86, which is the lowest in to auto dealership industry. It also has one of the highest returns on equity and lowest debt to equity ratios in the industry. Its dividend yield is a low 0.67%, but it is still one of the only auto dealers offering a dividend.
The industry remains large and fragmented, leaving a large opportunity for Lithia to grow via acquisitions. It already has one of the best balance sheets in the industry, but toward the end of last year, it boosted its credit facility capacity. Its new facility is up to $1 billion (from $800 million), but more importantly, the interest rate was reduced by 25 to 50 basis points (depending on use of funds). This is expected to save upwards of $350,000 per quarter in pre-tax interest costs.
Last quarter, Lithia posted the highest same store sales growth of all six publicly traded dealerships. This is set to continue as Lithia plays catch up with the market. Given Lithia's regional market focus, its markets have recovered at a slower pace. Going forward, the dealership should see demand increases at a rate that is faster than its major competitors.
3) Integrated Device Technology (NASDAQ: IDTI)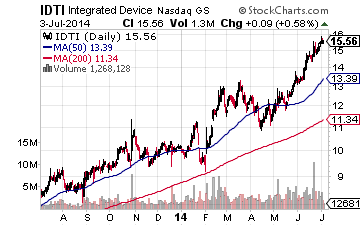 Integrated Device Technology manufactures low power, high-performance, semiconductors for the computing and consumer industries. Over the last five years, shares of Integrated Device Technology are up 157%. Its market cap is the lowest of the three, coming in at $2.3 billion.
Integrated Device Technology has been streamlining its focus to higher-growth markets. This includes shifting away from the slowing PC industry toward smartphones. Margins have also been on the move higher as Integrated Device focuses on the higher-margin smartphone market. Gross margin went from 53.2% in fiscal 2012 to 56.3% in 2014.
The broader theme pushing Integrated Device higher will be the move to digitize even more info. This means more analog chips. As well, more analog chips will be needed to manage the power in electronic devices. Battery power for devices are quickly outpacing cord power, another powerful tailwind for Integrated Device.
With analysts expecting the company to grow earnings at an annualized 43% over the next five years, its P/E ratio to growth ratio is an ultra-low 0.5 (anything below 1 is considered a cheap stock). The company carries no debt and has enough cash to cover nearly 20% of its market cap.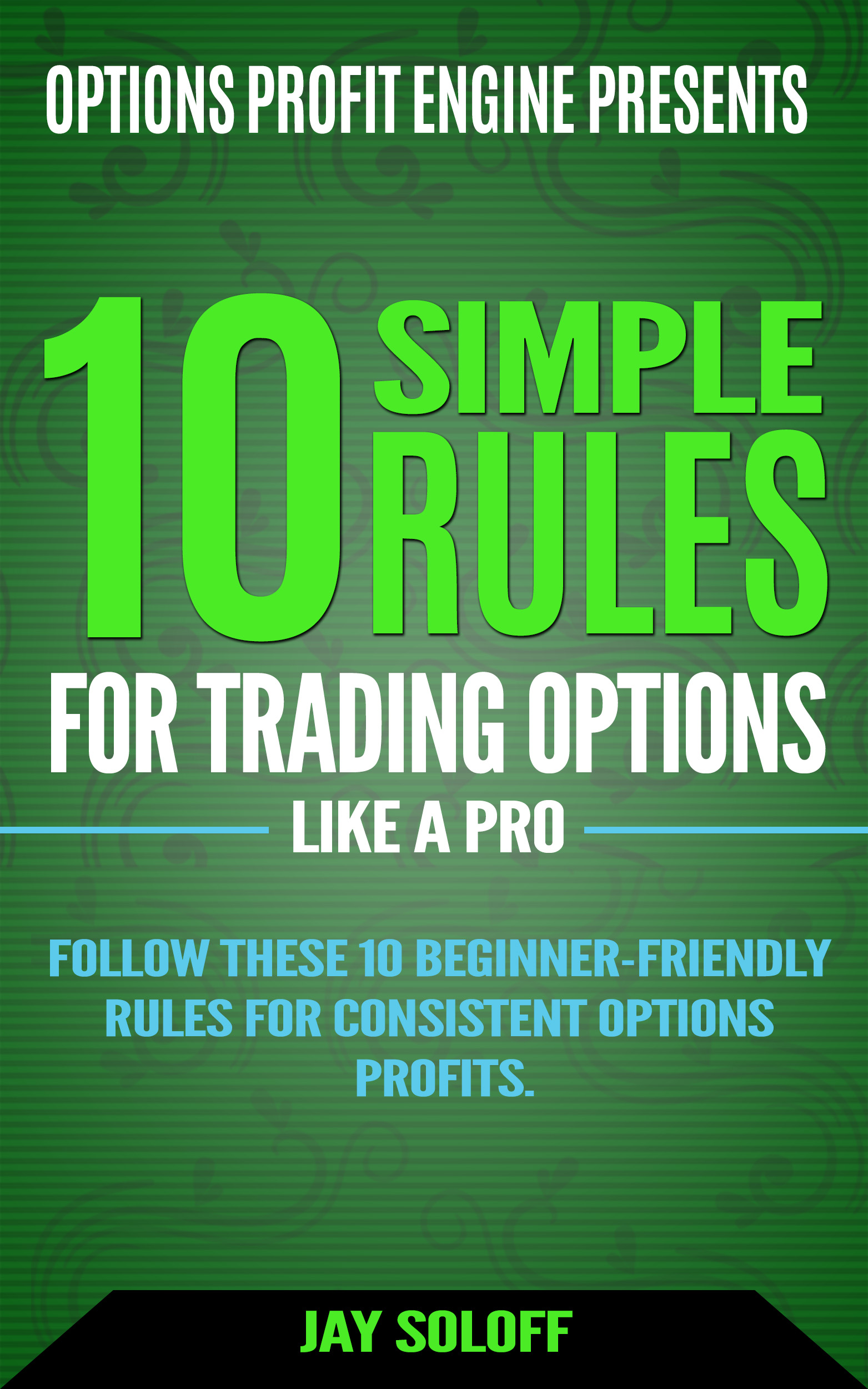 [FREE DOWNLOAD] 10 Simple Rules for Trading Options Like a Pro
Follow these 10 simple rules from 20-year professional options trading veteran, Jay Soloff and start earning a reliable extra income from options.
NO prior experience needed to master these 10 simple options trading rules. 
Enter your email below and receive access to this FREE guide...