Take a position in these three low-volatility dividend growth stocks if you're starting to feel that the market rests on shaky ground. Even though these stocks are low-risk, it does not mean they will give you low returns. Two of the stocks have handily outperformed the S&P 500 for the year while the third is right on track.  
The flight to safety is becoming more of a requirement than an option these days.
Stocks with higher risk are supposed to generate higher returns. However, that trend is changing, with lower volatility dividend payers besting "higher risk" stocks.
In particular, it is time to get to safety and there is a need to own low volatility dividend-paying stocks.
The U.S. Commerce Department said last week that U.S. gross domestic product (GDP) came in weak yet again for the second quarter.
In early June, I noted that low volatility is going mainstream. Since then, the likes of Bristol-Myers Squibb (NYSE: BMY) have outperformed the S&P 500 handily while still offering a 2% dividend yield.
The smart money is already getting ahead of the trend. Fund managers have now underweighted equities more than any time in the past five years. They're flocking to bonds, when in reality, they can get greater income and comparable risk from dividends. Hedge fund managers have taken their cash levels to the highest point since November of 2001.
Jeffrey Gundlach, founder of DoubleLine Capital and usurper of Bill Gross as the "bond king," has been ringing the loudest of bells. Gundlach said this week to "Sell the house, sell the car, sell the kids. That's exactly how I feel – sell everything. Nothing here looks good."
Fear is running high and rightfully so, but it might be premature to cash out the portfolio and stuff what's left in the mattress. With that in mind, we've dug deeper into how to play the rising volatility in the market. Let's look at the top three low volatility stocks in demand today:
Low Volatility Dividend Stock In Demand No. 1: General Dynamics (NYSE: GD)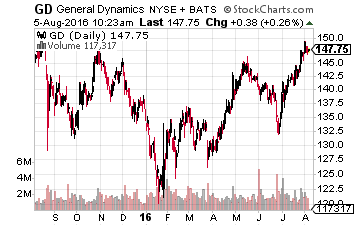 Things don't get more steady than the defense industry. General Dynamics is one of the biggest defense contractors in the U.S. and operates across various parts of the defense market.
The beta on the stock, which is the implied volatility, comes in at 0.9. So for every $1 fall in the S&P 500, General Dynamics should only fall by $0.90. Shares trade at less than 15 times next year's earnings and GD offers a 2.1% dividend yield, and it has managed to increase its dividend for 18 straight years. That's the kind of Accelerating Dividend stock Tim Plaehn suggests owning.
Backing that increasing dividend has been a steady portfolio of defense segments. One of its top businesses includes the Gulfstream business, which makes corporate jets. General Dynamics also has a ship making and submarine business, and it's the maker of Abrams tanks. More importantly, General Dynamics has a technology business that services the Department of Defense and intelligence customers.
Low Volatility Dividend Stock In Demand No. 2: Reynolds American (NYSE: RAI)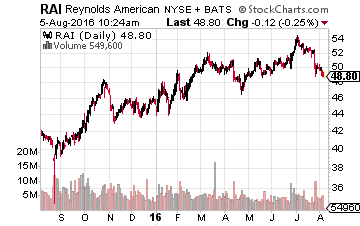 Tobacco companies have been tried and true outperformers through the years. Companies like Reynolds American have loyal customers and stable earnings, which make them great businesses to own.
Reynolds offers a 3.4% dividend yield and has increased its dividend for six straight years. But the beauty of Reynolds American is with the Lorillard acquisition. It's managed to grow its market share even more and increase its cost savings and margin expansion. The story gets even better, with Reynolds American having a beta of 0.3.
At 13 times earnings, it's also reasonably priced and still has some growth opportunities as it looks to expand its presence in the vapor market with its VUSE brand.
Low Volatility Dividend Stock In Demand No. 3: Cardinal Health (NYSE: CAH)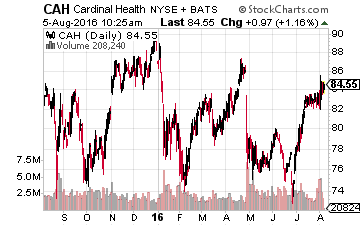 Cardinal Health is great play in the steady healthcare market, distributing pharmaceutical and medical products. Its beta is just 0.6 and it has spent 11 years upping its dividend and only pays out around a quarter of its earnings via dividends. It's yielding 2.2%.
Cardinal also has a deal with one of the top pharmacy companies in the U.S., CVS (NYSE: CVS). It operates an oligopoly in an industry with high barriers to entry. People won't stop going to the hospital and picking up medicines anytime soon, recession or not.
In the end, the idea that more risk leads to greater reward is falling apart, as investors can now get outperformance from low volatility dividend payers. And low volatility has become a great way for investors to not just collect dividends but also outperform. As the market continues to remain on shaky ground, it's worthwhile to add some low-volatility names to your portfolio, but what if you could have the safety of a low-volatility stock with the income of a high-yield dividend payer?
Finding stocks with a high current yield and a safety of their dividend payments is the research my colleague Tim Plaehn does, and it has become a specialty of his. He makes it a habit of only hunting down and recommending the most stable high-yield companies that regularly increase their dividends. This is the strategy that he uses most often to produce superior results, no matter if the market moves up or down in the shorter term. The combination of a high yield and regular dividend growth is what has given him the most consistent gains out of any strategy that he has tried over his decades-long investing career.
And, there are currently over 20 of these stocks to choose from in his Monthly Paycheck Dividend Calendar, an income system used by thousands of dividend investors enjoying a steady stream of cash.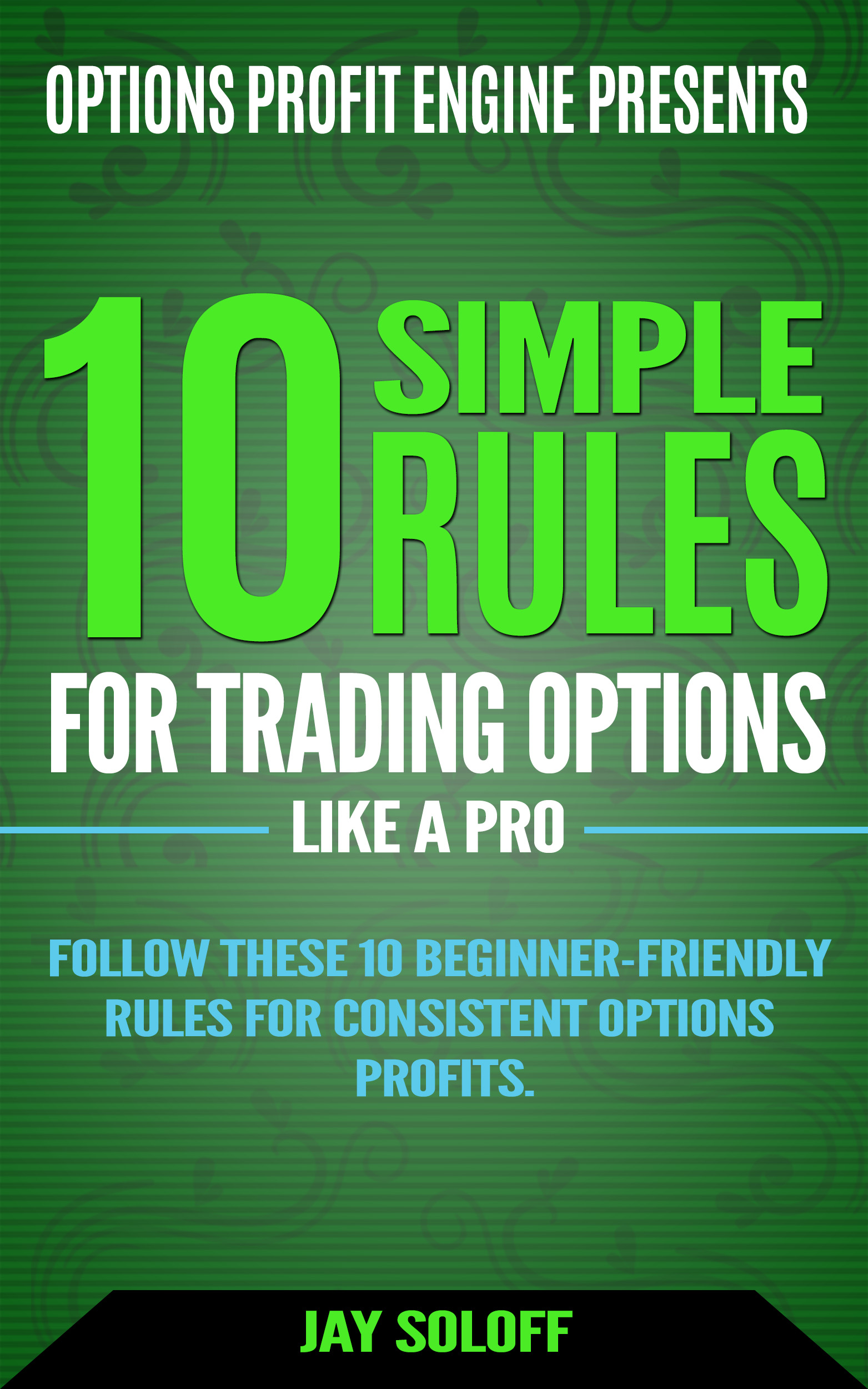 [FREE DOWNLOAD] 10 Simple Rules for Trading Options Like a Pro
Follow these 10 simple rules from 20-year professional options trading veteran, Jay Soloff and start earning a reliable extra income from options.
NO prior experience needed to master these 10 simple options trading rules. 
Enter your email below and receive access to this FREE guide...