You may have read that the U.S. will soon become the world's largest producer of crude oil. The production growth has been driven by oil drilling in the Permian Basin. If you are a closer follower of energy sector news, you might also be aware that there is not enough pipeline capacity coming out of the Permian to carry crude oil from the Basin to the buyers of oil. These facts provide an investment opportunity that will produce attractive returns for years.
This chart illustrates the growth of U.S. oil production with the Permian production shown in red. From here oil production in the play is forecast to grow to over 6 million barrels per day by 2023.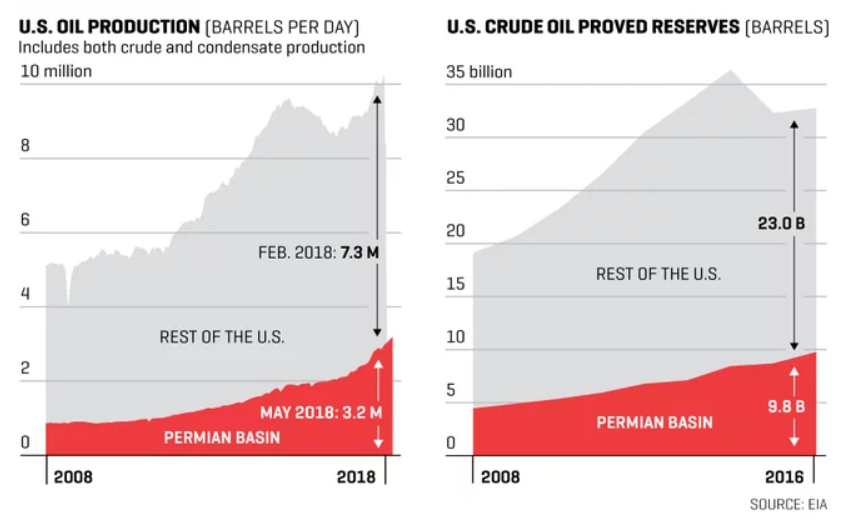 Recently the U.S. Energy Information Agency released its 2019 forecast with the U.S. producing up to 12 million barrels per day next year. The production growth in the Permian has produced an infrastructure bottleneck for transport of oil out of the Permian. Recently Bloomberg reported a forecast that for 2019 pipeline capacity out of the Permian will be one million barrels per day short of production. Transport capacity shortage already exists. This is very apparent when you see the deeply discounted price Permian producers are receiving for their oil. This discount covers the much higher cost of shipping oil by truck instead of through a pipeline.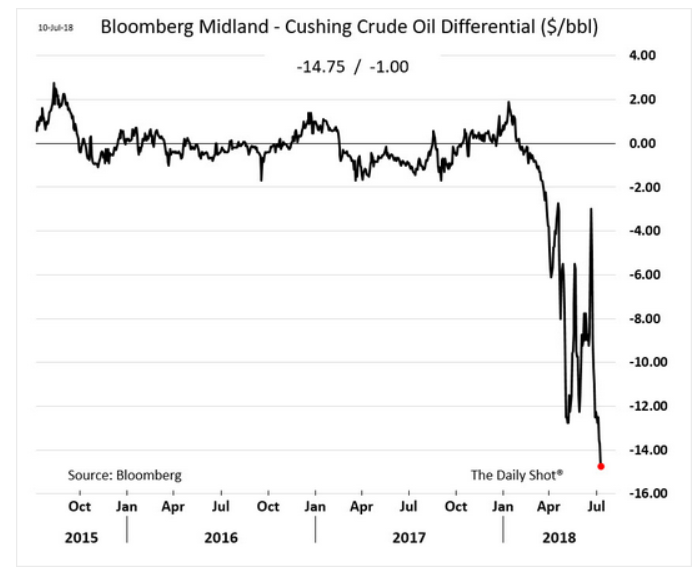 Related: Buy These 3 High-Yield Stocks With Oil About to Spike
This discount is money oil producers are losing because they can't get all their production shipped using a low-cost pipeline. The future for producers looks brighter, with several new pipelines under construction or recently announced. Pipeline owning energy infrastructure companies are typically high-yield, strong dividend paying stocks. Those pipeline companies that over the next few years complete pipelines out of the Permian will have locked in revenue that will allow strong dividend growth. Consider these three for your income stock portfolio.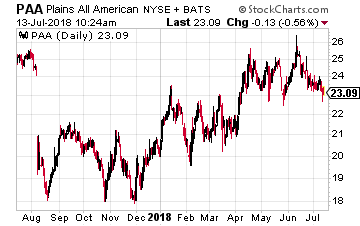 Plains All American Pipelines LP (NYSE: PAA) is one of the largest independent crude oil pipeline companies in North America. In recent years Plains has focused on increasing its gathering, intra-basin pipeline, and long-haul pipelines serving Permian Basin producers.
Currently the company's long-haul pipelines can transport 850 thousand barrels per day out of the Basin. To help move production growth Plain's Cactus II pipeline is scheduled to start service in October 2019 and be able to move up to 670 thousand barrels per day.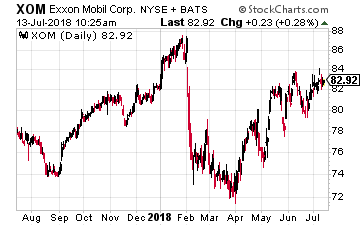 The company has announced a joint venture pipeline with ExxonMobil (NYSE: XOM) that will have a possible 1 million barrels per day capacity. A year ago, Plains slashed its dividend to conserve cash to strengthen the balance sheet. Investors can expect the dividend to restart growth in 2019.
PAA yields 5.2%.
Enterprise Product Partners LP (NYSE: EPD) with a $60 billion market cap, is the largest energy midstream master limited partnership (MLP). The company currently owns oil and natural gas gathering assets in the Permian. Also in the portfolio are long-haul pipelines for crude oil, natural gas, and natural gas liquids.
Enterprise's 575,000 barrel per day new Permian pipeline reached full services in April this year. The company is evaluating converting an NGL pipeline to crude oil that could transport 1 million barrels per day.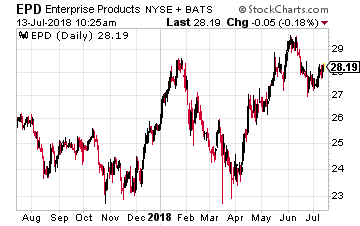 This MLP can be counted on for steady and growing quarterly distributions. Growth in transport from the Permian should let the company increase distribution growth from the current 2.5% per year up to 5% or higher.
Current yield is 6.1%.
Phillips 66 Partners LP (NYSE: PSXP) is a logistics focused MLP that primarily services its sponsor, refining company Phillips 66 (NYSE: PSX). In April this year the company announced it would construct a 700 thousand barrel per day pipeline to serve the Permian.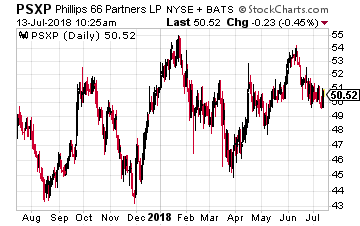 The Gray Oak Pipeline will connect to a new joint venture marine terminal under development by Buckeye Partners, L.P. (NYSE: BPL).
Buckeye will have a 50 percent interest in the terminal joint venture and will be the operator, while Phillips 66 Partners and Andeavor (NYSE: ANDV) each will have a 25 percent ownership interest. Phillips 66 Partners will own 75% of the pipeline with Andeavor as the primary joint-venture partner.
PSPX is a high growth rate MLP, consistently increasing distributions by 20% or more each year. Grey Oak is scheduled to come online at the end of 2019 and will help keep the growth profile alive.
PSXP currently yields 5.8%.
"My Portfolio is up $75,000...after instituting your investment [plan]"
- Thomas B., Dividend Hunter Reader
Thomas is reaping huge cash benefits following my shocking income plan. It's such a powerful strategy that it could pay all your bills starting as early as next month. The next cash payout is just days away and could vanish if you don't start this investment plan now. To see how Thomas banked $75,000 with my strategy - and how you could too - just
click here
.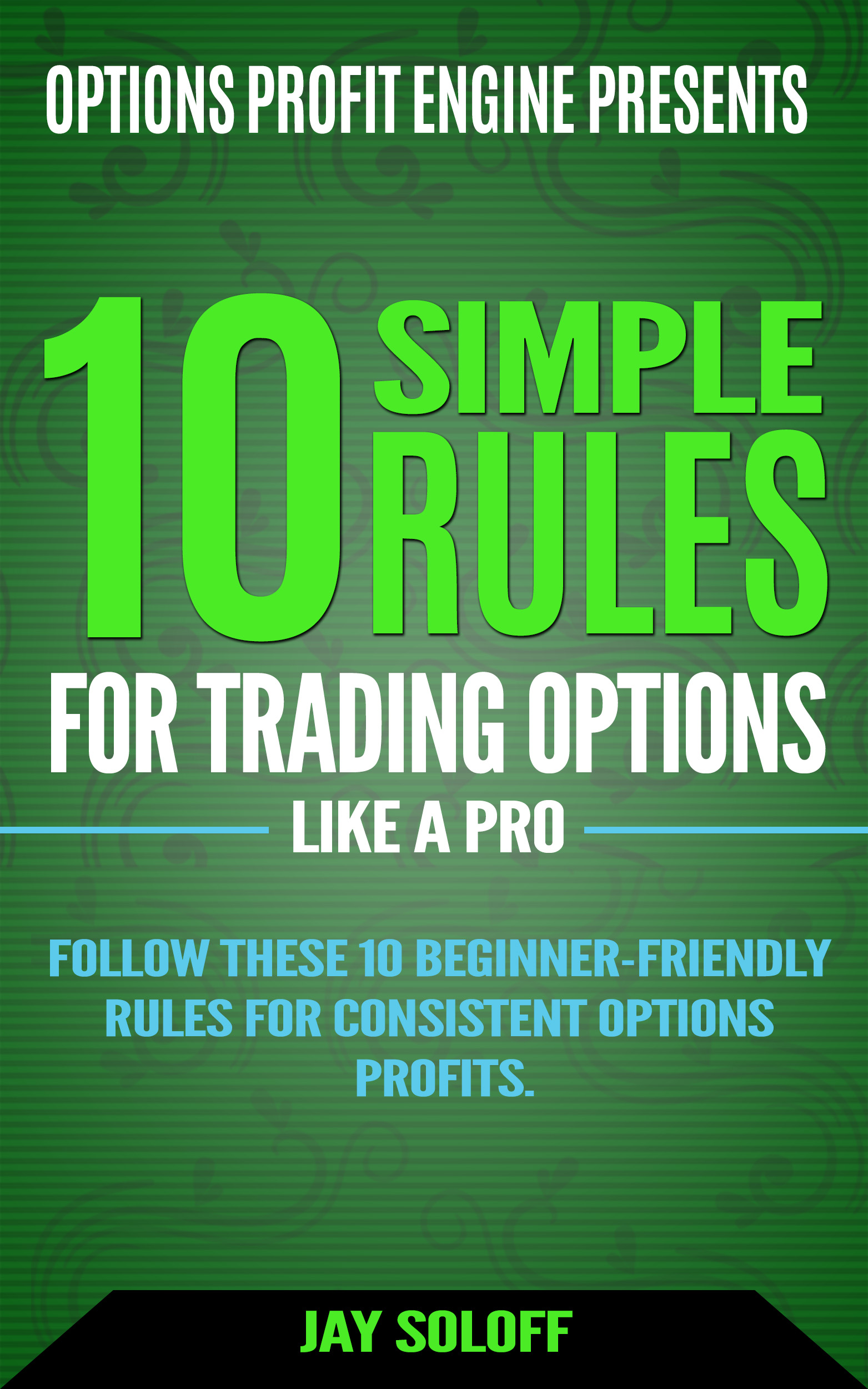 [FREE DOWNLOAD] 10 Simple Rules for Trading Options Like a Pro
Follow these 10 simple rules from 20-year professional options trading veteran, Jay Soloff and start earning a reliable extra income from options.
NO prior experience needed to master these 10 simple options trading rules. 
Enter your email below and receive access to this FREE guide...