Last week the Federal Reserve Board announced the expected 0.25% increase in the Fed Funds interest rate. Despite doing the expected, the stock market swung from a 1.5% gain for the day to down as much as 2.5%. That's an 800 point swing by the Dow Jones Industrial Average. Bloomberg noted "…no matter what the Federal Reserve and Chairman Jerome Powell did and said at the final monetary policy meeting of the year, they couldn't make stock investors happy."
It appears we have a battle between the stock market traders and investment firm heavyweights against the Fed. The Federal Reserve Board based their decision on forecasts the economy will grow in 2019 at 2% to 3%, inflation will stay below 2%, and employment will continue to improve.
Those who work in the financial industry use the fact that the stock market has gone down as "proof" that what the Fed sees for 2019 is wrong. The financial market pundits believe (or at least publicly say so) that there will be a recession because they believe in one, even though the usual signs a recession is coming are nowhere to be seen.
It seems that the stock market is going down because investors are selling. I am sure that computer trading programs are pushing prices down with short-selling strategies. As of December 20, its safe to say the stock market has fallen into bear market territory. However, it's a bear without a reason to be one. It is possible that the negativity of the financial markets will spill over to Main Street, leading to an economic slowdown. However, there is not anything in the financial world that will lead to a crisis such as we experienced in 2000-2002 or 2007-2008. This bear market may go for a few months, but it won't go deep.
Bear markets are not to be feared. They are the times when you get to "buy low".
It's a time when disciplined investors take advantage of fear in the markets that always is later shown to be over blown. Income focused investors get to buy in at very attractive yields and benefit from capital gains as the overall market recovers into the next bull market.
In these days of falling stock prices you want to find dividend paying stocks that are built for tougher economic times. Here are three to consider.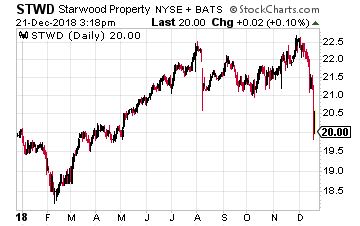 Starwood Property Trust (NYSE: STWD) is a commercial finance REIT. This means it originates mortgage loans for commercial properties, such as office buildings, hotels, and industrial buildings. Starwood has two commercial lending businesses. One is to make large dollar loans to retain in its portfolio.
The company also operates a fee-based CMBS origination business. To further diversify the company as acquired a portfolio of stable returns real estate assets and has added an infrastructure lending arm.
The final piece of the pie is a special servicing division, which will turn very profitable if the commercial real estate sector experiences a downturn.
Investors can expect to earn the dividend, which currently gives the shares a 9.5% yield.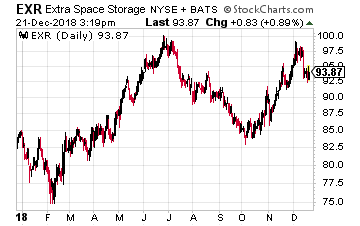 Self-storage REITs are the place to be when the economy gets rough for home ownership. Extra Space Storage (NYSE: EXR) is a large-cap, geographically diversified self-storage REIT.
The self-storage business is counter-cyclical to the economy. When the economy is booming, developers bring a lot of new inventory into the market. When the economy slows, the inventory growth stops and demand increases.
Extra Space Storage is possibly the best managed REIT in the sector. Investors can expect high single digit annual dividend growth.
Current yield is 3.7%.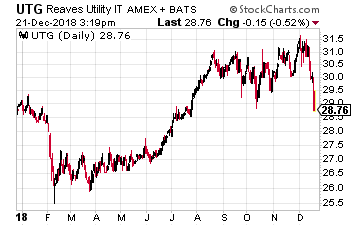 Utilities are supposed to be the safe sector when the stock market goes into a correction. This time utilities are down right along with the rest of the market sectors. Now is a great time to pick up shares of the Reaves Utility Income Fund NYSE: UTG).
This is a closed-end fund that owns utility and other infrastructure stocks. UTG has paid a steady and growing monthly dividend since it launched in 2004.
The dividend has never been reduced and the fund has never paid return-of-capital dividends.
Current yield is 6.9%.
Start Buying Income Today
(17% Yields Up For Grabs)
We've been lied to our entire adult lives.
We're told to save up for retirement in a 401(k) or IRA...
And then one day use those savings to live a wonderful retirement...
Linen shirts, fancy wine, sunsets on the beach.
But here's what you're not told... To actually live off of your stock market wealth you need millions.
Plus you need a stock market that never goes down.
We're seeing right now all the pain of watching your hard earned savings evaporate.
Getting flashbacks of 2009? 50% of your wealth disappeared in just two years.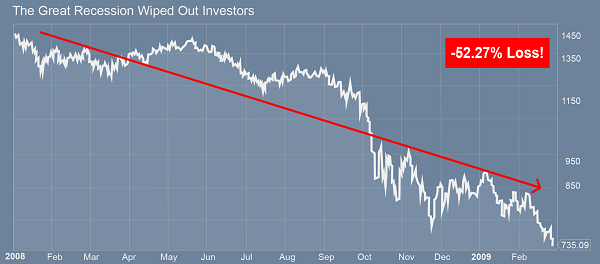 And right now we could see 50% of our net worths disappear in one month.
Hoping the market will rise forever is not a retirement plan that works. You can't retire on your net worth.
Well, allow me to give you the "plain truth."
I'm Tim Plaehn.
And you probably know me as "The Dividend Hunter."
They call me that because I don't buy stocks or bonds for my portfolio...
I Buy Income.
And I've 'bought' all the income I'll ever need by following my 3 Simple Rules.
And I'm going to show you how today.
Once you know my 3 Simple Rules you'll have everything you need to start buying a lifetime of income just like I have.
Right out of the gate, you could be making a 17% yield OR MORE.
All the sudden, you no longer need millions to retire on...
You have a rock-solid income stream to support you all the way.
Click here to learn my "3 Simple Rules" for buying income instead of stocks & bonds.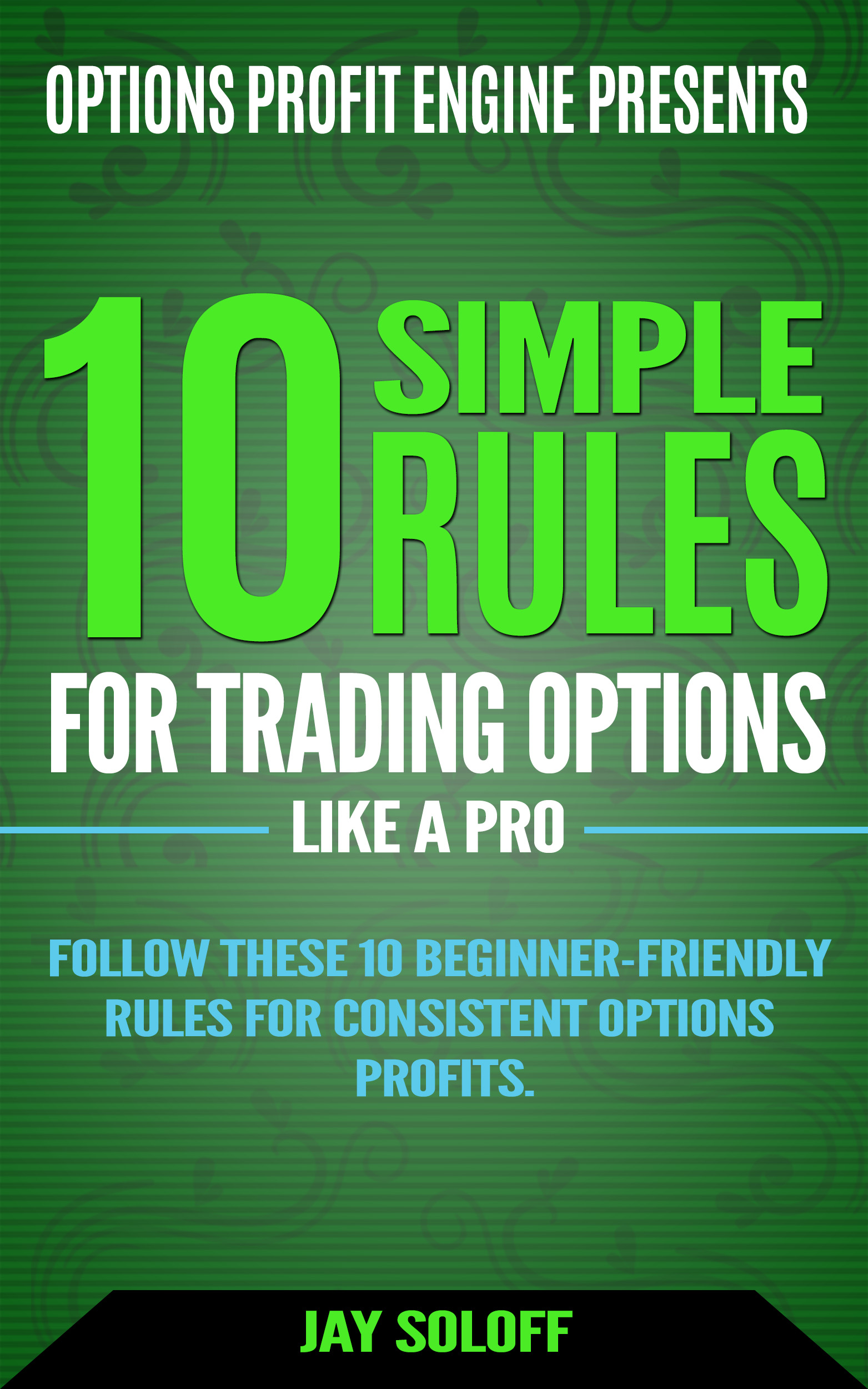 [FREE DOWNLOAD] 10 Simple Rules for Trading Options Like a Pro
Follow these 10 simple rules from 20-year professional options trading veteran, Jay Soloff and start earning a reliable extra income from options.
NO prior experience needed to master these 10 simple options trading rules. 
Enter your email below and receive access to this FREE guide...