The stock market has been on a prodigious bull run since last summer, and with the major indices hitting new all-time highs with regularity, many analysts feel valuations have gotten out of control. Most investors, after all, buy stocks with the hope of selling them at a higher price at a later date – their goal is capital appreciation. But demand is the leading driver of a stock's price, so as bull markets gain popularity, they tend to "froth" – and soon, there are fewer bargains available. In the worst-case scenario, an overbought market can turn into a manic bubble or Ponzi scheme – are we there yet?
The definitive answer is no. How can I say this with such certainty? Because of the merger-and-acquisition activity going on, which by definition indicates that valuations are still within reason. After all, when a company acquires another company, they're not doing it for capital appreciation – they're doing it to fold the acquired business into their own. In order for this to be a financially wise move, the acquirer has to be able to generate a sufficient return on its investment – which is only possible if valuations haven't reached irrationally exuberant levels.
Think of it this way: With a forward earnings multiple of 50, it would take an acquirer 50 years to make its money back on an acquisition. Few if any companies are willing to assume the risk associated with an acquisition for a paltry 2% return. If valuations were this out of control, then we'd see very little M&A – but in reality, we see many large companies acquiring smaller, complementary businesses – such as the recent acquisitions of Hillshire Brands by Tyson Foods, and DirecTV by AT&T.
This not only tells us the market isn't manically overbought yet, but it gives us some insight on other takeover candidates to consider. After all, when a firm is targeted for acquisition, its share price normally catches a big bounce. Why? Because to acquire a firm outright, the acquirer must essentially purchase all of the targeted firm's existing shares – and it can only do this at a healthy premium. With that said, here are two takeover candidates that should be good stocks to own anyway – even in the event that they're not acquired.
The Pinnacle Takeover Pick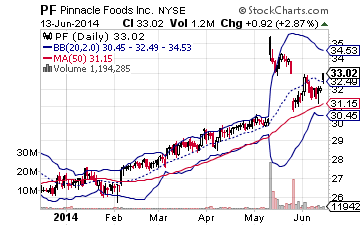 Pinnacle Foods (NYSE: PF) is a $3.85 billion packaged-foods maker. Its brands include Birds Eye frozen vegetables, Duncan Hines, Van de Kamps, Mrs. Pauls, Hungry Man, Lenders bagels, Aunt Jemima, and more. In 2013, Pinnacle reported net income of $89 million on sales of $2.46 billion.
As you can see from the chart to the right, Pinnacle's stock took off on a steady incline in February, and then caught a huge bump on May 12, surging 17% in one day to a high of $35.43. What happened on May 12? Pinnacle fielded a takeover bid from Hillshire Brands. Then what happened on May 27, when Pinnacle fell 6%, Hillshire itself received a takeover bid from Tyson Foods, essentially putting the kibosh on the Pinnacle deal.
From there, Tyson and a fourth name – Pilgrim's Pride – entered into a bidding war for Hillshire, leaving Pinnacle lost in the shuffle. No matter: Pinnacle wisely negotiated a $163 million breakup agreement with Hillshire as compensation should their deal not go through. One hundred and sixty-three million dollars is nearly double last year's annual profits – quite a windfall for Pinnacle – but with the packaged-foods industry a hotbed of M&A activity, this well-run firm could very well be in for another takeover bid.
From Food to Dish
When AT&T announced its plan to take over DirecTV, many analysts speculated that the deal was intended to provoke a response from Charlie Ergen. When asked if he thought the deal was intended to "smoke him out," Ergen said no, but added "Dish is always willing to talk."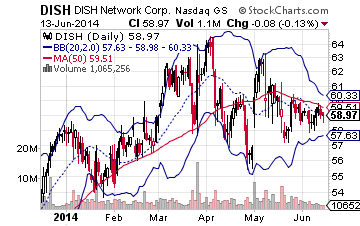 Ergen is the founder and chairman of Dish Network (Nasdaq: DISH); DirecTV's primary competitor and a less-direct competitor of AT&T. What makes Dish so interesting is that Ergen has been buying up frequency spectrum – the FCC-regulated means by which radio, TV, and wireless data are transmitted – and Dish now owns over $7 billion worth of this scarce, technological real estate.
Dish, as a satellite-based pay TV provider, hasn't been able to bring its spectrum into profitable use, and the firm has long been seen as a potential acquirer of a mobile-phone interest – such as T-Mobile. But now with the AT&T / DirecTV deal posing a threat to Dish's core business, Dish Network may be a target, rather than an acquirer. As you can see from the chart to the right, Dish Network's shares have been middling lately, looking for direction. As such, Dish is trading at a fair valuation, which makes it more attractive – both to small investors and to potential acquirers.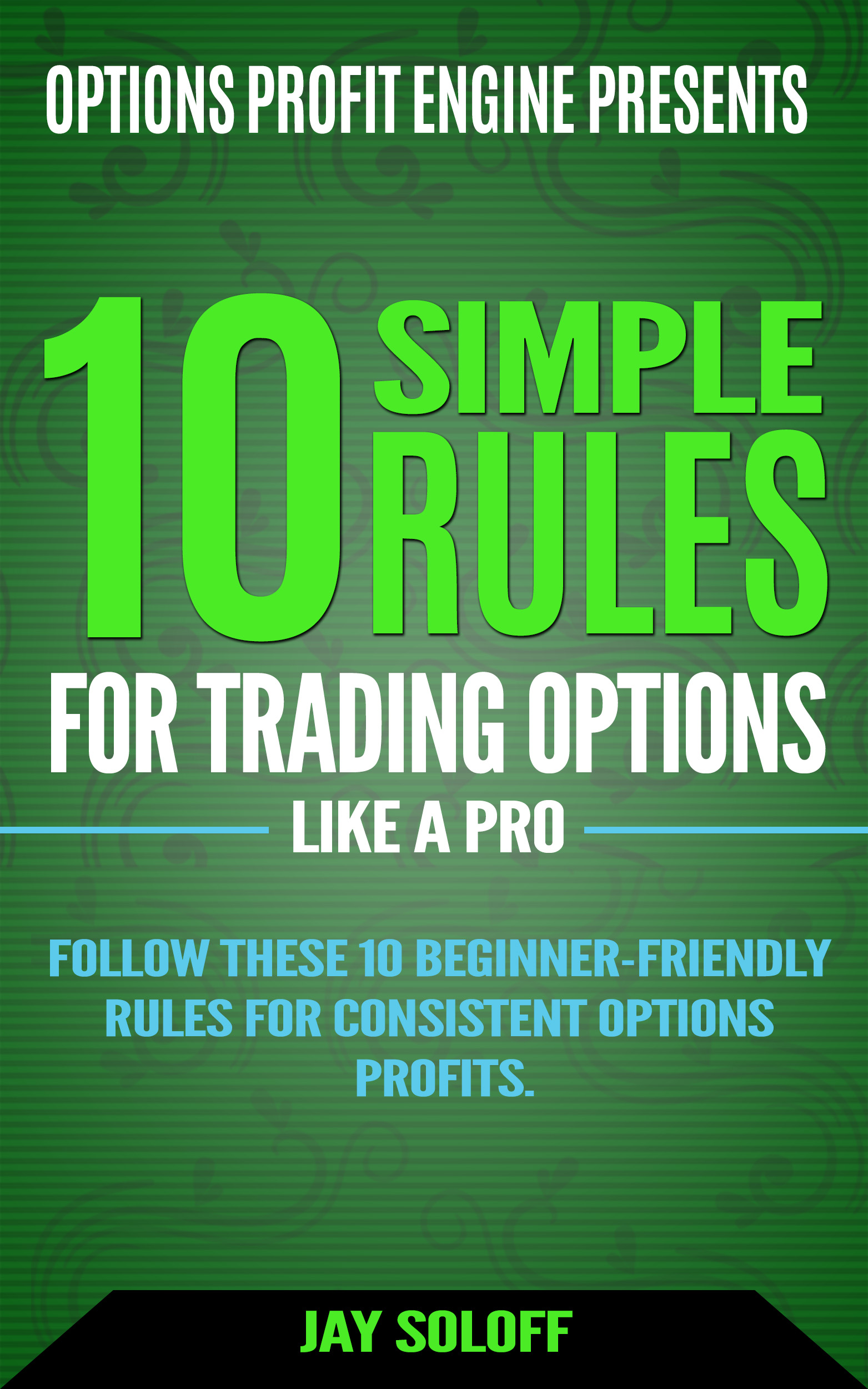 [FREE DOWNLOAD] 10 Simple Rules for Trading Options Like a Pro
Follow these 10 simple rules from 20-year professional options trading veteran, Jay Soloff and start earning a reliable extra income from options.
NO prior experience needed to master these 10 simple options trading rules. 
Enter your email below and receive access to this FREE guide...