I was recently asked to recommend high yield stocks from outside of the U.S. The answer to that question is a challenge. The U.S. practices of regular dividends, and pass-through tax structures that result in high-yield stocks do not generally exist with companies listing shares of stock in the rest of the world. Because I am that kind of guy, I did some digging and found higher yield investments with exposure to markets outside of the U.S.
The closed-end funds (CEFs) universe is the place to find packaged investment products for investment themes that are outside of the mainstream ETF universe. There are about 600 CEFs trading on the U.S. stock exchanges. The strength of these funds when looking for out of the mainstream investments is the closed-end nature of the funds. Once new shares of a CEF are issued, the fund sponsor does not make a market in the shares. Shares trade on the exchanges. That means a fund manager does not redeem shares when investors want out. They must sell shares through their brokerage accounts. As a result, the fund manager has a portfolio that can be managed without worrying about losing assets if investors sour on the fund. This lets closed-end funds invest in less liquid securities, use moderate amounts of leverage, and buy asset classes that won't work for mutual funds or ETFs.
The downside of CEFs is that it can be very difficult to see how the manager is investing a particular fund's assets. Some CEFs are very open about investment strategies and holdings, others are very opaque about what they do in the portfolio. It can take a lot of digging to determine whether a specific fund fits and investor's criteria and risk tolerance.
Another aspect of the CEF structure is that shares can trade at significant discounts or premiums to net asset values (NAV). Think of the NAV as the value per share an investor would receive if the fund was liquidated and proceeds paid out to share owners. A discount can be attractive because it means you are buying a dollar's worth of assets for less than a dollar. A premium to NAV is the opposite. Again, it takes quite a bit of research to determine the reasons behind the discount or premium.
With an understanding of the caveats about CEFs, I screened for funds focused on international investing and attractive current yields. Here are two that may fill the international exposure hole in a high-yield investor's portfolio.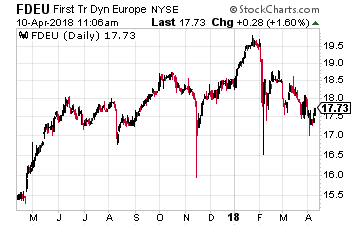 First Trust Dynamic Europe Equity Income Fund (NYSE: FDEU) has the stated investment objective of investing at least 80% of its Managed Assets in a portfolio of equity securities of European companies of any market capitalization, including, but not limited to, common and preferred stock that pay dividends, depositary receipts and real estate investment trusts.
The fund manager can use dynamic currency hedging to protect values when converted to U.S. dollars. The fund uses a covered call options selling strategy to generate income. Options can be sold on up to 40% of the portfolio. Fund assets are $430 million with 24% leverage.
The fund has paid a $0.121 monthly dividend since its inception in late 2015. A special dividend was paid at the end of 2017. FDEU shares currently trade at a 6% discount to NAV and the yield is 8.3%.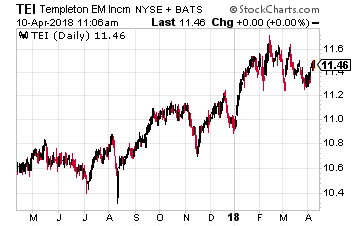 Templeton Emerging Markets Income Fund (NYSE: TEI) seeks high, current income, with a secondary goal of capital appreciation, by investing under normal market conditions, at least 80% of its net assets in income-producing securities of sovereign or sovereign-related entities and private sector companies in emerging market countries.
Currently the fund assets are 56% foreign government bonds with the remainder in general debt and short-term investments. In the emerging market arena, debt investing can be a more attractive way to invest in economic growth. A lot of countries don't have well-regulated stock markets. Or stock markets at all.
The Templeton managers have a long history of international investing and TEI has existed since 1993. The fund pays quarterly dividends that vary with the portfolio income generation. The TEI market price is currently at an 8.2% discount to NAV and has a 6.7% trailing four quarters yield.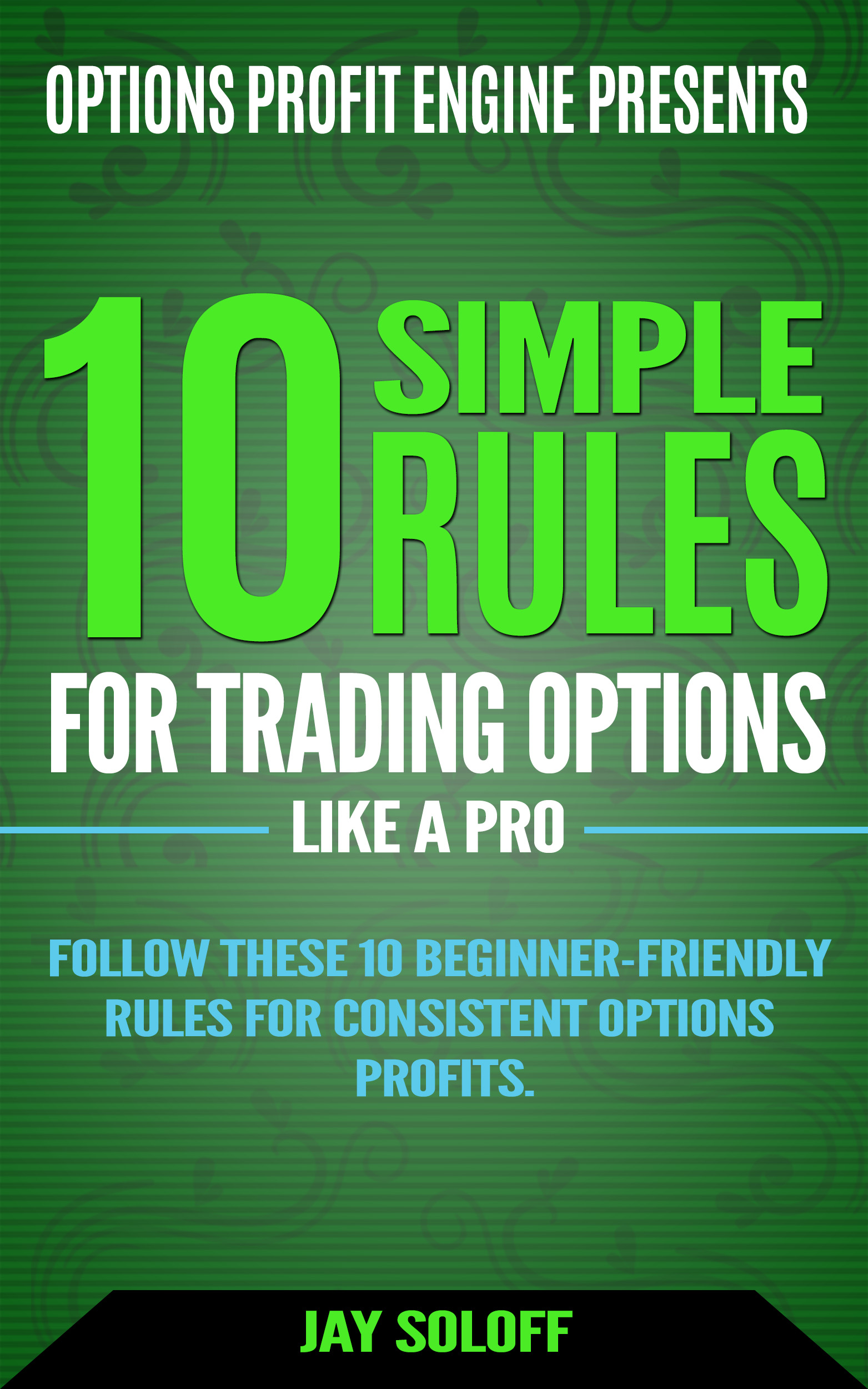 [FREE DOWNLOAD] 10 Simple Rules for Trading Options Like a Pro
Follow these 10 simple rules from 20-year professional options trading veteran, Jay Soloff and start earning a reliable extra income from options.
NO prior experience needed to master these 10 simple options trading rules. 
Enter your email below and receive access to this FREE guide...