It's the dirty little secret of the digital world we live in… technology is an electricity hog.
Demand for computing power globally from internet-connected devices, emails, high-resolution video streaming, surveillance cameras, the new generation of smart TVs and other devices is increasing 20% a year, according to Swedish researcher Anders Andrae.
Dire Power Consumption Forecast
In an update to his 2016 peer-reviewed study, Andrae found that without dramatic increases in efficiency, the communications industry could use 20% of all electricity and emit up to 5.5% of the world's carbon emissions by 2025. This would be more than any single country except for the U.S., China and India.
A similar study from U.S. researchers forecast that information and communications technology could create up to 3.5% of global emissions by 2020 – surpassing the aviation and shipping industries – and up to 14% by 2040, which is about the same proportion as the U.S. currently. And Greenpeace found that if the global IT industry were a country, only China and the United States would contribute more to climate change.
The U.S. researchers said power consumption could triple in the next five years as one billion people in the developing come online and the internet of things (IoT) expands in developed countries. Cisco Systems believes internet traffic worldwide will nearly triple over the next five years.
Most of this demand for electricity will come from power-hungry server farms that store digital data from billions of smartphones, tablets and internet-connected devices, which is growing exponentially.
In his research, Andrae said "The situation is alarming. "We have a tsunami of data approaching. Everything which can be is being digitalized. It is a perfect storm. 5G [the fifth generation of mobile technology] is coming, IP [internet protocol] traffic is much higher than estimated, and all cars and machines, robots and artificial intelligence are being digitalized, producing huge amounts of data which is stored in data centers."
Related: Energy Stocks Adopting New Technologies
Data Centers = Electricity Hogs
When people speak of the cloud in technology, it seems like an almost mythical place where we store data, stream entertainment and send emails. But the cloud is a very real place…
Hundreds of data centers around the world are the factories of this digital age that run all of our digital services. And the number is expanding rapidly – there is about $20 billion spent annually globally on their construction.
The largest of these data centers can cover in excess of a million square feet and consume as much power as a city of a million people!
Whatever we do with data requires electricity and lots of it. The processors in the biggest data centers hum with as much energy as can be delivered by a large power station, 1,000 megawatts or more. And it can take just as much energy to keep the servers and surrounding buildings from overheating.
Every keystroke you make adds to the use of energy. Google estimates that a typical search requires as much energy as illuminating a 60-watt light bulb for 17 seconds. That doesn't seem like a lot until you begin to think about how many searches you might make in a year and multiply that by the number of internet users (over 3 billion) around the world.
Streaming, of course, is really data-heavy and therefore a big power consumer. Cisco Systems forecasts that video will make up 82% of internet traffic by 2021, up from 73% in 2016. Already, about a third of internet traffic in North America is dedicated to streaming Netflix services alone.
The Push Toward Renewable Energy
What fascinated me is the fact that most of the data titans are moving toward powering their data centers with renewable energy.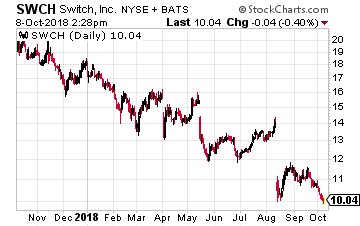 One example of this occurred in February when cloud giant Switch (NYSE: SWCH), which runs three of the world's top 10 data centers, announced plans for a solar-powered hub in central Nevada that will be the largest anywhere outside of China.
Of course, renewable energy – wind and solar power – is a lot more prevalent outside the U.S. That's why both Google and Microsoft have recently built hubs in Finland and Facebook has done so in Denmark and Sweden. Google last year also signed a deal to buy all the energy from the Netherlands' largest solar energy park, to power one of its four European data centers.
With this trend toward using renewable energy by the giants of the industry for their data centers, it makes the renewable energy providers, which are currently very out of favor on Wall Street an interesting contrarian play.
Two Utility Stocks to Play This Trend
Let's now look at two utilities that provide renewable energy…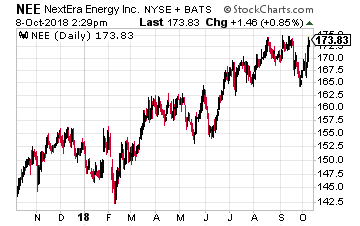 The first is NextEra Energy (NYSE: NEE), whose stock is up 17% over the past year and 10.5% so far in 2018.
It is one of the largest rate-regulated utilities in the U.S. and along with NextEra Energy Resources and other affiliated entities is the world's largest generator of renewable energy from the wind and sun. It has been ranked number one in the electric and gas utilities industry in Fortune's 2018 list of "World's Most Admired Companies".
The company continues to work on its strategy of making a long-term investment in clean energy assets. Consistent with this strategy, the company announced plans to add nearly 10,100-16,500 megawatts (MW) of alternate power generation assets across the U.S. over 2017-2020 time frame.
In the second quarter of 2018, Energy Resources added 1,082 MW of new renewable projects to its backlog and 535 MW of re-powering projects were also adjoined to the backlog in the second quarter. The company also entered the battery storage market that will further help in the development of renewable power generation assets. The company at present has a backlog of 120 MW of battery storage projects.
In Europe, my favorite utility stock (I own it) is Verbund AG (OTC: OEZVY), which is Austria's leading electricity company and one of the largest producers of hydropower electricity in Europe. Its stock has done very well, rising 105% year-to-date and 123% over the past year. But if you buy the ADR, be careful – it is thinly traded here in the U.S.
Hydroelectric power plays a major role in Austria's electricity supply. In Austria, nearly 65% of electricity generation comes via hydropower, and more than half of this comes from Verbund hydropower plants. The company's Danube River power plants alone can cover the electricity needs of nearly all private households in Austria.
Verbund is also big into energy storage. Renewable energy sources such as water, sun and wind are being used to an ever greater extent in Europe, which creates challenges for the European energy system. Depending on the amount of sunshine and wind, their share of the total electricity production fluctuates greatly. In order to optimally use the electricity generated from renewable energy, they are supported by Verbund's pumped storage power plants. The pumped storage systems act either as electricity storage or as electricity generators, depending on what is needed. The company continues to expand the network of pumped storage power plants to increase the buffering function on the energy system, storing electricity for later use.
Both utilities – one here in the U.S. and one in Europe – should allow you to participate profitably in the energy production of the future.
Rogue US "Cartel" legally Kingpins 2,524% to American Investors
These Cartels made money hand over fist:
1. OPEC continuing to rob American's blind.
2. Standard Oil had to be broken up by the government because of its monopoly profits from oil.
3. Drug gangs spending $7,000 a day on rubber bands holding money.
4. Amazon forces entire sectors into bankruptcy and now accounting for a whopping 49% of all e-commerce.
Up until today, you could never invest in a cartel. However, I've just discovered an all American "Cartel" about to make a power move... Legally disrupting an entire industry, and making select investors a life long legacy. When it used to be illegal to rake in this sort of money... there's nothing illegal about reaping the rewards of this cartel.
It's what Mark Cuban, Bill Gates and Mark Zuckerberg have just done... doubling down to $124 Billion. Following cartels used to be the fastest way to end up in prison but following these billionaires could be your ticket to 2,524% before 2019 ends.
Just Click Here now to reveal this All American Cartel - before it's too late
.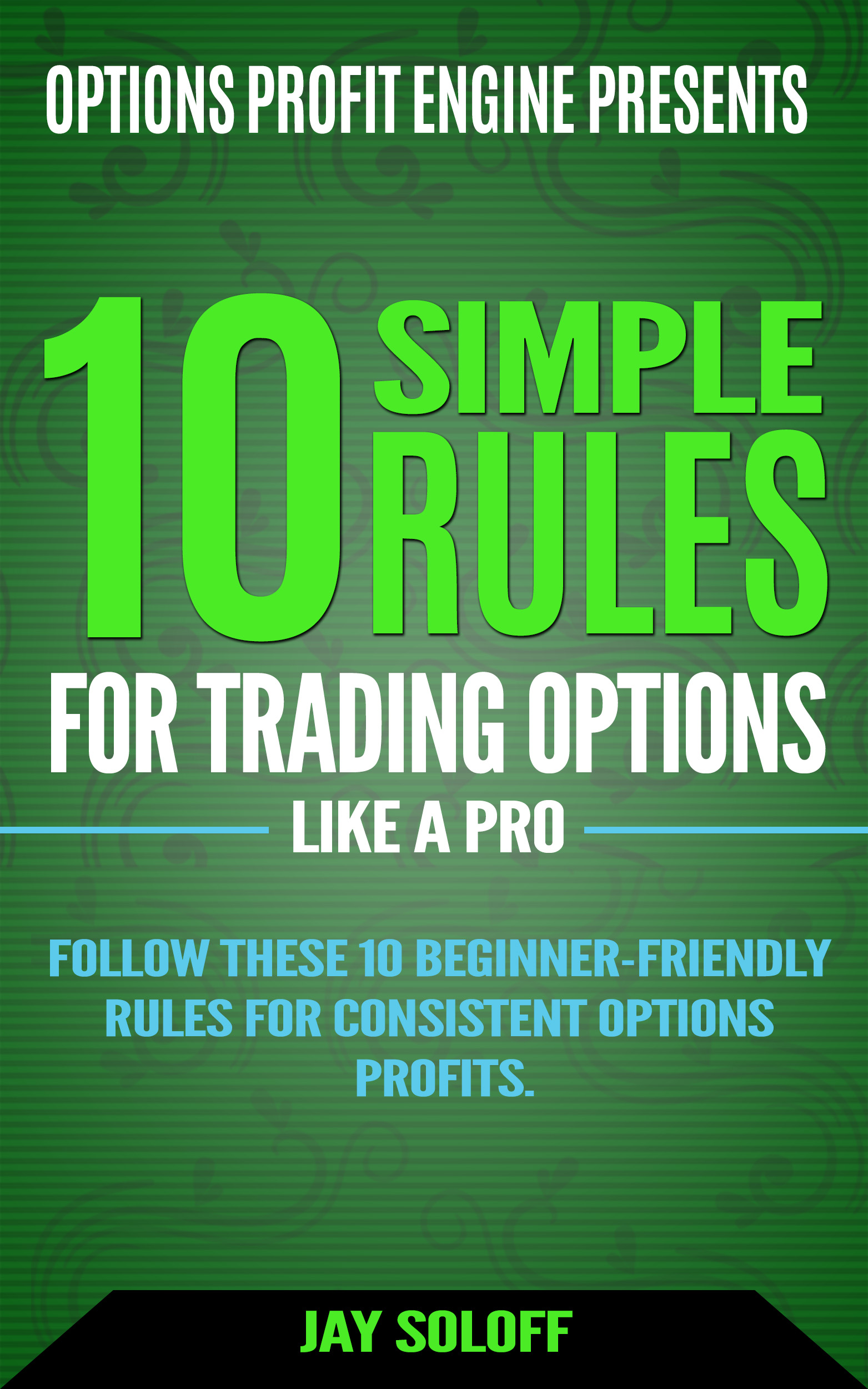 [FREE DOWNLOAD] 10 Simple Rules for Trading Options Like a Pro
Follow these 10 simple rules from 20-year professional options trading veteran, Jay Soloff and start earning a reliable extra income from options.
NO prior experience needed to master these 10 simple options trading rules. 
Enter your email below and receive access to this FREE guide...