In June, the U.S. Supreme Court reversed earlier tax rules to allow states to collect sales from online vendors who do not have a physical presence in a state. Before the ruling, a lot of Internet sales did not include the collection of sales taxes, giving online vendors a price advantage over local brick-and-mortar retailers. With the ruling, that advantage has been eliminated. The retail apocalypse has been postponed and now is a good time to pick up shares of high quality retail focused REITs.
Related: These 3 REITs Destroy the Narrative that E-Commerce Will Kill Brick and Mortar
In the summer of 2016 an investing meme took hold that online sales would soon take a much larger portion of retail sales. This idea was reinforced by a number of brick-and-mortar retailer bankruptcies and the resulting thousands of store closings. As a result, the retail and mall real estate investment trusts (REITs) experienced a steep decline, with share prices falling by 25% to 35% between July 2016 and early June 2018.
The reality is that retailer bankruptcies are more a factor of poor financial management than losing business to the online retailers. What the financial news media fails to share is that for each of the past two years, there have been roughly as many new store opened as there were stores closed. The store opening numbers do not fit into the "retail apocalypse" theme, so don't get included in the retail bankruptcy stories.
Another rarely reported fact is that online sales are just below 10% of total retail sales. Comparing online sales growth rates with brick-and-mortar sales growth indicates that it is unlikely to online total will have trouble getting much above that 10% level. Amazon has such a high revenue growth rate because it is cannibalizing sales from other retail vendors, not so much from the brick-and-mortar retail companies.
Let me take a soapbox moment. I am a member of the Board of Equalization in the county where I live. The Board meets each year and handles property tax disputes. One thing I have learned is that property taxes from commercial properties are a very large part of the county tax revenues. These are the funds that pay for schools, law enforcement, and fire protection. Local retailers also provide many jobs in your community. Online only retailers give little or no financial support to your local community services.
I like to buy online, but I will try to buy from companies that also have a retail presence in my area. That helps the companies maintain both their online and brick-and-mortar sales channels. I feel better that these companies are supporting services where I live. Here's another tip. You usually can find an item priced equal or lower on Walmart.com than the asking price on Amazon.com.
More: 3 High-Yield Stocks Increasing Dividends in August
The result of the fake "retail apocalypse" and the recent U.S. Supreme Court ruling is that now is a great time to pick up shares of mall and shopping center focused REITs. Here are three to consider.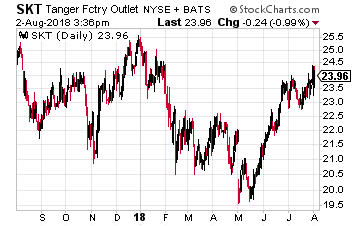 Tanger Factory Outlet Centers, Inc. (NYSE: SKT) is the only pure play REIT for outlet center malls. The company owns a portfolio of 44 upscale outlet shopping centers.  The outlet center strategy has proven to be successful through the full economic cycle and is resistant to encroachment by online retailers. Tanger has a 25 plus year of growth including increasing its dividend for 25 consecutive years.
Now at $24 per share, SKT traded for over $40 in 2016. I am looking for a catalyst of a new or big renovation mall project. When that happens, and it will, this stock will quickly move about $30.
The shares currently yield 5.8%.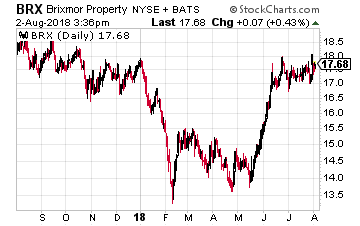 Brixmor Property Group Inc. (NYSE: BRX) owns 471 open air shopping centers focused on being the community center where they are located. According to the website, "The Company strives to own and operate shopping centers that reflect Brixmor's vision "to be the center of the communities we serve" and are home to a diverse mix of thriving national, regional and local retailers."
A large portion of the services offered in these centers cannot be replaced by online retailers. Think restaurants and fitness centers.
BRX is down 38% from its 2016 peak, yet net income and FFO per share continue to grow.
The shares yield 6.25%.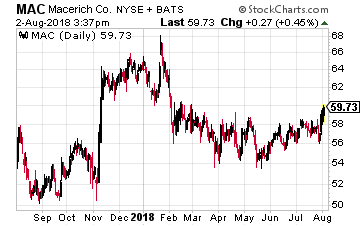 Macerich Co. (NYSE: MAC) is an owner of high-end, "trophy property" malls. The company currently owns 48 of these enclosed malls. The strongest metric from Macerich is that the company's malls are generating sector leading 4.7% annual net operating income growth. This has allowed the company to increase its dividend every year since 2011.
Currently trading for just under $60 per share, this was a $90 stock two years ago when net income and the dividend were lower. Macerich has been highlighted as one REIT with significant buyout potential.
The shares currently yield 5.0%.
In 6 Months or Less You Can Build a Portfolio Paying You $36,000 a Year
Recently a rather new subscriber wrote in to tell me how well my system works for him. His name is Brad and he's an educator in the Mid-West. He wrote:
"I just wanted to thank you for the excellent advisory service that you provide. In 3 months I have collected $8,284 in dividends from my investments.

In less than 6 months, I have put together a portfolio that will generate $36,000 per year for the rest of my life.

Your system really does work and once I had demonstrated that to myself, I purchased your service for life!

It is nice to actually come across something that really does work and perhaps more importantly, doesn't make outrageous promises that can't be kept! Thanks again!
Click here to discover how you can get your retirement income plan on track just like Brad did
.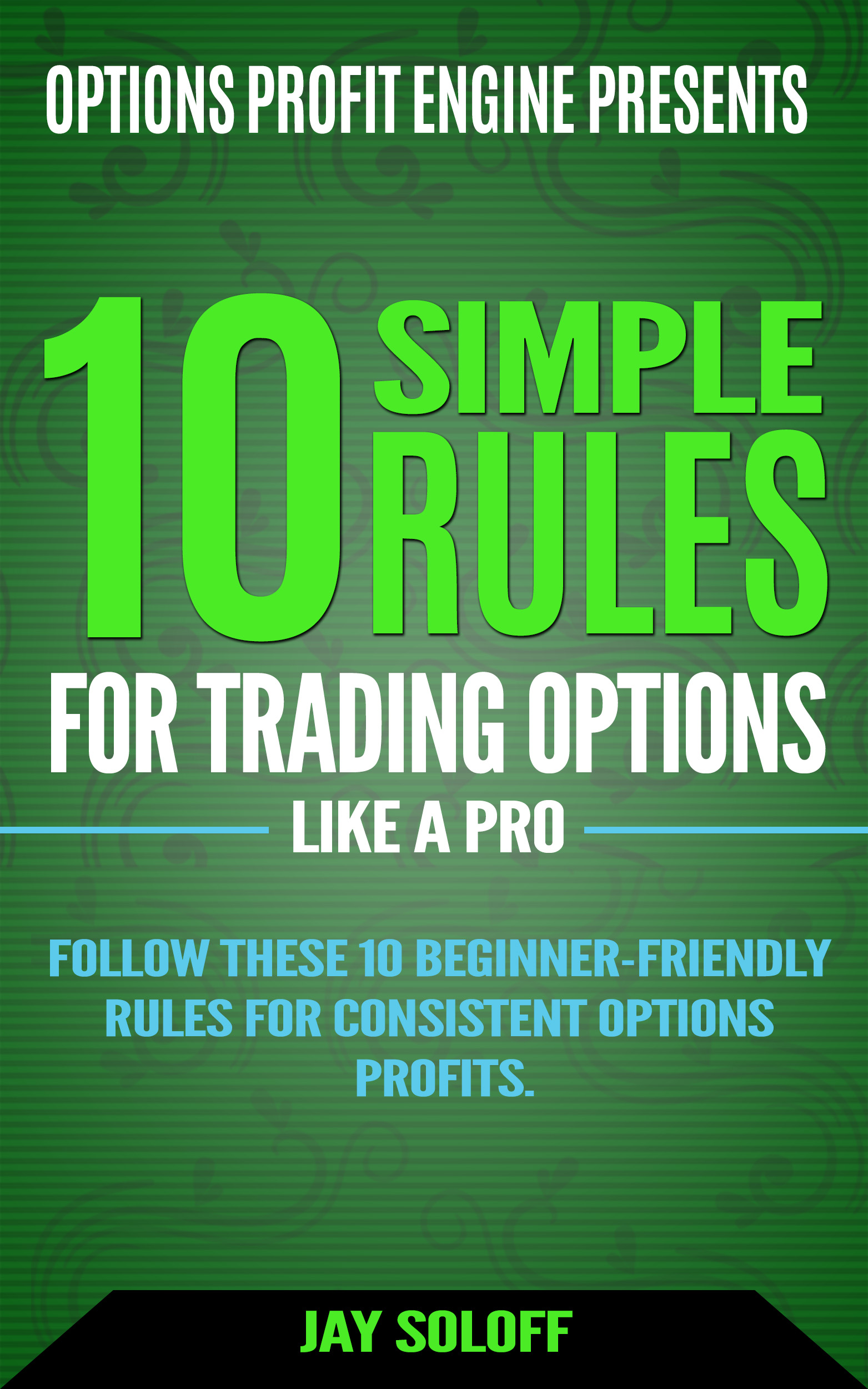 [FREE DOWNLOAD] 10 Simple Rules for Trading Options Like a Pro
Follow these 10 simple rules from 20-year professional options trading veteran, Jay Soloff and start earning a reliable extra income from options.
NO prior experience needed to master these 10 simple options trading rules. 
Enter your email below and receive access to this FREE guide...