Each year I am asked to participate in the MoneyShow "Top Picks" report. The folks at MoneyShow "ask the nation's leading advisors for their favorite investment ideas for the coming year." The Top Picks are run in series in January on the MoneyShow.com website. Highlights of the picks will also be featured on Forbes, TheStreet and on Yahoo! Finance.
The request is for two stock recommendations. One as an aggressive stock bet and the other as a conservative stock selection. Today I am sharing the two stocks I sent in to the MoneyShow editors.
My aggressive stock pick for 2019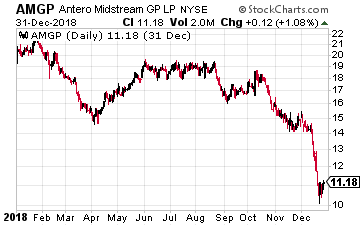 Antero Midstream GP LP (NYSE: AMGP) is an energy midstream services company in transition. The company came to market with a May 2017 IPO. The assets at that time were general partner incentive distribution rights (IDR) ownership interest in high growth, midstream MLP, Antero Midstream Partners (NYSE: AM). The MLP was sponsored and controlled by Marcellus natural gas producer Antero Resources (NYSE: AR).
Complicated, multi-publicly traded entity structures were the vogue in the energy sector until energy commodity prices and energy sector stock prices crashed in 2015-2016. Over the last two years (2017-2018) the MLP sector, related infrastructure stocks, and their sponsor companies have announced simplification events to hopefully make the resulting business structures and forecast results more appealing to investors. On October 10, 2018 the Antero companies announced a simplification transaction that will close in the first quarter or 2019.
The transaction involves AMGP acquiring all the AM units, and then changing its name to Antero Midstream and using the AM stock symbol. For now, call the resulting company new AM. The effect of the transaction will be to turn the current Antero Midstream Partners into a C-Corp and the elimination of the IDRs paid to the general manager. This means starting in 2019, the current AMGP, which derives its revenue from the IDR payments will change into a high dividend growth midstream services provider. This discussion is about the soon to be Antero Midstream Corporation — new AM.
Antero Midstream will be a roughly $10 billion market cap energy midstream company focused on natural gas gathering and compression for Antero Resources in the Marcellus and Utica Shale plays. The company also provides wellhead water services (fresh water delivery and waste water takeaway) and owns one take away natural gas pipeline. Currently about 65% of EBITDA is from gathering and compression, with the remaining 35% from water services.
The growth of AM revenues depends on production growth from Antero Resources. Antero is the largest natural gas liquids (NGLs) producer in the U.S., across all energy production areas. The exploration and production company hold the largest core, liquids rich inventory of production sites in Appalachia. Of the undrilled locations in the region, Antero has rights to 40% of the total. Production growth from Antero Resources is forecast to generate 50% compounding annual gathering and processing volume growth through 2021.
This growth in throughput will fuel cash flow and distribution growth for Antero Midstream. The company projects 27% annual distribution growth through 2021. The midpoint of dividend guidance for new AM in 2019 is $1.24 per share.  The AMGP Q3 dividend annualized is $0.576 per share. With a mid-teen share price at the end of 2018 the market isn't close to factoring in the higher dividends for 2019 and the future dividend growth prospects. AMGP evolving into the new AM is one of my highest conviction total return prospects for the next three years. To keep the yield at the current 4%, AMGP at the end of 2018 must double in 2019.
My Conservative stock pick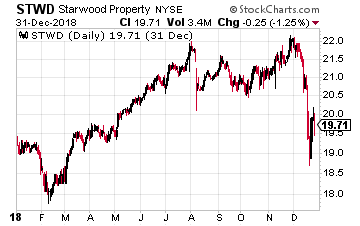 Starwood Property Trust, Inc. (NYSE: STWD) is a finance REIT whose primary business is the origination of commercial property mortgages. As one of the largest players in the field, Starwood Property trust focuses on making large loans with specialized terms. This gives them a competitive advantage over banks and smaller commercial finance REITs.
Over the last several years, the company has diversified its business, branching into commercial mortgage servicing, acquiring real equity properties with long term revenue stability, and recently a portfolio of energy project finance debt. This diversification will allow Starwood Property Trust to thrive and continue to pay the big dividend in any financial environment.
In the commercial loan business, over 95% of the commercial mortgage portfolio has adjustable interest rates. This means that as the Fed increases interest rates, Starwood's net income per share will grow. This REIT provides an excellent hedge against rising rates.
In recent years, the company has acquired what is now the largest commercial mortgage servicing firm. That arm of the business handles servicing, foreclosure workouts (for fees) and the packaging of smaller commercial mortgages into mortgage backed securities. This business segment would see the fees increase exponentially in the event of a recession where commercial property owners were forced to let go back to the lenders.
In addition to the finance side of the company, Starwood has acquired selected real properties, including apartments, regular office buildings, and medical office campuses.  According to STWD's CEO, "All of the wholly-owned assets in this segment continues to perform well with blended cash-on-cash yields increasing to 11.4% and weighted average occupancy remain steady at 98%."
The property segment provides assets with long-life revenue streams to offset the shorter term rollover schedule of the commercial mortgage portfolio. Real assets also add depreciation to the income statement, shielding cash flow.
In mid-2018 the company acquired a $2.5 billion energy finance business from General Electric. The loan book is non-recourse to Starwood Property Trust. Starwood Capital, the private equity manager of STWD, already had energy finance experts in house. This business segment has significant potential for growth.
This diversification of business segments by Starwood Property Trust is what separates this commercial finance REIT from its more narrowly focused peers. STWD has paid a $0.48 per share quarterly dividend since the 2014 first quarter. My investment expectation is that the dividend is secure, and I want to earn the 8.5% to 8.8% dividend year-after-year.
Boring Photo Reveals Trump's Fate in 2020 Election
While Republicans and Democrats fight tooth and nail in Washington...
President Trump has stayed busy signing 16 pieces of legislation that have ignited a massive $109 trillion income opportunity.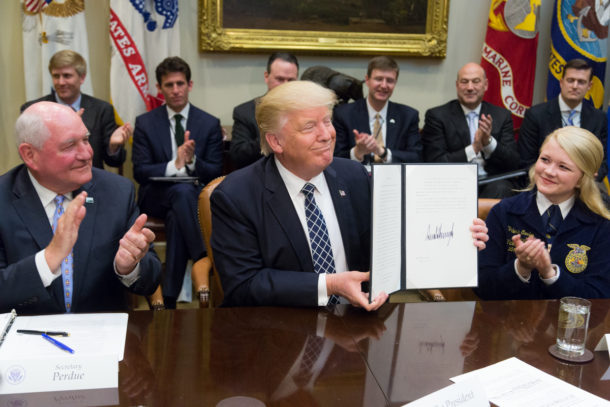 It's 3X the size of the stock market...
It's "off" Wall Street...
In fact, it's a lucrative market that was once reserved for only the richest Americans.
But, thanks to laws passed by Congress, you and I now have a 'backdoor' investment into this lucrative market.
A 'backdoor' that may be worth as much as $2,123 a month.
But you must act fast, the deadline to earn your first payment is coming up quick.
Click here to access this $109 trillion dollar income opportunity
.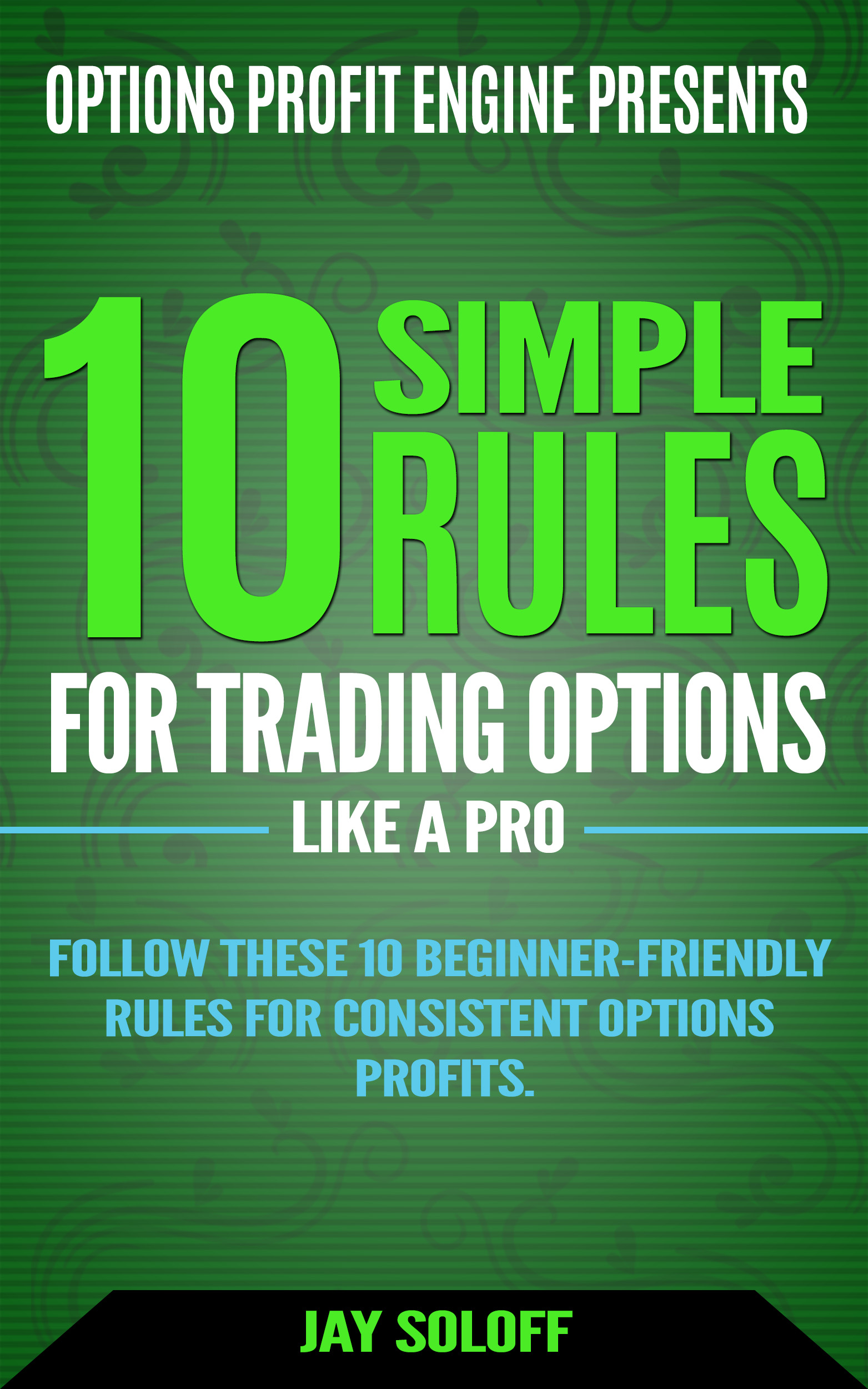 [FREE DOWNLOAD] 10 Simple Rules for Trading Options Like a Pro
Follow these 10 simple rules from 20-year professional options trading veteran, Jay Soloff and start earning a reliable extra income from options.
NO prior experience needed to master these 10 simple options trading rules. 
Enter your email below and receive access to this FREE guide...