Business is booming, and they are printing money hand over fist right now. And the best part is that 90% of every dollar these companies make legally has to be paid to their shareholders.
In the universe of real estate investment trusts (REITs), the norm for business operations is generating steady revenues and cash flows from owning commercial properties with signed long-term tenant leases. For the typical REIT to grow revenues, cash flows, and dividends, new properties must be acquired. It can be difficult to buy commercial properties with returns that are meaningfully accretive to cash flow per share. One REIT subsector that does not follow this pattern are the lodging/hotel REITs. A hotel company can improve bottom line results with active management strategies and aggressive room pricing.
The hotel sector is closely tied to the cycles in the overall economy. During a recession, hotels have trouble filling rooms and staying profitable. Then as the economy starts to improve business and leisure travel picks up and hotel rooms start to fill. An economic expansion will go for a period of years, and eventually hotels will be close to full and hotel companies will be able to increase room rates.
Once hotels are pretty full and room rates are rising, the hotel companies get excited about their profitability and start to build new hotels. The expansion of available room inventory is often timed to match the next slowdown in the economy and just as the new rooms come online, occupancy falls and room rates get slashed. We are back to the bottom of the hotel cycle, ready to start over again.
The current economic expansion has a few differences from the historical norm. The economic growth rate coming out of the 2007-2008 recession has been much slower than the usual recovery path. GDP growth has been in the 2% to 3% annual range compared to a historical average well above 4%. The effect on hotels was that room occupancy and rate increases did not really start to improve profits until about 2013.
Also, the general fear of a repeat of the Great Recession has kept the hotel companies from building a lot of new properties. As a result, the hotel industry has been doing very well over the last couple of years and there are no reasons to expect that the profit growth will not continue. The hotel REITs have been able to increase their dividend rates by 20% to 100% just in the last year. Growth rates may slow (more on that in a minute) but hotel REIT investors can expect continued dividend growth.
In contrast to the real positive prospects for the lodging REIT sector, share prices have declined along with the REIT sector as a whole. As I write this, the Dow Jones U.S. Hotel & Lodging REITs Index is down over 20% from the peak set in late January 2015. These REITs now sport very attractive yields to go along with their growth potential.
When you evaluate a lodging REIT, look for improvement in occupancy and room rates. The hotel industry consolidates these metrics into the single RevPAR – revenue per available room– number. Increases in RevPAR can fall almost completely untouched to the bottom line. For REIT analysis, the adjusted funds from operations (FFO) is the cash flow available to pay dividends. Here are three hotel REITs that have been putting up very strong results and should continue to grow dividends. While the large dividends of recent years may not continue, the better run companies are in a position to grow payouts by 10% or more per year.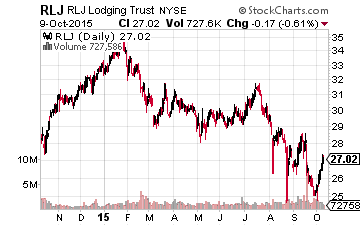 RLJ Lodging Trust (NYSE:RLJ) has increased its dividend twice in the last year and a half, and the current rate is 50% higher than the dividend paid in July 2014. The company actively buys and sells hotels to build a portfolio of premium hotels in top markets. RevPAR growth for 2015 should come in at about 5%. Adjusted FFO per share was up 12% for the first half of 2015. The current dividend rate is about half of the FFO run rate. Expect another dividend increase in the first or second quarter of 2016. RLJ yields 4.9%.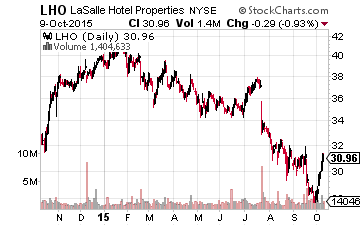 LaSalle Hotel Properties (NYSE:LHO) increased its dividend rate by 20% in June 2015. This was the fourth year in a row with significant increases in the LHO dividend. For the first half of 2015 LaSalle's RevPAR was up 4.7% compared to a year earlier and adjusted FFO per share was up 15%. This hotel company has an attractive history of cash flow and dividend growth. Current yield is 5.8%.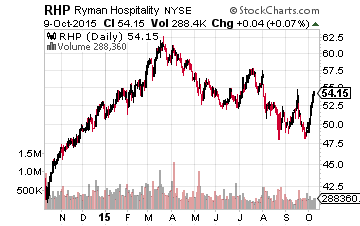 Ryman Hospitality Properties Inc (NYSE:RHP) is a unique company in the hotel space. It owns four upscale, meetings-focused resorts totaling 7,800 rooms that are managed Marriott International under the Gaylord Hotels brand. The hotels are four out of nine in the U.S. with more than 400,000 sq. feet of meeting space. Ryman also operates a number of media and entertainment assets including the Grand Ole Opry and the radio station that is home of the Opry. The RHP dividend has been increased twice in the last year for a total of 27% growth. For the first half of 2015 adjusted FFO per share was up 27% compared to a year earlier. Company presentations show that growth expectations are very high for 2016. RHP yields 5.2%.
Bottom line, while lodging REIT share prices are down, business remains strong and growing. These stocks can produce very attractive total returns from current yield and dividend growth.
Finding companies like these is the strategy that I use myself to produce superior results, no matter if the market moves up or down in the shorter term. The combination of a high yield and consistent dividend growth in stocks is what has given me the most consistent gains out of any strategy that I have tried.
And, there are currently over twenty of these stocks to choose from in my Monthly Paycheck Dividend Calendar, an income system used by thousands of dividend investors enjoying a steady stream of cash.
The Monthly Dividend Paycheck Calendar is set up to make sure you receive a minimum of 5  paychecks per month and in some months 8, 9, even 12 paychecks per month from stable, reliable stocks with high yields. If you join my calendar by Monday, October 19th you will have the opportunity to claim an extra $4,850.50 in dividend payouts by Thanksgiving.
The Calendar tells you when you need to own the stock, when to expect your next payout, and how much you can make from stable, low-risk stocks paying upwards of 12%, 13%, even 15% in the case of one of them. I've done all the research and hard work; you just have to pick the stocks and how much you want to get paid.
The next critical date is Monday, October 19th (it's closer than you think!), so you'll want to take before that date to make sure you don't miss out. This time we're gearing up for an extra $4,850.50 in payouts by Thanksgiving, but only if you're on the list before the 19th. Click here to find out more about this unique, easy way of collecting monthly dividends.
Positions: Long RLJ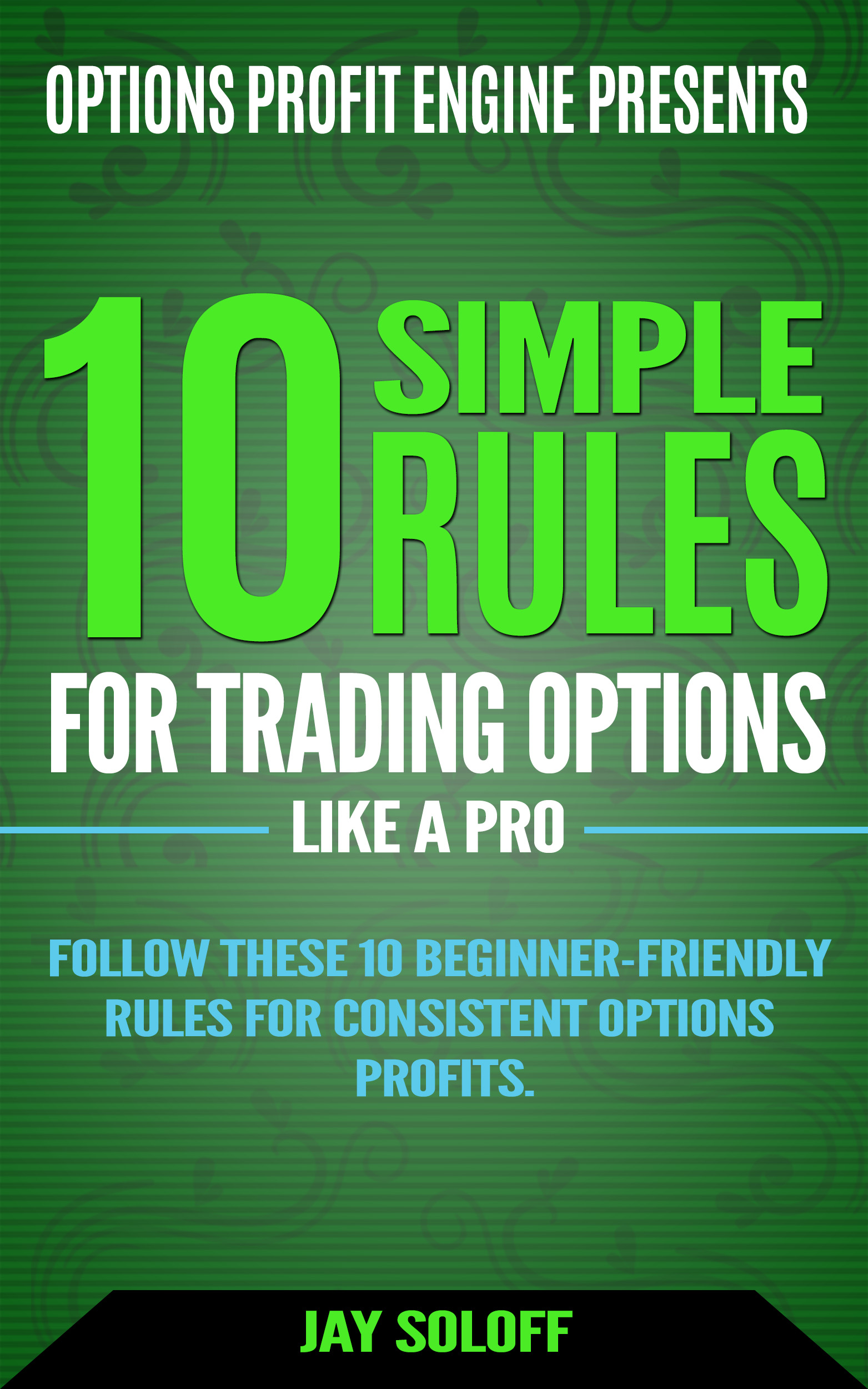 [FREE DOWNLOAD] 10 Simple Rules for Trading Options Like a Pro
Follow these 10 simple rules from 20-year professional options trading veteran, Jay Soloff and start earning a reliable extra income from options.
NO prior experience needed to master these 10 simple options trading rules. 
Enter your email below and receive access to this FREE guide...