Invest and profit from America's aging population that is set to almost double in size over the next 25 years. These three stocks can provide you a high current income and large upside over the long-term as they own the real estate that the healthcare industry relies on.
The healthcare industry was in turmoil for most of 2016.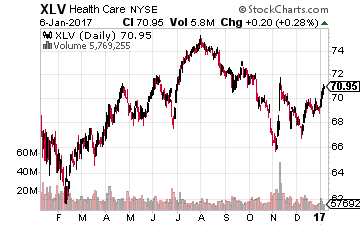 The Health Care SPDR ETF (NYSE: XLV) has fallen 2% in the last year, while the S&P 500 was up 11%. And the uncertainty of the healthcare industry has heated up since the election.
President-elect Donald Trump has taken a keen interest in reigning in drug prices. Also, the mission to repeal Obamacare has certain healthcare facilities wondering what will happen to reimbursements, Medicare, Medicaid and the likes.
This means all aspects of healthcare have been feeling the impact, including the companies owning healthcare real estate. Some of the major healthcare real estate investment trusts (REITs) have been hit hard in the last few months.
Still, the positive trends for healthcare more than outweigh the near-term negatives. Our lead equities analyst, Bret Jensen, detailed the three stocks that would go from worst to first in 2017. But while healthcare is very interesting for 2017, it's not without its headwinds.
One way to stay 'safe' and invest in the healthcare industry is with REITs. With healthcare REITs, you're investing in the land and buildings of healthcare facilities and the likes. The healthcare REITs pay impressive dividends and still benefit from the strong tailwinds in the industry — notably that people are only getting older in the U.S. and healthcare spending is sure to rise.
Unlike competition for other REITs, such as retail and the rise of internet shopping, hospitals and senior housing have little alternatives. There's a built-in protection to this business.
SEE ALSO: Tim Plaehn's Top 2 Dividend Stock Picks for 2017
As well, the other near-term catalyst could be the fact that Trump is actually a positive for healthcare facilities. Trump is all about reducing regulation, thus a simplified structure for healthcare reimbursement is a winning scenario for hospitals, senior living facilities and all involved.
With that, the long-term scenario for healthcare and the real estate it uses looks bright. In the short-term, the rising interest rates and worries over political backlash on drug pricing can create an interesting buying opportunity for healthcare REITs. With that in mind, here are the top three underrated healthcare stocks for 2017:
Underrated Healthcare Stock For 2017 No. 1: Welltower (NYSE: HCN)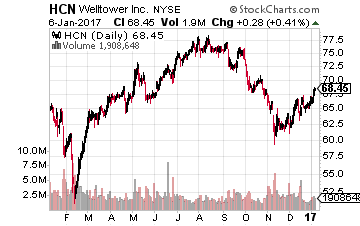 Welltower is one of the largest and oldest healthcare REITs around and pays a solid 5% dividend yield. Unlike other healthcare REITs, it's less diversified and focuses on senior living. Now, that's not necessarily a negative, with the aging population tailwind, this REIT should be a winner. Welltower generates nearly three-quarters of its operating income from senior living.
Yet, this healthcare REIT has fallen 8% in the last six months even though the company is also looking to increase its focus on private-pay properties, which should relieve some of the regulation and governmental uncertainty.
Underrated Healthcare Stock For 2017 No. 2: HCP Inc. (NYSE: HCP)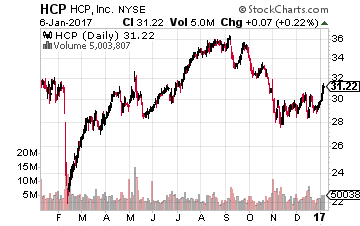 Our next large healthcare REIT, HCP Inc., covers most of the healthcare spectrum, with segments that include nursing, medical office, hospital and senior housing. Not to mention, it has perhaps the best dividend in the healthcare REIT space — a 4.8% yield and 31-year streak of consecutive dividend increases.
HCP has renewed its focus on senior care as the aging population shifts the demographic in that direction. This comes as it spun off its assisted living and nursing care facilities just a few months ago. Thus, its earnings reports and operations are still a little unclear to Wall Street and the likes; creating a buying opportunity for investors.
Now, with the spinoff, HCP is more of a diversified bet on medical offices, hospitals and senior housing. It's also managed to clean up its balance sheet with the spinoff, as it paid off some of its debt.
Underrated Healthcare Stock For 2017 No. 3: Omega Healthcare Investors (NYSE: OHI)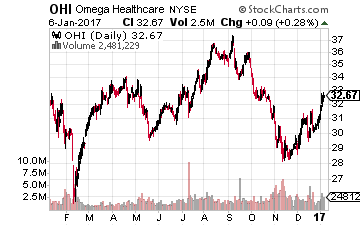 Omega Healthcare Investors was a great example of an underperforming healthcare REIT over the last year. The company is akin to Welltower with its portfolio and growth opportunities; however, its market capitalization is much smaller at $6 billion.
It's also now one of the cheapest healthcare REITs around, thanks to the confusion and uncertainty. As well, Omega Healthcare offers one of the highest dividends in the industry, with a 7.5% yield. Omega focuses on skilled nursing and assisted living. It also has a high concentration in states where the population is quickly aging, such as Texas and Florida. Plus, given the assisted living structure and complex regulations, it'll be one of the 'best' winners should Trump fulfill his promise of decreased government regulation.
Regardless of what happens in 2017, one thing remains for certain, volatility will continue to exist. Healthcare should see an impressive turnaround next year, but investors can remove much of the risk by focusing on the dividend paying aspect of owning healthcare real estate. Hospital, medical care, senior housing and the likes don't provide discretionary services — these are necessities that will be needed in higher demand in the coming decades.
Stocks that have a high current yield and the potential for dividend growth are an integral part of my income investing strategy that I share in my newsletter, The Dividend Hunter. This is where I recommend the market's strongest, most stable high-yield dividend payers, and there are 20 high-yield stocks currently available through my Monthly Dividend Paycheck Calendar system for generating a high monthly income stream from the market's most stable high-yield stocks.