"Further dialogue."
You know that when politicians or other bureaucrats say something like that at the end of a meeting, it generally means, "Nothing got done, nothing will get done, but we'll keep yammering anyway."
That was the case in March when G20 finance ministers met in Buenos Aires to discuss global trade policy – a meeting that produced no concrete agreement.
Last weekend, they reconvened in Argentina's capital, with the International Monetary Fund and central bank governors.
The result? Not so much "further dialogue," but a stark warning…
Warning Shots Fired in Buenos Aires
It came amid the latest trade jousting, with the United States threatening tariffs on all $500 billion of Chinese exports.
Not only would this significantly escalate the trade war, it would affect U.S. consumers and businesses – and, in turn, the economy, given the amount of goods that China sends to the United States.
In 2017, China shipped almost one-fifth of its exports to America – a total of $505.6 billion. And $207.9 billion of that was subject to tariffs. But due to trade imbalances, America's deficit with China is $375.5 billion.
The recent tensions led the IMF to caution last month that ongoing action – and escalation – would hit the U.S. economy and global GDP. Last weekend, it warned that "in the worst-case scenario… [a decline] in the range of 0.5% of GDP on a global basis," according to Managing Director Christine Lagarde.
It means global GDP will peak at 3.9% this year and in 2019.
The impact on global GDP is being felt across many industries "and downside risks over the short- and medium-term have increased," the ministers said.
More specifically, "the impact of the trade war… is finally starting to register in traders and investors in oil and other financial markets," says AxiTrader's chief market strategist, Greg McKenna.
Fueling the World's Fortunes
If there's one sector that literally fuels economic activity, it's energy.
Fuel is the juice that enables us to conduct business, consumerism, trade, and transport people and goods. Not to mention power businesses and homes.
With economic activity and energy demand so closely linked, concerns over lower GDP growth have seen Brent crude, light crude, and natural gas prices fall in the past month.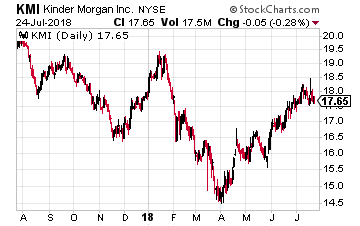 Lower growth and energy prices don't bode well for major energy suppliers like Houston-based Kinder Morgan Inc. (NYSE: KMI).
Front-and-Center of the Energy-Growth Relationship
Founded in 1936, the company is deeply embedded in energy infrastructure – including the production, storage, processing, and distribution of key fuels.
Natural Gas Pipelines: This segment operates natural gas storage and interstate pipeline systems, plus natural gas and liquefied natural gas processing centers.
CO2: Involved in the production and transportation of crude oil and owns/operates oil fields and pipelines.
Terminals: Stores oil products, refined fuels, coal, coke, steel, chemicals, and ethanol.
In total, Kinder either owns or operates around 85,000 miles of pipelines and over 150 fuel terminals.
The Bears Are Back
In response to falling prices, a Baker Hughes report shows U.S. energy firms cut five oil rigs from the total count in the week to July 20. Although that's still higher than a year ago (858 versus 764), it was the biggest reduction since March.
While cutting five rigs isn't a big deal overall, traders think price declines will continue. According to the U.S. Commodity Futures Trading Commission, traders reduced their long oil futures and options positions for the first time in a month last week.
That's not good news for Kinder. In addition to other issues…
A Big Profit… But Still So Much Debt
In May 2017, Kinder Morgan completed an IPO for Kinder Morgan Canada.
While the Canadian business is a core segment, Kinder sold a 30% stake in it through the IPO – designed to raise money for Kinder Morgan Canada's Trans Mountain Pipeline expansion. The pipeline transports oil from Alberta to Vancouver and Pacific Northwest.
In May, however, Kinder announced that it was selling the pipeline to the Canadian government for C$4.5 billion ($3.4 billion).
The good news? It was a massive profit on the C$610 million it's spent so far on the project. And once the sale closes, Kinder Morgan Canada will have CA$12 per share in cash – over 70% of its current market cap.
The bad news? Because of how the IPO was structured, Kinder Morgan Canada owns all its Canadian assets. So while its U.S. parent company is entitled to $2 billion via a special dividend, that profit barely makes a dent in its huge debt. A whopping $38.2 billion, to be exact – almost its entire market cap! And it boasts just $327 million in cash.
In addition, while Kinder will still work on Trans Mountain construction, the sale will hit future results. In fact, Investor Place reports that Trans Mountain represented $5.7 billion of Kinder's projected $10.3 billion jump in annual EBITDA from growth projects.
The company needs to make up that shortfall – which it plans to do with the joint-venture Permian Highway Pipeline natural gas project. It will cost $2 billion, but won't be completed until late-2020. It also has the Gulf Coast Express Pipeline – a $1.75 billion joint undertaking. But it won't be operational until October 2019.
An Underwater Dividend and Underperforming Stock
Kinder did just enjoy a decent quarter that saw it beat estimates, as its businesses enjoyed growth. Distributable cash flow of $1.1 billion was up 9% on a year earlier and on pace to match (or beat) full-year estimates.
Kinder also pays $0.80 per share in annual dividends (4.4% yield). However, it's worth remembering that the slump in energy prices a few years ago caused the firm to slash the dividend by 75% in 2016. As prices recovered in 2017, Kinder announced dividend hikes for 2018-2020. But even after they've taken effect, the payout will still be 40% below its 2016 level.
And with the unpredictable GDP, energy price, and trade climate, that could change.
Then there's the stock itself.
Since Kinder IPO'd in February 2011, it's down 43%. And since peaking in the mid-$40s in April 2015, the price is down around 56% (adjusting for dividends and stock splits).
Unsurprisingly, it's a consistent underperformer, relative to both its industry peers and the broader S&P 500 over various time periods.
While the business isn't terrible and the dividend is recovering, the stock continues to lag and the debt is a serious weight. Plus, falling energy prices and the prospect of trade war issues eating into GDP makes Kinder a hazardous bet right now.
In 6 Months or Less You Can Build a Portfolio Paying You $36,000 a Year
Recently a rather new subscriber wrote in to tell me how well my system works for him. His name is Brad and he's an educator in the Mid-West. He wrote:
"I just wanted to thank you for the excellent advisory service that you provide. In 3 months I have collected $8,284 in dividends from my investments.

In less than 6 months, I have put together a portfolio that will generate $36,000 per year for the rest of my life.

Your system really does work and once I had demonstrated that to myself, I purchased your service for life!

It is nice to actually come across something that really does work and perhaps more importantly, doesn't make outrageous promises that can't be kept! Thanks again!
Click here to discover how you can get your retirement income plan on track just like Brad did
.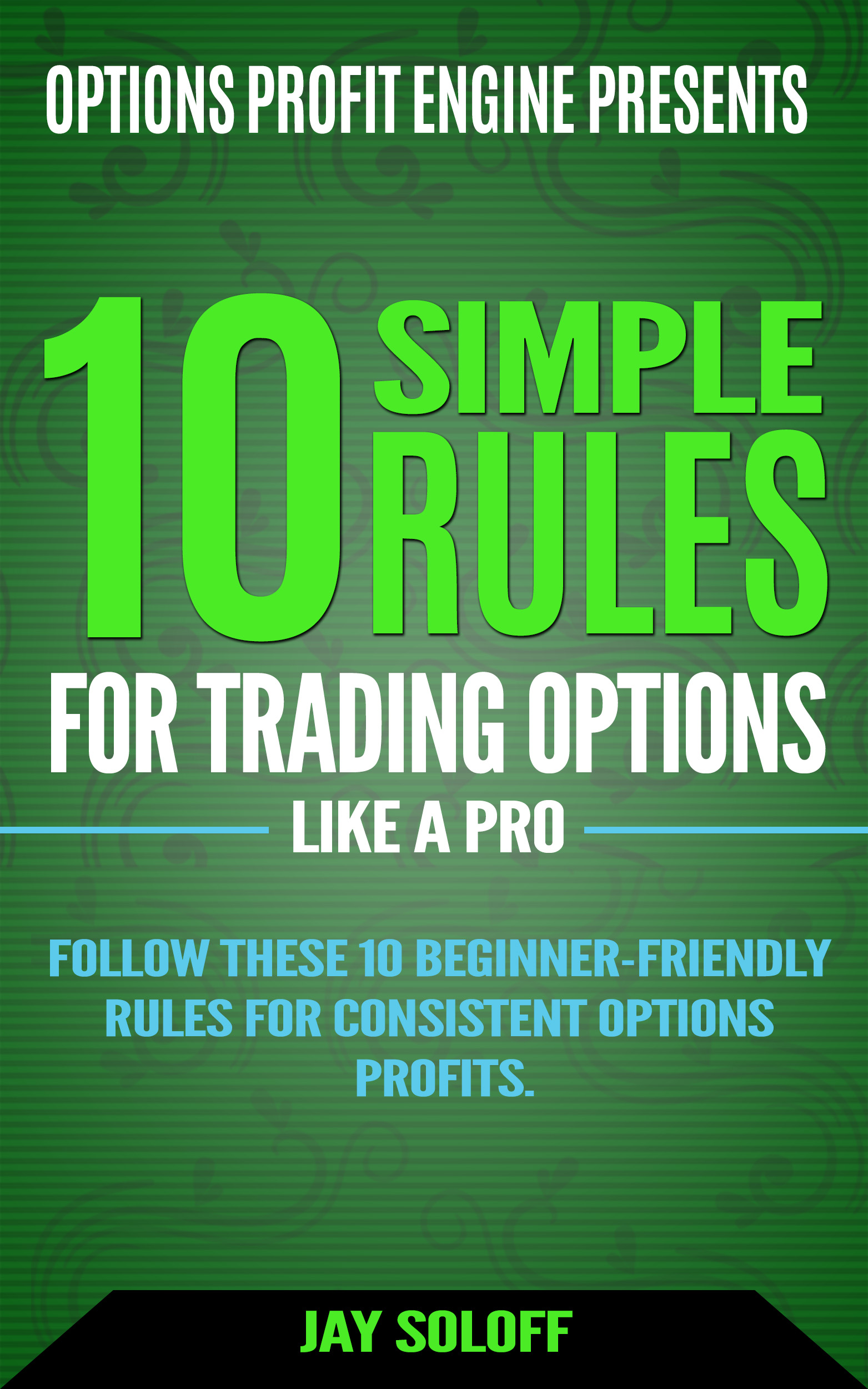 [FREE DOWNLOAD] 10 Simple Rules for Trading Options Like a Pro
Follow these 10 simple rules from 20-year professional options trading veteran, Jay Soloff and start earning a reliable extra income from options.
NO prior experience needed to master these 10 simple options trading rules. 
Enter your email below and receive access to this FREE guide...