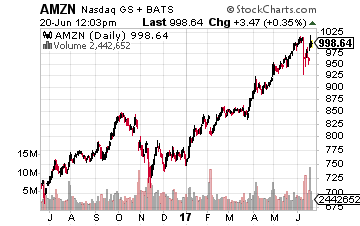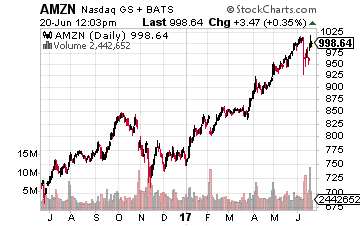 There's still time left to make money from the $13.7 billion buyout of organic grocer Whole Foods if you use the 'backdoor' profit opportunity revealed in this article. You could bank double-digit profits by August betting that the Whole Foods buyout disrupts the entire grocery business with this easy trade. 
Despite following Amazon (NASDAQ: AMZN) for many years, the company never ceases to surprise me.  I was a market maker in AMZN options on the floor of the Chicago Board Options Exchange (CBOE) back when the company only sold books and music online.  There was a time when the stock was only trading for $10 a share, and many people thought the company was doomed.
CEO Jeff Bezos and Amazon not only survived the Dot.com bust at the turn of the millennium but began to grow and expand into new businesses.  As we all know, the online retail giant moved from an online book and multimedia company to the go-to online retail site for, well, everything.
These days you can buy everything from fidget spinners to lawn mowers on the website.  Moreover, the company has delved into a whole new set of industries.  Amazon is one of the industry leaders in web services, the leader in livestream gaming, and even produces its own movies and TV shows.
In recent months, the ubiquitous company has also expanded into the ultra-competitive groceries business. On the West Coast, the company has been experimenting with grocery delivery and pickup at its own stores.  However, Bezos apparently felt the groceries division needed a boost – so he did what any forward-thinking billionaire would do, he bought a competitor who was doing it better.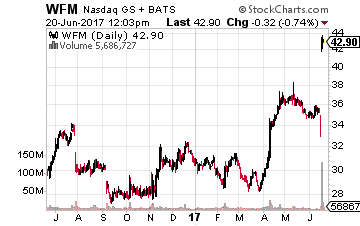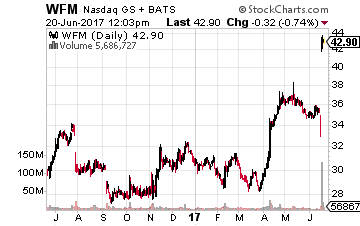 This past week, AMZN shocked the finance world by purchasing Whole Food Markets (NASDAQ: WFM), the popular high-end grocery store chain.  It's not the expansion of the company's grocery business that's the surprise – AMZN has made no secret about its interest in this industry.  But WFM is a major player and represents the largest acquisition to date for Amazon.
The company is spending $13.7 billion to buy Whole Foods, or $42 per share.  That's a significant premium over what the stock was trading at prior to the announcement.  However, from this deal AMZN will be adding over 400 physical stores to expand its groceries business.  Bezos has essentially put the grocery industry on notice; AMZN is becoming a major player in this business.
WFM is already a popular place to shop for groceries, with a dedicated customer base.  However, the high-end store is also known for high-end prices, and it certainly scares away potential new customers who are more wallet-conscious.
On the other hand, AMZN is well-known for compressing prices and will look to ply its cost-cutting methods to make WFM more profitable.  As Amazon is essentially a tech company, you can bet automation will be a big part of how the company plans to reduce costs at Whole Foods.
Here's the thing…
The groceries business is already ultra-competitive due to its razor thin margins.  There's a reason why grocery chains tend to consolidate and mom and pop grocery stores rarely exist.  It's just so dang hard to make money.
Now, I don't doubt that Bezos and AMZN can figure it out.  But, it also means other grocery chains are in big trouble.  In fact, the entire industry got pummeled when the AMZN/WFM news came out.  Nearly non-existent margins are going to be compressed even further.
If you like AMZN's acquisition of WFM (which I do), the most straightforward trading strategy is buy Amazon stock or options.  However, as you know, the stock price is incredibly high – which means the options are also very pricey.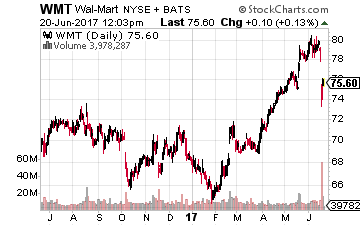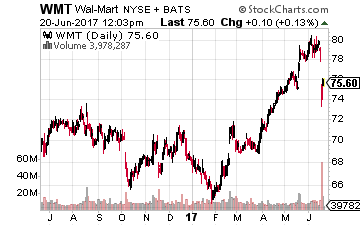 Another way to trade this strategy is to go short on companies which profit from the grocery business.  Now, many grocery stocks have gotten hit pretty hard already.  Walmart (NYSE: WMT) is one such stock that sold off sharply on the news.  You may not realize it, but WMT generates about half its revenue from groceries.
Ultimately, I think WMT will sink further due the AMZN/WFM deal, but perhaps not right away.  There's a reasonable chance the stock will rebound before taking another leg down.  With the stock trading around $75.50, I wouldn't be shocked to see it hit either below $70 or above $80 this summer.
Of course, a situation like this a perfect opportunity to buy an options straddle or strangle.  Remember, the straddle is when you buy the at-the-money call and put in the same expiration period.  A strangle is similar, but you instead purchase out-of-the-money options.  In either case you make money on movement in stock, regardless of direction.
Looking at the August 18th expiration, I believe a strangle is the way to go with WMT.  The 72.50-77.50 is trading for under $2.50 per spread (buying the 72.50 put and 77.50 call).  Breakeven points are right around $70 and $80 for this trade, and you have two months of control.
I'm sure I sound like a broken record at this point, but options show once again why they are the best way to trade stock price movement.  We don't know if WMT is going to rebound or drop lower first and both are equally possible.  With options, you can easily and cheaply trade both possibilities.