"Software as a Service" and "cloud computing" were the hottest bull-market buzzwords of last summer. Leaders in the "SaaS" industry include Salesforce.com (NYSE: CRM), Workday (NYSE: WDAY), and ServiceNow (NYSE: NOW). These companies distribute software via the Web, using a subscription-based licensing model. Software is centrally hosted on "the cloud" (a connected "server of servers") and can therefore be upgraded remotely.
SaaS and cloud computing were and still are seen as the future of software delivery. But in the bull-market run-up that began a year ago, many SaaS stocks have gotten completely overheated – just look at the 80% run-up of the prototypical SaaS stock, Salesforce.com (NYSE: CRM), from June 20, 2013 to February 27, 2014: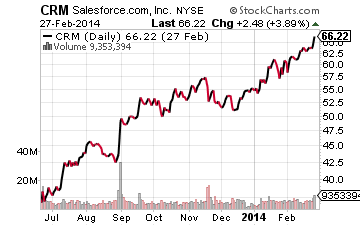 But following its February 27 high, SalesForce.com lost 21%, and SaaS stocks in general have followed it on its way down. Are these stocks suddenly attractive from a valuation perspective? Not in my view – just look at Salesforce.com's metrics: It's trading at 10.1 times its book value, 7.1 times sales, 29.3 times cash flow, and 140.8 times forward earnings – this, even after a 21.5% haircut. That said, there are even worse-looking stocks in the SaaS industry, and these are three names that should be sold now, avoided, or possibly even sold-short:
One Unhealthy SaaS Stock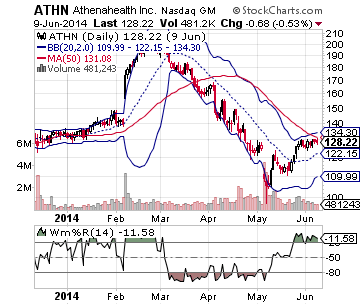 AthenaHealth (NasdaqGS: ATHN)provides Internet-based business services for physicians via its four, cloud-based integrated offerings: athenaCollector, athenaClinicals, athenaCommunicator, and athenaCoordinator. It hit its 52-week high on February 26 at $206.70, and was recently trading at $128.22 – down 38% in less than four months. AthenaHealth's post-high nadir is quite evident in the chart below; a dramatic plunge to $97.30 on May 7. Since then, AthenaHealth has gained more than 30%, and now it looks overbought as well as overvalued.
AthenaHealth is trading at 7.7 times sales, 43.3 times cash flow, and 110 times forward earnings. Its Williams %R has been above -20% since May 23 and now the stock is up against the double resistance of its 50-day moving average (red line) and its upper Bollinger band (solid blue line). These are all good reasons to avoid AthenaHealth.
Slow Growth SaaS Stock With Premium Valuation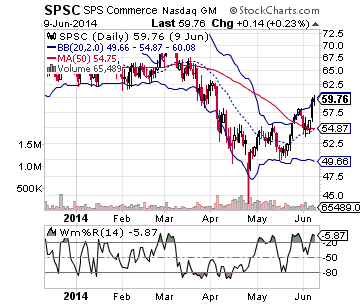 SPS Commerce (NasdaqGS: SPSC)provides on-demand logistics services via the SaaS model. In 2013, the firm reported net income of just $1 million on sales of $104 million – a fairly typical net margin for the few profitable SaaS companies. The stock is currently trading in the $60 range, 26.8% off its 52-week high of $79.98, set way back on October 25. Then again, SPS Commerce did fall to as low as $43.84 on April 25 and has gained 36% since. Now the stock is trading above its upper Bollinger band, which could indicate a breakout – or that SPS is overbought and due to correct. I think the latter is much more probable.
Why? For one reason, look at SPS's Williams %R, which has recently crossed over into the "overbought" region above -20%. The stock has traded above -20% Williams for most of May and has never experienced much of a pull-back. For a second reason that a pull-back appears more probable than a breakout, consider SPS's current valuation: 769 times trailing earnings, 63.7 times cash flow, and 93.5 times rosy projections for forward sales. All this for a company with annual EPS growth in the 15-20% range? That's too rich for a sensible investor, which is why SPS Commerce is another SaaS stock that should be avoided.
Not Sweet on NetSuite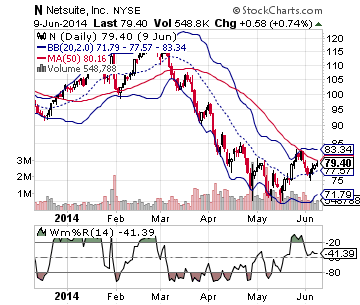 With a market cap of just under $6 billion,NetSuite Inc. (NYSE: N) is the biggest of this bunch. The firm provides a variety of application-specific "software suites" including accounting, enterprise resource planning, customer relationship management, services automation, and ecommerce "suites." In 2013, NetSuite reported a net loss of $70 million on sales of $415 million. The firm had been growing earnings at an average annual pace of 32% over the past three quarters, but earnings for the current quarter – the results of which will be announced on July 21 – are projected to drop by 40% compared to the same quarter last year.
NetSuite is trading at 28.3 times its net-asset value, 13.3 times sales, 89.3 times cash flow, and 172.4 times forward earnings. It's 34.7% off its February 27 high of $120.77, but up 13.5% from its May 15 low of $69.48. And, like AthenaHealth, NetSuite is currently meeting resistance as its 50-day moving average (red line). Both technically and fundamentally, NetSuite fails to impress; and even after a substantial selloff, the stock looks overvalued. For these reasons, NetSuite is a third SaaS stock that should be avoided.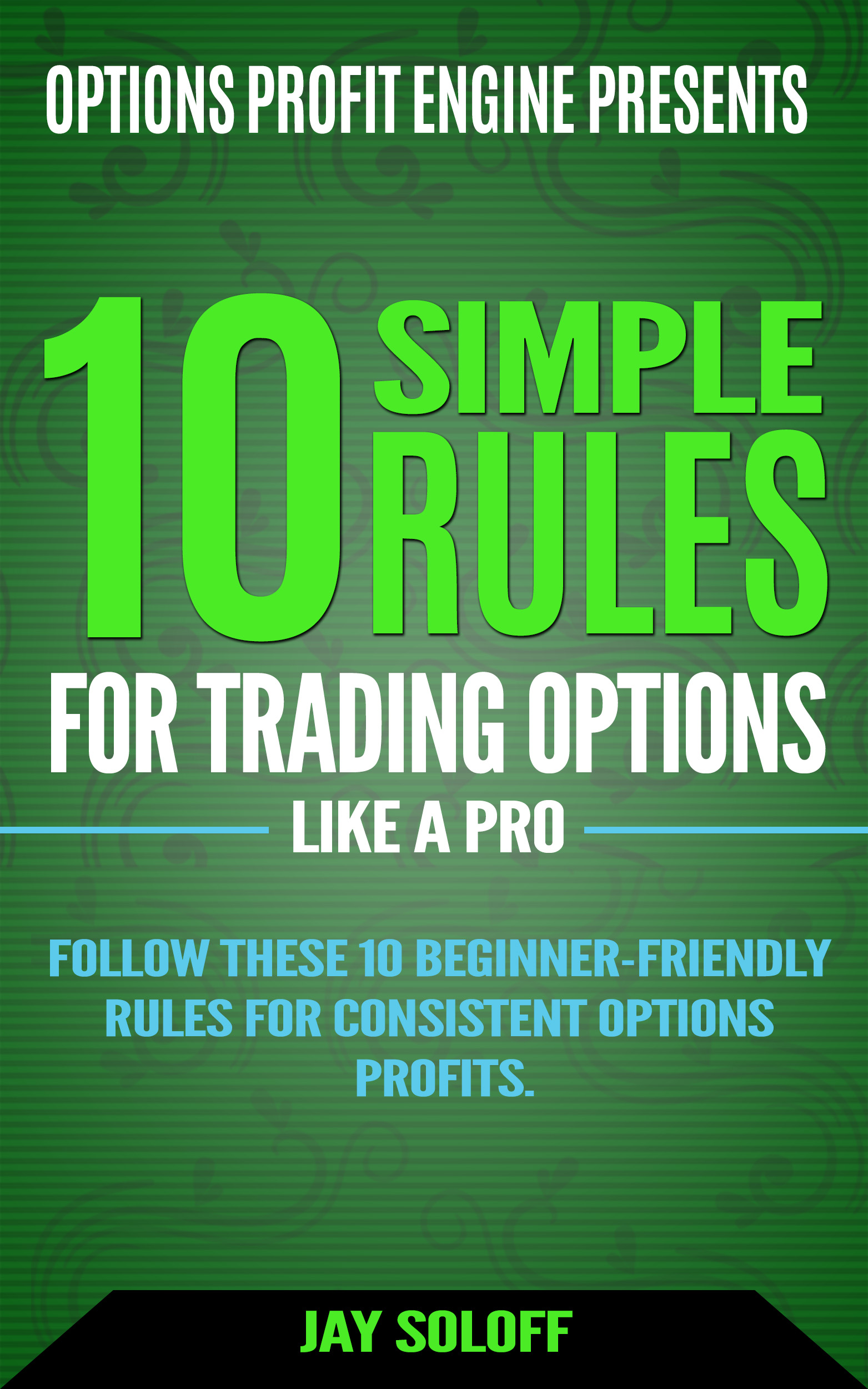 [FREE DOWNLOAD] 10 Simple Rules for Trading Options Like a Pro
Follow these 10 simple rules from 20-year professional options trading veteran, Jay Soloff and start earning a reliable extra income from options.
NO prior experience needed to master these 10 simple options trading rules. 
Enter your email below and receive access to this FREE guide...