Reading Time:
4
minutes
It's a dilemma investors face every day…
When a stock falls, do you try to profit by buying shares on the dip, or dodge the downward momentum?
The difference between the two can be large – and expensive.
Today, I'm going to focus on a wise investment adage: "Don't try to catch a falling knife."
And I'll illustrate it with a stock that's stabbing investors right in the wallet – online retailer Overstock.com Inc. (Nasdaq: OSTK).
Overstocked on Bitcoin
Take a look at Overstock's year-to-date chart and you'll see a rather whopping slump.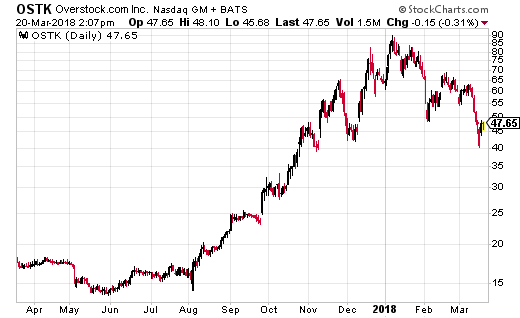 From a 52-week high of $89.80 on January 8, the stock has lost almost half its value and currently trades for around $46.75.
Much of the blame is due to the massive volatility of bitcoin.
Overstock began accepting bitcoin payments as far back as 2014 and accepts other digital currencies, too. Along with its subsidiaries, Overstock has also invested in the development of blockchain – the technology that facilitates cryptocurrency payments.
Indeed, CEO Patrick Byrne is even considering selling Overstock's home-goods business to fund blockchain development.
As bitcoin rocketed higher in the second half of 2017, so did Overstock shares.
But bitcoin (and other cryptocurrencies) are still raw and very volatile. Much of the interest is little more than rampant hype and speculation, rather than actual investing, given that mainstream adoption hasn't happened yet – and isn't remotely close.
And guess what? As bitcoin has sunk recently, so have Overstock shares. Dialing back six months in the chart below you can see Overstock's run-up in late fall corresponding with bitcoin's then the downward grind since just after New Year's.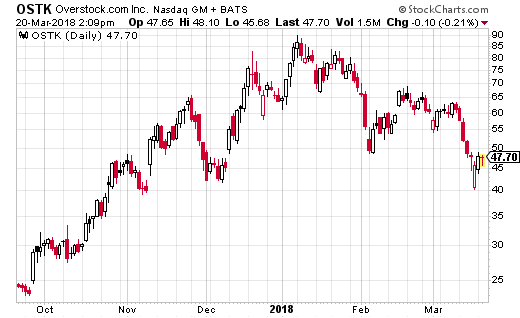 The losses are exacerbated by the fact that Overstock's board has fallen in love with digital currency. While the company used to only hold around 10% of cryptocurrency payments in its investment portfolio (rather than convert the currency to U.S. dollars), the number is now around 50%. More exposure = greater losses.
That's not all, either…
Bring On the Feds
"Bitcoin is more powerful than physical money."
That statement from CEO Byrne says it all, really.
So it's no surprise that he's gone in heavy on cryptocurrencies.
He's even established a new cryptocurrency trading platform for Overstock called tZero. Customers can use digital tokens to shop on the company's site. It plans a $250 million Initial Coin Offering (ICO) for tZero tokens, too.
On March 1, Overstock announced that the SEC has requested more information on tZero.
News that the SEC is sniffing around a company's business is rarely cause for champagne – and Overstock shares are down 17% since the announcement.
To be fair, however, Byrne welcomes the oversight. He told Bloomberg that "it's way past due the SEC comes in and looks at this" and is working with the SEC to make tZero the first regulated trading system.
Regulation, eh?
Crypto investors don't like that. One of the benefits of digital currency is decentralization and less regulation. And bitcoin has dropped recently on news that the SEC wants crypto exchanges to register with the SEC.
For Overstock, the SEC enquiry doesn't bode well. Indeed, the company said last week, "The investigation could result in a delay of the tZero security token offering, negative publicity for tZero or us, and may have a material adverse effect on our ability to focus attention on our businesses and our ability to raise capital, and future business ventures of tZero."
Many investors are highly skeptical about whether Overstock should even be dabbling in cryptocurrency so much at all – and certainly not selling a core part of the business to fund blockchain development. (The company revealed it's working with Guggenheim on the sale of e-commerce assets).
After all, it's an online retailer. There's a long list of companies that have tried to branch out into unfamiliar businesses and got burned. There's concern that Overstock is too exposed to a volatile industry that's still in its infancy.
This explains why short-sellers represent one-third of the float, compared with just 13% in September 2017.
The Risks Are Adding Up
Now, add in the fact that Overstock has struggled recently in the fiercely competitive retail sector.
The company reported a 13% revenue loss (to $456.3 million) during Q4 2017, which resulted in a net income loss of $95.7 million (a $3.72 loss per share), compared with a $3.1 million profit ($0.12 EPS) in Q4 2016. At the same time, expenses rose by 13%.
For the full year, revenue fell by 3% to $1.75 billion, while net profit slumped from $12.5 million to a loss of $109.9 million.
Undeterred, though, Byrne says Overstock will follow the "classic internet" model of all-out growth. Quoted on Bloomberg, he declared: "We've already turned on the jets and will demonstrate this year that our growth engine is far more efficient."
I think we've heard that one before with online businesses.
Overstock looks like a risky investment. Its margins, return-on-assets, and return-on-equity are all in negative territory. And not only is it growing more slowly than its rivals, it's also more expensive on key metrics.
In addition to losing money from its bread-and-butter retail operation, Overstock is too exposed to the unpredictable cryptocurrency market – and is upping the ante even further at a time when volatility is cranking higher.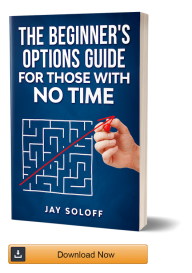 If not, here's your chance to save it to your computer while it's still free. That way you will never have to pay for it again in the future.
This guide will get you placing winning trades without you needing to spend hundreds of hours studying.
In fact, you can place your first trade today after reading my "Beginner's Guide" to trading options.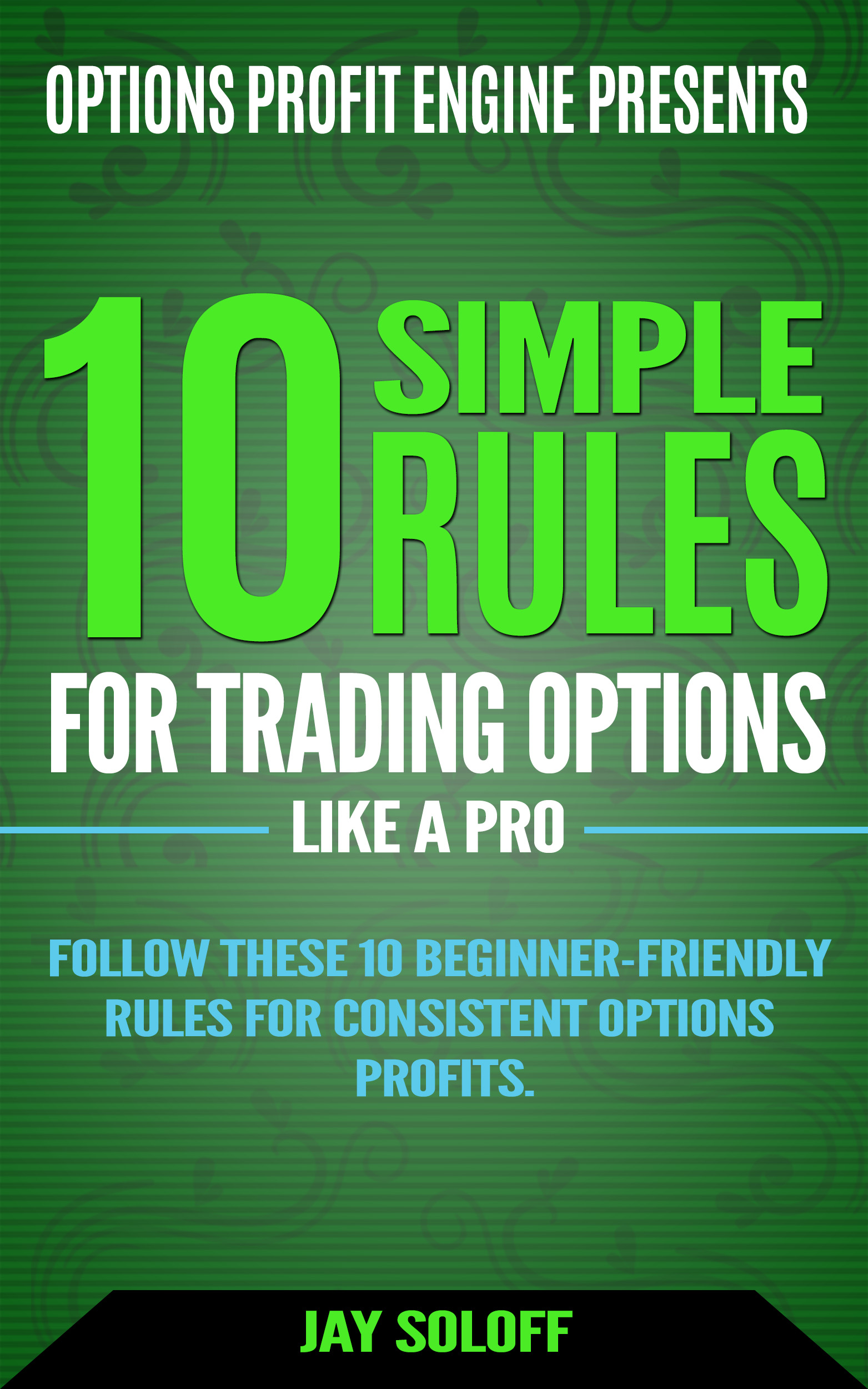 [FREE DOWNLOAD] 10 Simple Rules for Trading Options Like a Pro
Follow these 10 simple rules from 20-year professional options trading veteran, Jay Soloff and start earning a reliable extra income from options.
NO prior experience needed to master these 10 simple options trading rules. 
Enter your email below and receive access to this FREE guide...