Another week… another trade grenade lobbed across the world.
Apologies for bringing this up again… but I'm just the messenger!
It seems our esteemed world leaders are engaged in what can at best be described as protectionism and at worst be called a giant global pissing match!
But here's the thing about protectionism: It tends to beget more protectionism.
That was certainly the case last week when the United States whacked 25% tariffs on $50 billion worth of Chinese imports.
The levies will kick in on July 6 and affect over 800 products worth an initial $34 billion. The remaining $16 billion will come into effect later.
China responded in kind, imposing 25% tariffs on 659 U.S. products – also worth an initial $34 billion (rising to $50 billion) and also beginning on July 6. In a statement, the Chinese foreign ministry said, "If the U.S. takes unilateral and protectionist measures that harm Chinese interests, we will respond immediately by taking the necessary decisions to safeguard our legitimate rights and interests."
Well, they're spot-on about "safeguarding legitimate rights and interests."
That's exactly what the United States is doing, too.
Unlike its trade war with Europe and Canada, America has long had a "legitimate rights" beef with China over intellectual property. The White House says U.S. companies are at an immediate disadvantage, as China's government forces them to surrender any intellectual property if they want to do business there. Announcing the tariffs, Donald Trump said they're "essential to prevent further unfair transfers of American technology and intellectual property to China, which will protect American jobs."
This is fair enough. But it's of little consolation to the companies unwittingly caught in the firing line…
Steeling Itself for a Battle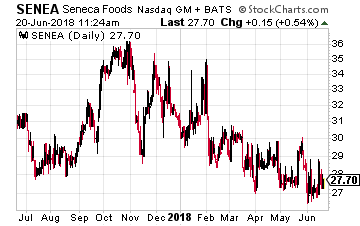 The latest round of trade warfare between the United States and China doesn't bode well for companies like small-cap Seneca Foods Corp. (Nasdaq: SENEA).
Founded in 1949 and based in Marion, New York, Seneca is a packaged food producer that offers canned and frozen fruit and vegetables, bottled food and drink, and snacks. You may be familiar with some of its brands – Seneca Farms, Green Valley, and Libby's. It also provides packaging for Green Giant, among others.
But as America's largest vegetable canner, the company faces potential upheaval from a U.S.-China trade spat, as rising steel and aluminum prices would hike its costs.
A few years ago, Seneca started to import tin-plated steel coils, due to gaps in the U.S. supply line. But there's even greater uncertainty now… not to mention 25% higher costs. Indeed, Seneca's vice-president of sourcing, Leon Lindsay, admitted recently that with U.S. suppliers unable to meet demand and a trade war brewing, he wasn't sure where the company would obtain its coils.
As such, Seneca is one of the many companies that have asked the Commerce Department for a waiver that would exempt its imports from the new trade tariffs. In a food industry where competition is fierce and margins often thin, Seneca can ill-afford additional raw materials costs, so gaining protection from trade squabbles is imperative.
The Associated Press quotes a Seneca source as saying the company would get clobbered with an additional $2.25 million charge if the Commerce Department doesn't approve its tariff waiver request for 11,000 metric tons of tin-plated steel that it's already bought from China and will be delivered this year and in 2019.
That charge would allegedly get drawn out of Seneca's bottom line. Bad news for a company whose profit and operating margins are already non-existent. In addition, it's saddled with $459 million worth of debt and just $13.1 million in cash.
What's more, not only is Seneca significantly more expensive than its peers on a price-to-earnings basis, it also seriously lags on other key metrics like price-to-sales and price-to-book ratio.
If there's one thing that investors hate above all other things, it's uncertainty. And right now, there's just too much uncertainty around the trade situation – and its consequent impact on the firms that depend on materials at the heart of the battle.
Seneca is one of them. It's reflected in the stock's chart, which shows a solid downtrend in play over the past four months – right around the time the trade war chatter started to heat up and subsequently became a reality.
Until the company gains some clarity on how higher tariffs will affect its business, its growth prospects are likely to be stunted.
How to Earn $1,000s in 'Bitcoin Dividends'
What if I said you could tap the Bitcoin gold rush...
without buying Bitcoins
.
Getting access to the BIGGEST, MOST PROFOUND, MOST EXPLOSIVE investment opportunity of the decade...
And get in at a TINY FRACTION of the risk other guys face – who could lose their shirts on a bad call or two.
Would you believe me?
Today I'm going to share a "backdoor" way for everyday investors like you to tap into the NEW Crypto Gold Rush...
And make money no matter which way Bitcoin prices go... up OR down.
So you essentially get the best of both worlds.
Instead of buying Bitcoin and crossing your fingers...
I'll show you how a secret 'backdoor ploy' has just opened up. Giving you the chance to grow MUCH richer... MUCH faster... and MUCH, MUCH safer than by simply buying Bitcoin.
The best part of all?
You can earn thousands of dollars in 'Bitcoin Dividends'... while exposing yourself to just 1/1000th the volatility.
Click here to start collecting 'Bitcoin Dividends'
.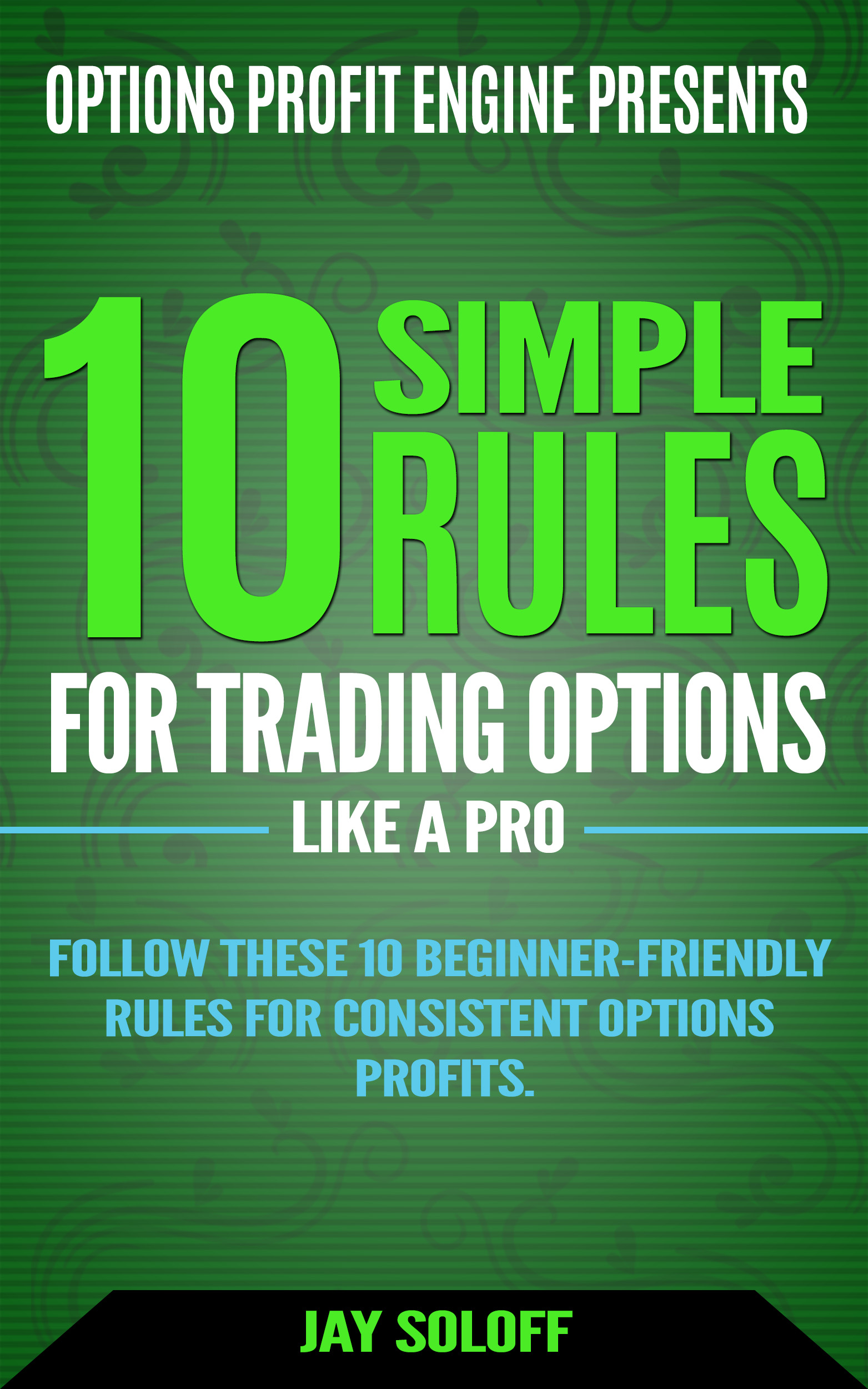 [FREE DOWNLOAD] 10 Simple Rules for Trading Options Like a Pro
Follow these 10 simple rules from 20-year professional options trading veteran, Jay Soloff and start earning a reliable extra income from options.
NO prior experience needed to master these 10 simple options trading rules. 
Enter your email below and receive access to this FREE guide...