The remarkable stock market rally continues unabated. This week's highlights include:
New record highs for the Dow, Nasdaq Composite, and S&P 500. The latter is up 15% in 2017, thanks to a robust economy and earnings reports. Indeed, third-quarter earnings are projected to rise by a collective 8%, according to Thomson Reuters, compared with estimates of around 6% at the start of the quarter.
Japan's benchmark Nikkei 225 index trading at its highest level since 1992.
All-time highs for Britain's FTSE-100 and Germany's DAX 30 indexes. This is a snapshot for gains across Europe in general, with the Stoxx Europe 600 Index also hitting an all-time high.
The iShares MSCI All-Country World Index (Nasdaq: ACWI) – which measures the health of global markets by tracking large and mid-cap stocks in 23 developed nations and 24 emerging markets – hit a new high this week.
Quoted on Thomson Reuters, Pictet Asset Management's global strategist, Luca Paolini, labels the current climate "almost a perfect backdrop for equities… acceleration in nominal growth, earnings are between 10-15% globally."
You've probably heard of investors "trying to catch a falling knife" on the downside. But how about chasing a runaway train on the upside?
Both scenarios pose challenges. So with most stocks rising, can you still grab growth?
Well, I wouldn't be writing this if you couldn't! So let's take a look…
Go Global
Today, I'm going to cast the net outside of the United States. The reason is simple…
Whether or not you think the U.S. market is overcooked, overseas bull markets are younger than the one we're experiencing here, says Ben Kirby, portfolio manager of the Thornburg Developing World Fund.
Translation: Foreign companies boast more earnings upside potential – and investment gains.
This is important because as I've said before… share prices follow earnings.
Kirby also says there's more room for hiring – which will subsequently translate to people spending more. This is particularly pronounced in emerging markets, where the middle class continues to grow.
See also: These 2 Dividend Stocks Under $10 Are Set to Take Off
Here's one company whose earnings just blasted higher…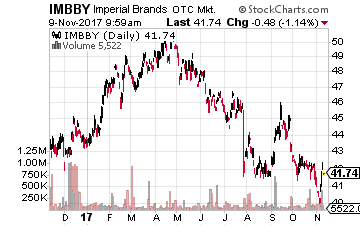 Imperial Brands plc (OTC: IMBBY): On Tuesday, the British Retail Consortium delivered a slap to the country's retail sector, with the news that consumers shaved their October spending at the fastest rate in that month since 2008.
But Imperial Brands didn't get the memo.
Shares rose by 1.5% on the news that the company's fiscal 2017 pre-tax profit jumped to $2.4 billion – double the total from 2016.
Founded in 1901 and based in Bristol, England, Imperial is one of those companies we all love – it's well-diversified and virtually recession-proof. It manufactures and sells cigarettes, cigars, regular and smokeless tobacco, and related accessories in 160 countries under the Winston, Davidoff, Route 66, Romeo Y Julieta, and Rizla brands, among others. It provides logistics and distribution services for those products, too. And its Fontem Ventures business is developing brands in the growing e-cigarette ("vaping") area, with launches expected in the current financial year.
Not only is the firm well-diversified in that industry, its Logista division is one of Europe's top logistics businesses, transporting pharmaceuticals, point-of-sale software, printing and publishing materials, and business shipping services.
The positive fiscal numbers also prompted Imperial to boost its full-year dividend by 10%. Investors in IMBBY currently get an annual $1.34 per share – a 3.2% yield.
Red Electrica Corp (OTC: RDEIY): Red Electrica holds a pretty critical role in Spain – the company operates and manages the country's electric grid. It also provides engineering and construction support to telecommunications companies.
As a utility company, you'd expect to see a healthy dividend – and Red Electrica certainly fits the bill. In fact, it boasts an impressive 17 straight years of rising payouts, kicking back $0.48 per share annually – a 4.5% yield. It doesn't over-extend itself here, either, with a payout ratio of 70%.
Several other numbers jump out, too – including a 33% profit margin, 49% operating margin, and operating cash flow of $1.3 billion.
The company is using some of that cash to expand its operations into South America, with new projects in Chile set to contribute to existing growth.
As you'd expect, the turmoil over the Catalan independence referendum has hit Spanish shares recently. But that has zero impact on Red Electrica's actual business and merely provides a better entry point on the stock. You can grab shares for a shade over $10.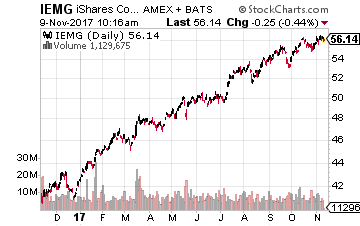 iShares Core MSCI Emerging Markets ETF (Nasdaq: IEMG): Recall how emerging markets offer strong upside potential and value, relative to the United States? Well, consider this ETF.
With around 1,800 emerging market companies from 24 countries in its portfolio – including big boys like Samsung, China Mobile, Tencent Holdings, Baidu, Alibaba, and Taiwan Semiconductor Corp – IEMG is impressively diversified.
Keep in mind, though, that Chinese firms account for around one-third of the portfolio, which makes it susceptible to that market and currency risks. Indeed, currency fluctuations have accounted for one-third of the fund's risk since its inception in October 1992.
The twin forces of a strong tech sector and emerging market growth have led IEMG to a 32% gain this year – more than double its category average. And with a miniscule 0.1% expense ratio, those gains come at a cheap price, too.
As with many emerging markets, remember that in return for greater returns, volatility is generally higher than developed market counterparts. This can be due to their relative infancy, currency fluctuations, political risk, and transparency. But the fund sports a 1.7% yield and is rebalanced each May and November to mitigate that risk.
While I'm not suggesting that the U.S. bull market is over, I am suggesting that you complement your Stateside gains by diversifying abroad, where some rallies are still lagging. As a result, valuations are lower and the growth potential is higher.
And while any of these stocks can give you a nice, stable income you'll also need a plan. A plan for how you're going to match up your dividend payments with your bills. Your bills come monthly so why shouldn't your dividends too?
Tim Plaehn has set up a unique system for you to get monthly dividends upwards of $3,700 in extra income… every month! He calls it the Monthly Dividend Paycheck Calendar and if you follow his lead you could bring in up to $44,000 in extra income a year.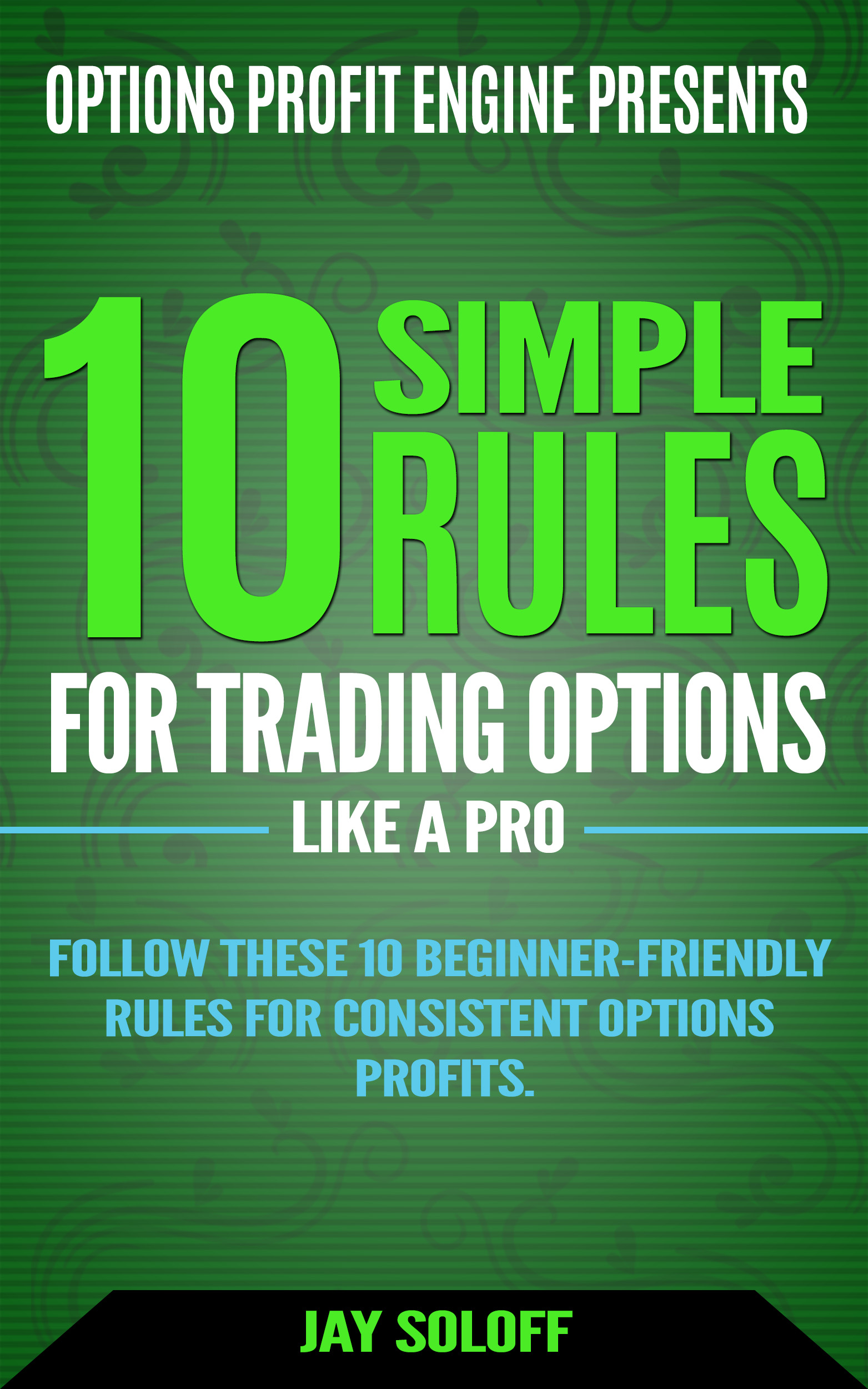 [FREE DOWNLOAD] 10 Simple Rules for Trading Options Like a Pro
Follow these 10 simple rules from 20-year professional options trading veteran, Jay Soloff and start earning a reliable extra income from options.
NO prior experience needed to master these 10 simple options trading rules. 
Enter your email below and receive access to this FREE guide...