How to get a raise every year
(without even lifting a finger)

All you need is half an hour a month and you can grow your
income up to 16% per year.
No working overtime or picking up a second job.
No begging your boss or taking costly night classes.
And all it takes is just 30 minutes of your spare time.



Fellow Investor,
You have to beg for a raise these days.
You spend hours thinking up reasons why you deserve more money, then – after working up some courage – you go to the boss and make your case.
Chances are you'll be turned down.
Result?
You might have to cut back by clipping coupons…search for early bird dinners…set the thermostat to 78 in summer (and 62 in winter) …drop down to a bare bones cable package….
Or you could pick up a second job, sacrificing golf games, poker nights and visits with your family and friends all for the sake of a few extra bucks.
You know you deserve better.
And I'm here to tell you there is a better way to get the extra cash you need so you can live without worrying about money. It's a new system thousands of Americans are using to make more money every year.
Like James E. of Belleview, Washington. He's pocketed a nice chunk of extra income again and again following this system:
"It even exceeded the high end of my expectations. I think this is the 3rd or 4th idea I have received from you where I quickly made more than $10,000."
Cindy K. of suburban New York is doing well too, and is now building a nice nest egg for her retirement.
"I just want to let you know I think this is a great idea… I'm 62 years old so I have 4 more years until I (retire)… so when I accumulate about $1,000 in cash I like to buy whatever [stock] is on sale…."
Thanks to this system, Cindy, James and thousands like them are giving themselves regular raises so they can enjoy a worry-free lifestyle, even into retirement.
They no longer have to worry about outliving their money or their ability to take care of medical needs without sacrificing quality of life.
They certainly won't find themselves greeting people at Wal-Mart or working at McDonald's to make ends meet.
Unfortunately, that's the situation Tom P. finds himself in.
The 77-year-old former marketing executive should be living the good life, playing golf, traveling the world and enjoying time with his grandchildren.
Instead, he's flipping burgers and working as a food demonstrator at a Sam's Club in the Tampa, Florida area. To stretch his income, he runs his dishwasher only once a week and turns off his hot water heater every morning after he showers.
"I earn in a week what I used to earn in an hour," he said. "I know seniors like me who hardly ever leave their homes because they don't have money to do anything."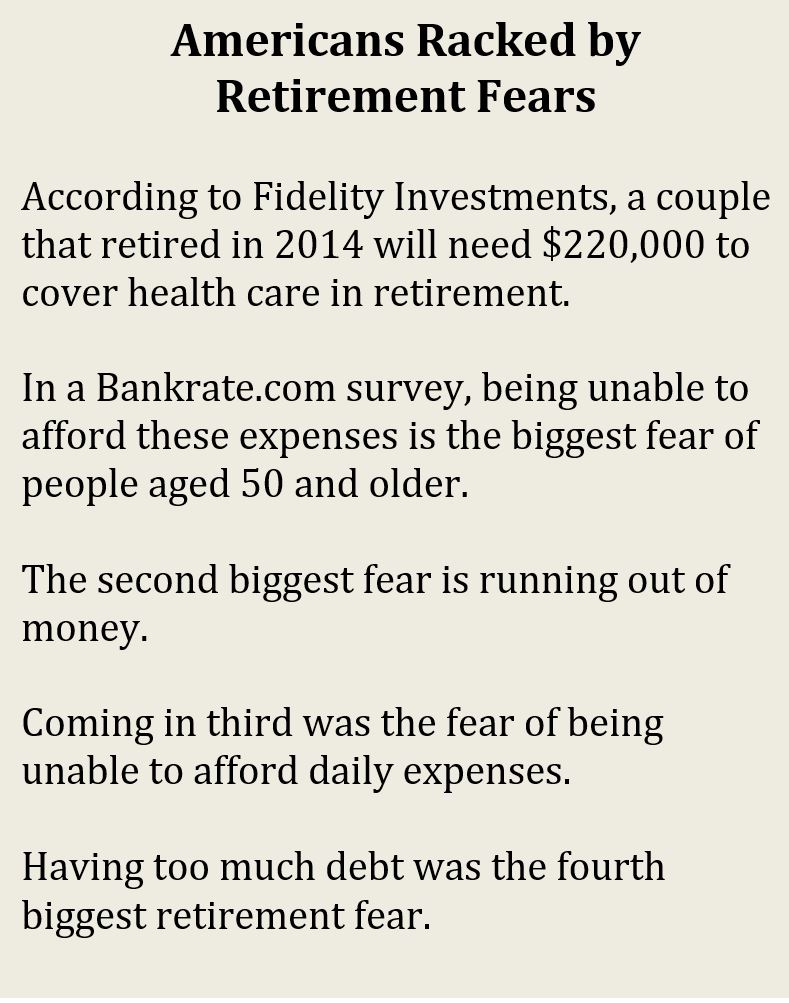 Fran F., a 55-year-old Chicago woman, fears being bankrupted by medical bills. That's what happened to her late mother, whose savings dwindled to $11,000 after she developed Alzheimer's and spent the last 5 years of her life in a nursing home.
"I've seen that the cost of care in a skilled facility is rising faster than salary or savings can possibly rise," she said. "So I need to be prepared for that because none of us want to leave that bill on our kids' shoulders."
How to Get Regular "Raises" of Up to 16%
Per Year from the Comfort of Your Easy Chair
The only thing you'll need to start taking advantage of my system is a standard brokerage account and a valid email address.
You definitely don't need to be wealthy already, as my system is a wealth creation tool after all.
It's called the Accelerating Dividends System.
It involves what on the surface appears to be a very simple, two-part strategy:
1. Buy dividend-paying stocks that yield 8% a year
2. Make sure that these stocks increase their annual dividend rate by 8%
Doing this will give you a total annual return of 16%.
Now, it's important to realize that these stocks don't all have to yield 8%. Some can be lower, some higher. You just want to make sure the average across all of them is at least 8%.
(In fact, you actually want some stocks that pay lower – I'll show you why in a moment.)
The key to making the Accelerating Dividends System work for you is to make sure all of your dividend-paying stocks have a strong likelihood of increasing their payout rate.
As you might imagine, very few stocks make the grade.
Of the 3,000 or so dividend-paying stocks on the U.S. exchanges, there are usually only about 20 that qualify at any given time.
Culling these consistent moneymakers from all those other stocks is much like panning for gold – you've got to sift through an awful lot of crud to find any nuggets.
3 Things You Want to See Before You Invest a
Penny on a Dividend-Paying Stock
Here's what you have to look for when determining whether to buy a dividend-paying stock:
Assurance the company has a business model that shows management has mapped out a clear path to future growth.

A demonstrated history of steady dividend growth – the longer the better. Growing dividends indicates a commitment by management to investor returns.

Evidence of strong dividend coverage. In other words, a company whose ratio of dividends is high relative to its net income.
All three of these criteria must be met before I'll even consider adding a stock to my portfolio.
4 More Tips for Successful Dividend Stock Investing

This is a critical consideration, one that trips up many investors: You must not buy a stock that shows great revenue and earnings growth, yet doesn't raise its dividend.
That's a sign the company is more concerned with management bonuses than investor returns. You can bet that companies like these will sacrifice investor returns before their bonuses when the going gets tough.

A company that has no history of increasing dividends is 9 times more likely to cut their dividends than a company with a solid track record of raising them. So be very careful when considering a firm with no history of raising dividends.

Make sure your dividend-paying stocks are diversified across multiple sectors. This is important because if you're too heavily weighted in one sector and it experiences a downturn, your stock will likely take a hit even if it's a great company. In short you don't want all your eggs in one basket.

Your high-yield stocks should be selected on their ability to maintain dividend and distribution rates through all kinds of market disruptions. In other words, your dividend shouldn't suffer due to an unexpected market downturn.
The above points are very important, but they're just the beginning of the due diligence you must perform if you're to pick truly great stocks that will continually reward you with raises from dividend payouts.
There's only one way to get this critical information. And that's to roll up your sleeves and dig deep into a company's fundamentals.
There's no magic algorithm you can use. No secret formula. No technical indicator. No whiz-bang computer software. No weekend seminar at the local Marriott.
You need to spend the time, and frankly it's a lot of work.
Fortunately, you don't have to do any of it.
My Accelerating Dividends System identifies these must-have stocks. It's perfect for investors like you who want a steady stream of passive income that grows every year, yet don't want to get bogged down in hours and hours of research (and still not be really sure you've made the right decision).
It also provides you with a thorough primer in dividend stock investing so you'll not only know what to buy, but the reasons why.
And don't worry about it all being too complicated. It's written in plain English that's easy to understand.
The Accelerating Dividends System
Your Roadmap to Steady Raises in Income
Once I've identified a dividend-paying company with sound management, a history of steady dividend growth, and whose ratio of dividend payouts is high relative to net income, I plug it into in the Accelerating Dividends System.
The backbone of this system is a group of specialized proprietary databases I developed that help me see if the company can keep paying high and continuing dividends.
If the system indicates this is likely, I dig deep into the company's financials and analyze past conference calls to see exactly how they plan to do that.
Does it have a business model that works? Is the management team smarter than their competitors? Or are they playing financial games?
Bottom line is I keep digging until I know exactly how they generate cash today, and what their plans are to grow more cash in the years ahead.
I need to make sure that an impressive looking earnings report is based on real earnings, not one-time events or clever bookkeeping.
Making that critical determination takes good, old-fashioned fundamental analysis.
And the Accelerating Dividends System helps me to conduct this analysis quickly, efficiently and accurately and deliver high growth and high yield stock recommendations to my readers.
One of the most important factors it helps me analyze is the growth ratio of dividend yields.
This is where the system's specialized databases earn their keep, as they allow me to simultaneously cross-reference the dividend growth rates of numerous companies to see what differentiates them.
That results in identifying companies with the strongest likelihood of accelerating dividend payouts.
And that's key because if you buy a company that will aggressively grow dividends before Wall Street gets wind of it, you'll not only get continual raises in payouts, you're likely to enjoy capital appreciation as well.
A Tale of Two Stocks
You're much better off buying a stock that is likely to provide steady dividend growth as opposed to one that can't…or won't.
That's the beauty of the Accelerating Dividends System – it differentiates and identifies companies in the best position to pay ever-increasing dividends from those unlikely to do so.
For example, one stock this system identified is a company that supplies funding for the renewable energy market, Hannon Armstrong Sustainable Infrastructure (NYSE: HASI).
On August 16, 2013, the company issued a $0.06 dividend, which it raised to $0.14 three months later. Six weeks after that, it raised its dividend to $0.22, and a year after that to $0.26.
That's a growth rate of 333% over 16 months.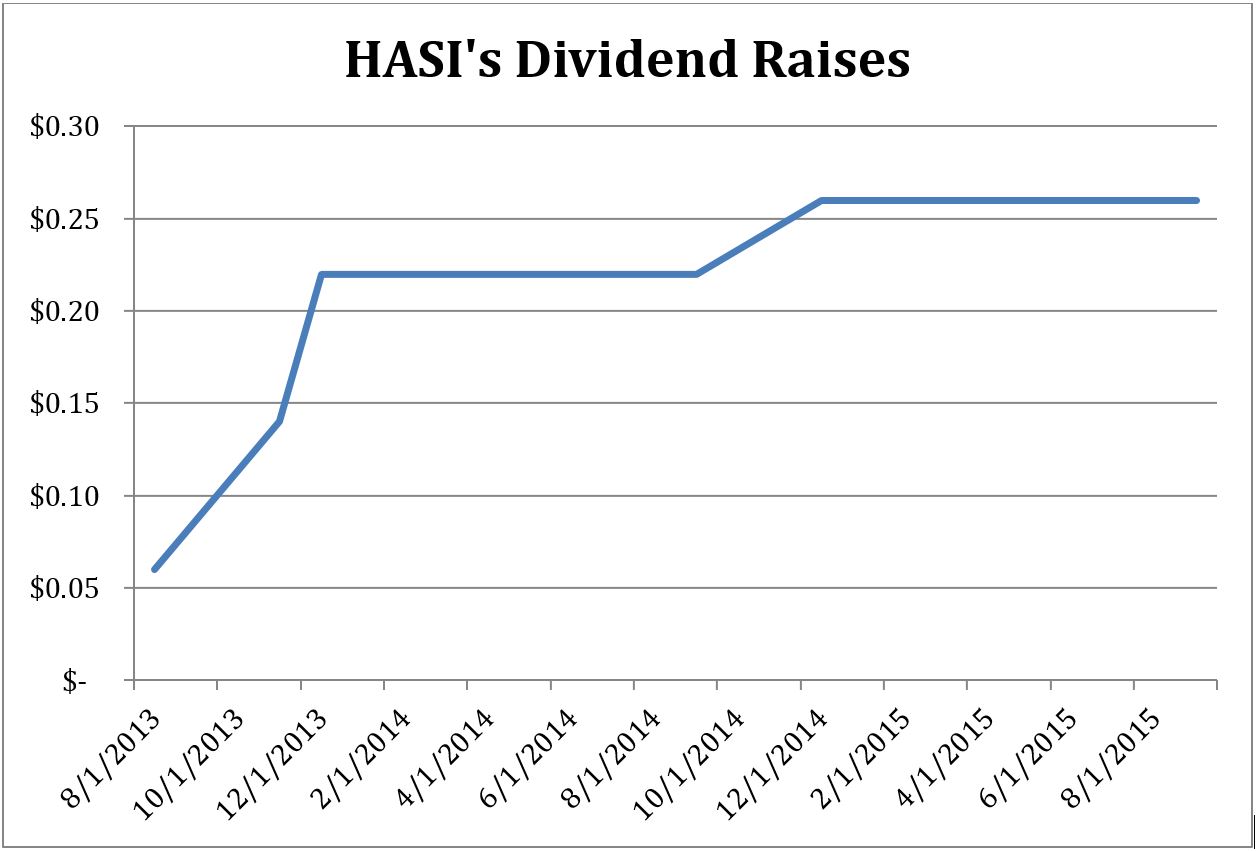 Its stock price fared well too, as evidenced by the following chart: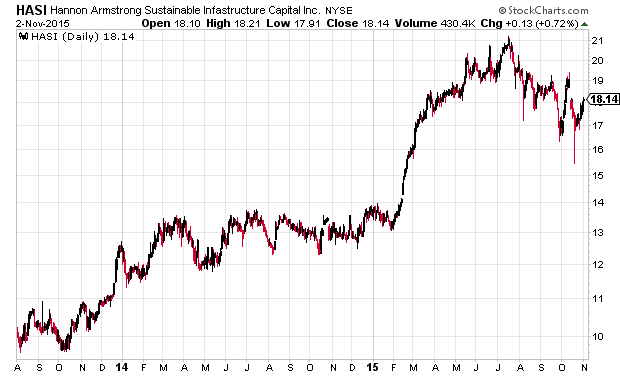 As you can see, even with the 2015 summer sell-off, the stock is much higher that it was when it first issued a dividend. In fact, it went from $10 a share right before issuing that first dividend to over $18 in November.
That's an increase of $8 a share, which translates into an $8,000 profit for every 1,000 shares you owned.
But you also got a raise in the form of dividend income during that time.
At $0.06 a share, you would have made $60 on that first dividend.
But at $0.26, which has been the payout for the last four quarters (through Sept. 2015) you collected $260 per quarter.
That's $1,040 without any effort on your part.
Better yet, right now the Accelerating Dividends System strongly suggests that dividend will rise significantly in the next quarter or two.
Now let's look at another stock…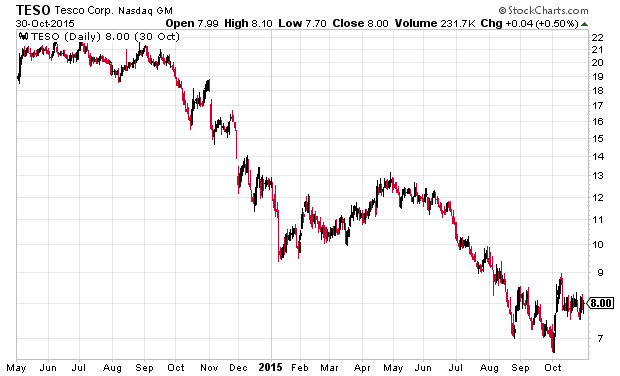 This chart shows the steep, prolonged selloff of the Tesco Corporation (NASDAQ: TESO), a supplier of oil and gas equipment services. The company instituted a $0.05 per share dividend on May 20, 2014. At the time, the stock was $21.10.
It has not raised its dividend since, and now it's selling for $8.00, a drop of 62%. So the value of 1,000 shares of this stock plummeted from $21,100 to $8,070.
That's a $13,030 loss of principal for every 1,000 shares owned…ouch.
So what happened to Tesco?
The primary factor was its payout ratio. While the company boasted an earnings-per-share increase from $0.09 to $0.89 from 2009 to 2013, earnings per share dropped to $0.53 in 2014.
For 2015, earnings are practically non-existent.
And since Tesco only started paying a dividend in May 2014 – right about when the company began its steep decline – you can't help but wonder if management made the move in hopes of luring naive investors.
On the surface, it appears management created a value trap.
The Accelerating Dividends System ferrets out value traps and other pitfalls all too common in the world of dividend-paying stocks.
Follow this system and you'll be far more likely to add stocks like HASI to your portfolio at the right time so you can enjoy a total return of up to 16% – or more.
This is money you'll collect every month throughout the year.
And not just once a month, either…
Collect Up to 6 Raises a Month With My
Accelerating Dividends System

The way the payout schedule of my portfolio is configured right now, you'll get no less than 4 payouts every month, and over 50 paydays over the next 12 months.
Here's my Monthly Dividend Paycheck Calendar of the scheduled payouts for the next 12 months…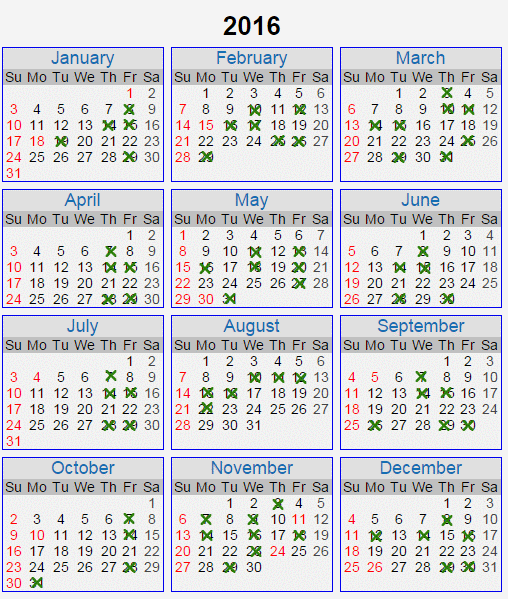 Every month is a little different but I can tell you that in December of this year you can get 5 payments before Christmas.
If you own 1,000 shares of each of these 5 stocks by the ex-dividend date, you'll have a quick extra $990 in your pocket for holiday shopping and merrymaking.
Your New Year will be even merrier as January 2016 rewards you with a whopping 11 more dividend payouts. That translates to an extra $3,366 in post-holiday cash.
That's 16 raises in dividend income in just two short months, totaling $4,356.
And there are 10 more months to go!
Even better, not only will you pocket all those paydays, you'll find that most of them will rise over time.
In fact, many of them increase every quarter, and they all rise on a yearly basis.
This gives you more passive income every year without lifting a finger.
That's extra money you can use to pay the bills…take a vacation…buy a car…or do anything else you want with it.
Robert W. of Omaha, Nebraska has been following the Accelerating Dividends System since June 2014. During that time, he's seen 24 raises.
Barbara D. of Rockford, Illinois got on board last October. She's had the opportunity to pocket 19 raises in that time.
And Bob J. of Phoenix, Arizona has been in the enviable position to bank 14 raises since he tapped into the system this past April.
With the
Monthly Dividend Paycheck Calendar


You'll know Exactly When You'll Get Paid and How Much…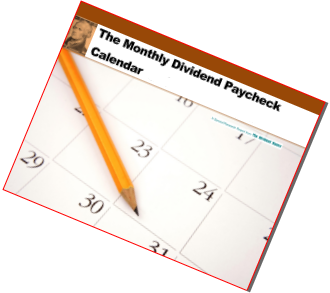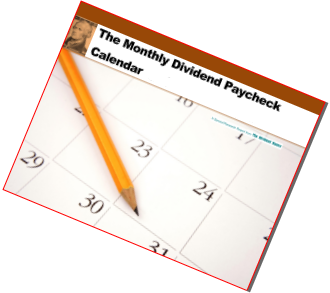 You'll know the exact date you need to own the stocks in the calendar by in order to qualify for dividends, as well as the date they will be posted to your brokerage account.
The calendar's always current too, as every month you get an update that will tell you what stocks have been added, dropped and any critical dates that have been updated.
So there's no guesswork involved on your part (no work either).
The Monthly Dividend Paycheck Calendar is an extremely powerful tool that will help you quickly build wealth.
And you can customize it to fit your own investing style. It's entirely up to you if you want to add new stocks or let your holdings rise, or whether you want the dividends re-invested or the income to go straight into your bank account now.
Here's something else you should know…
The Payouts in This Calendar Don't
Include Special Dividends You Can Get
Another bonus you get with the Accelerating Dividends System is all of the extra payouts through special dividends. These are dividends that come from exceptional profits during a given quarter or period.
One business development company in our portfolio paid out two special 27 ½ cent dividend payments over a six month period. That meant an effortless $550 for those who held 1,000 shares.
Another portfolio holding disbursed two special dividends over six months, which netted shareholders $230 in bonus payouts.
Think of these special dividends as bonus checks. Something you're not expecting, not necessarily counting on, but is extra free money nonetheless.
Not bad, huh? Well, we're just getting started.
Here's another benefit of my Accelerating Dividends System…
You Can Boost Your Principal Through Regular "Raises"
The crux of the Accelerating Dividends System is to make sure you get consistent raises in your income through steady, growing passive cash flow.
But quite often there's a nice bonus for you in addition to that steady stream of cash.
Typically, you also net gains in principal.
One of our core holdings provides an excellent example of how this works.
This real estate investment firm went from paying a $0.725 dividend per quarter to $0.79 per quarter back in December 2014.
That's 6.5 cents a share more.
Doesn't sound like much, does it?
However, that seemingly miniscule rise in dividends propelled a stock price gain of 12.66% in just 5 weeks.
That gave you an extra $633 for every $5,000 worth of this stock you held, on top of your 9% dividend raise.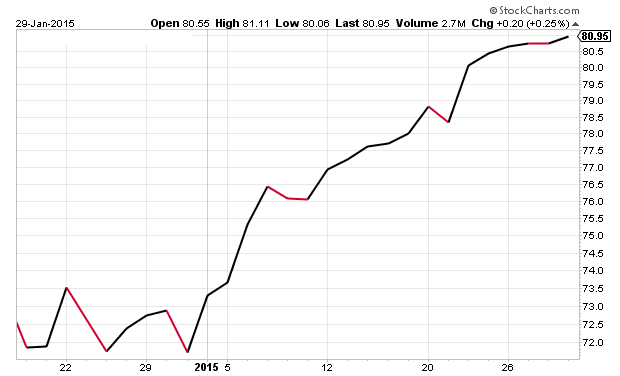 Then there is another current portfolio holding, a blue chip company that funds improvements to critical infrastructure for the aviation industry. Its stock paid $0.93 every quarter – already a high dividend — when we added it to our portfolio in June 2014.
Eight months later the dividend was raised to $1.02, a 9.6% increase.
During that time, there was a 35.4% gain in share price, which put an extra $2,125 in your pocket.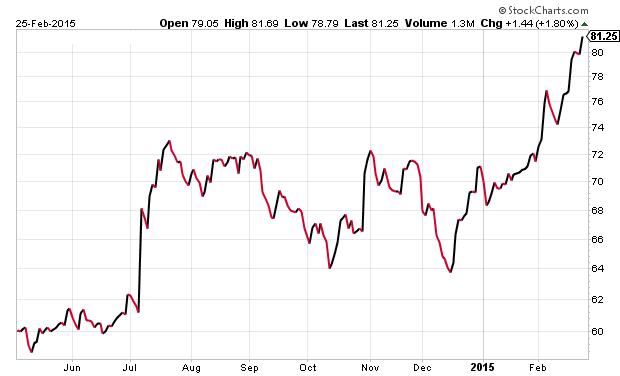 Here's a third example, a real estate investment trust that's rewarded shareholders with 3 dividend increases over the last two years, from $0.35 to $0.45 a share.
That's 10 cents, a 28.5% increase.
Nice as that was, it pales in comparison to the capital appreciation that happened during that time, as the stock rose a whopping 189% during the 8 months shareholders were rewarded with these raises.
That gave you an extra $9,450 of mad money, assuming you owned $5,000 worth of this stock.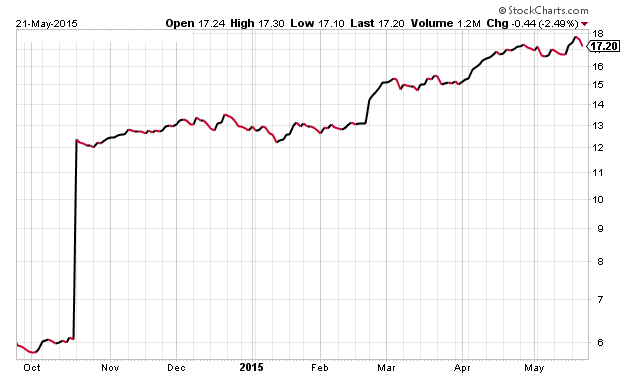 Every stock in our portfolio has this kind of potential for capital appreciation, in addition to providing you with a steady stream of regular income and consistent increases.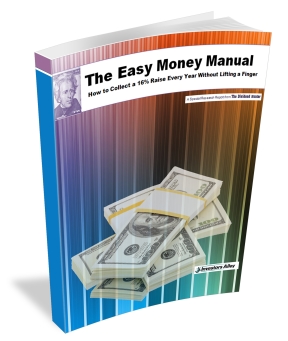 And these opportunities all come from my Accelerating Dividends System.
Right now you can get this valuable resource for free. It's in a new dividend investing blueprint I've just completed, "The Easy Money Manual: How to Bank a 16% Raise Every Year Without Lifting a Finger."
You can also get my Monthly Dividend Payout Calendar for free as well.
Used together, the Accelerating Dividends System and the Monthly Dividend Payout Calendar will have money flowing into your account every month with reliable raises all along the way.
I'll reveal details in a moment, but first I want to introduce myself.
Experience Makes All the Difference in
Dividend Stock Investing
I'm Tim Plaehn, the lead research analyst for income and dividend investing here at Investors Alley. I recently turned 58.
You may have seen me presenting at The Money Show, or read some of my articles on the Investors Alley website or on Seeking Alpha.
My background, to say the least, is unique.
In college, I received a B.S. in Mathematics and later used my math skills in my work as a financial planner and stockbroker to discover patterns in the markets that happen like clockwork.
That discovery has helped me create a comfortable retirement for many of my clients, not to mention a sizable nest egg for me and my wife.
Right now we're well on track to realizing our dream of living out our golden years in the beautiful Sierra Nevada Mountains.

Now I don't want you to think that I used my math skills to create a computerized stock-picking program or anything like that. As I said earlier, no such program exists.
What my math background did, however, was help me lay the foundation of my Accelerating Dividends System.
Creating this system wasn't easy, but nothing truly worthwhile ever is.
I realized this sobering fact early in life growing up in a small town in Minnesota.
The values of that upbringing made me committed to do the very best at any task I chose to tackle.
They also made me proud to be an American, as well instilling in me a sense of duty that created a deep desire to serve this great country.
This is what inspired me to join the Air Force, and I was selected along with a few other bright young men for the Air Force Academy (out of hundreds of other applicants).
After graduating, I served as an F-16 fighter pilot in South Korea, which later led to my superior officers asking me to train and evaluate other pilots (I've always had an innate ability to teach and guide people to success).
As you may know, South Korea sits in a hotbed of hostility, a fact that kept the other fighter pilots and me on constant edge throughout our tour of duty.
Being on alert every waking moment heightened our powers of awareness to incredibly high levels…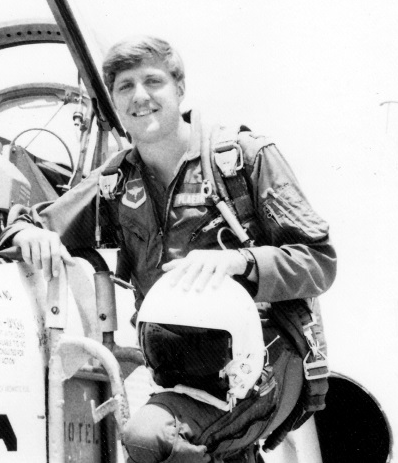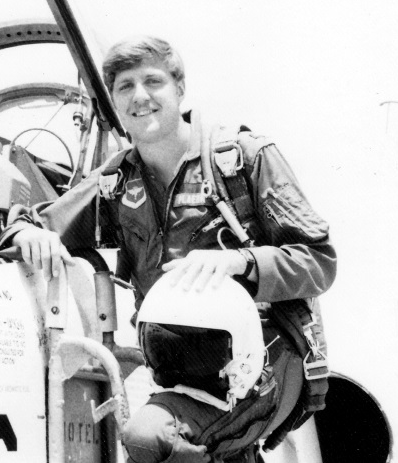 During one of my first missions, I remember our squadron being threatened by an oncoming storm.
One of the pilots radioed our Captain with this concern.
I'll never forget our commander's terse reply:
"Land, fly or die!"
I quickly learned that flying in South Korea was subject to extreme weather conditions, not to mention dangerous, mountainous terrain.
We had no choice but to deal with it – you couldn't abandon a critical mission just because of the weather.
The stock market works the same way, and presents you with the same three options: land, fly or die.
To Fly is To Be Invested in the Market
You can't earn a 16% and growing income stream in any other asset class, but to realize superior gains like that, you have to invest intelligently.
To land is to accept a puny 1% to 1.25% return from CDs. Do that and you're settling for less than you need – and less than you deserve.
Sure, I know that you'd love to return to the days where you could collect 5%, 6%, even 7% on your money in safe, risk-free CDs. But you and I both know those days are long gone (the Fed has seen to that).
That brings us to your third option.
To die in the markets is to follow the herd to ruin. It's allowing yourself to get swept away by the prevailing market mentality, be it greed (buying too high) or fear (selling too low).
Using our fighter pilot analogy, it's like failing to rise above or maneuver around mountainous terrain. Make that mistake and you crash. You're done.
To fly to high yields in the markets, you have to understand what you're buying, resist making investment decisions based on emotion, and look far enough ahead to see potential market pitfalls you need to maneuver around.
And you need to have a plan, a strategy, a system that will keep you on course and guide you in the right direction.
That's my investment philosophy, and it's served me and thousands of my subscribers well.
Is today's market treacherous? Yes it is. But despite the traps that await careless investors, I'm very excited about the opportunities to find stocks that meet the yield, growth and safety goals I've established for my Accelerating Dividends System.
I'm confident that by plugging into this system, you'll be rewarded with regular raises in income with practically no effort on your part.
How the Accelerated Dividends System
Gives You Regular Raises
Back in the late 1970s, there was a Smith Barney commercial with the tag line, "We Make Money the Old Fashioned Way…We Earn It." You remember that?
Same with me.
I don't use technical analysis to identify the latest high-flying dividend-paying stocks. I don't rely on a computerized algorithm.
(If you could pick winning stocks by plugging in a computerized system, we'd all be rich.)
What I do though is spend over 60 hours a week conducting deep-dive research into companies that show the potential to create regular, growing passive income.
Out of the 3,000 or so dividend-paying stocks in the market today, there are around 500 that warrant regular monitoring.
I pare that number down by poring over company statistics, studying management, analyzing how they generate cash flow, and monitoring their dividend disbursements. I even call up the companies when I feel the need to get more and deeper data right from the source. You'd be amazed at how many will speak with investors.
What I want – and what you want too – are stocks that have the highest probability of growing dividends over time.
From that group of 500 stocks, I typically find 40 or 50 that warrant extra-careful attention. For these, I'll listen in on CEO conference calls and dive even deeper into their business plans…study their competition…make sure they're generating cash and not playing financial games (as so many companies do these days)…look to see that their sector isn't about to get taken out wholesale by some new technology or government regulation.
In short I'll do whatever it takes to see if these companies have enough profit potential to make my team of major league dividend-paying stocks.
As I said, at any given time there are only about 20 that qualify.
Often, these are stocks that Wall Street hardly knows exist.
They're all revealed in my monthly dividend stock advisory service, The Dividend Hunter.
Introducing The Dividend Hunter, Your Ticket to
Regular Raises in Passive Income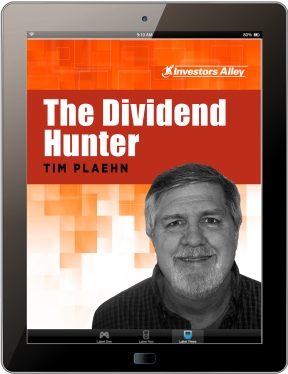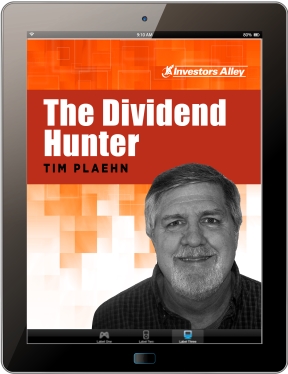 In this unique service, you'll discover over 20 solid dividend-paying companies likely to increase dividends over time.
Right now these stocks are yielding an average of 8.4% annually, and they feature a dividend growth rate of 7.71%, some even more.
Result? You get 16% on your money every year (compare that to today's puny yields on CDs or government bonds).
Just as important, The Dividend Hunter will steer you clear of dividend-paying stocks that appear to be good buys because of their high yields…but are far more likely to bust your brokerage account.
These are risky stocks masquerading as safe plays, and they're waylaying millions of investors. The reason? They're unlikely to sustain their dividends, which means they're likely to be cut.
Wall Street hates stocks that cut dividends and usually punishes those who hold them with sharp drops in share price.
Make no mistake – choosing the right dividend-paying stocks for your portfolio can make the difference between spending your time as a Walmart greeter or working at Sam's Club like Tom for a little extra cash, and enjoying a life of leisure on your terms.
When I research stocks to add to The Dividend Hunter recommendations list, my primary focus is to find companies that will be able to sustain their current dividend rates and have a high probability of growing those dividends over time.
I also strive to find stocks that are flying under the radar of mainstream investors…
How the "Experts" Missed a Big Dividend Hunter Winner
Last year I was speaking at a conference in Las Vegas hosted by The Money Show. There were about 100 investors in the room, and I asked them how many held a little-known stock that had exploded in value (which I had identified about 8 months before).
Not one – not one! – person in that room raised their hand.
This stock was New Residential Investment Corporation, a real estate investment trust that had skyrocketed 189% in just a few months, and has provided investors with 50% dividend growth over the last two years.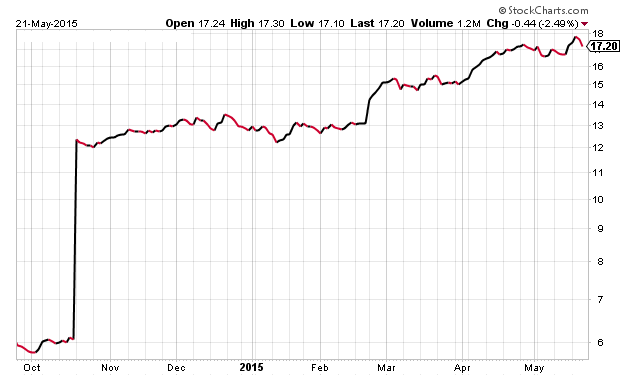 This was a relatively new company at the time that was not well understood by the investing public.
That's partly because it was a spinoff of another real estate investment company, Mortgage REIT Newcastle Investment Corp. That company had been dragged down with a portfolio of toxic collateralized mortgage and debt obligations during the 2007-2008 financial crisis.
NCT spent a few years cleaning up the portfolio and positioning Newcastle to take advantage of post-crisis mispricing of mortgage-backed assets.
From late 2011 until the spinoff of New Residential Investment in May 2013, Newcastle generated a 300% total return to investors.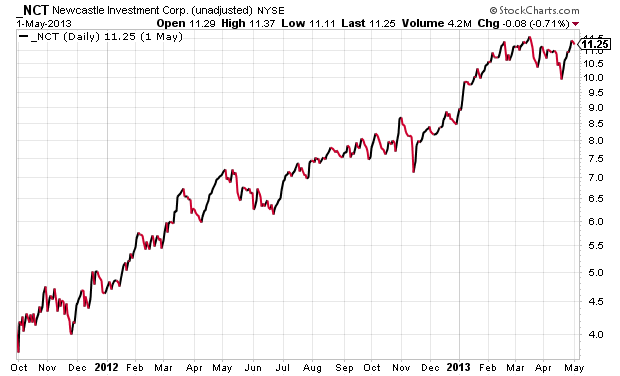 By that time, Newcastle was managing three distinctly different businesses. As I reviewed the holdings of the resulting companies at the time of the spin-off, it was clear that New Residential had taken the more potentially profitable types of assets.
And that's why I recommended it to my subscribers in August 2014 when it was yielding 11%.
Now the yield is up around 15%, give or take on any particular day.
This stock is but one example of how my due diligence – making money the old fashioned way – has paid off big for subscribers.
Another stock I recommended – and which mainstream investors also missed – has provided 42% dividend growth over the last two years.
And a third has grown its dividend payouts by 57% the last over 3 years.
I could go on but I think you get the picture.
Bottom line is these are niche stocks that fly under the radar of Wall Street (until they pop, then everyone wants them).
Double Your Money Six Times Faster…Or Even Quicker
Ever hear of the Rule of 72?
This is a formula used to find the number of years required to double your money at a given interest rate or yield. What you do is divide the compounded return into 72.
The result is the approximate number of years it will take for your investment to double.
For example, if you were getting a 1.25% rate of return, as you typically would with a CD, it would take about 58 years for your money to double. 58 years!
If you were getting 12%, like you would with some of the high yield stocks in The Dividend Hunter portfolio, it would only take about 6 years.
But using my Accelerating Dividends System, it would take about 4.5 years, as we shoot for a 16% rate of return (8% yield plus an annual dividend growth rate of about 8%).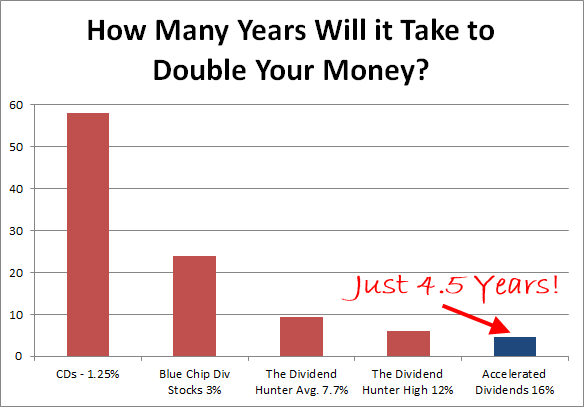 How's that for a "raise?"
That's what you can expect when you use the Accelerating Dividends System and the Monthly Dividend Paycheck Calendar from The Dividend Hunter.
The Dividend Hunter is appropriate for virtually every type of investor and is especially suited for anyone looking for steady, passive income. It doesn't matter how old you are or how long you've been investing. It works for people at all levels of investing experience, regardless of portfolio size or total net worth.
What You'll Get As a Subscriber From Day One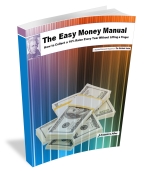 The first thing you can expect when you sign up is instant access to my new blueprint for regular raises, "The Easy Money Manual: How to Collect a 16% Raise Every Year Without Lifting a Finger." Here you'll learn all about the Accelerating Dividends System, an easy-to-use strategy to grow your wealth that's explained in plain English.

The second thing you'll receive is your own copy of the Monthly Dividend Paycheck Calendar.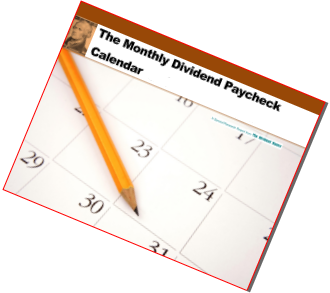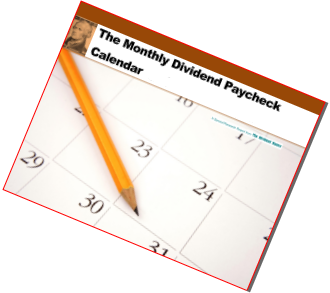 You'll get it as soon as you sign up so you can start right away.
And I want you to get started right away, because the sooner you start the sooner you'll begin getting regular raises on your investments.
It's really that simple.
In the calendar, you'll get the exact dates for when you need to be an owner of the stocks in the portfolio and when you can expect your paychecks. It's pretty clear cut yet extremely powerful in helping you build wealth quickly.
You see, I've completely removed all the guesswork, all the uncertainty, and all the potential errors that could happen.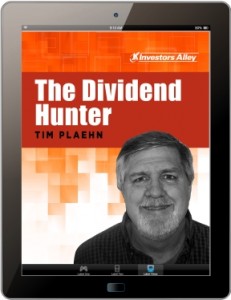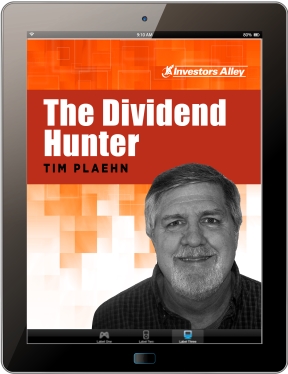 Number three is 12 monthly issues of The Dividend Hunter via email, including this month's issue.
Here you'll find research on one or two new recommendations to consider for your portfolio every month. I'll also add them to the Monthly Dividend Paycheck Calendar so you can see their payout schedules, along with those of the rest of the portfolio.
And every month, you'll get the latest update to the calendar. I'll tell you what stocks have been added, any that have been dropped, and any dates that have been updated.

The fourth thing you'll get is weekly buy notices. These are the stocks that are worthy of adding to your portfolio right now if you don't already own them (if you do, you can consider adding to your position). Here you'll find the reasons for the recommendations, the maximum price you should pay, and other important information so you can make an informed investment decision.

Number 5 is access to our complete library of special reports and archived issues, as well as all the new ones that come out in the future. These are invaluable resources you can refer to again and again to help you become a smarter dividend stock investor.

And you'll get what might turn out to be the most important benefit of all: Me.
Let me clarify, when you start your subscription I'll send you my personal email address. You can send in all the questions you might have about the Accelerating Dividend System, the Monthly Dividend Calendar, the portfolio holdings, and strategy or anything else with the newsletter. You're not in this alone. I'll be right by your side and if you ever need help, just email me.
The bottom line is, with The Dividend Hunter in hand there will be no more guessing, no more getting it wrong, no more spending untold hours hunting down critical company information on the Internet and still doubting your decisions.
I'll tell you what stocks to own, when you need to own them, and when you can expect your paychecks.
You decide whether to add new recommended stocks or let your holdings ride.
It's all up to you.
That's the beauty of The Dividend Hunter – it's completely flexible to meet your individual needs.
Right now I know you have a question that's been in the back of your mind: "How much will all this cost?"
The regular ongoing rate for The Dividend Hunter is $99 a year, which is still quite a bargain considering all of the benefits you receive, like The Easy Money Manual, the Monthly Dividend Paycheck Calendar, the monthly issues, the weekly emails, and email access to me.
But I want to make this a no-brainer for you… so as a new subscriber I'm offering you $50 off the first year… just $49 for your full first year.
That's all you need to get started.
Here's what you get when you sign up right now:
12 monthly newsletter issues with updates on portfolio holdings, new recommendations, and any strategy or position changes. You'll also find articles on important developments in the world of dividend investing to keep you up to date on the latest wealth-building strategies.

The Easy Money Manual – How to Collect a 16% Raise Every Year Without Lifting a Finger. In this report, you'll discover how to spot dividend stocks that are likely to boost their dividend payments…what to look for in a company's management team…how to spot a niche company in prime position to unleash game-changing destructive technology…and much more.

Monthly Dividend Paycheck Calendar Within seconds of signing up I'll send you a special email. Make sure you hold onto it because while it looks like your typical "welcome" email, it has a very special link to the monthly dividend paycheck calendar that's only available to The Dividend Hunter subscribers. You can start poring through the calendar and setting your own pay raise schedule right away.

Weekly buy notices on the best-of-the-best dividend-paying stocks. You'll get these notices in your inbox, and they'll reveal important facts about the recommendations so you can make an informed investment decision.

Live Customer Service. Our customer service isn't outsourced halfway around the world. We have live representatives right here in the United States – Georgia to be exact – during normal business hours to help you with any questions you might have about your subscription. And we're available by toll-free phone and email.

Access to me, Tim Plaehn. Unlike so many other editors out there, I don't hide behind a staff of interns. I personally answer your questions. If you have a question about any of our portfolio holdings, our strategy, or pretty much anything at all, just send me an email and I'll respond right away.

100% Money Back Guarantee. I want you to be thrilled with my research and my investment recommendations.I want you to be making more money than you ever thought possible because of what you'll learn about investing as a subscriber to The Dividend Hunter. But, if for whatever reason you find that my service is not for you, that's okay. And that's why we offer our 100% money-back guarantee. All you have to do is request a refund within the first 60 days of your subscription and you'll get a cheerful refund of every penny you spent.
Now, please don't put this off any longer.
Don't set it aside thinking you'll come back to it later, because chances are you won't. It's just human nature; we're all like that.
I know you're busy, you have many other things going on…and might soon forget.
If that happens, you'll miss the next round of payouts…the next new stocks increasing dividends…the next new high yield stock you can put to work to boost your nest egg…
I don't want that to miss a thing.
So go ahead. Just click that "Add to Cart" button below to start getting the regular raises you need to live in comfort.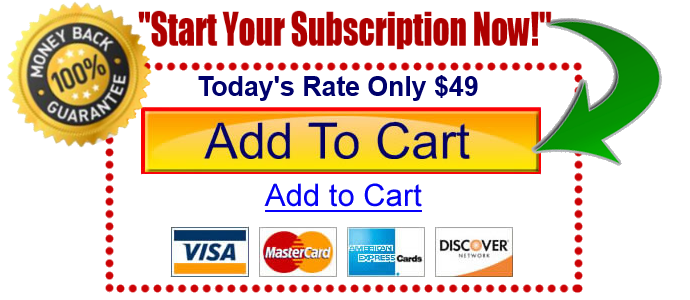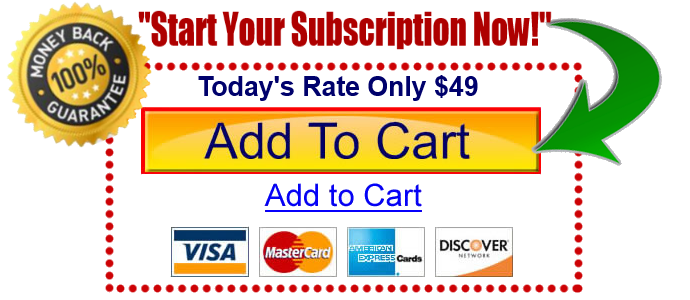 Good Investing.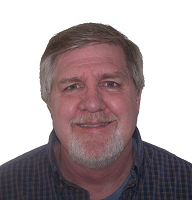 Tim Plaehn
Editor
The Dividend Hunter
P.S. I hope I didn't come off as pushy, but you really don't have time to put this off. Sure, you could set this aside to read later, but we all know how easy it is to get busy with other important things in life.
Before you know it, you'll have missed the next deadline for the Monthly Dividend Paycheck Calendar and have to wait.
That deadline just around the corner.
So I urge you to give The Dividend Hunter a try, along with The Easy Money Manual Special Report and the Monthly Dividend Paycheck Calendar. And with our 60-day no-questions-asked guarantee, you're not risking a cent by trying it.
CLICK HERE to get started or use the "Add to Cart" button below.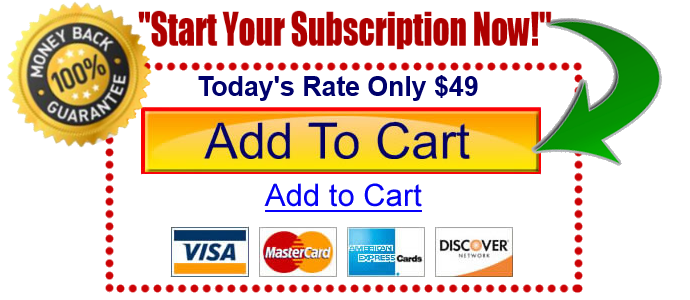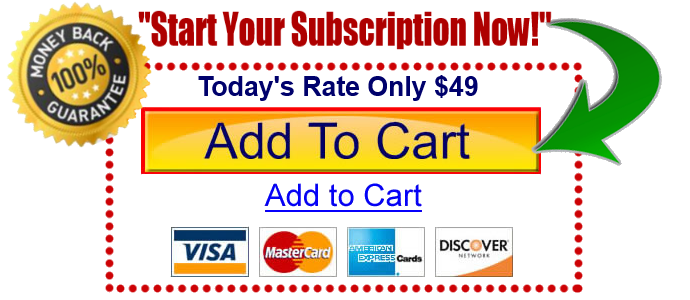 P.P.S. Okay, so now you know how the Accelerating Dividends System will help you get started in dividend paying stocks (if you're not already). You also know how The Dividend Hunter will show you the dividend-paying stocks that are best positioned to provide ever-growing yields, and how the Monthly Dividend Paycheck Calendar will help you plan for your regular paychecks.
And you also know that you'll get all of that for just $49. That's $50 off the normal subscription price. I suspect that even $99 is nothing for serious investors who know the value of good research. But, I will let you enjoy 12 issues of The Dividend Hunter to prove it to you first.
And pretty much anyone can make more than that through just one dividend payout from a single stock, let alone the 50+ payouts you'll get every year.
But I want this to be easy for you. I don't want the subscription rate to get in the way of you trying it.
Of course, I could just give it away for free or let people sample it for a while, but frankly my time has value, as is the case for everyone who works for a living.
So I'm doing the next best thing: giving it to you for next to nothing for your first year at just $49.
And I'll do you one better. I promise to refund all of your money if at any point during your first 60 days you decide it's not for you, for any reason at all (or even no reason).
If that sounds good, then click here so we can get you started.
That way you can join the ranks of other satisfied subscribers of The Dividend Hunter…
My wife and I have been very pleased with your picks and they now make up a good portion of our assets.
— Jeff C., California
What a privilege to have access to your sage advice. I'm shaking my head in disbelief at how my dividend portfolio is performing. Thanks again.
— John O., New York
I'm very new to trading and appreciate your Dividend Hunter service. Being very nervous and, therefore using only a small investment, I've already profited, so thank you!
— Annette W., Tennessee
I just wanted to take a moment to thank you for your wonderful newsletter and dividend tips. I have subscribed to a lot of stock newsletters in the past and found them to be very hard to understand. Your information is easy to comprehend, short and to the point.
— Jerry C., Idaho
And the most recent comment that came in from one of my subscribers says it all to me:
I have tried several newsletters and yours is the only one I have stayed with.
— Vic B., Colorado
I receive notes of gratitude like these all the time. They tell me that, frankly, The Dividend Hunter is truly making a difference in the lives of real people…that we're doing something really good here.
Won't you join Jeff, John, Annette, Jerry, Vic and thousands of others before the next cutoff date so you can start building long-lasting wealth from high-yield dividend stocks?
Click here to start.
Your first year of The Dividend Hunter is only $49, a 50% discount off the normal rate. That's our new subscriber introductory rate. Your subscription will renew in one year at the standard rate of only $99. I would expect that the dividends you've made over the course of the year would more than cover the subscription cost. Your satisfaction is guaranteed. If you are dissatisfied with The Dividend Hunter just call or email within the first 60 days to receive a 100% refund of all your money. And you may cancel any time later and never be billed again. Now that you've taken time to read the fine print and see how good this truly is, let's get started on your monthly dividend stream and build some wealth for you.
Click here to start
.
[ExitPopup exitpopupurl="http%3A//www.investorsalley.com/amember/signup/accelerating-dividends" exitpopupcookiexpdays="0″ exitpopsplash="%20%20%20%20%20%20%20%20%20%20%20%20%20%20%20%20%20%20%20%20%21%21%21%21%21%20%20W%20A%20I%20T%20%21%21%21%21%21%5Cn%5CnIf%20you%5C%27re%20concerned%20about%20how%20you%5C%27re%20going%20%5Cnto%20cover%20the%20rising%20cost%20of%20living…%20skyrocketing%5Cnhealth%20care…%20and%20still%20enjoy%20the%20life%20of%20%5Cncomfort%20you%20deserve%20then%20you%20need%20to%20take%5Cncontrol%20of%20your%20finances.%20You%20need%20automatic%5Cnand%20reliable%20raises%20every%20year.%5Cn%5CnThe%20Accelerating%20Dividends%20System%20is%20the%20tool%20%5Cnto%20get%20you%20there.%20In%20just%2030%20minutes%20of%20your%5Cnspare%20time%20each%20month%20you%20can%20give%20yourself%5Cnan%20annual%20raise.%5Cn%5CnClick%20Stay%20on%20Page%20below%20to%20start." ] [/ExitPopup]