Tilt the scales in your favor and use options to profit from this range-bound stock with a high probability of rallying higher. Only a small move higher will hand investors upwards of 100% returns. 
Stocks here in the states have surged to new ALL TIME FOREVER highs after an epic relief rally with election uncertainty now over. The stuck sideways S&P surged in the last few weeks with 2016 performance at plus 8%.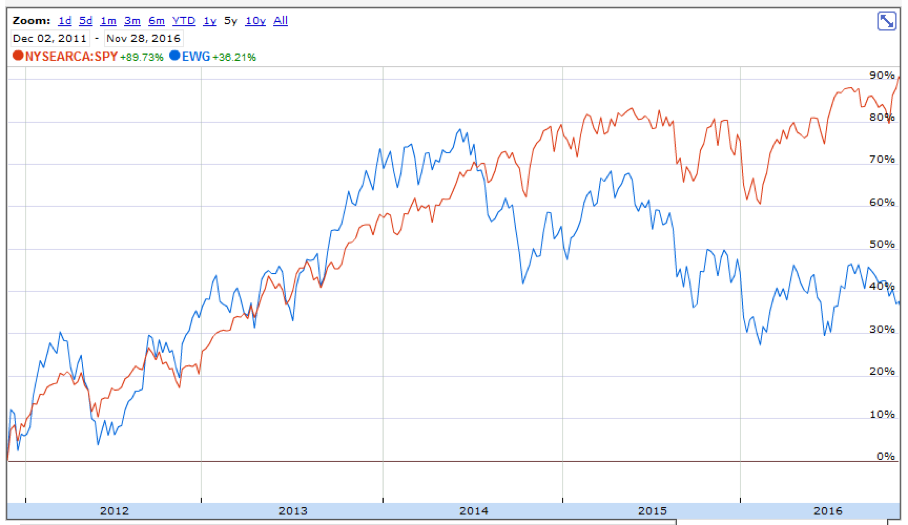 The five-year S&P gain totals 90% compared to the once global market leader. The EWG iShares German ETF has slid in the past two years, down 9% in the last 52 weeks alone.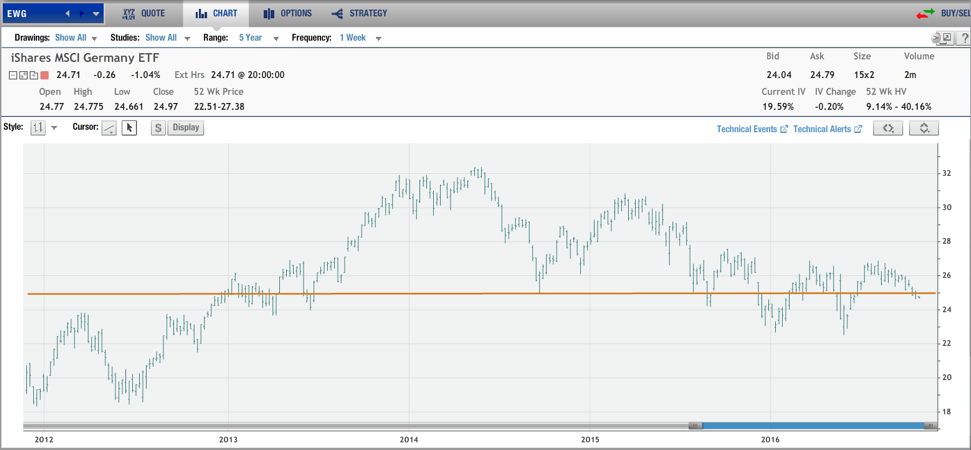 Solidly off the 2014 record, EWG has retraced to the $25 five-year midpoint pivot of the $18 to $32 trading range. The German drop from the top totals a 20% fall.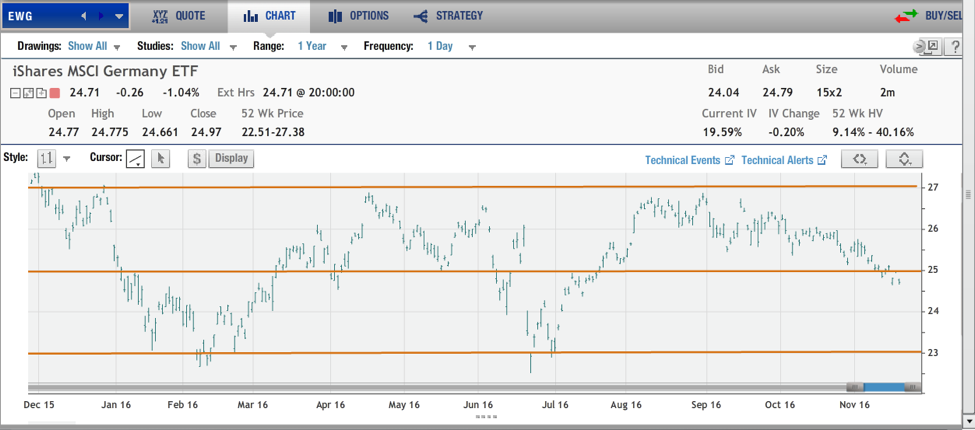 Action has remained bound between $23 and $25 over the last year of trade. A rally to the channel top targets a $4 rally with the technical breakout target at $31. This is an opportunity to use the power of options for a capital preserving stock substitution strategy.
The January 2018 option has one year and two months for Bullish development.
 An In-The-Money option gives you the right to be long from a lower strike price and it costs much less than the ETF share itself.
The Options Way: Unlimited Upside Potential with Limited Risk. 
A iShares Germany Index Fund long call option can provide the staying power in a potentially larger trend extension. More importantly, the maximum risk is the premium paid.
One major advantage of using long options instead of buying or selling shares is putting up much less money to control 100 shares, that's the power of leverage.
Choosing an option can sometimes be a daunting task with all of the choices and expiration months. Simply put, traders want to buy a high probability option that has enough time to be right.
SEE ALSO: Join Tim Plaehn LIVE as he shares his 'Top Dividend Stocks for 2017'
The option strike price is the level at which you have the right to buy without any obligation to do so. In reality, you rarely convert the option into shares. Simply sell the option you bought to exit the trade for a gain or loss.
There are two rules options traders need to follow to be successful.
Rule One: Choose an option with 70%-plus probability. The Delta is a measurement of how well the option reacts to movement in the underlying security. It is also important to buy options that payoff from only a modest price move.
There is no need to ONLY make money on the all but infrequent long shot price explosions.
Good Options can profit from just modest directional moves.
Any trade has a fifty/fifty chance of success. Buying In The Money options increase that probability. That Delta also approximates the odds that the option will be In The Money at expiration.
Buying better options are more expensive, but they are worth it. The chances of success are mathematically superior to buying cheap, long shot Out Of The Money lottery tickets that rarely ever pay off.
With EWG trading at $24.75, for example, an In The Money $22 strike option currently has $2.75 in real or intrinsic value. The remainder of any premium is the time value of the option.
Rule Two: Buy more time until expiration than you may need — at least three to six months for the trade to develop. Time is an investor's greatest asset when you have completely limited the exposure risks.
Traders often buy too little time for the trade to develop. Nothing is more frustrating than being right, but only after the option has expired premature to the market move.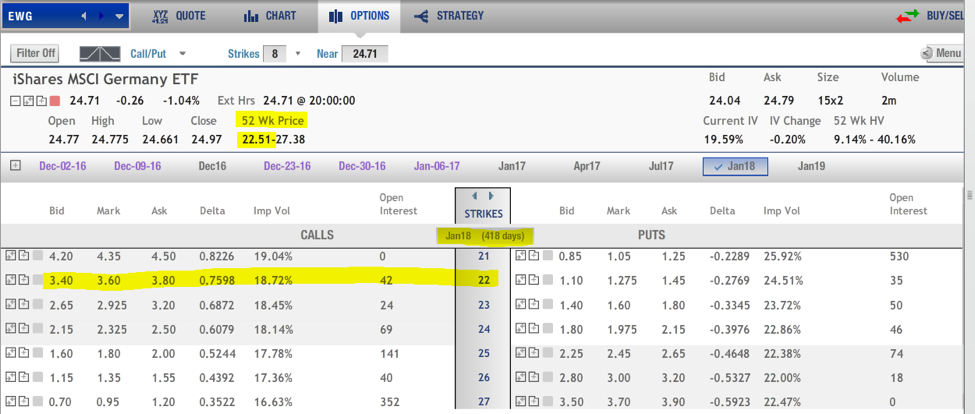 Trade Setup: I recommend the EWG January 2018 $22 Call at $4.00 or less.
A close in the stock below $23 on a weekly basis would trigger an exit. Notice the $22 strike has the right to be long from a discounted level last seen in 2012.
An option play also has staying power with the ability to ride through Ups and Downs that would force most stock traders out of the position.
The option also behaves much like the underlying stock with much less money tied up in the investment. The Delta of this $22 strike is 75%.
The January 2018 option has nearly one year and two months for bullish development, with the right to buy below the lowest level in the last year.
The maximum loss is limited to the $400 or less paid per option contract with an exit stop loss at half the option premium to reduce dollar exposure. The upside, on the other hand, is unlimited.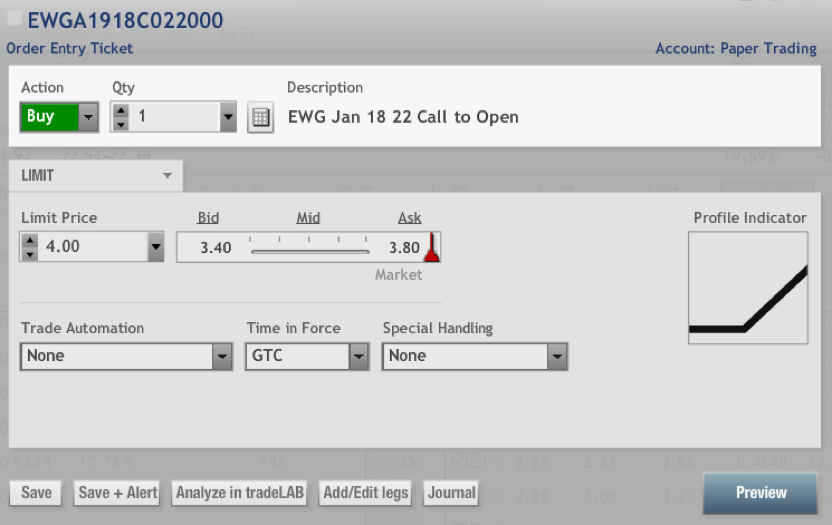 The EWG option trade break even is $26.00 at expiration ($22 strike plus $4.00 or less option premium). That is just over one dollar above the ETF current price.
A push above the $27 channel top resistance targets $31 which would put the option value at $9.00 to more than double the original investment.
Before you go, I have some urgent information to share with you that came from my colleague, Bret Jensen. In a few short weeks, a small drug development company is expected to make a groundbreaking announcement, and it could give you a quick 50% profit.
See, this company has developed a new weapon against diabetes. In clinical trials, it's been shown to lower glucose levels far more than current drugs. This announcement is coming up at the end of December, so you only have a month to act.
You definitely don't want to be on the sidelines on this one…
Click here now to see the bulletin on this under-the-radar profit opportunity.
P.S. Investors are likely to bid up this company ahead of its expected announcement. That's why it's so important to get on board now.
Don't miss out – click here now to learn more.
[NEW REPORT] Absolute 10 Best Tech Stocks to Own in 2018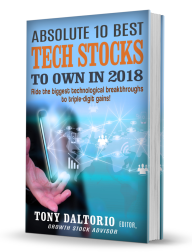 Grab your exclusive copy of this new research report that shares Growth Stock Advisor editor Tony Daltorio's "10 Best Tech Stocks" to own in 2018 and beyond.
With exposure to red-hot sectors such as lasers, photonics, robotics, advanced microchips, cybersecurity, and more, you can future-proof your portfolio while also gaining exclusive access to some of the biggest growth opportunities of the next decade.
Click here now for your copy.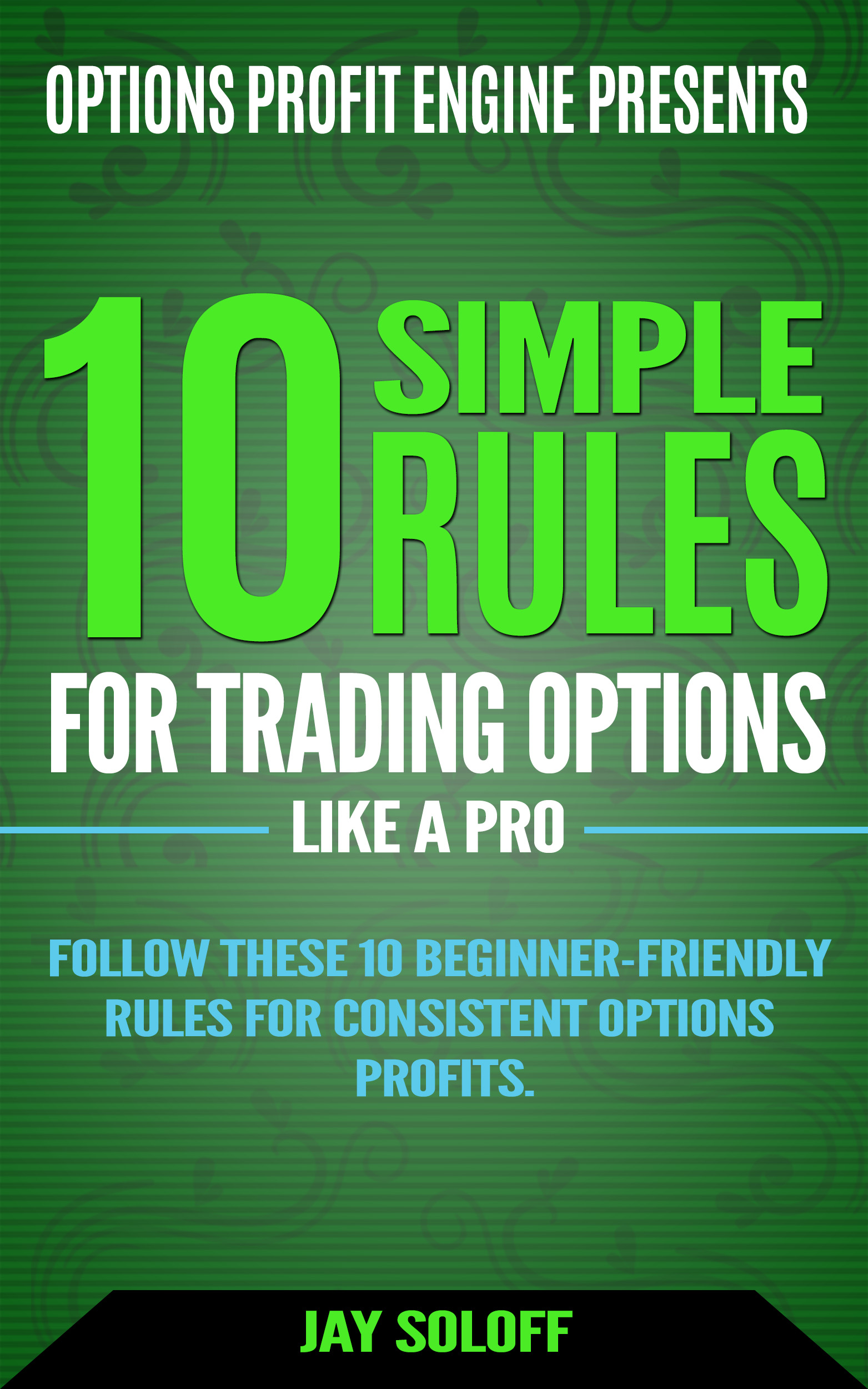 [FREE DOWNLOAD] 10 Simple Rules for Trading Options Like a Pro
Follow these 10 simple rules from 20-year professional options trading veteran, Jay Soloff and start earning a reliable extra income from options.
NO prior experience needed to master these 10 simple options trading rules. 
Enter your email below and receive access to this FREE guide...